Never miss a bite! Sign up here to receive new recipes and reviews straight to your inbox.
Disclosure: I was invited to dine as a guest of the restaurant. No monetary compensation has been received for this post. As always, all opinions are 100% my own.
Enjoy a delicious seafood feast with an oceanfront view at 3030 Ocean, located inside the Fort Lauderdale Marriott Harbor Beach Resort and Spa. And then get a room — because you're not going anywhere with that food coma!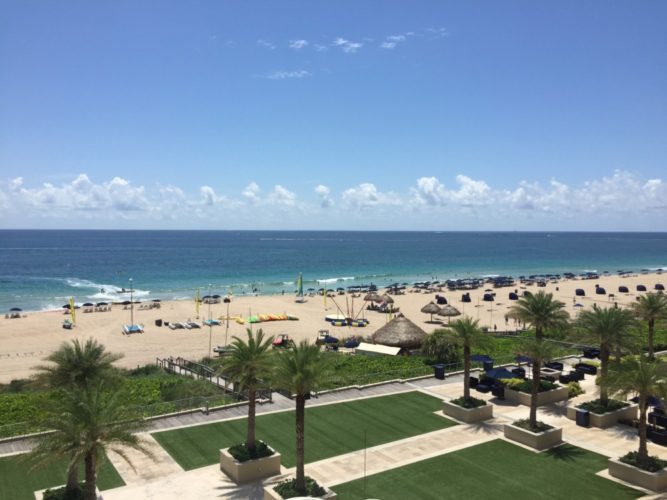 One of my favorite South Florida activities is going on a staycation in my (almost) backyard. I've spent nights at hotels in Deerfield Beach, Miami and even Boca Raton and always enjoy the feeling of getting away, even for just one night. I recently visited the Marriott Harbor Beach in Fort Lauderdale for the Florida Restaurant Lodging Association's Marketing and Operations Summit, and decided that I should probably turn this into one of those coveted staycations I know and love. I attended the summit with my friend Amber, and after a day full of some really informative and beneficial seminars, we were more than ready for a good meal. Thankfully, the resort's signature restaurant, 3030 Ocean, had invited us in for dinner. The resort faces the water and no matter where you are, you have a beautiful view of Fort Lauderdale Beach. Even while dining inside at the restaurant. With the ocean by our side, and an amazing meal to come, and an incredibly personable and attentive server, we were pretty much in heaven.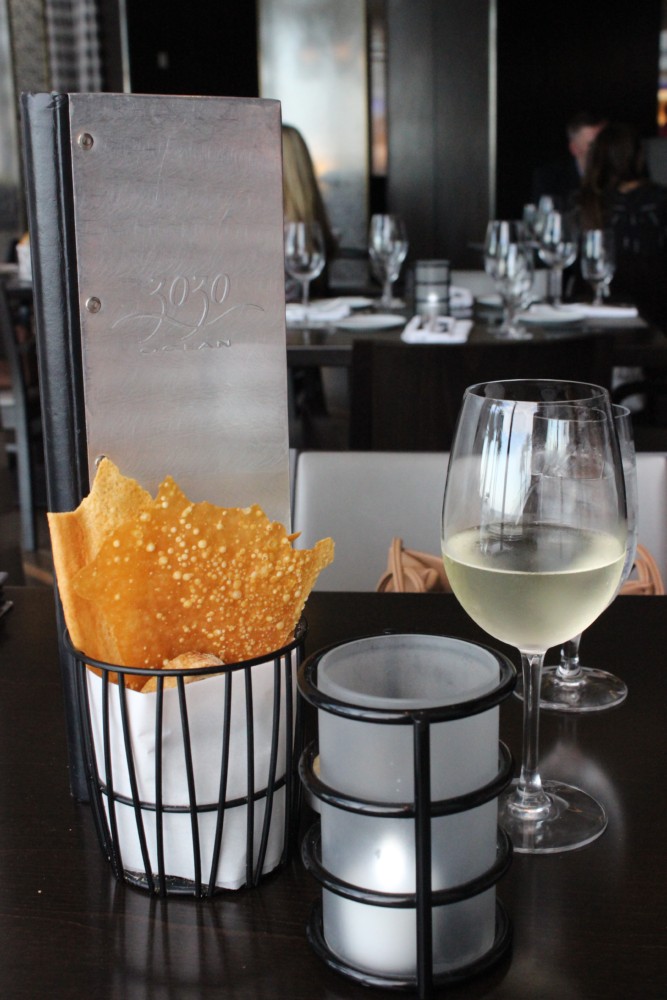 I've known Executive Chef Adrienne Grenier for quite some time now, having tried her dishes at various South Florida culinary events over the years, but it's taken me until now to actually dine at her restaurant. Since I could have eaten just about everything on the menu, we let her take the reins and send out her signature items. We kicked things off with a platter of east (Wianno) and west (Kusshi) coast oysters. I've always been more of a west coast oyster fan to begin with, but these Kusshi oysters sealed the deal. They were so flavorful, and the tarragon mignonette was the perfect topper. I recently had the Kusshi again at another seafood restaurant and loved them just as much.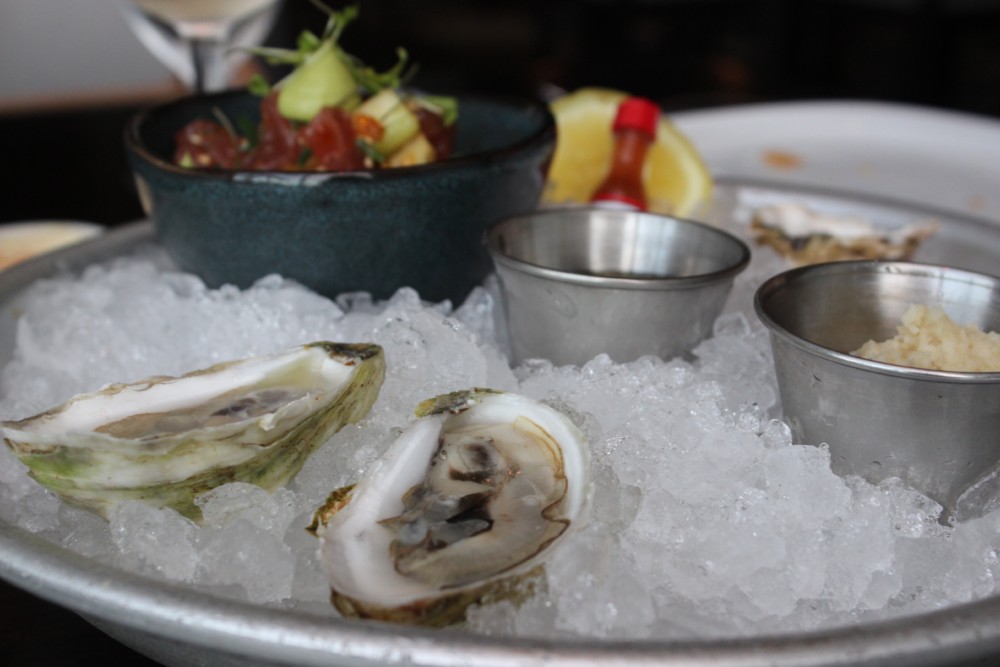 Along with the oysters came the Ahi tuna poke, mixed with macadamia nuts, wakame, cucumber, sambal (Asian hot sauce) and avocado. So long as you have good, fresh tuna, it's hard to go wrong with tuna poke. It's a very popular dish at a lot of South Florida restaurants, and I've yet to be disappointed with it. Keep the poke coming!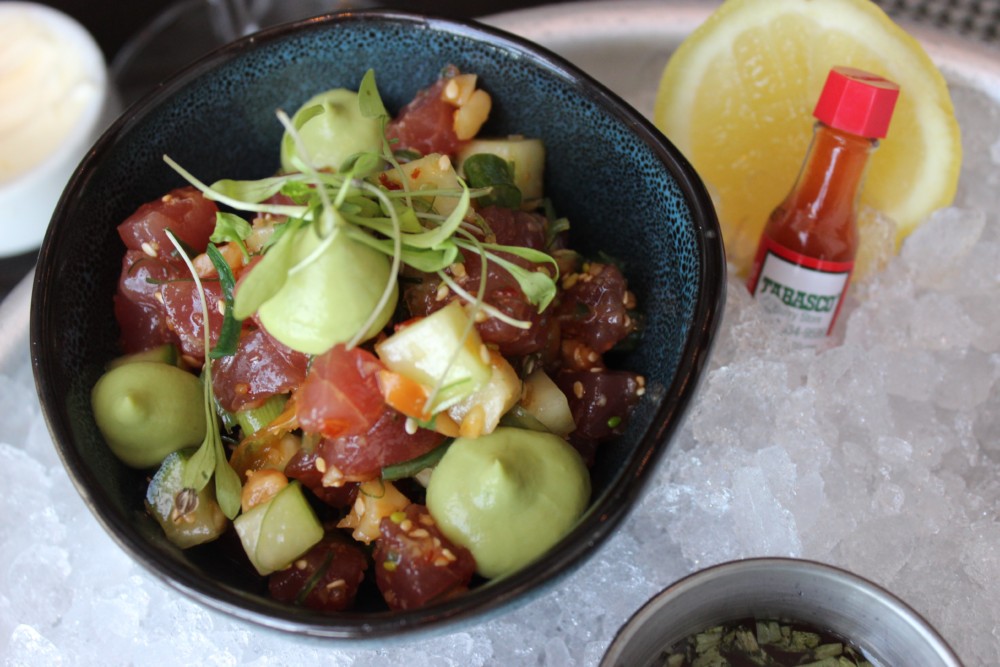 It's not often that I choose a favorite so early in the evening, but this next dish had Amber and me in complete awe. Thick-cut pieces of cobia sashimi, drizzled with black garlic puree and topped with the cutest little soy-pickled baby mushrooms, crispy shallots, watermelon radish and dashi (Japanese cooking stock). Even after we finished our meal, we remained true to our initial reaction — this was the best. We spent a few minutes ogling the baby mushrooms too. I mean, seriously — how adorable are they?! I've never seen them so tiny! Watermelon radish makes any dish look beautiful, despite the fact that they don't have much flavor. But they're very aesthetically pleasing. We loved the crunch from the crispy shallots, and the black garlic puree added an element of sweetness that was just out of this world. I need this again. ASAP.
Chef Adrienne knows my taste when it comes to seafood, so of course she remembered my affinity for octopus. By the way, have I mentioned how gorgeous every single one of her plates are? No? Well, they are. Every single one of them. The octopus was no exception. Gorgeously charred tentacles served over a marcona almond puree with farro, blistered tomatoes, arugula, feta and romesco. The octopus was cooked to perfection, and each component of the plate was not only pretty to look at, but tasted just as good as it looked. Writing this is making me so hungry. If only 3030 Ocean delivered up to Delray Beach…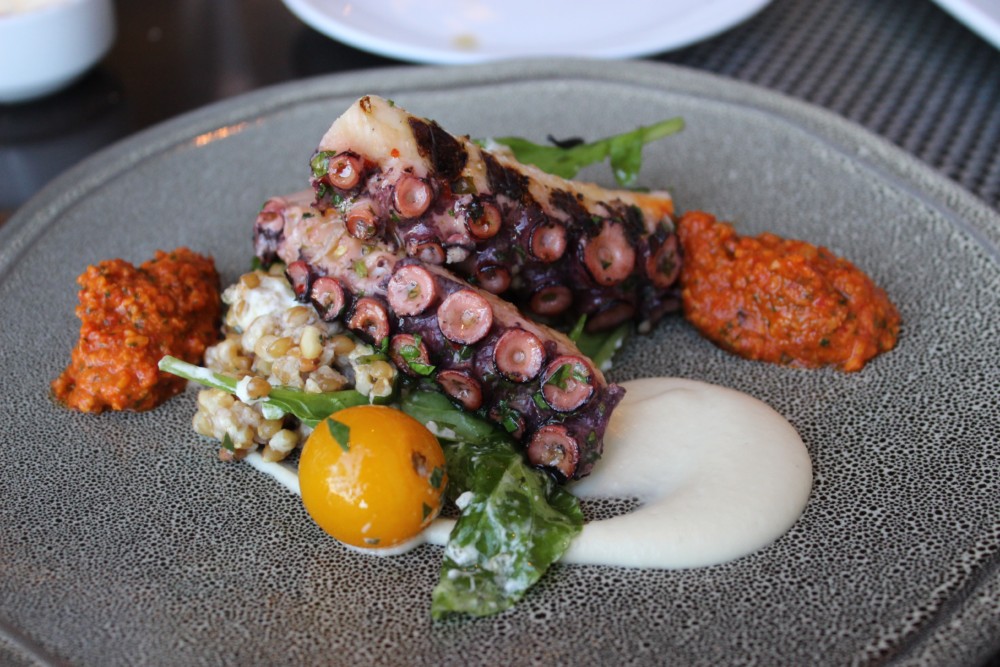 We took a slight break from the seafood and went on to enjoy one of my other favorite foods — cheese! Next up was the local burrata with grilled peach, sugar snap peas, and a lemon honey vinaigrette, and more of that pretty watermelon radish. (Side note: this normally also has smoked prosciutto). There's nothing like slicing into the creamy center of a ball of burrata. It's like the #eggdrool trend, but seriously so much better. Burrata is a fresh Italian cheese made of mozzarella on the outside and a creamy mixture on the inside. If you've never experienced the magic that is burrata, I highly recommend you go out and find some. Right…Now!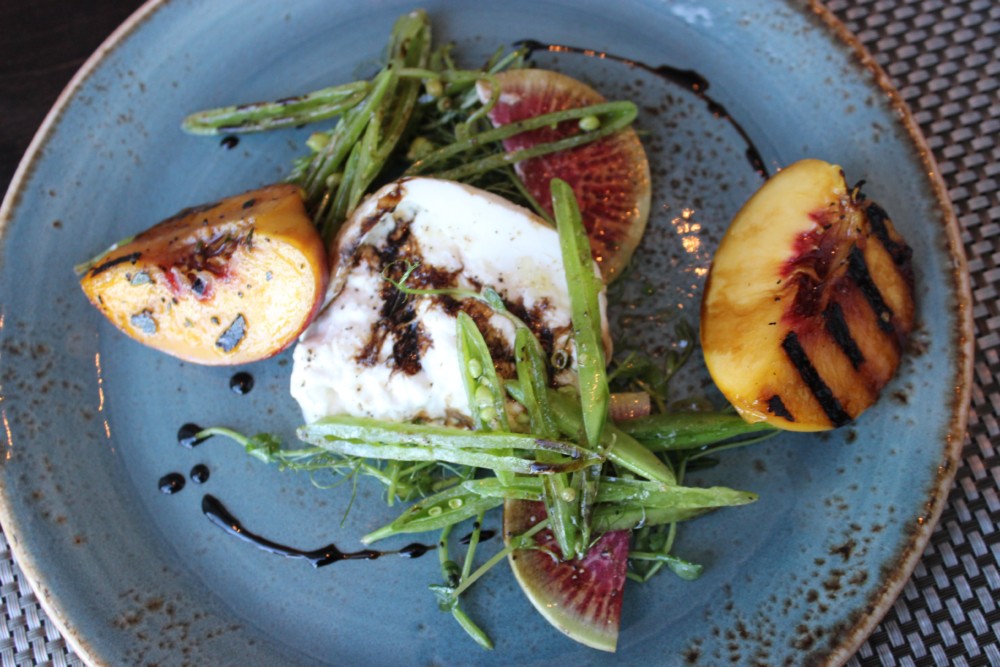 Back to our regularly scheduled seafood programming. We experienced cobia, sashimi-style, earlier in the evening, and now it was time to try it roasted. One of Chef Adrienne's fish entrees is the coriander-roasted cobia, served over a sweet potato hash with confit fennel and a green onion sour cream. (Another side note, the hash normally includes bacon). The sour cream was not your typical sour cream — it was more of a sauce, thinned out and full of bright flavor. I loved the cook on the fish, with its crispy skin and flakey inside. I'm seeing more and more chefs starting to cook with cobia. It has that smooth, buttery, melt-in-your-mouth taste, and holds up to a variety of cooking techniques, as Chef Adrienne showed here with her sashimi and roasted versions.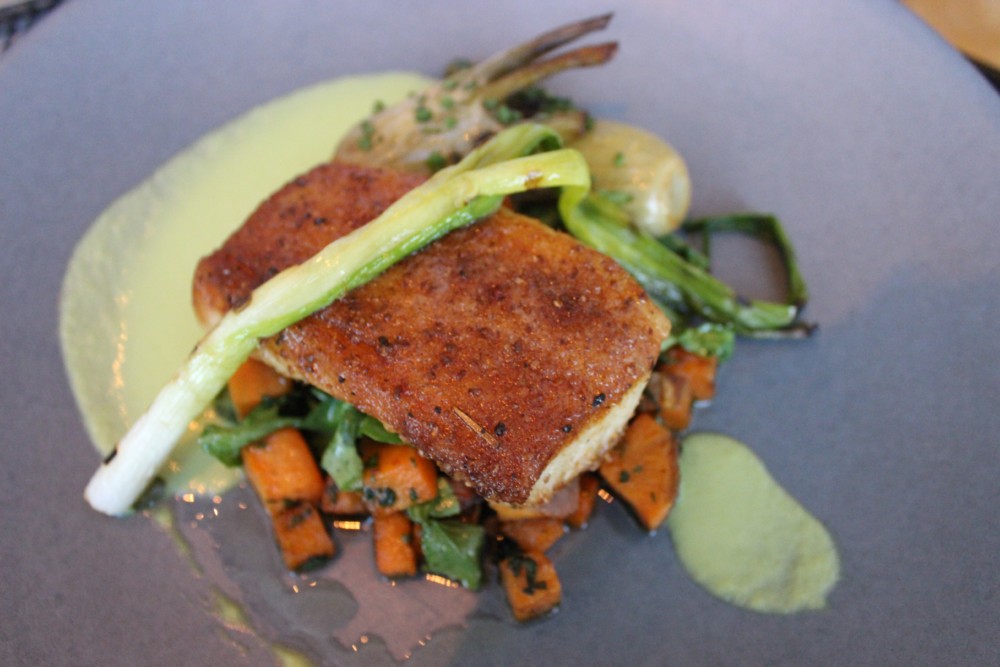 Did you think we were done? Yeah, right. We were now treated to a local fish, grilled Florida grouper, served over polenta with roasted cauliflower and a lemon-caper brown butter. I really think Chef can do no wrong when it comes to seafood. This was another winning dish. That brown butter… Whoa.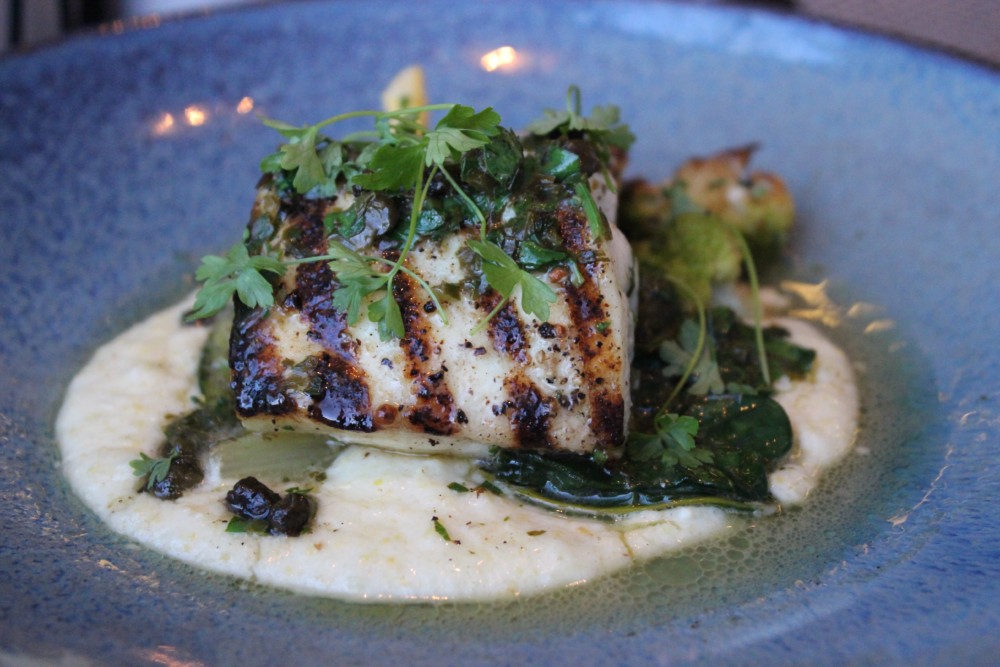 Okay, okay, now we were done with dinner — but it was time for dessert! Homemade ice creams and sorbets are always welcome during the South Florida summer, and they make for a refreshingly sweet ending to any meal. This mango semi freddo with fresh coconut and red dragonfruit sorbet were to-die-for. But so was the milk chocolate cremoso (basically a thick, creamy mousse) with brûléed banana, coconut tuille and sesame ice cream. I can't choose a favorite between the two — and I certainly couldn't stop eating both of them either.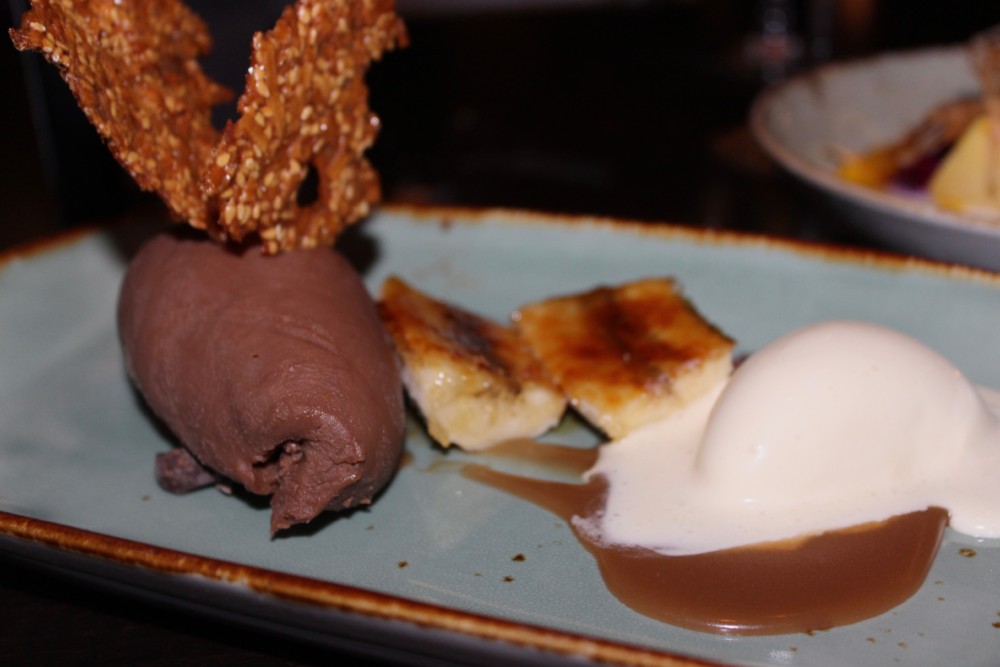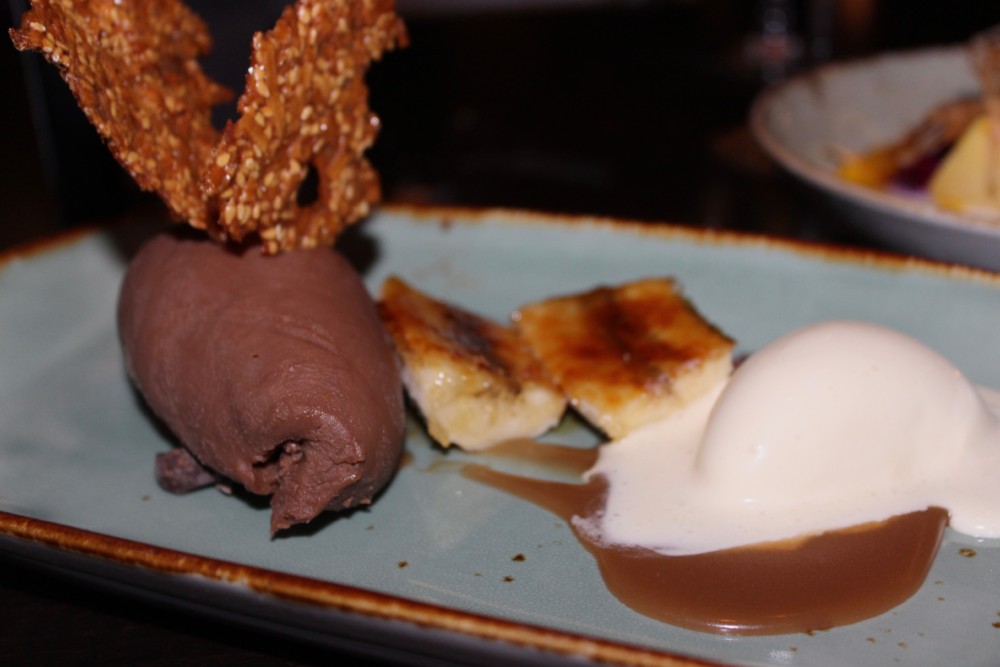 Although I was staying at the resort, you don't have to be a guest of the hotel to enjoy the food at 3030 Ocean. But, after you have a seafood feast like we did, you're probably going to want to get a room…
3030 Ocean is open daily for dinner from 6-10pm. Happy hour is daily from 5-7pm and features a special bar bites menu, $4 domestic beers, $6 house wines and well cocktails. A chef's five-course tasting menu is available for $85 per person, $120 with wine pairings (entire table must participate) until 9pm. 3030 Ocean is located inside the Fort Lauderdale Marriott Harbor Beach Resort and Spa at 3030 Holiday Drive in Fort Lauderdale.