Never miss a bite! Sign up here to receive new recipes and reviews straight to your inbox.
Disclosure: I was invited to dine as a guest of the restaurant. No monetary compensation has been received for this post. As always, all opinions are 100% my own.
The casual-elegant oceanfront Delray Beach restaurant, 50 Ocean, has recently introduced a new executive chef to its kitchen. Hailing  from New York and then Connecticut, Chef Joe Bonavita, Jr. has Sicilian roots and found his love for cooking (especially seafood) at a young age. He attended Le Cordon Bleu College of Culinary Arts in Chicago and had an apprenticeship at Alinea with the legendary Chef Grant Achatz, then moved back to New York and took up residence as sous chef at chef Todd English's flagship restaurant, Olives. Later, he apprenticed and staged at Per Se and Le Bernardin, then worked under chef Graham Elliot at Primary Food & Drink as sous chef.
Chef Joe describes his cooking style as "ingredient-driven, global cuisine." From the sound of his resume, he's bringing a ton of experience to this popular Delray seafood restaurant, giving guests a lot of be excited about.
I've always loved 50 Ocean — it's my go-to restaurant recommendation for seafood, a good view, or a nice night out. I was excited to get a sneak peek of Chef Joe's new menu items. For a pescatarian, 50 Ocean is a perfect choice. Our group was welcomed with the seasonal Ginger Pear Martini, a cocktail I've had before and really enjoy. It's subtly sweet with just the right amount of gingery zing. Even if we don't have the actual seasons in South Florida, at least we're still able to enjoy all those yummy seasonal flavors.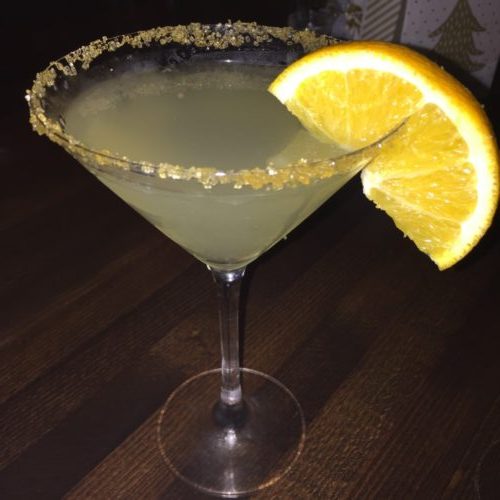 The appetizer round was a good one. Chef Joe described the cheese board to us and my ears immediately perked up at the words truffled pecorino. The plate included Shropshire Orange Blue, Red Lion and Nancy's Hudson Valley Camembert, along with crackers, candied walnuts, dried figs and fruit. It was a gorgeous plate and reminded me of something I'd see at a holiday party. Along with the cheeses came a platter full of grilled baguette, crackers, pita triangles and dips — white bean hummus, smoked wahoo, spicy olives and red peppers, and sweet 'n spicy crab made with jumbo lump blue crab, saffron-mascarpone, peppadews and scallion-lemon relish. There was no holding back with this one. Imagine a table of 10 women grabbing for the last pair of their favorite designer shoes ever made. Yeah, it may have been more intense than that. In any other situation, I would have been happy noshing on cheese, bread and dips for the whole night — it took some serious will power to not overdo it.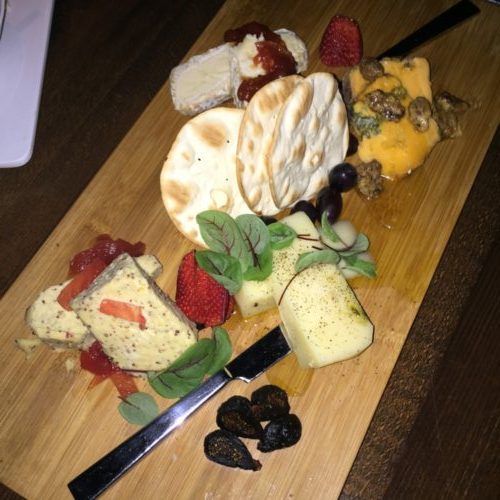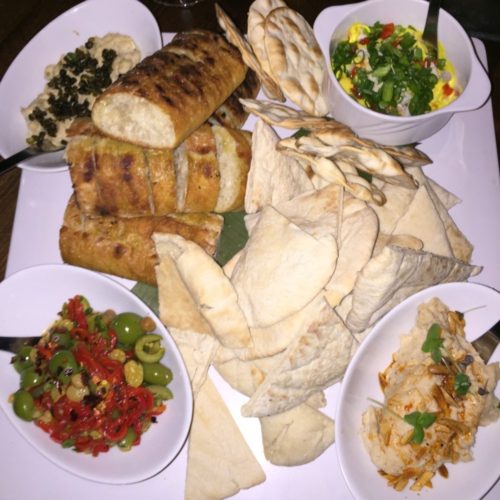 To cleanse our palates from the heavy cheeses and dips, Chef Joe brought out a crisp, cool wahoo crudo with kimchi-compressed watermelon, candied jalapeño and smoked sea salt. It was an absolutely delicious bite and prepared me for all of the amazing seafood to come.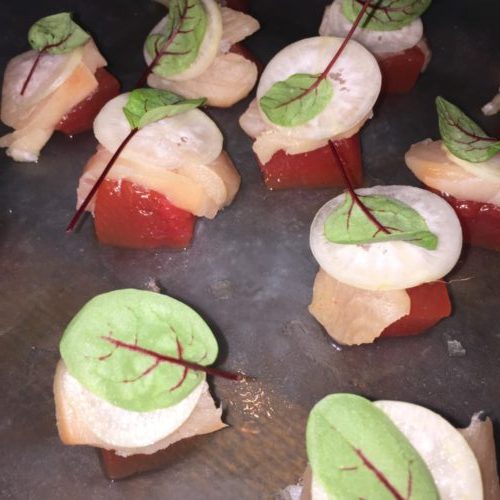 Next up was crispy grouper cheek with truffled garlic aioli. I've never had cheek before — it still maintained the same taste and flakiness as a traditional grouper filet, but was just a little more meaty. There was a nice contrast of textures between the delicate fish and the crispy exterior, and the aioli was a perfect addition.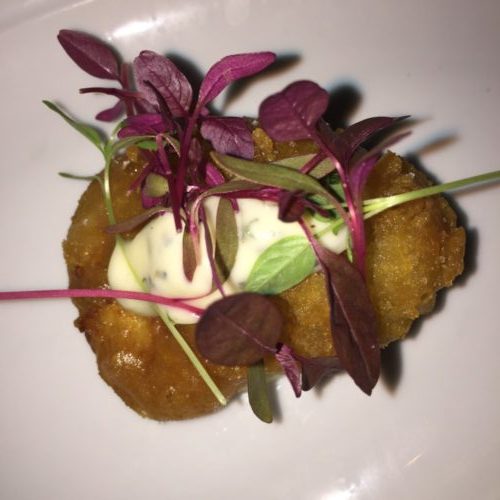 Chef Joe is experimenting with ingredients and playing around so that everyone can enjoy his food, even if you have dietary restrictions. The next dish he served was perhaps the most gorgeous and enormous Day Boat scallops I've seen in a while, on a bed of a DAIRY-FREE curried "creamed" kale and parsnip puree, made using coconut milk. While the scallop was seriously perfect, the consistency of the kale was so luscious and creamy and had so much flavor, that I secretly wished I could have asked for another shell full of it. By the way, I got to take home the scallop shell it was served in as a souvenir. 🙂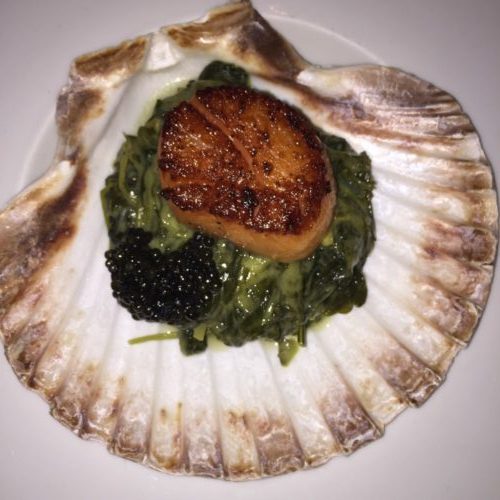 It was time to take a break from seafood and try something very much appropriate for the season — the beets and fig salad with red watercress, pistachio crumb and St. Andre (cheese), and port wine reduction. Every component of this salad screams fall/winter. There were a lot of different flavors and textures, but they all worked very well together. A salad like this should be a staple in everyone's diet during this time of year!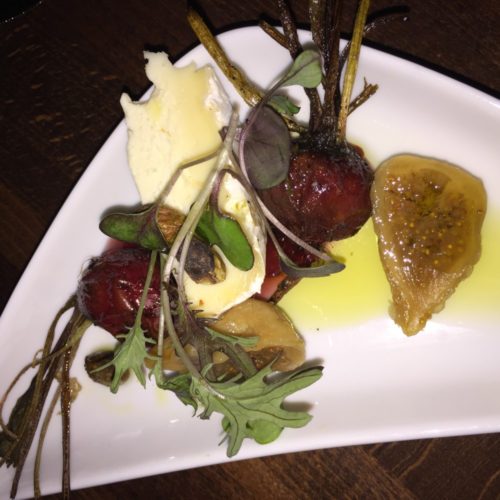 Intermission over… Back to the seafood! Next we were presented with a dish of gorgeous grilled shrimp, palm hearts, roasted heirloom tomatoes and pistachio aioli. I was loving the frequent appearance of pistachios throughout dinner — it's one of my absolute favorite nuts. One thing to note about Chef Joe's food is his exquisite plating (you can see more on his Instagram @chefjoebonavita). He truly understands that we eat with our eyes, and has a knack for making everything he puts on a plate look as incredible as it tastes. This shrimp dish was no exception. My photos aren't the best — I forgot to take my DSLR with me and lighting wasn't great, so I really do suggest you take a look at his Instagram to see what I'm talking about!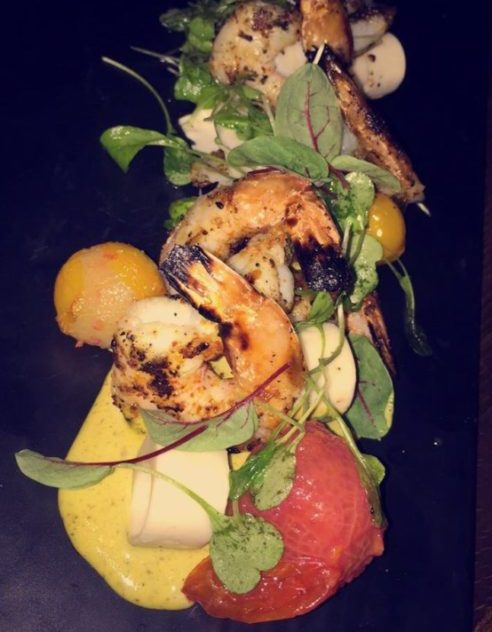 Now it was time for some pasta — black spaghetti to be precise. I love the look of a black pasta dish — it has depth and character that you don't get with regular pasta. This dish had even more depth from the uni butter, salsa verde and peppadews — oh and we can't forget about the generous amount of fresh lobster chunks scattered throughout the dish. I don't eat pasta unless it's well worth it — and this was WAY well worth it.
Did you think we were done? Nope! Still one more dish to go. While the rest of the group indulged in a karabuta pork chop, I feasted on a thick and juicy piece of medium well-done Ora King salmon with pickled mustard seeds, roasted Brussels sprouts, champagne vinaigrette and a winter rice medley. Others had Brussels-envy, so I decided to be nice and share a few bites. But just a few — those babies were all mine to finish! I thoroughly enjoyed every component and would happily order it again.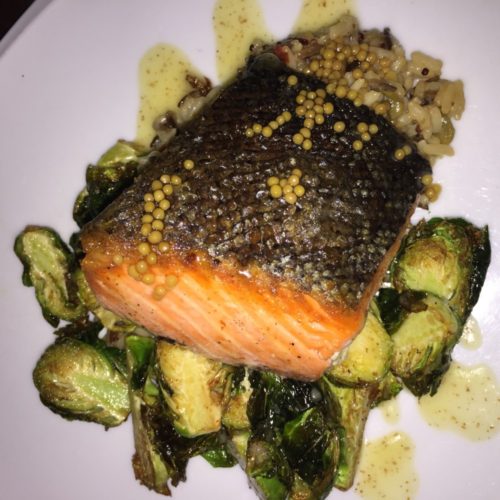 There are a lot of exciting things to come from Chef Joe Bonavita, Jr., and I highly recommend you head over to 50 Ocean and say hello! Don't worry — the menu will still have customer favorites like the blue crab crusted grouper and buffalo ribeye, but pretty soon you may notice some new surprises such as a daily selection of crudos, sushi rolls, ceviches and kimchis.
50 Ocean serves brunch every Saturday and Sunday from 10am to 3pm, featuring a Build-Your-Own-Bloody-Mary Bar and bottomless mimosas. The restaurant's 'Appy Hour' is Monday through Friday from 3-7pm and features 1/2 priced premium liquors, house wine by the glass, draft beer, domestic bottles, and select appetizers.
50 Ocean is located at 50 S. Ocean Blvd., in Delray Beach.