Never miss a bite! Sign up here to receive new recipes and reviews straight to your inbox.
I love dining at restaurants that sit right on the water. You'd think these types of restaurants would be on every corner in South Florida — but alas, they are not. Most are nestled across A1A with the beach hidden by street-parked cars, fences and bundles of trees. You may get to sit outside and take in the atmosphere, but you can't always see the gorgeous glistening water or smell that salt-cured air.
However, if you make your way all the way down Atlantic Avenue in Delray Beach, turn right on A1A and take a 1-minute stroll and enter the elevator inside Boston's On The Beach, you will find 50 Ocean and be met with the best oceanside view in all of Delray Beach. Windows line the entire restaurant and you can see perfectly out onto the water. The sand is in sight, the palm trees calmly swaying in the wind, and even as the sun goes down and nighttime arrives, the moon still lights up the entire beach. 50 Ocean is definitely in my top three favorite restaurants, and this is precisely the reason why.
The view isn't the only reason I keep coming back for more, though. Chef Blake Malatesta is such an innovator in the kitchen. His food is just as incredible as the atmosphere and his modest and extremely likable personality make him one of my favorite chefs to visit.
I recently had the opportunity to dine at 50 Ocean with two of my good friends and foodie colleagues, Enid Atwater from Venue Marketing and Stef Cainto from Boca Magazine. The three of us started our 50 Ocean dinner dates a few months back and plan for many more to come. Last time we went, we had mussels the size of Stef's hands that were out-of-this-world delicious. Another serious mussel craving is what prompted us to make plans to come back!
This time, we were there to try some of the chef's newest menu creations — as well as a few off-the-menu treats. Of course we had to start with the mussels — white wine and chili, roasted shallots, fresh tomatoes and scallions give the broth so much delicious flavor that it makes you just want to pour it right over top of the mussels on your plate. Not that I did that or anything…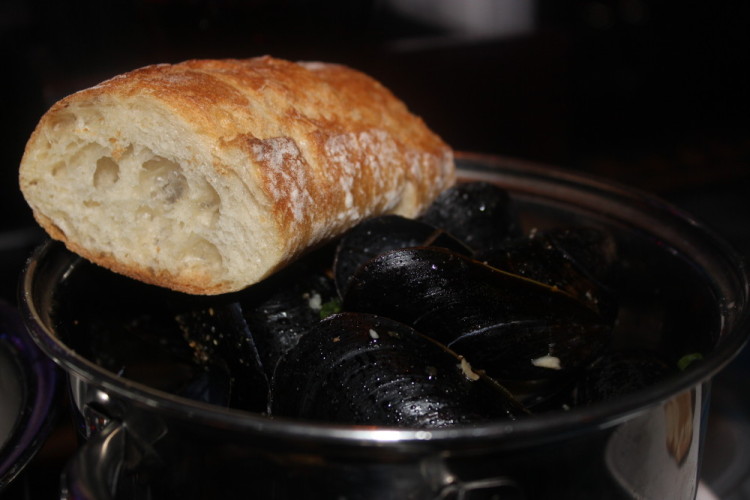 We also tried one of the new "jars," the Five Onion Truffle Dip. Because…truffle…duh! It's made with slow roasted and caramelized onions and served with a mushroom garlic relish and perfectly crisp salt and vinegar chips. I could have eaten that dip with a spoon it was so good!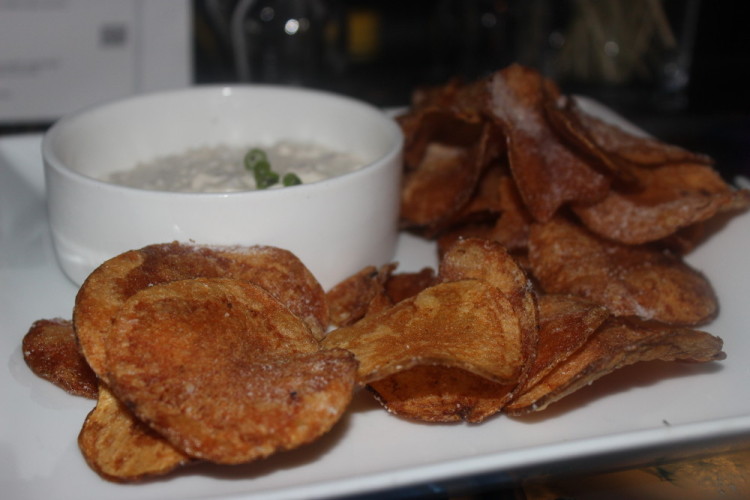 After devouring our appetizers at the bar, we ironically were sat at the same table as our last dinner. Now we knew our tradition was going to stick! Our waitress Cindy suggested we all start with one of their new cocktails, the Ginger-Pear Martini. Right up my alley! It's made with St. Germaine, ginger liqueur and pear vodka and rimmed with golden sparkling sugar. A stunning and delicious drink!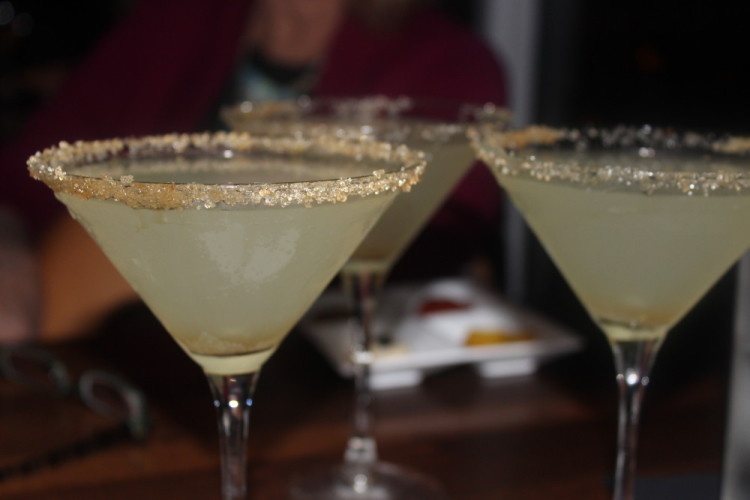 Chef Blake brought us out an array of accoutrements to go with the surf 'n turf skewers he prepared for us — sans turf for me! At the top left you have black garlic and roasted garlic aioli, top right is a wine stone mustard, bottom left is saffron-pickled shallots and bottom right is tomato-clove jam. I tried each with my scallops and the jam was definitely my favorite.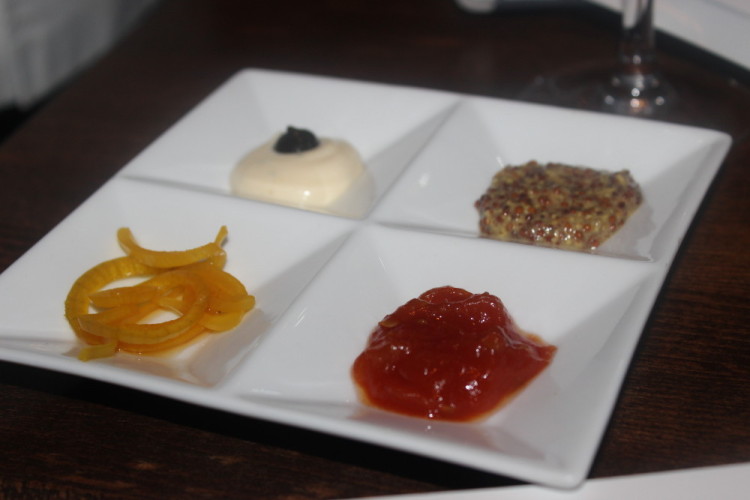 The next thing Chef Blake brought out for us were cute little fish tacos made with salmon belly, fennel dill slaw, saffron pickled shallots, and candied jalapeños. Candying the jalapeños definitely helps to balance out the spiciness. I was just talking to my friend Nicole from Coley Cooks about how I've never had a truly memorable fish taco. These may finally fit the bill!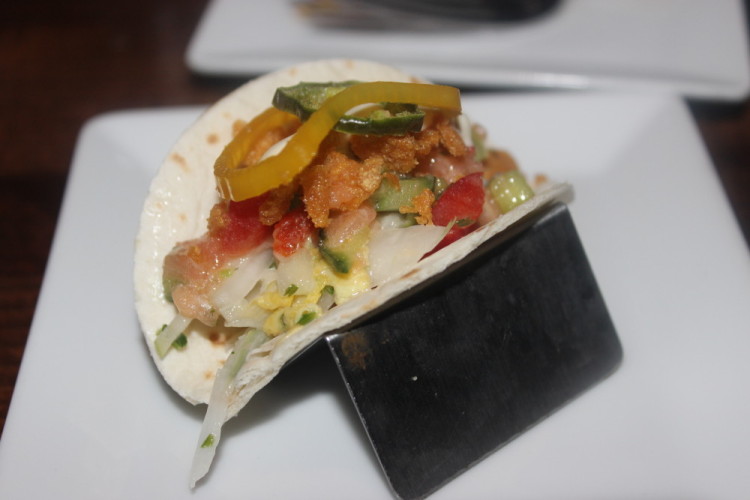 Chef Blake brought us out his version of the "soup and sandwich" next — I'm not talking your typical grilled cheese and tomato soup combo — no way. Grilled cheese with lobster for extra richness, supreme flavor and gorgeous color and presentation. The roasted tomato and smoked salmon belly bisque was thick and creamy and oh-so-delicious. This was the most elevated and sophisticated soup and sandwich I've ever had.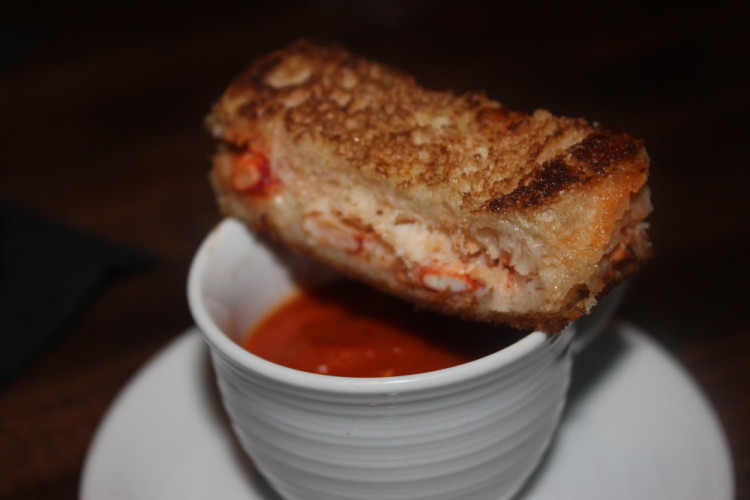 Now, as if we hadn't already eaten enough, we were finally ready to order our entrees! Chef Blake was saving a piece of his freshly-caught Wahoo for me in the kitchen so I could try one of the newest fish choices on the menu — banana leaf steamed wahoo with curried butternut squash, and roasted cauliflower in a kimchi vinaigrette. Oh. My. God. My taste buds were going wild — like a super, crazy, all night rave going on in my mouth as soon as I took that first bite. The delicate yet thick-cut steamed wahoo, the smooth and creamy butternut squash puree with just the right amount of heat, the deliciously crispy cauliflower enveloped in the spicy and a-little-bit tangy vinaigrette. Everything was perfect.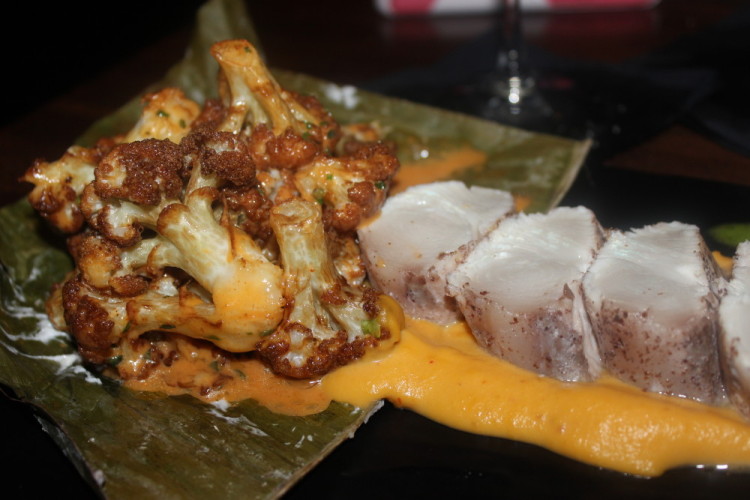 After a meal like that, you know there had to be something sweet to top everything off. Chef Blake brought us milkshakes — oatmeal and raisin cookie shakes with vanilla bean ice cream and bourbon caramel, to be exact! These tasty little treats are made with house-made gluten free oatmeal raisin cookies. He also makes gluten free chocolate chip cookies which he so graciously brought us out to try as well. The milkshakes are studded with chunks of cookie throughout and just as thick and delightful as the milkshakes you remember as a kid. Who could go home cranky after ending their night with a milkshake?! Not I — nor Enid or Stef! We were rolling out of the place, 100% stuffed and satisfied!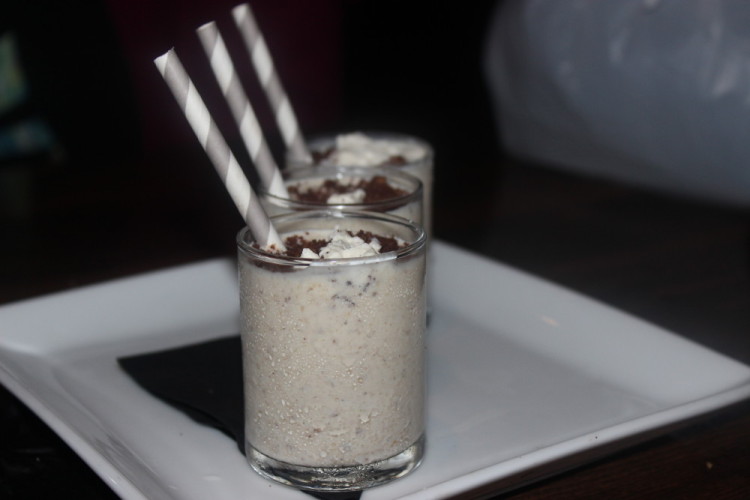 50 Ocean is located at 50. S. Ocean Blvd in Delray Beach. Brunch is available on Sundays from 10am-4pm and "Appy Hour" is Monday through Friday from 4-7 pm at the bar.
Disclaimer: I was provided with a complementary meal at 50 Ocean as a guest of the restaurant. No monetary compensation has been provided for this post. As always, all opinions are 100% my own.