I'm back! The past couple weeks have been quite the whirlwind. I finally moved out of my Bubby's and got my own apartment! I'm just down the street and around the corner, so she hasn't completely gotten rid of me yet, haha, but I am on my own! It's been a rough start, and I'm still not quite finished furnishing the place (that may take a long time) and I had lots of issues with the cable/Internet (don't even get me started with that…let's just stay, tears were shed and frustrations were through the roof).
I have a few great recipes to share with you, starting with the very first baked goods to grace my new kitchen. Without further ado, I bring you Chocolate Peanut Butter Reeses Cup Cookies!
I found these babies, as I do most recipes, on Pinterest. I recenty revamped my Pinterest and organized my boards into many more food categories than I had before. This one went straight onto the "Peanut Buttery Goodness" board and has been staring me down since I pinned it there. After officially moving into the apartment, I asked my co-workers for suggestions on what my first baking experience should be. Tyler recommended something with peanut butter, so I immediately went to the above-mentioned board. I kept going back and forth between two different recipes : a Reese's Peanut Butter Cup cheesecake brownie or these cookies. I made cheesecake brownies before for the office, so I decided to go with the cookies. Plus, all the chocolate looked too enticing to pass up. I also thought these would be easy to lighten up without making much of a difference taste-wise.
Check out Annie's Eats for the original recipe and baking instructions, but go no further than right here for the ingredients list for my low-fat, low-sugar version.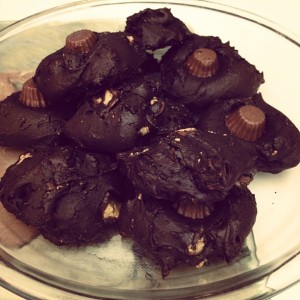 Chocolate Peanut Butter Reese's Cup Cookies
1 1/2 cups and 2 tbsp. all-purpose flour
6 tbsp. Hershey's dark chocolate unsweetened cocoa powder
1/2 tsp. baking soda
1/2 tsp. salt
2 tbsp. unsalted butter, room temperature
4 tbsp. unsweetened applesauce
1/2 cup and 2 tbsp. Better'n Peanut Butter (only 100 calories and 2g fat per 2 tbsp!)
1/2 cup Splenda
1/2 cup brown sugar
1 large egg
1 tsp. vanilla extract
lots of chopped mini Reese's Peanut Butter Cups

There you have it! Now get over to Annie's Eats and swap in my ingredients for a low-cal version of these amazing cookies. I promise you won't taste the difference! My co-workers raved about these and devoured the entire container before I told them they were a little bit on the healthier side. The richness of the cocoa powder and all the Reese's cups definitely help put these on the mark as one of my favorite cookies to date. They're fudgy, chocolatey, and peanut buttery – does it get much better?