I'm
ending Brunch Week with a bang. A bitterly sweet (yes, I know that is an oxymoron) bang in the form of a sparkling cocktail.
Last Sunday, Cinco de Mayo to be exact, I ran a 5K in Ft. Lauderdale called The Color Run. Me, McKenzie, Amy and her boyfriend Jose ran together under the team name "Will Run For Food." Yeah, it's not obvious we're self-proclaimed foodies or anything… Anyway, what better way to start your Sunday morning

than

with a nice little run through the Fort Lauderdale Riverwalk while people throw multi-

colored

powder

at

you and you end up looking like a big, bright rainbow by the time you cross the finish line? Sounds awesome to me. It was a fun run, but there were way too many people walking. I'm not sure when they sent out the memo that they changed the name to The Color Walk, but we sure didn't get it… I had to push people out of my way,

zig-zag

in and out of large groups

of people, and dash every which way to make it through to the end. It was kind of annoying, but whatever; to each their own. We preferred to run and get a

workout

in before stuffing our faces with margaritas and tortilla chips for the remainder of the day. Uh…yeah, it was Cinco de Mayo, after all.





After de-coloring our selves (I may or may not still have had blue, pink and orange powder in my ears, between my toes and on random patches of skin for a few days…), we decided to start off the morning with a drink. First thought was, duh, mimosas! But we didn't

have champagne

; what we did have was this delicious sparkling red wine (Delicius Rosso) that we bought at a wine tasting at Amy's a week or so ago. So McKenzie put his

bartending

skills to good use and came up with quite the cocktail. The sparkling red wine tops off a gin-based drink that was way too bitter at first, but as soon as the wine was poured, the bitter turned to the sweet and all was well with the world.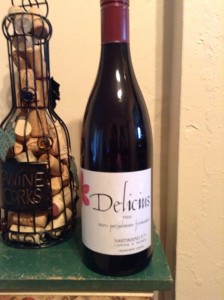 In honor of finishing the 5K in pretty good time and feeling good, we named the drink "The Color Run." It was appropriate, too, because as you assemble the drink you will notice that the color actually does run down the glass.

Brunch Week has been so much fun. I'm so glad to have been part of it. All of the participating bloggers shared delicious recipes, and our sponsors are donating some of the best prizes I've ever seen in a giveaway. I hope you all have enjoyed Brunch Week as much as we have, and will use some of these recipes for your Mother's Day brunch, or any brunch in general.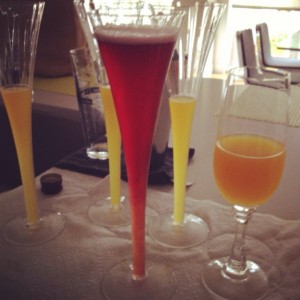 The Color Run
1.5 oz gin
1 oz orange/tangerine juice
half a sugar cube
dash of bitters
sweet sparkling red wine

Combine gin, orange/tangerine juice, sugar and bitters in a cocktail shaker and shake until well combined. Pour into champagne flutes about a third of the way. Top with sparkling red wine. Do not stir. Let the color of the wine make it's way to the bottom of the flute. Drink up and enjoy! Happy Brunching!
To commence Brunch Week, there will be a PinChatLive today from 2-3. It will be happening on
the

#BrunchWeek pin board

. During the chat, all of the prize winners will be announce (saving the KitchenAid Stand Mixer from California Walnuts for last!). There will be other prizes during the chat, as well. To participate, make sure you are following the
BrunchWeek pin board and join
in in the fun. Make sure you always use the hash tag #BrunchWeek. You can pin and re-pin questions and answers in the comments section of each pin and pin recipes to the board as answers to the questions.

Posted with Blogsy
Brunch Drink Recipes
Frozen Grasshopper by Amanda's Apron
Gin and Sparkling Red Wine Cocktail by Take A Bite Out Of Boca
Chocolate Trifle {kid friendly} by Real Housemoms
Vanilla Pomegranate Mojito by Noshing With The Nolands
Cherry Sangria by Cooking In Stilettos
Potato Brunch Recipes
Parmesan Roasted Red Potatoes with Vidalia Onions and Thyme by Cook the Story
A Salad Called German Potato by The Vintage Cook
Breads, Grains, Cereals and Pancake-type Yums
Chocolate Chip Craisin Granola Bars by Big Bear's Wife
Dandelion Pesto Pizza by Culinary Adventures with Camilla
Biscoff Walnut Granola Parfaits by White LIghts on Wednesday
Stuffed French Toast by poet in the pantry
Pina Colada French Toast by The Domestic Mama & The Village Cook
Sourdough Epi Baguettes with Rhubarb Blood Orange Ginger Jam by Spontaneous Tomato
Carrot Cake Pancakes by Love and Confections
Spreads and Dips for Brunch
Strawberry-Kiwi Jam by Sweet Remedy
Grilled Pineapple and Walnut Dip by Jane's Adventures in Dinner
Brunch Dessert Recipes
Raspberry Sweet Rolls with Meyer Lemon Glaze by by Cravings of a Lunatic
Florida Strawberry, Lavender Farmers Cheese and California Walnut Braided Pastries by Vanilla Lemonade