By now you should know my friend, Kristy, who has been mentioned in quite a 
few of my posts. It's great having her in Florida with me. We are both 
complete Jersey Girls at heart, but we love our new lives down here. While we 
both love to cook and bake, we never shy away from going out for a good bite 
to eat. We love the guacamole and drinks at Rocco's Tacos, the Fuji Apple Sake 
wine and sushi at Yakitori, and sharing all of our baked goods recipes with 
each other. It's good to have a bestie with the same interests. Not to 
mention, we both just moved into our very own apartments, so not only do we 
have food and cooking to talk about, but decorating too!

Anyway, our most recent dining adventure was for lunch at Maggiano's Little 
Italy of Boca along with her boyfriend, whom I was finally meeting for the 
first time. Gotta get the BFF approval, which she did! 🙂 The restaurant
reminds me of Carmines at the Tropicana in Atlantic City — very family-style 
Italian and comfortable. It took us forever to order as we sat and talked for 
a while. Every time the waiter came over, it was like "One more minute…" 
until finally we just shut up and ordered. For starters, we shared the stuffed 
mushrooms (bottom left). This was a huge portion for an appetizer; it came with 6 jumbo 
mushrooms caps, stuffed generously with spinach and seasoned bread crumbs in a 
garlic white wine sauce — VERY good. It's hard to believe I used to scoff at 
mushrooms and think they were disgusting; they're one of my favorite foods 
now!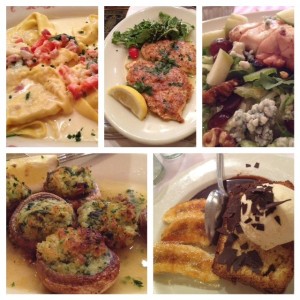 Kristy ordered the chicken torellini (top right), baked in garlic and white wine cream 
sauce with smoked ham, Asiago cheese and fresh spinach. I tried a piece of the 
pasta, which was very good. It was definitely homemade; you could taste how 
fresh it was. Her boyfriend ordered the chicken franchaise (top middle) and I got the 
chicken and apple salad served with granny smith apples, iceberg lettuce, 
arugula, red grapes, celery and walnuts in a bleu cheese vinaigrette (top right). I love 
salad with fruit, and the dressing was really good. It had a strong flavor, so 
there was no need to drench the salad. 
We finished off lunch with a little cup 
of cappuccino and all shared the toasted pound cake with caramelized bananas 
for dessert (bottom right). We collectively agreed that the high point of the dessert was 
definitely the banana. The pound cake was very dry and the ice cream and fudge 
didn't really help moisten it up enough. My favorite part of dessert was the 
mini-biscotti that came with our espresso. The portions were huge, and the 
food was very good. There were a lot of great sounding pasta dishes on the 
menu, but I'm not usually a big pasta eater — I have to be in the mood for it, 
and I just wasn't feeling it. Maybe next time… (and there definitely will be 
a next time).


Boca Raton on Dwellable