People have been raving to me about this new restaurant, The Rebel House, since it opened. I was supposed to go there New Year's Eve and was soooooo excited, but as you can read in my previous post, that got all messed up. BUT, we were not going to let the chance to go slip by. It's been on my radar for weeks now (it was first brought to my attention by an awesome reader who recommended it to me on my Facebook page!) so I would not be satisfied until I finally got to try this place out. Luckily, it got to be my first meal out in 2013! The decor is so freaking cool. Very modern artwork adorns the walls from floor to ceiling; it has a very "hipster" vibe, and feels a little out of place in East Boca. It looks like a place you'd find in Chicago, Philly, NYC or DC. But hey, Boca could definitely use the appeal that a spot like this conjures up. It's reasonably priced, an awesome atmosphere (that attracts all kinds of people too, from what I saw) and introduces some great fare to its patrons that they aren't going to find anywhere else.
The menu is so different. The flavor combinations of all the ingredients turn what starts out as a commonplace dish into something brand new. A mac & cheese pancake, pork belly tater tots, and salmon carpaccio are just a few things you'll find on the "munchies" and "raw/cured/fromage" sections of the menu. The "eat your veggies" section has yummy veggie platters like charred cauliflower, eggplant milanese and mushroom-leek grits. There's a huge variety of entrees — southern fried chicken and biscuits, beef short ribs, tandoori spiced salmon, potato gnocchi… They also don't serve bread to the table when you're seated; instead, they serve popcorn with house made seasoning that changes regularly.
Aside from a pretty 'out-there' menu, their cocktails have the most eclectic ingredients: Sriracha, jalapeño, cucumber, lots of different herbs and spices: it's an interesting mix of things and makes it hard to decide what to get. Thankfully, our waiter was pretty opinionated and basically decided for me. The first couple ingredients sounded all fine and well — vodka and berries, rosemary — but it also had rice wine vinegar! Seemed strange to me, but I took the waiter's advice and tried it anyway and realllllly liked it.
Our waiter also suggested ordering a few things and sharing, so we chose an appetizer, salad and an entree. We got the Local Burrata; it was served with tomatoes prepared three different ways, with a balsamic "caviar" and crostini. This would be my first burrata experience, and I loved it. I thought of it as like an over-the-top caprese salad. The fresh Mozzarella filled with a creamy cheesy inside paired with tomatoes and balsamic was pretty much the picture of one perfect bite. We also got the roasted beet salad, which I had been eyeing since I first looked up the menu for this place. Aged goat cheese, arugula, candied pecans, lots of red beets in a sherry vinaigrette — that was delicious. Beets are one of the foods that I used to find absolutely disgusting, but now they are one of my favorites. Red beets have a sweet taste which really complimented the creaminess of the goat cheese and crunch from the pecans. The bitterness of the arugula offset the sweetness just enough to keep the flavors even. For our entree, we got the black truffle ravioli with lump crab meat, with a sauce made of chopped apple, celery root, chive and carrot. My first bite into that ravioli was unbelievable. Talk about an explosion of flavors… I think my eyes almost bulged out of their sockets, it was that good.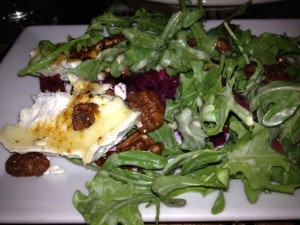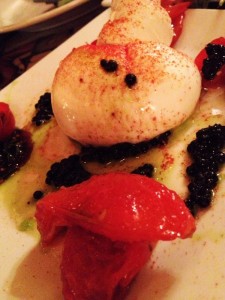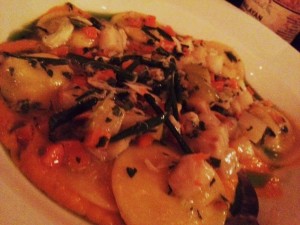 The portions of these dishes were perfect for us to share; it was a smart way of ordering. The food was just as delicious as everyone said it'd be. I was not disappointed in any way at all. In fact, I've already picked out what I'm going to get the next time I go.