Never miss a bite! Sign up here to receive new recipes and reviews straight to your inbox.
Disclosure: I was invited to dine as a guest of the restaurant. No monetary compensation was received for this post. As always, all opinions are 100% my own.
4 Rivers Smokehouse is the brainchild of John Rivers, who never really set out to open a restaurant, but really just wanted to share his love of brisket and BBQ with the world, and feed those in need.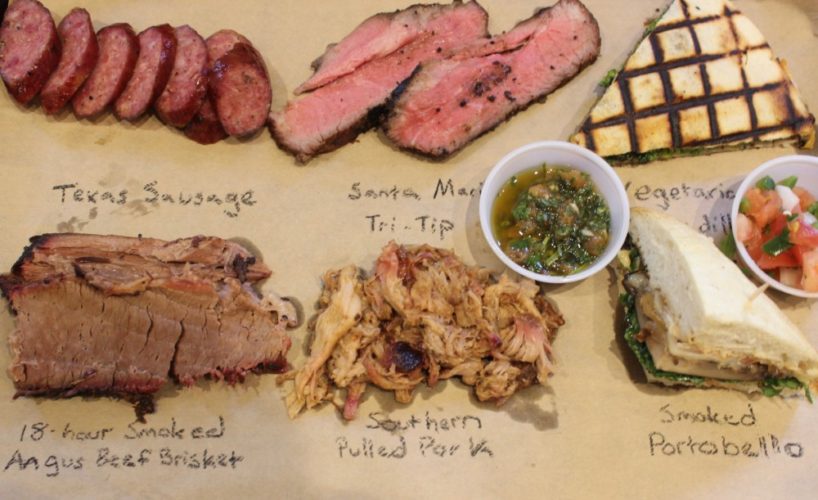 In 2004, Rivers hosted a cookout fundraiser to support a local family whose young daughter was battling cancer. His "Barbecue Ministry" concept turned into a true passion, and after a few years of smoking thousands of pounds of meat in his garage for schools, churches and charitable organizations, Rivers knew he would have to expand.
While the Barbecue Ministry remains the foundation and focus of 4 Rivers Smokehouse, there are several locations all over Florida with plans to continue building more, including their first out-of-Florida location in Atlanta later this year. 4 Rivers is easily one of the most celebrated smokehouses in the country. It's received two invitations to cook at the James Beard House in NYC and four consecutive invitations (2011-2014) to participate in the Food Network South Beach Wine & Food Festival. There have been appearances on NBC and FOX morning shows, and mentions by USA Today, Paula Deen Magazine, FOOD Magazine, Cooking Light, Food & Wine, Cigar Aficionado, Restaurant Business, and TravelandLesiure.com. Rivers was also named a finalist for the 2013 Florida Ernst and Young Entrepreneur of the Year Award, and in 2014, he published The Southern Cowboy Cookbook.
When I think about BBQ, my mind immediately goes to ribs, pulled pork, brisket and chicken wings. Never in a million years would I expect to find myself at a restaurant that specializes in those things, but when there's a full vegetarian section on the menu and a variety of veg-friendly side dishes to choose from, a non-meat-eating girl can definitely be persuaded…
First of all, everyone knows good BBQ is all about the sides. I mean, there's only so much smoked meat a person can handle, right?! People yearn for that creamy mac and cheese, tangy potato salad, crisp cole slaw and fluffy cornbread just as much as they do a good piece of brisket. 4 Rivers Smokehouse knows how to churn out a good side dish.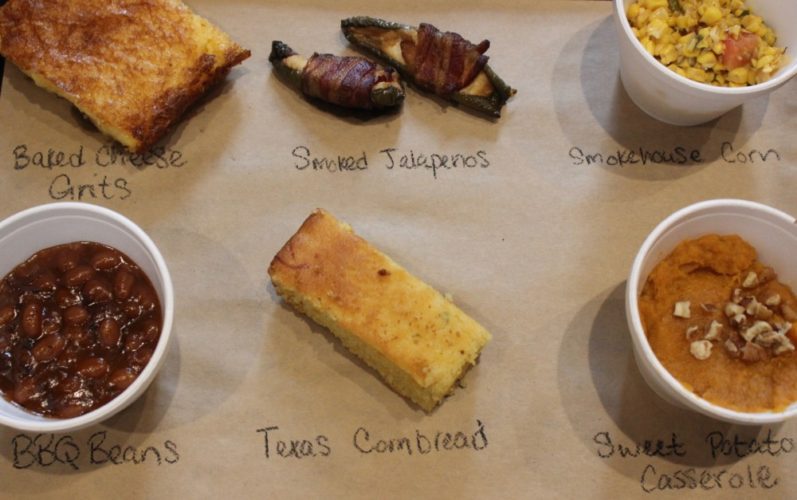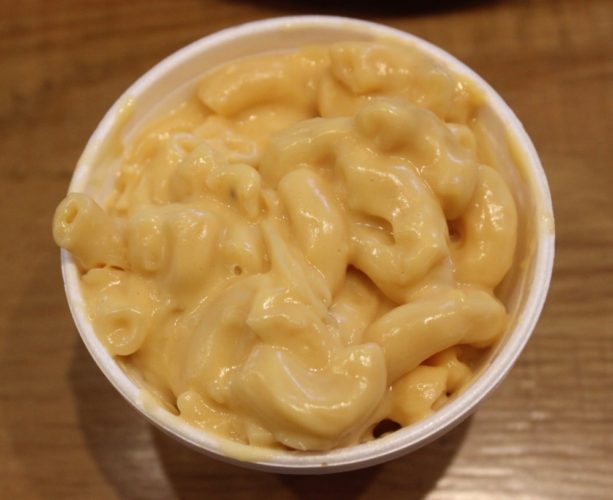 All of the basics are covered — you've got everything I mentioned above, plus BBQ baked beans, collard greens, green beans, corn salad, fried okra and sweet potato casserole. But then there are fun twists on the traditional, like the baked cheese grits, fried pickles, smoked bacon-wrapped jalapeños, and a seasonal side that's always changing. During my visit, it was a broccoli salad with cranberries, pine nuts and a tangy yogurt-like dressing.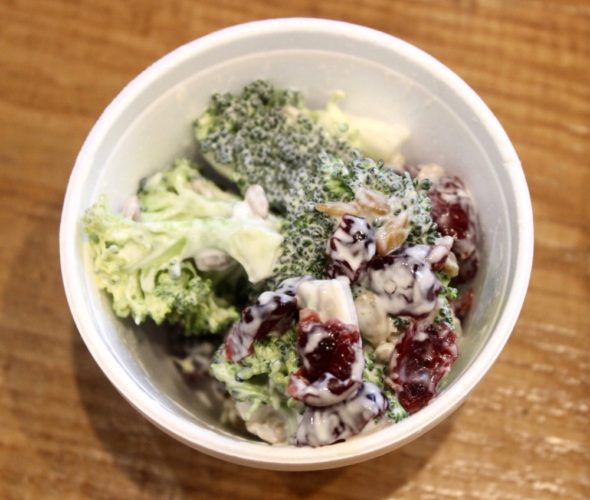 It was easily my favorite, right up there with the potato salad. There's nothing fancy about it, but perhaps that's its appeal — it's just straight up simple and delicious. I also surprised myself with how much I enjoyed the cole slaw. I've never been a fan, much to my Dad's chagrin, since it's his absolute favorite. 4 Rivers wasn't too mayonnaise-y and had great texture and flavor. I channeled my Dad and ate my fair share — for him, of course.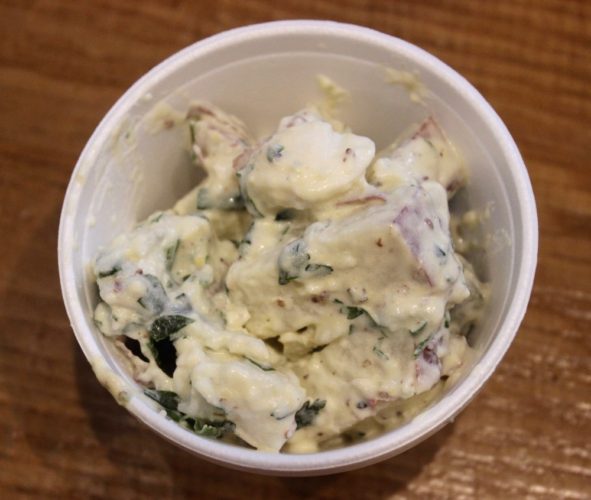 What's great is that of the 16 side dishes, 11 are vegetarian! I could honesty make a meal out of  just sides, so that alone made me happy. But then I remembered there was more to come…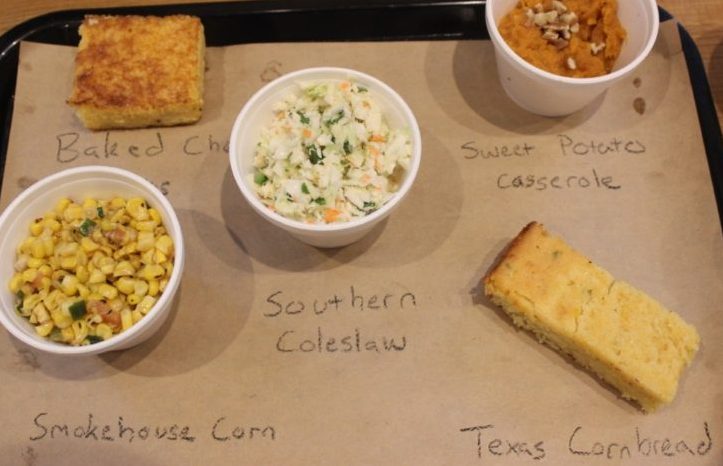 Rivers has a personal preference not to overly consume animal protein, which led him to create the "From the Farm" section on the menu, featuring five items that would leave any vegetarian full and satisfied after a visit to 4 Rivers Smokehouse. The vegetarian quesadilla is a house favorite, made with seasonal veggies, cheddar cheese and chipotle aioli on a tortilla, grilled to perfection. Then there's the smoked portobello sandwich with caramelized onions, arugula, tomato, provolone and chipotle aioli on ciabatta bread. There's so much deliciousness going on in this sandwich and the aioli really livened everything up. The veggie plate is basically a vegetable lover's dream — a square of baked cheese grits is piled high with lots of seasonal veggies and a smoked tomato chimichurri vinaigrette that will have you begging for more. Guests choosing to go meat-free can also enjoy the smokehouse salad with cheddar cheese, onions, carrots, cucumbers, grilled corn, tomatoes and Texas cornbread croutons, or they can make their own veggie board — 4 Rivers' homemade biscuit with diners' choice of three sides.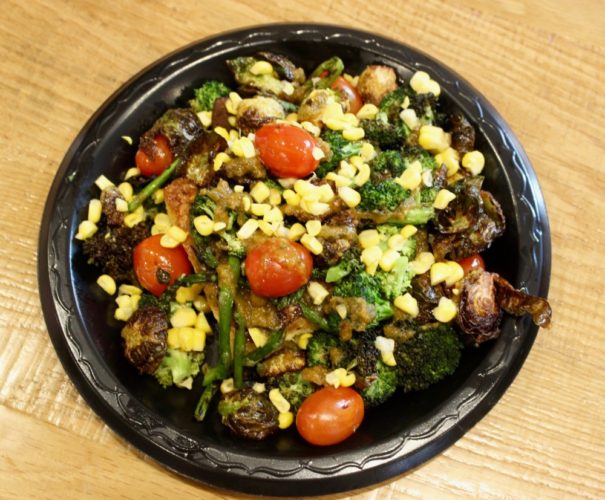 Now that you've had your fill of vegetables, it's time to indulge in a little something sweet, don't you think? If you thought 4 Rivers Smokehouse was all meat and potatoes, you are sorely mistaken. From-scratch desserts are available through the Sweet Shop, with everything from cakes to cupcakes to cookies and confections. There's bread pudding and fried Oreos and cinnamon rolls and pound cake — any dessert you can think of, The Sweet Shop has it.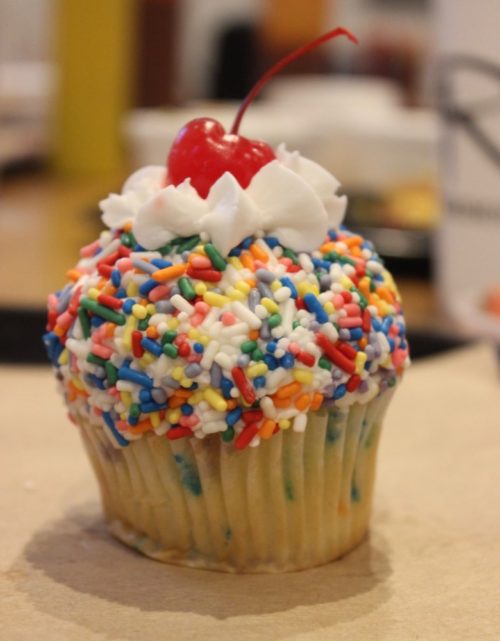 And it's all well worth the calories, especially the Bayou Bar. Sticking to those Southern roots, this is a classic dessert that starts with a pecan shortbread crust, topped with a sweet cream cheese filling. It sounds simple, but like I said about the potato salad earlier, simple can sometimes be the best. I couldn't contain myself from going back for just one more bite of this insanely addicting treat. It was dense and gooey and practically melted in my mouth.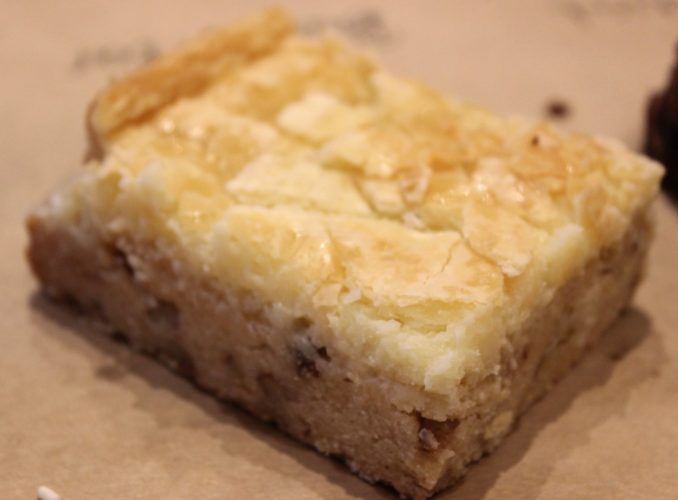 So, even if you are a vegetarian or just want to forgo eating meat for the night, you can still enjoy a night out at 4 Rivers Smokehouse. I promise, you will not leave hungry.
4 Rivers Smokehouse is located at 2660 North University Drive in Coral Springs. Other locations include Carrollwood, Downtown Orlando, Gainesville, Jacksonville, Kissimmee, Longwood, Orange Park, Orlando/UCF, South Tampa, Tallahassee, Winter Garden and Winter Park.