What's the easiest thing to throw together when you're in a pinch and need a quick idea for dinner? Stir-fry!

I just went back to NJ for a few days to see my little sister in her high school musical, The Wedding Singer. She played the part of Holly. It was such a perfect role for Bec. She had the sassiness down to a tee and she never broke character. I was so proud of her; she never ceases to amaze me every time I see her on stage. The entire cast was great. I didn't really know what to expect since I wasn't familiar with the Broadway version of this show. Of course we've all seen the movie with Adam Sandler and Drew Barrymore back in the day, but as a musical? Eh…what? Turns out, it's pretty cute and the music is a lot of fun. Big hair, neon colors, scrunchies, wigwams and a whole lotta Boy George — the 80's were quite the spectacle.

Anyway, I digress. Aside from being very happy to see my sister in all her talented glory, I was also happy to be able to use my parents' wok to make this delicious veggie stir-fry for dinner! It only takes a matter of minutes to put together this dinner and you can substitute for any of the veggies if you don't like the ingredients I chose. I pretty much used whatever vegetables I found in the freezer and refrigerator and made some brown rice to go with it. I love pairing pineapple with asian flavors, so I used cut-up chunks =of the fresh fruit along with a little bit of pineapple juice for added flavor. Pineapple juice and honey teriyaki sauce are a match made in heaven. It's a perfect marriage of flavors, and when you add lots of ginger and garlic, it only gets better. Toss that with edamame, lima beans, carrots, asparagus, spinach, and cashews, and mix it all up with brown rice and you've got yourself one quick, easy, healthy and deeeelicious dinner.


Pineapple Stir Fry
Serves ~2
1/2 cup cooked brown rice
5-6 baby carrots, sliced horizontally
10 thin asparagus stalks, chopped
1 cup frozen unshelled edamame
1 cup frozen lima beans
1 cup frozen spinach
1/2 cup pineapple juice
2-3 tbsp honey teriyaki sauce
1/4 cup roasted cashews
1-2 tsp asian spice mix with ginger, garlic and sesame seeds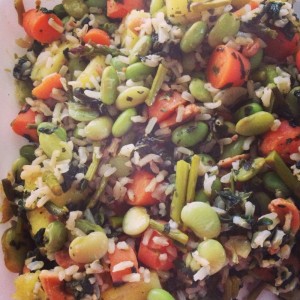 Cook the rice according to the package instructions and set aside. Combine the carrots, asparagus, edamame, lima beans and spinach in the wok and cook at medium heat. Pour in the pineapple juice and teriyaki and mix well. Cover the wok and let cook for about 8-10 minutes, stirring occasionally. Stir in the cashews and spice mix. Add the brown rice and cover again to cook for another 5 minutes. Sprinkle more seasoning if need be.