Never miss a bite! Sign up here to receive new recipes and reviews straight to your inbox.
Disclosure: I was invited as a guest to stay at the JW Marriott Marquis, dine at Boulud Sud and Bakan, and visit the Phillip and Patricia Frost Museum of Science in. I received a complimentary hotel stay, meals, and entrance into the museum in exchange for this post. As always, all opinions are 100% my own.
Miami may only be about an hour away from the Boca/Delray area, but there is so much to do and see, that doing an overnight trip can still feel like a vacation.
Thanks to the Brightline, traveling to Miami is a little bit easier. I had the opportunity to ride the Brightline from West Palm Beach to Miami with some of my favorite foodies and influencers, and we were treated to quite the weekend.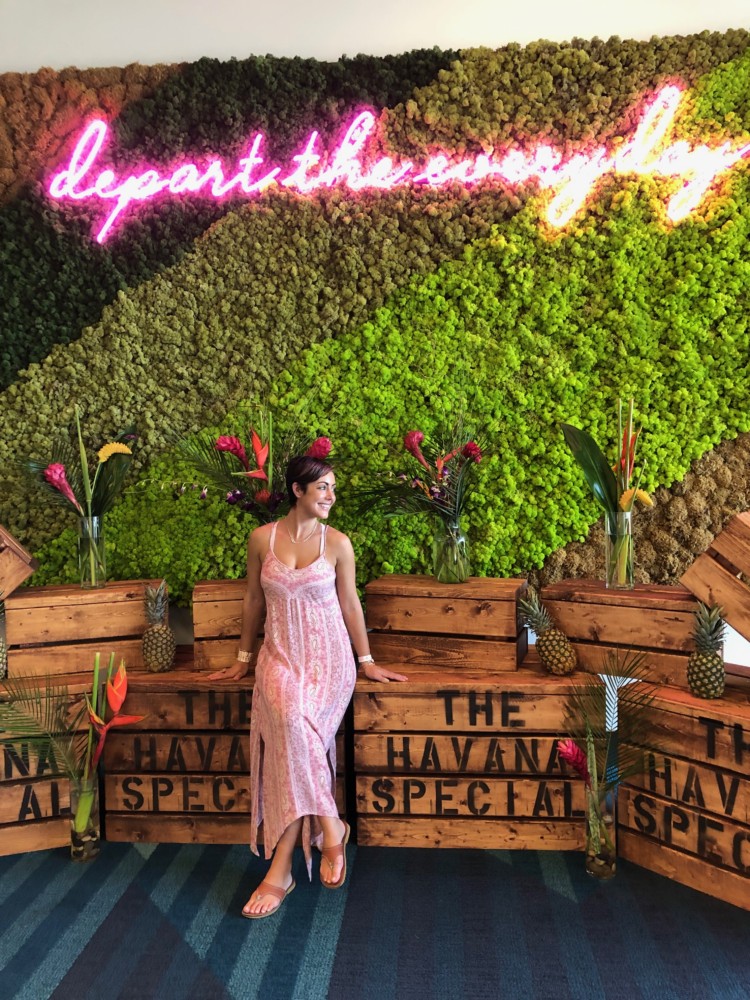 After arriving at the Brightline station, it was a quick Uber ride to the JW Marriott Marquis in the heart of Brickell in Miami, where we were each provided our own rooms overlooking the beautiful Biscayne Bay. The rooms are spacious, the beds are so comfy you'll never want to get out of them, and the bathroom has a TV inside the mirror above the sink, across from the tub. So, I could watch a movie while taking a bubble bath? Add a glass and champagne to that scenario and you can count me in!
The JW Marriott Marquis has 296 guest rooms and over 25,000 square feet of flexible and recently redesigned meeting space. Some of Miami's best attractions are close by, including Perez Art Museum, Frost Science Museum, Adrienne Arsht Center, Port of Miami, and Miami International Airport. There's a pool on the 7th floor and a full service salon and spa, as well as three hotel dining options. In addition to those three, attached to the hotel is Daniel Boulud's Mediterranean concept, Boulud Sud, featuring a menu inspired by France's Côte d'Azur, Spain, Italy, Greece, Morocco, Tunisia, Lebanon, Israel, and Turkey.
Lucky for us, we got to dine for happy hour and brunch at this stunning, newly renovated restaurant. The menu includes dishes filled with traditional Mediterranean ingredients and flavors like Morroccan chicken tagine, lamb and eggplant flatbread, and mezze platters with hummus, babaganoush and falafel. The crowd favorite, however, was definitely the octopus a la plancha with arugula, marcona almonds and orange segments. The cocktails are innovative and tasty, and the service is on point. Allergies can be accommodated with no problem at all!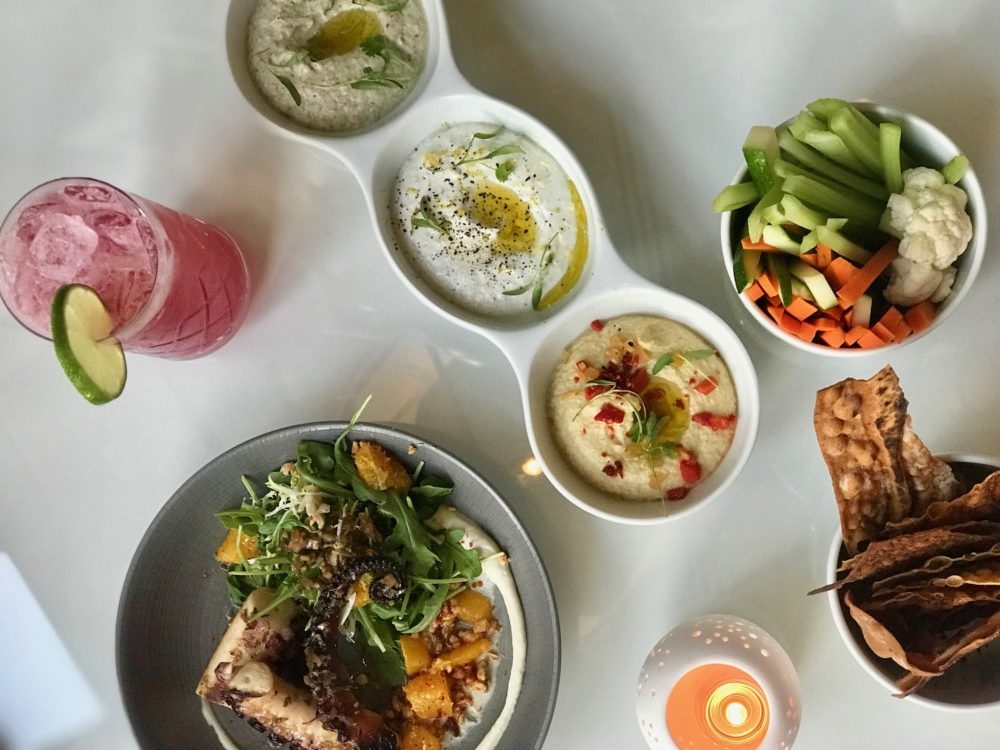 Sunday Brunch is worth checking out — especially the three-course prix-fixe menu featuring bottomless drinks for $55 per person. There are plenty of yummy a la carte items too, like Morroccan shakshouka, sheep's milk ricotta pancakes, and classic steak and eggs.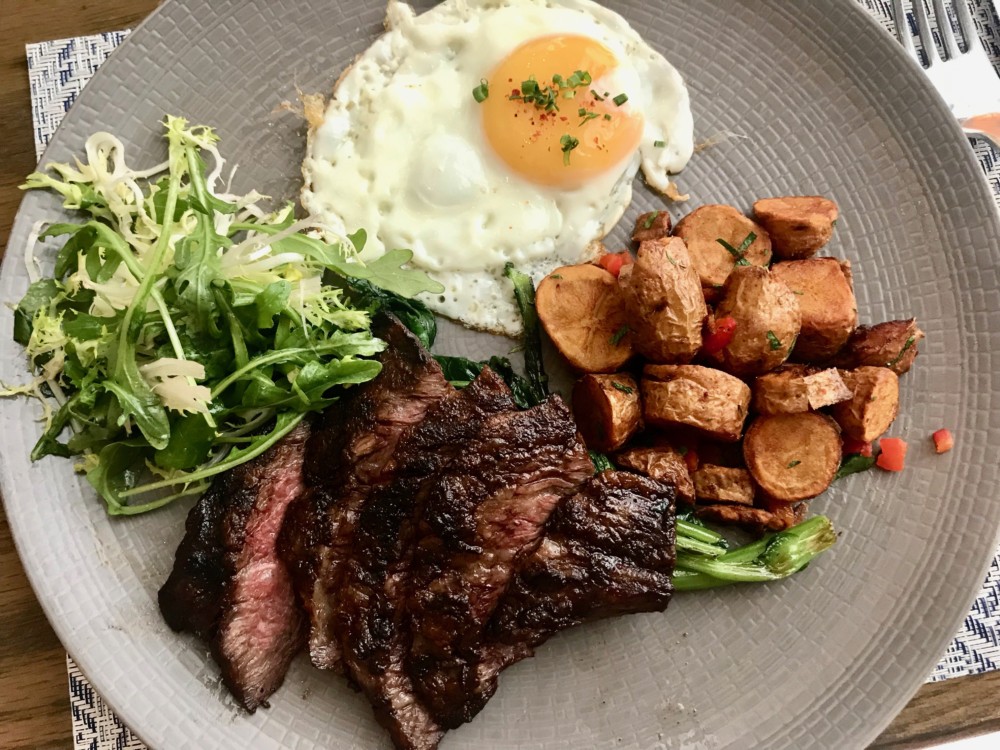 On the night we arrived at the JW Marriott Marquis, we hung out for happy hour at Boulud Sud before heading over to Wynwood to check out a new restaurant for dinner. Bakan definitely fits in with the artsy, modern vibe in Wynwood. It's an authentic Mexican restaurant centered around three elements that date back to pre-hispanic times: nixtamal, mezcal and wood fire. Nixtamel refers to the partially cooked corn that is the key to Bakan's tortilla recipe, mezcal is tequila's smokey, sultry sister, and the wood fire grill is used to toast tortilla chips, and add a smokiness to the fish, seafood and meat so that they perfectly complement the mezcal.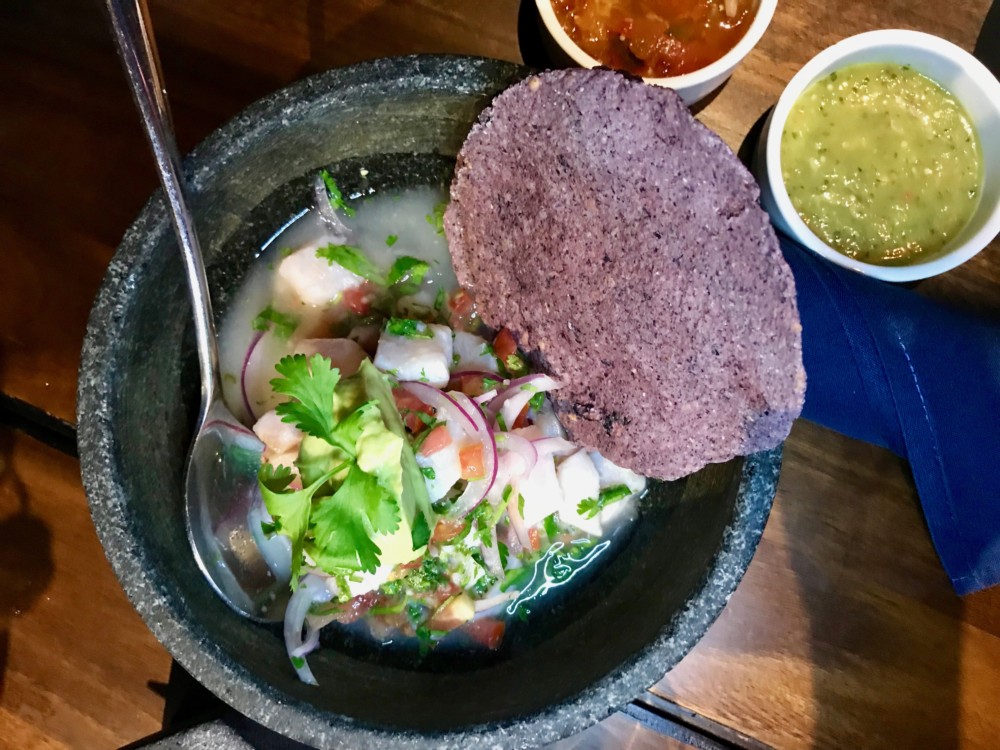 Since Bakan is so well known for its mezcal, I couldn't pass up one of the cocktails that use this specific liquor. I chose the mango petcon, made with mezcal, triple sec, mango puree, mint, brown sugar and lime juice. The color was exquisite, and the drink itself was the perfect balance of smokey and sweet.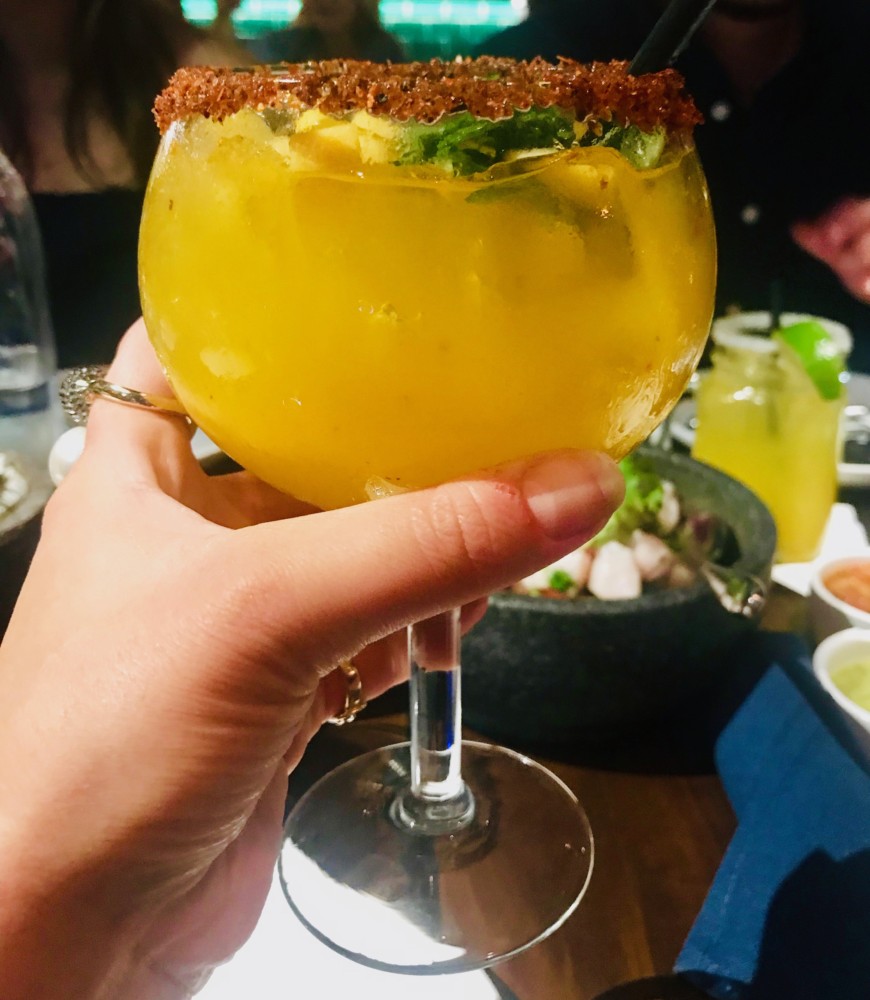 We dined on fresh and flavorful ceviche and guacamole, melt-in-your-mouth short rib with an ancho and guajillo chile au-jus, and "Huachinango Entero" — whole local red snapper, half smothered in an achiote rub, and the other half with a garlic, lemon and parsley rub. Both sides of the fish were so good, I couldn't choose a favorite. Thankfully, I didn't have to.
The last stop on our Miami weekend adventure was the Phillip and Patricia Frost Museum of Science. We explored the aquarium section of the museum, but there is way more to it than just fishies and coral reef. It's super kid-friendly, so this is a great place to bring the whole family.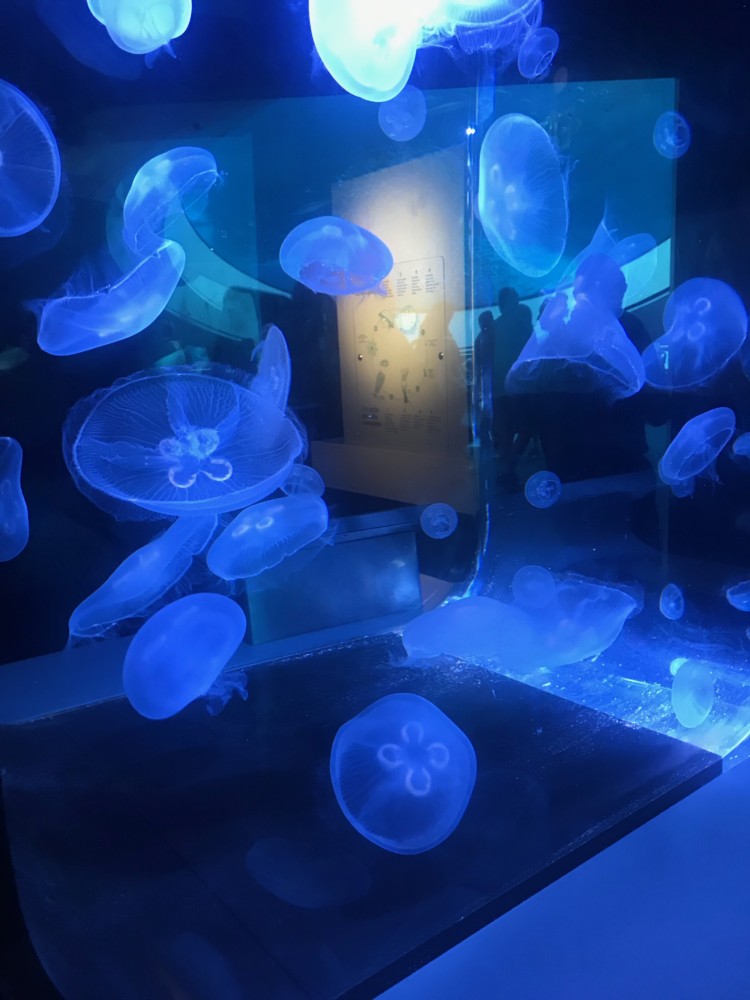 Make sure to visit level 4 in the aquarium for a beautiful view of Miami and some great picture-taking opportunities. We definitely took advantage of this! I need to get back down there to check out the planetarium and other featured exhibitions.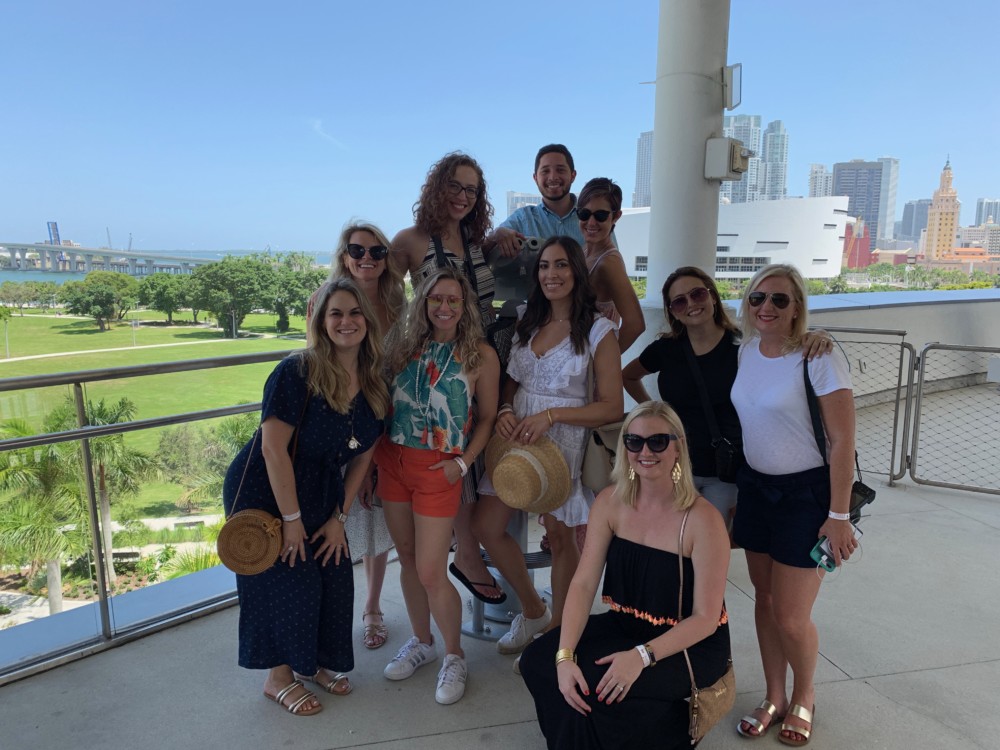 Planning a weekend in Miami? These are just a few stops that you should add to your list!
JW Marriott Marquis — located at 1109 Brickell Avenue in Miami.
Boulud Sud — located at 255 Biscayne Blvd Way. Open for breakfast daily from 6:30-11am, lunch Monday through Friday from 12-2:30pm and dinner Monday through Thursday from 6-11pm, Friday and Saturday from 6pm-midnight. Brunch is served Sundays from 11am-3pm. Happy hour is at the bar and lounge area Monday through Friday from 5-8pm.
Bakan — located at 2801 NW 2nd Avenue in Miami. Open Sunday through Wednesday from 12-11pm, and Thursday through Saturday from 12pm-2am.
Phillip and Patricia Frost Museum of Science — located at 1101 Biscayne Blvd in Miami. Open Monday through Friday from 9:30am-6pm and has extended hours until 7:30pm on Saturday and Sunday for its Summer Science Weekends, now through September 1.