I am so excited to introduce you all to one of my newest blogging friends, Taylor from Food Faith Fitness. I first "met" Taylor during brunch week, then I was lucky to actually meet her in person at BlogHer Food…along with her hubs, who accompanied her to the conference. What a brave soul… Taylor and Caleb live out near Tampa, so she's really just a hop, skip and a jump away… if those were some very loooong hops, skips and jumps. I wish I lived closer so I could eat this Almond Joy Cheesecake with her every day of the week. Ugh, I'm dying over these pictures.
———-
Hiya! I'm Taylor, and I blog over at
Food Faith Fitness
. Ya'll may remember me from Shaina's SUPER awesome BlogHer Food recap. Like she said, that's where we met and we are TOTALLY soul mates. I'm pretty excited to be posting on her awesome blog today!

So, this recipe. It's yum. The end.

No, I'm totally kidding. How-ev-er, it is very yum and also VERY EASY. We like easy right? Yes.
Another fun fact: this recipe has been tested 2000 TIMES. Without a word of a lie. You guys, this has been my night time snack for the past 3 years. It's so good that I make SURE that I eat it every.single.night.
Or else, I cry.
And that I am not joking about. Yes, I am 3 years old. Whatever. You'll get it once you try it.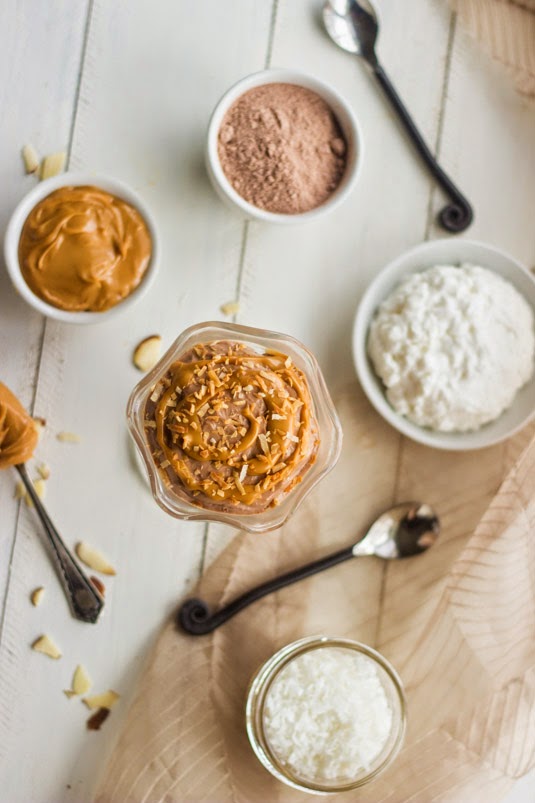 I was introduced to Almond Joy Chocolate Bars back when I first met my husband, and immediately died of love. We didn't have these in Canada (where I grew up) so my life pretty much changed after taking a bite of one of these bad boys.

Sidenote: I always tell my hubby that it was him who changed my life but, between you and me, it was totally my first Almond Joy. But, let's keep that our little secret. 😉

Obviously, I had to re-create a healthy version. And, if you've ever read my blog, you'll know that I am kind of (read: totally and completely) obsessed with all the things protein.

With 30 g of protein, I would say that this little snack covers my obsession pretty nicely.

If all of that fabulosity doesn't convince you to drop whatever you're doing and eat this, then I have one last point for you: It actually tastes like cheesecake. Like Almond Joy cheesecake. Like Almond Joy cheesecake without the sugar and fat. Like Almond Joy cheesecake that you can eat every.single.day and STILL wear skinny jeans.

Trust me.

I've eaten it 2000 times.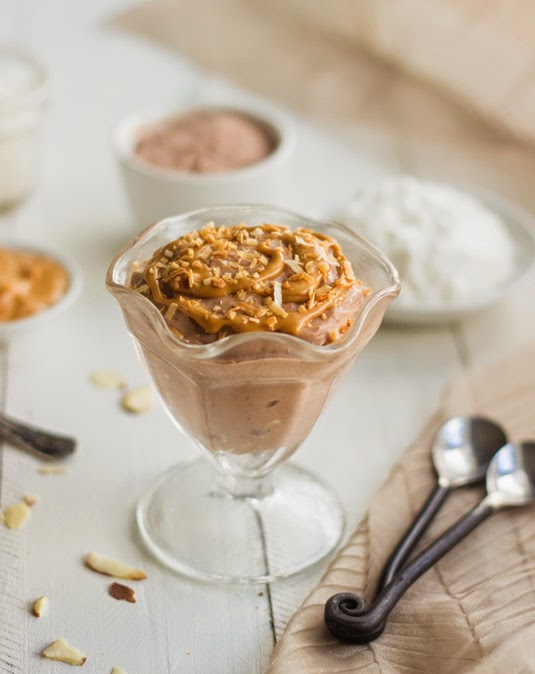 Almond Joy CheesecakeINGREDIENTS:
½ Cup Low Fat Cottage Cheese
½ Scoop Chocolate Protein Powder (about 3 Tbsp) *
¼ tsp Pure stevia (or sweetener of choice, to taste)
2 Tbsp Natural almond butter **
1 Tbsp Unsweetened coconut flakes
Directions:
1. In a small food processor (I use my Magic Bullet) combine the cottage cheese, protein powder, sweetener of choice and 1 Tbsp of almond butter. I find it works best to layer them in that order, starting with the cottage cheese and ending with the almond butter.
2. Blend until everything is completely mixed and the cottage cheese has gone nice and smooth. It is quite thick, so it may get stuck in the food processor, and you may have to stop and scrape the sides down multiple times until it's creamy.
3. Scoop out into a small bowl and place into the freezer for 30 minutes – 1 hour to let it get nice and firm***.
4. While the "cheesecake" chills spread the coconut flakes onto a small baking tray and toast them in a 400 degree oven until they turn a light golden brown, about 1 -2 mins. They burn quickly, so keep a close eye on them!
5. Top with additional 1 Tbsp of almond butter (if using) and toasted coconut flakes and DEVOUR.
Prep time: 10 mins Freeze time: 30 mins – 1 hour. Serves: 1
NOTES:
* I prefer to use casein protein powder over whey, as it is thicker, but whey will be just as yummy!

** You can use only 1 Tbsp if you want to make this even lighter, but it's much better with 2!
*** You can also eat it immediately, I just think the texture is closer to cheesecake once it chills and firms up.


———-

Taylor, I am so sorry to hear you didn't grow up enjoying the deliciousness that is an Almond Joy. It's one of the few candy bars I actually allow myself to eat. This cheesecake though…YUM. You're amazing. The end.

Make sure to check out Taylor's blog, Food Faith Fitness, and follow her Facebook, Twitter and Pinterest!