Never miss a bite! Sign up here to receive new recipes and reviews straight to your inbox.
Disclosure: I was invited to dine as a guest of Amar Mediterranean Bistro. As always, all opinions are 100% my own.
Amar Mediterranean Bistro Now Open in Downtown Delray Beach
Combining classic Lebanese and Mediterranean dishes with modern interpretation, Amar owners Nicolas and Susanna Kurban have introduced something totally unique and different to Downtown Delray Beach.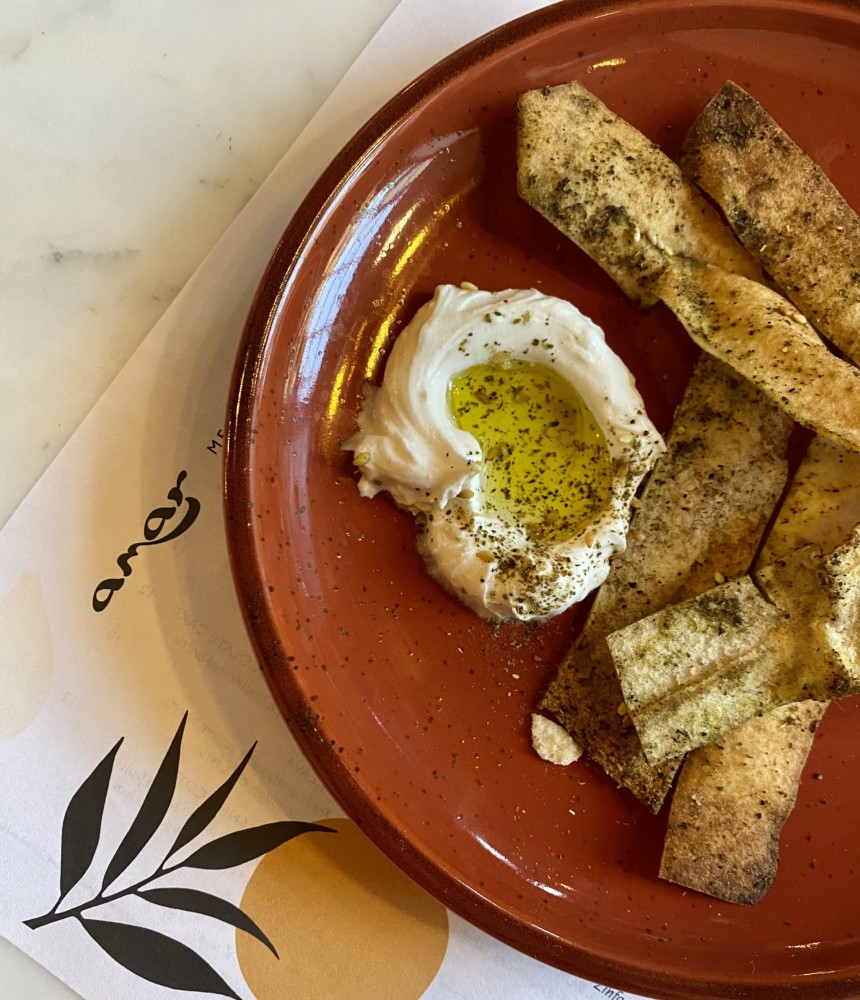 This cozy bistro is located on Atlantic Avenue, in the middle of everything — but once you step inside the restaurant, you will immediately feel transported off the busy Ave and into what feels like the kind of intimate, quaint, and absolutely adorable neighborhood café that you'd find in Paris, Italy, or even New York City. Nicolas has quite the impressive background, having worked alongside world renowned chefs such as Thomas Keller and Wolfgang Puck, opened restaurants all over the world, and managed the food and beverage programs at hotel-casinos, such as the Wynn Resorts in Las Vegas and Borgata in Atlantic City. Fun fact: Nicolas and his family lived in the same town I'm from in New Jersey during his Borgata days, and my younger sister worked with one of his daughters at a local frozen yogurt shop!
The Lebanon-born restaurateur has created a menu filled with modern versions of his favorite family recipes, with bold flavors, colorful produce, and fresh proteins. There are plenty of vegan and vegetarian options, and much of the menu is or can be made gluten-free too!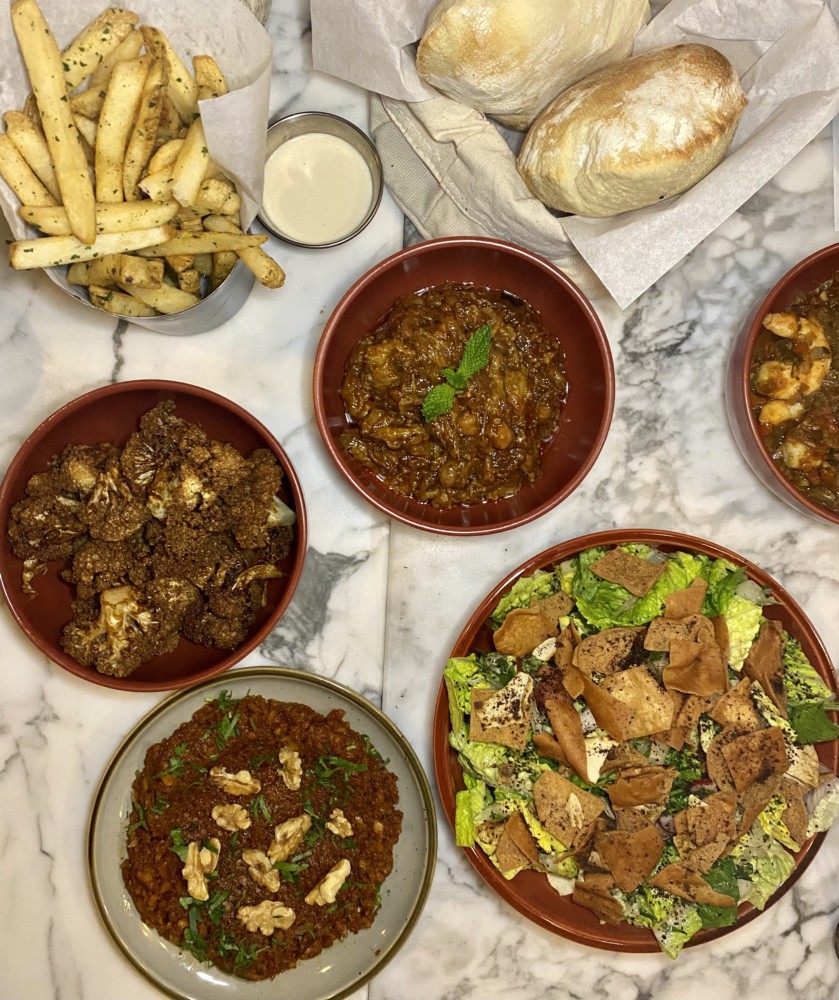 Order All The Mezze Platters
At Amar, it's all about the "mezze," which refers to a selection of small plates that are meant to be shared. This is definitely my preferred way of eating anyway — I like to have a little taste of everything. Of course, you can never go wrong with hummus at a Mediterranean restaurant, but I encourage you to try one of the lesser known dips: Muhammara. It's a blend of roasted red pepper purée, walnuts and pomegranate molasses, and is one of the most unique and delicious things I have ever had. The fresh baked pita that comes with it is not gluten-free, but the kitchen will happily cut up some peppers for gluten-free diners who want a vehicle for dipping. Honestly though, the Muhammara is just as enjoyable on its own. It has a thicker, crumbly like texture — not so much smooth and spreadable like hummus.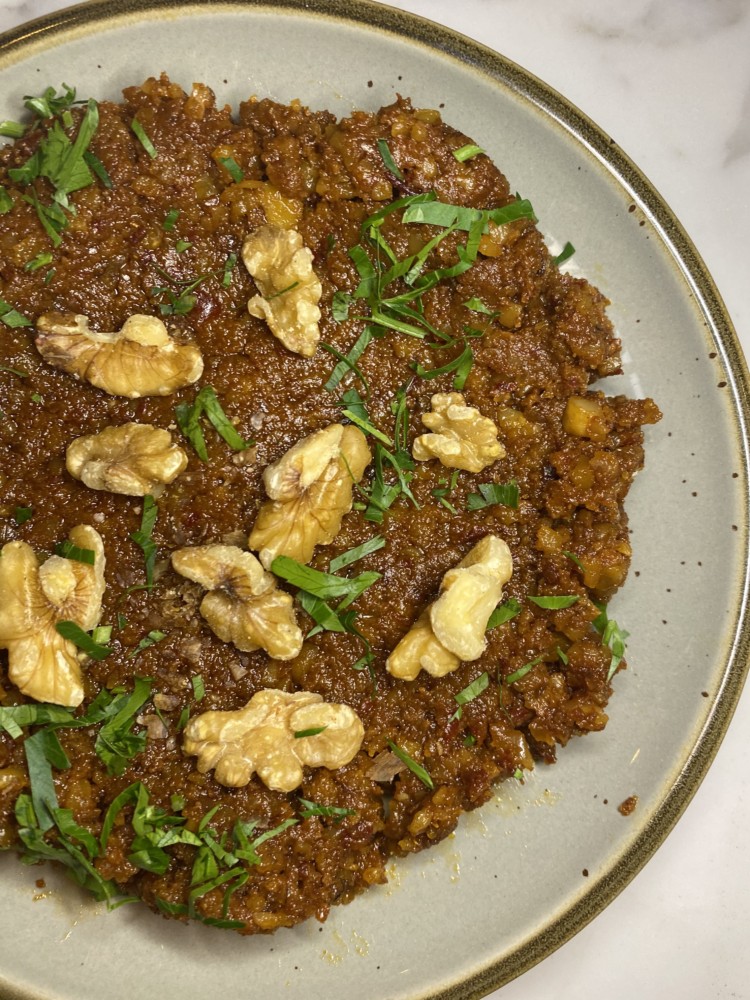 While we're on the subject of trying something new, I also encourage you to try the Lebanese white wine: a blanc de blanc from Ksara, Bekaa Valley. It's light and refreshing, and paired nicely with everything I tried throughout the night.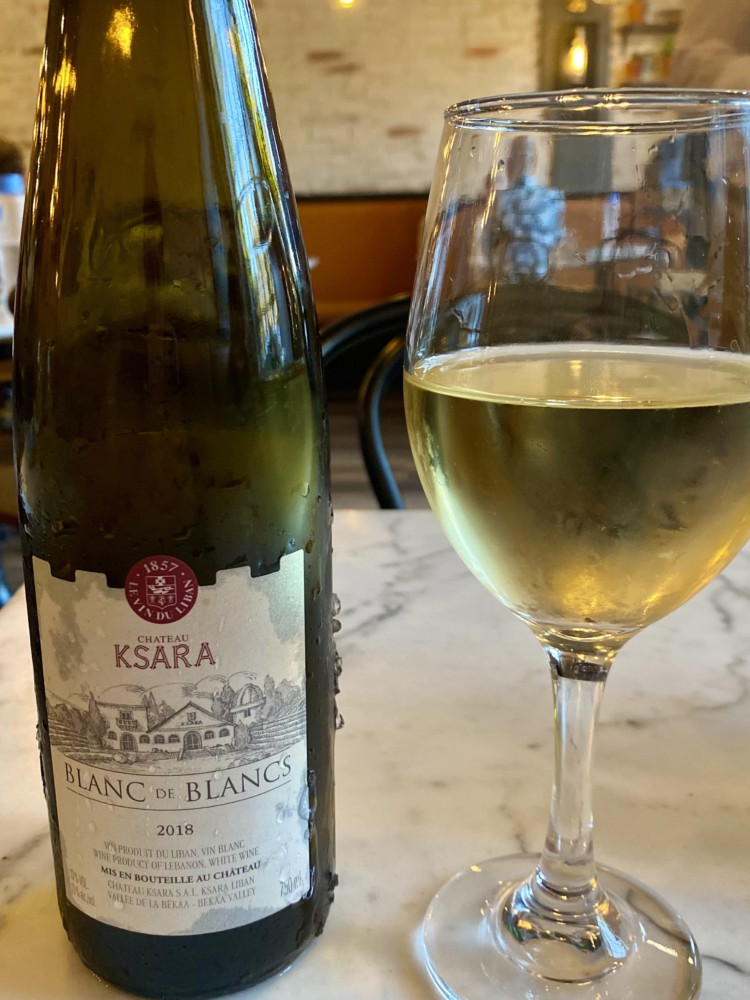 Now back to the mezze! The Lebanese Moussaka is another must-have. This vegan dish consists of eggplant, tomato, onion, chickpeas, olive oil, and a blend of spices that will seriously delight your tastebuds. I could not stop going back for more! You might be familiar with the Greek version of moussaka, which typically has meat and looks like a lasagna or casserole. This is entirely different, and I highly recommend giving it a try.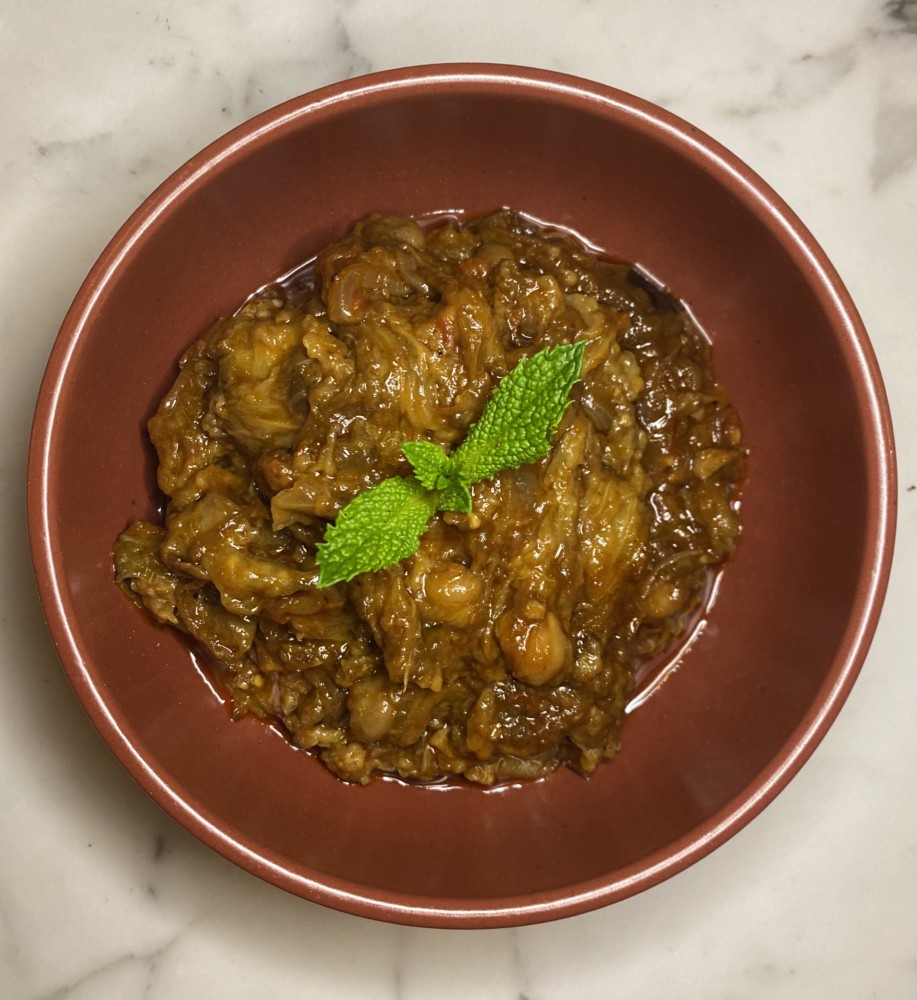 I also really liked the Arnabeet Mekle, aka fried cauliflower, with almonds, raisins and a harissa-tahini sauce. Don't let the word harissa scare you — it's not spicy! The tahini mellows it out, and gives it a velvety smooth texture. I used this sauce to dip the Amar Fries in too, which are seasoned with a blend of sumac, Za'atar and parsley. They're served with a dairy-free garlic whip that I found to be a little too garlicky for me, so I tried the tahini sauce instead. That was a winner.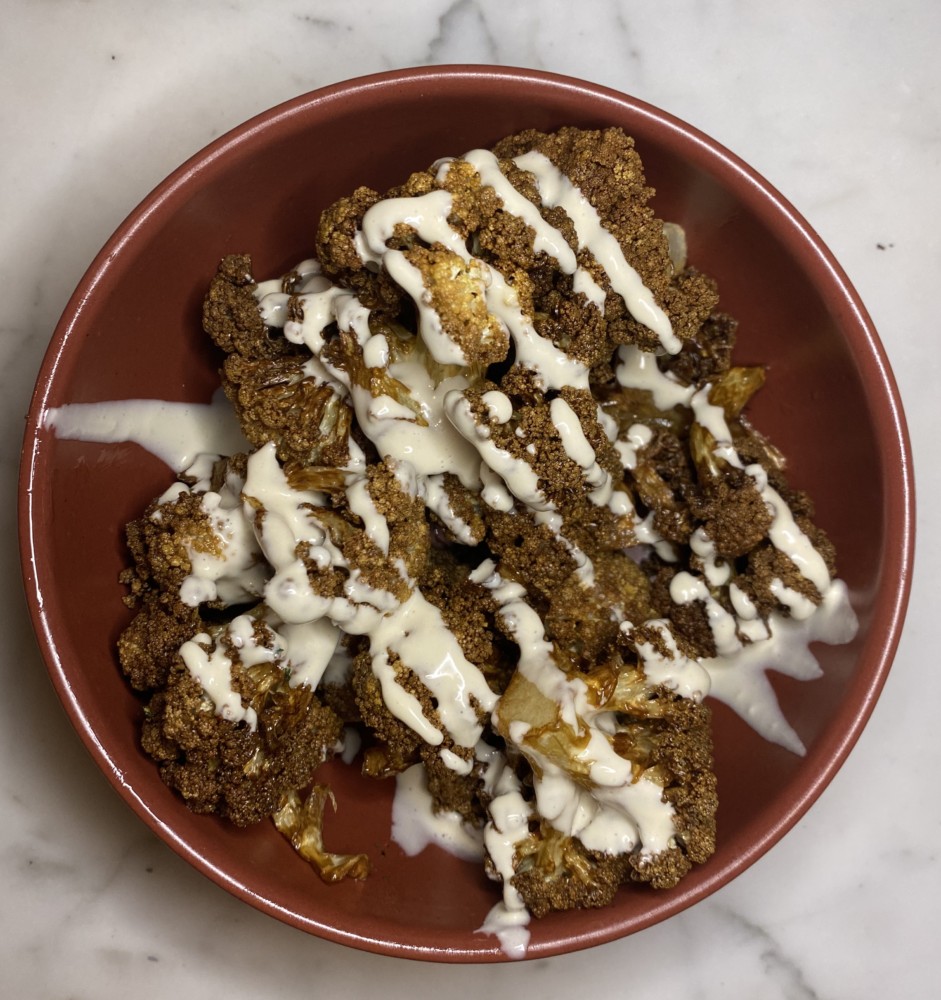 But Don't Skip the Entrées
You could easily make a meal solely out of the mezze platters at Amar, but let's be real… you need to try at least one or two entrées too! The steak kebabs were delicious and perfectly cooked. Charbroiled marinated sirloin, served with grilled peppers, onions and rice sounds simple, but that's what is so beautiful about Mediterranean cooking: the seasonings used can elevate even the most simple dish into something beyond words.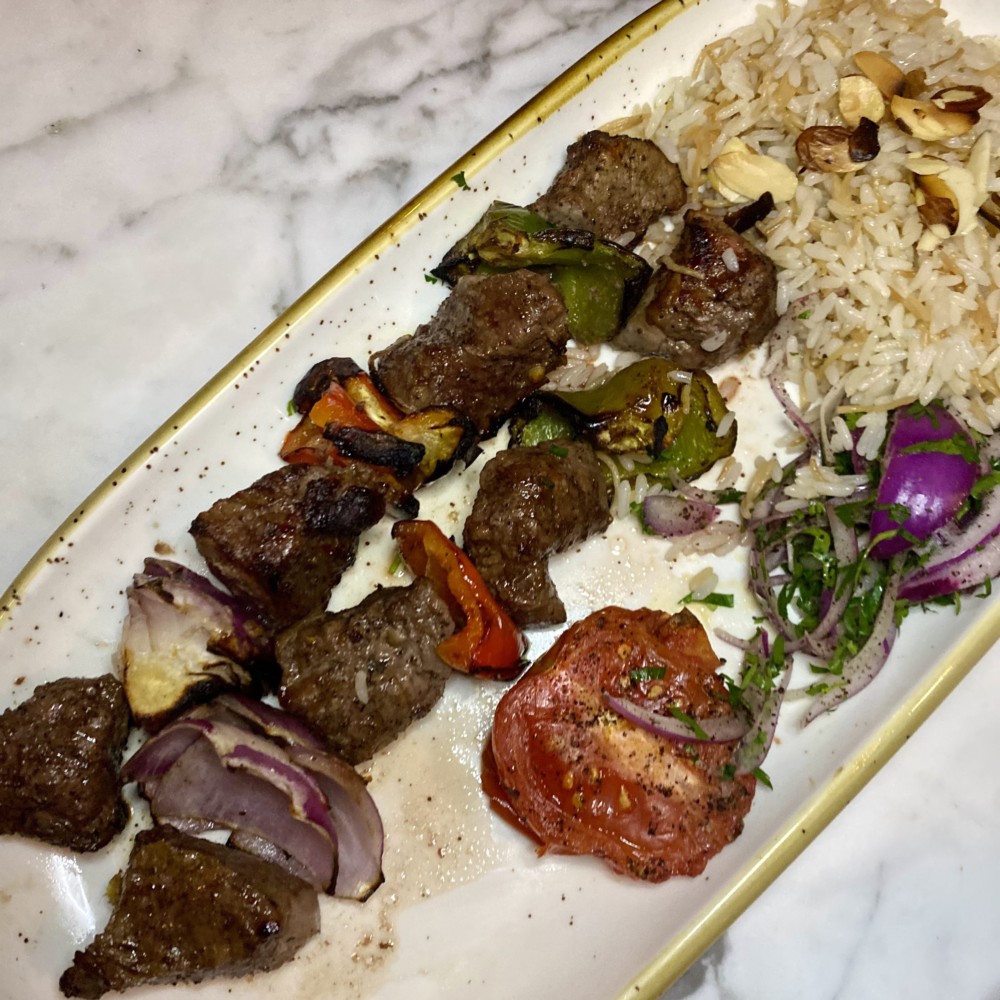 We also got the grilled branzino, a light white fish seen on many Mediterranean menus. It was topped with a sauce made of tomato, red pepper, pine nuts and olives. If you know me, you know I loathe olives, but I could easily avoid them on the plate. Thankfully, those briny little nuggets did not ruin my branzino experience. In fact, I very much enjoyed it!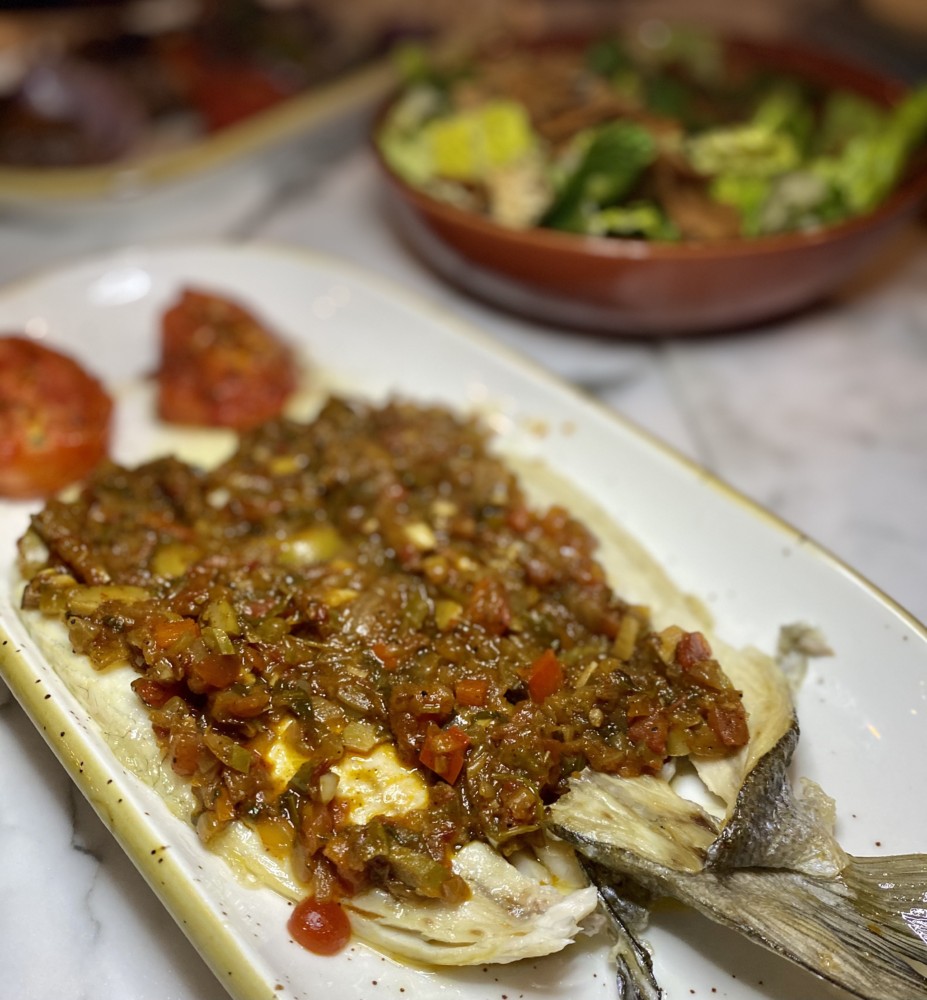 Although dessert was not in the cards for me, it definitely was for my dinner dates, Destiny and Christie. All of Amar's desserts are homemade by Nicolas' wife, Susanna. You've got the traditional Baklava, as well as a semolina cake with orange blossom, a tahini dark chocolate cake, and labne panna cotta — but the real star of the dessert menu is the Kanafeh for Two. It has a stunning presentation and really interesting combination of ingredients: semolina, melted cheese, orange blossom, and pistachios. Get out your fork and knife and get ready for the ultimate cheese-pull experience as soon as you slice into this thing. It is gorgeous, and by the looks on my friends' faces as they dug in, I could tell it tasted as good as it looked.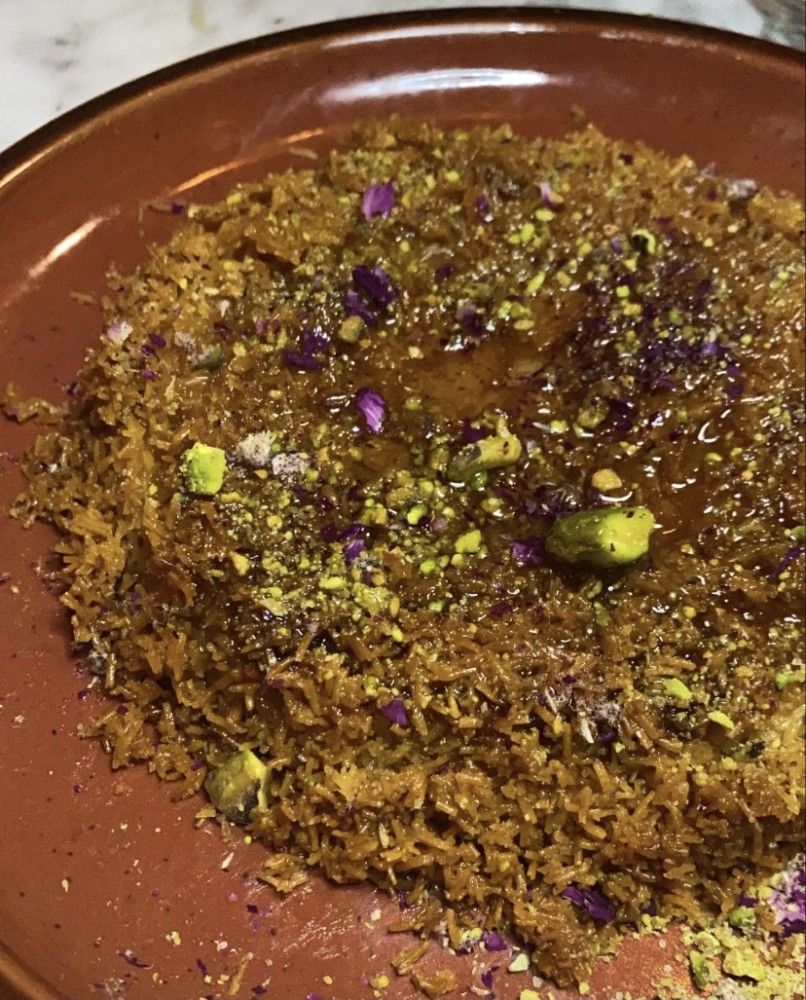 Book Your Reservation at Amar Delray
Amar is located at 522 East Atlantic Avenue in Delray Beach. The restaurant is open for dinner daily from 5-10pm. The restaurant has a small dining room, and there are a few tables available for outside dining. Take-out is available as well. For reservations, call 561-865-5653.