Never miss a bite! Sign up here to receive new recipes and reviews straight to your inbox.
Disclosure: I was invited by Bon Appétit to participate in an ALDI Blogger Challenge in which we have to create a meal for under $10 using only ALDI's high-quality ingredients. Compensation was received in the form of ALDI gift certificates in order to purchase products for this post. As always, all opinions are 100% my own.
Have you shopped at an ALDI before? I certainly have not — I never even heard of this unique grocery store until Bon Appétit invited me to take part in a fun blogger challenge. Little did I know that there was an ALDI right here in Delray Beach. ALDI is all about great quality products at low, affordable prices. ALDI is a smart shoppers' dream store, with award-winning products, a variety of fresh and organic produce, a gluten-free line and much, much more — and all at prices that will have you do a double take.
There are two things that first-time shoppers must know before beginning their shopping excursion. Bring your own bags, and make sure to have a quarter handy for your shopping cart. I had no clue what to do with the carts when I arrived — thankfully a woman who had just returned hers gave me the rundown. You simply slip your quarter into a slot to release the chain on the cart; when you're done shopping, click the chain back into place and out comes your quarter!
My first shopping experience at ALDI was a bit overwhelming. I didn't make a shopping list because I wasn't sure what kind of products I'd find. I decided to let the aisles influence me as I strolled up and down each one. The first item I saw was a container of quick-cooking grits — something I have never used before, but after trying the Shrimp and Grits at The Little Goat in Chicago, I've been trying to recreate it at home. Guess now's as good a time as ever!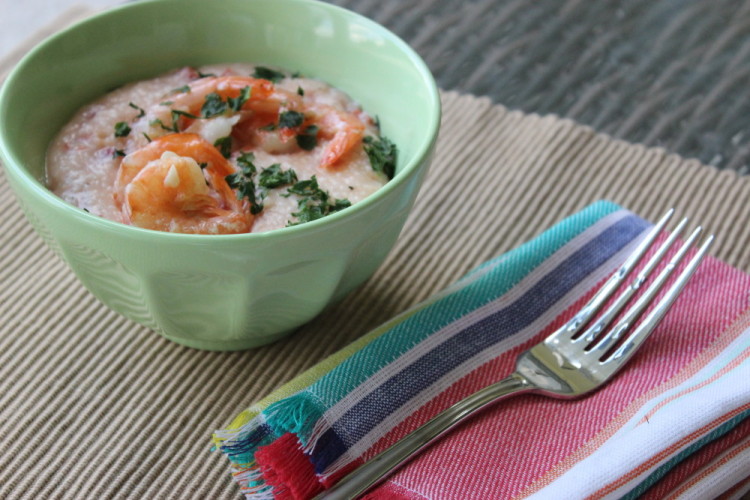 For less than $10, I was able to find all the ingredients I needed to make my own Shrimp and Grits. I used Sea Queen easy-peel medium raw shrimp, Millville quick-cooking grits, Fit & Active canned petite diced tomatoes, and Specially Selected Aged Reserved White Cheddar. That's it! It's a simple dish packed with flavor, and I can't believe how incredibly easy it was to make. This would be a great idea for a quick weekday supper at home, but could easily impress guests too. I may not be Southern in any way, but this is one Southern dish I can totally get behind.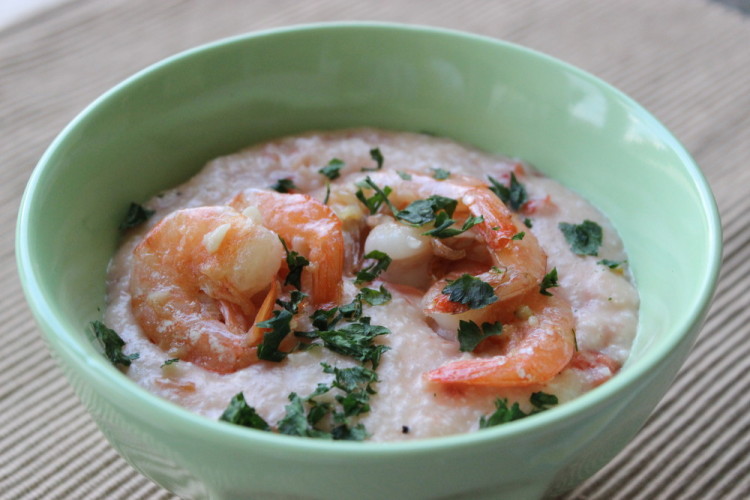 I was impressed with a lot of the products at  ALDI and would definitely return. It is a little out of the way, so I'll have to make a special trip, but it's definitely worth it to find good quality ingredients at a price that won't break the bank.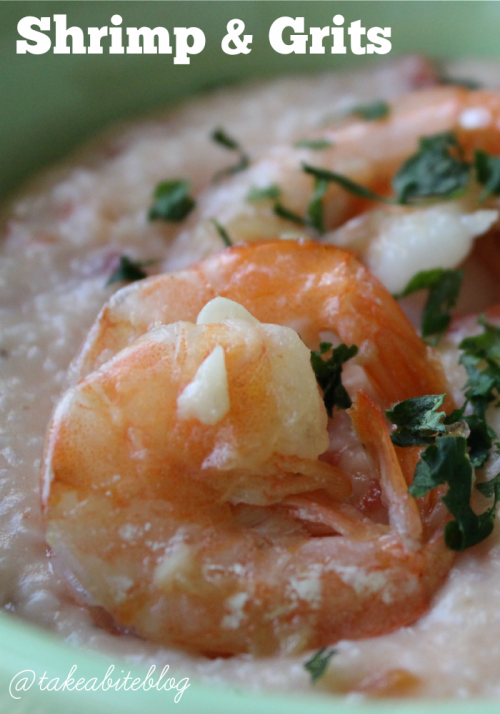 Shrimp and Grits
Author:
Ingredients
3 tbsp Millville quick-cooking grits
1 cup water
2 small garlic cloves, minced
1 tbsp olive oil
5-6 Sea Queen medium raw shell-on shrimp
3 oz. Specially Selected Aged Reserved White Cheddar, grated
salt and pepper
3 tbsp Fit & Active canned petite diced tomatoes
Optional: chopped fresh parsley
Instructions
Bring 1 cup of water in a medium pot to a boil and add the grits.
Reduce to low and cook, covered, for about 5 minutes or until the grits have thickened.
While the grits are cooking, heat oil in a medium sauté pan.
Add minced garlic and shrimp and cook until the shrimp have turned pink.
Remove the shrimp from heat.
Once the grits have thickened, stir in the grated cheddar cheese over heat until completely melted.
Season with salt and pepper to taste.
Stir in diced tomatoes until warmed.
Pour grits into a bowl and top with the cooked shrimp. Sprinkle with fresh parsley.