Never miss a bite! Sign up here to receive new recipes and reviews straight to your inbox.
NOTE: This restaurant has since closed.
Disclosure: I was invited to dine as a guest of Anzo. No monetary compensation has been received for this post. As always, all opinions are 100% my own.
Fast-casual restaurant, The Chickpea, has rebranded and expanded its menu to include breakfast bowls in addition to its popular Mediterranean-inspired bowls and wraps. The newest location in West Boca officially opened to the public on November 1st, and joins the others in Downtown West Palm Beach, Midtown Palm Beach Gardens and soon-to-open Boynton Beach Town Center.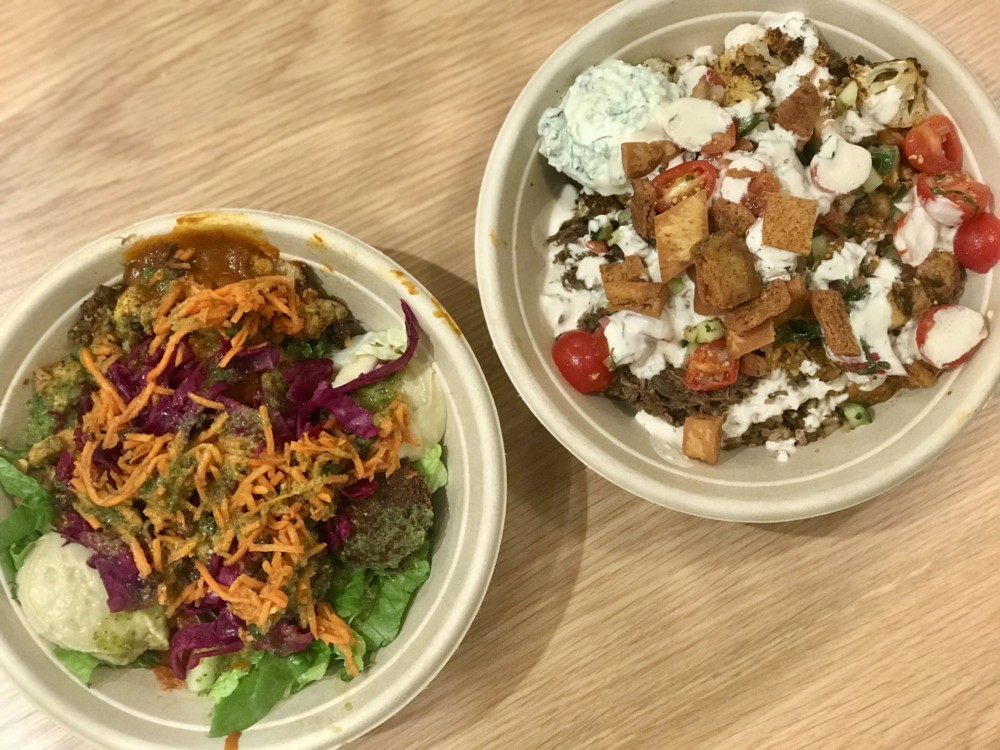 Anzo's menu caters to all lifestyles, whether you're vegan, vegetarian, gluten-free or Paleo. The ingredients are inspired by flavors from all over the world. Their mission? To be a uniting space for people by innovating one of our most communal moments: mealtime. After dining there recently with my mom, I can honestly say: mission complete.
If you're in the mood for breakfast, Anzo has you covered. Choose from rice pudding, overnight oats, organic Açai sorbet, Greek yogurt, or a mixed berry Açai yogurt smoothie and have fun with all the yummy toppings like fresh fruit, granola, honey, chia seeds and more. But if it's lunch or dinner time….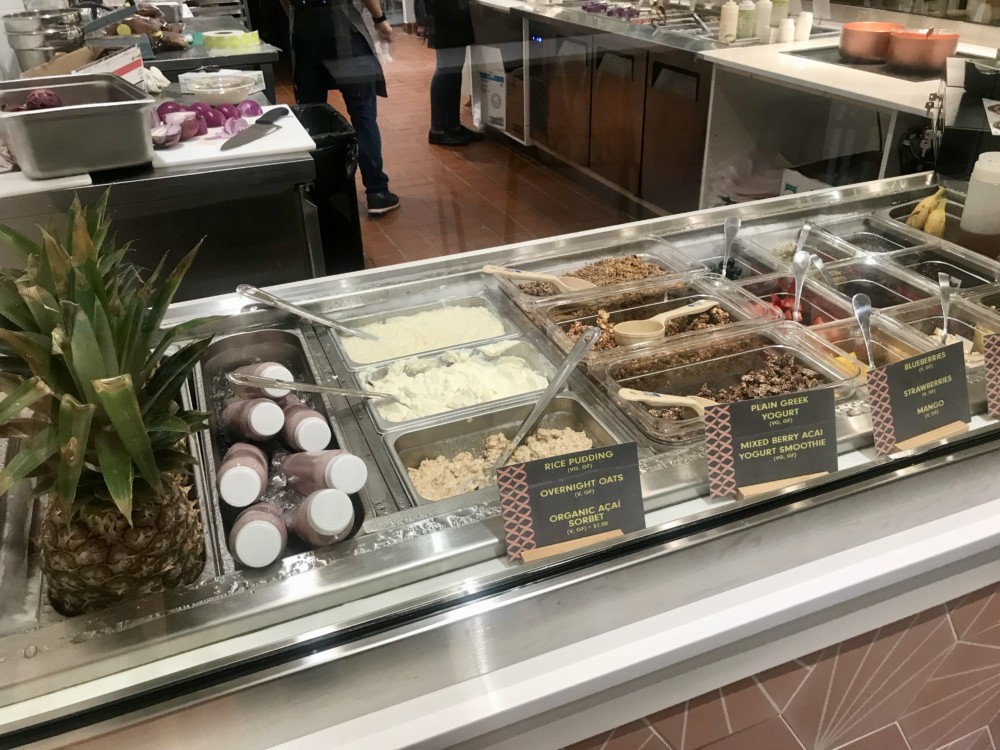 You're going to want to create your own delectable bowl of deliciousness. You can pair it with a cup of house-made tea or fresca, or craft soda. Then, add on a side of pita crisps and dips or a fresh fruit cup, or if your sweet tooth is calling out, grab some gluten-free chocolate chip cookies, or a piece of walnut and pistachio Baklava. Pretty soon, they'll also have 100% hand-crafted, soy and gluten-free seasonal dessert jars.
But let's get back to building our bowl. I've written about countless build-your-own-bowl types of places, and I'm still not sick of them. So long as the ingredients are unique to each spot, I'm going to keep going back to try all the different combinations. Anzo might find some competition in other Boca locations such as Bolay and Fresh Kitchen, but each of these places does have something different than the others. You won't find falafel at Bolay or Fresh Kitchen, but you sure will at Anzo — and it's not to be missed.
The falafel was the first thing I had my eye on when I walked through the doors. The clean, crisp decor and bright lights give Anzo a very modern look, but there is still an element of comfort and ease. The comfort continues as you get a whiff of all the incredible aromas drifting up from behind the counter. The Mediterranean spices fill the air. Mom and I were hungry, and ready to build our bowls!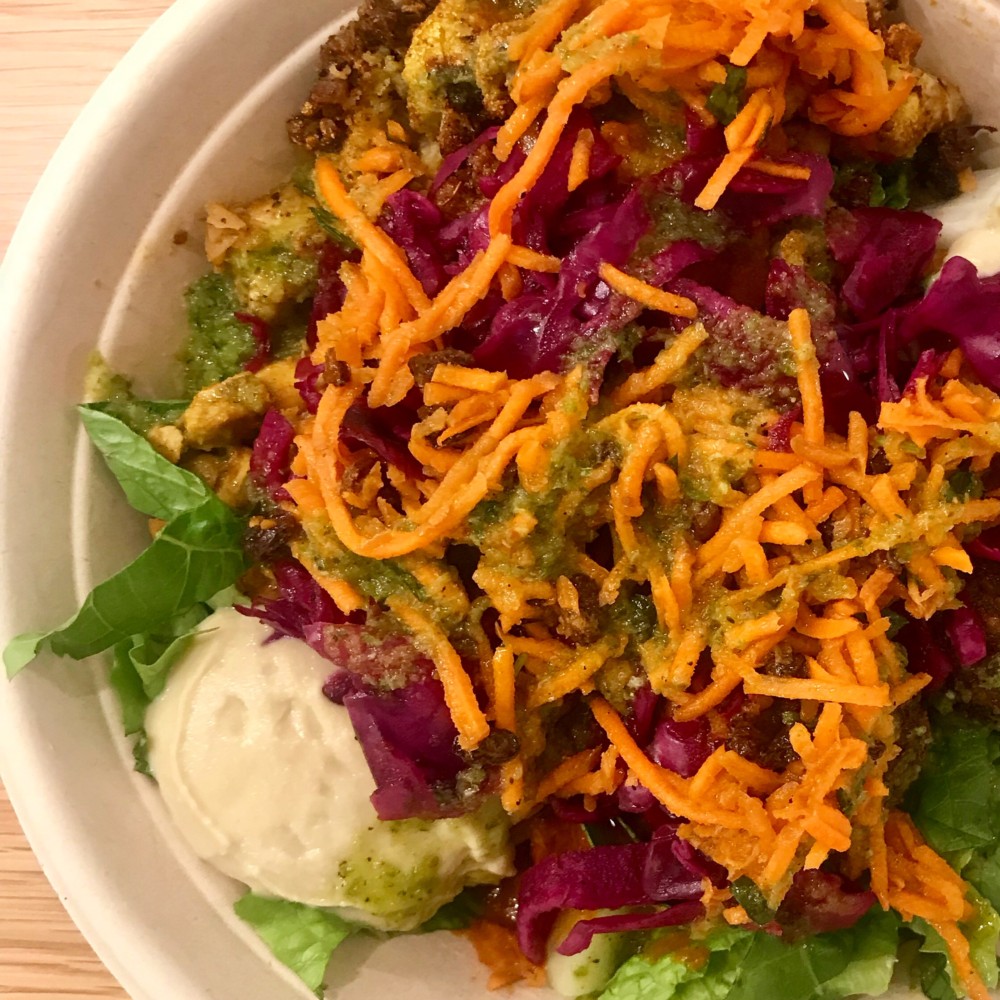 I decided to go low-carb and started with a base of spinach and mixed kale and cabbage salad. Then I went to town with toppings: falafel and tofu chickpea tagine, topped with shawarma-spiced cauliflower, coconut curry sauce and hummus, harissa carrot salad, and purple cabbage slaw, drizzled with basil vinaigrette. Mom went on a little bit of a different route and started off with the vegetable quinoa and brown rice, then added braised beef, shawarma-spiced cauliflower, tzatziki sauce, tomato and cucumber salad, and Za'atar croutons, with Anzo's signature yogurt-garlic dressing.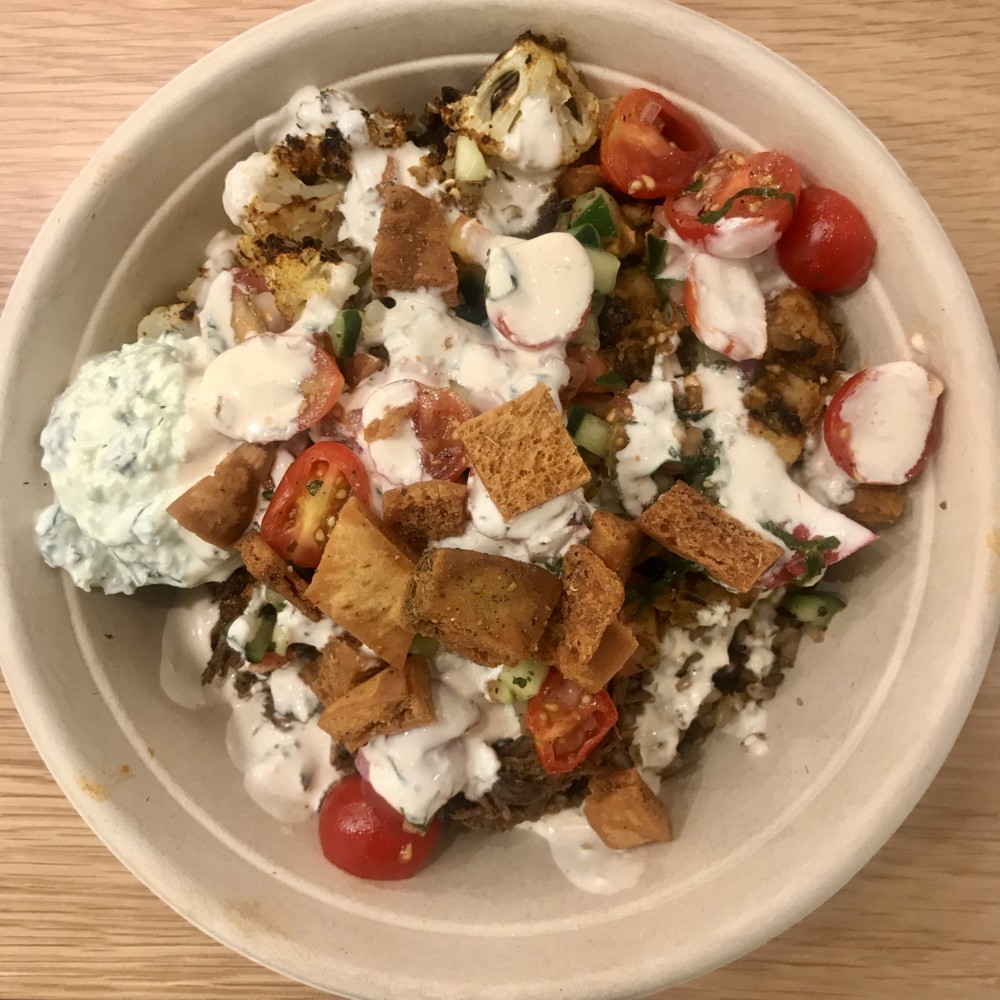 The combinations are endless. No matter what you throw together, it's all going to work. I'm already itching for my next visit to Anzo!
Anzo is located at 20642 State Road 7 in Boca Raton. The restaurant is open daily from 11am-9pm.