When it comes to flavors, the fall season definitely brings us the best of the best. Pumpkin, apple, cinnamon, vanilla, winter squash… I love them all. When #SundaySupper announced this weekend's "Fall Foods" theme, I was so excited because it came at the perfect time. I was already planning on using some of fall's best ingredients for a dessert to bring to my aunt's home for Rosh Hashanah dinner. Apples, figs and pomegranates slathered in honey and cinnamon, topped with a brown sugar oatmeal crumble and baked to a crisp.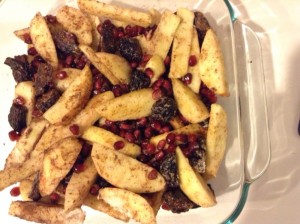 I wanted to make a dessert incorporating some of the symbolic Rosh Hashanah foods. Honey is the most well known; we always eat apples and honey to welcome a sweet new year. Figs and pomegranates are symbolic of the Israeli custom to eat a new fruit at your dinner. With pomegranate and fig season both starting in September, it is the ideal fruit for this tradition. It's also believed that the pomegranate contains 613 seeds, which represents the 613 commandants (or mizvot) and our wish to fulfill these mizvot in the new year.
I've made this type of dessert before with apples and cranberries, but this version of the dish has so much more flavor. The figs really enhance the sweetness, and I like the crunch you get from the little pomegranate arils. There is a ton of cinnamon, so be prepared for a delicious smell throughout your kitchen while this bakes. You don't mind do you? Who wouldn't like the smell of cinnamon filling the room? It's a perfectly healthful dish, too. I used white whole wheat flour and coconut oil, and there is absolutely no butter or white sugar involved at all. My family really enjoyed ending their meal with this dessert – so much so that when I was invited to my roommate's family's Yom Kippur dinner and asked to bring dessert, I knew exactly what to make. Once again, it was devoured completely. This basic crisp recipe is so easily adaptable to whatever fruits are in season; it is definitely my go-to dessert when I'm invited somewhere. Easy, no fuss, and always loved by all…sounds like a winner to me!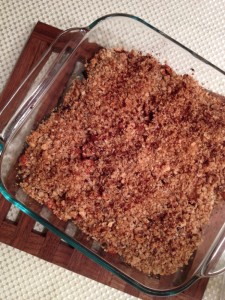 Apple, Fig & Pomegranate Crisp
For the filling:
4 medium to large Royal Gala apples, peeled and sliced
1 container pomegranate arils
1 bag mini dried mission figs, halved
1 tbsp white whole wheat flour
1/3 cup honey or agave
1 tbsp cinnamon
For the crumble topping:
1 ½ cups quick cooking oats
½ cup brown sugar, packed
4 tbsp coconut oil
½ cup chopped walnuts or almonds
Preheat the oven to 375 degrees and prepare a 9×12 glass baking dish.
Combine apples, pomegranates and figs in a large bowl. Stir in flour, honey and cinnamon and mix until well combined.
In a food processor, combine the oats, brown sugar, coconut oil and nuts and pulse until well combined.
Pour the filling into the baking dish and spread evenly. Coat completely with the crumble topping. Sprinkle more cinnamon on top. Bake for 60 minutes.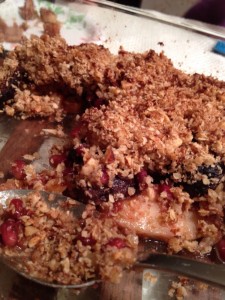 Don't forget to check out the other awesome Fall Food recipes from our #SundaySupper bloggers! And if you want to get in on all of the Sunday fun, make sure to head over to Sunday Supper and sign up! You can join us in our Tweet Chat tonight at 7:00 pm Eastern Time. Use the hashtag #SundaySupper and look out for all of our Fall Food inspired questions. See you there!
Amazing Breakfasts, Brunches, and Breads
Outstanding Soups, Starters and Sides:
Comforting Main Dishes:
Decadent Desserts:
Tasty Drinks:

Posted with Blogsy