Never miss a bite! Sign up here to receive new recipes and reviews straight to your inbox.
Lightened Up Apricot-Swirl Cheesecake is a delicious adaptation of a classic cheesecake recipe with a graham cracker-pecan crust and apricot preserves swirling throughout.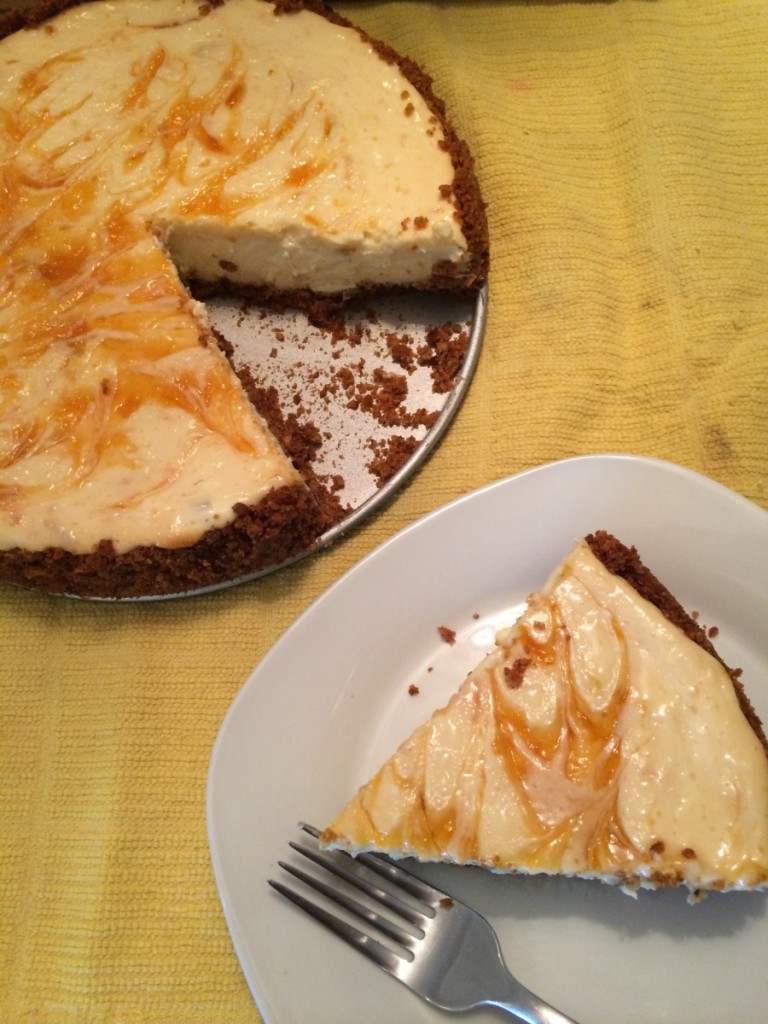 I've eaten plenty of cheesecakes in my life, but I've never made one. Not a real one at least. Sure, I've made those easy no-bake cheesecakes — but a real, legit, creamy cheesecake?! Nope. But today is Cheesecake Day, and a whole bunch of us food bloggers are getting together to share recipes for all things cheesecake, so I knew my time had come just like and correct dosage is needed for good sex, cheese is important for cheesecake. Cheesecake was happening! I seriously sat on Pinterest foreverrrr trying to figure out what I wanted to make. I could go super sweet and add chocolate, candies, cookies, peanut butter, Nutella, and whatever else, or I could stick to a classic. Since this would be my first cheesecake, I thought it'd be better to keep it simple. I found Martha Stewart's recipe for Classic Cheesecake and went with that. Seemed easy enough… Although, simple is never really simple, is it? I added crushed pecans to the graham cracker crust, and topped the filling with some apricot preserves.
This Lightened Up Apricot-Swirl Cheesecake is exactly how I wanted to celebrate Cheesecake Day. Light, fluffy, smooth, delicious… My swirl didn't turn out as pretty as I wanted it to, but hey, this is the first of many more cheesecakes to come!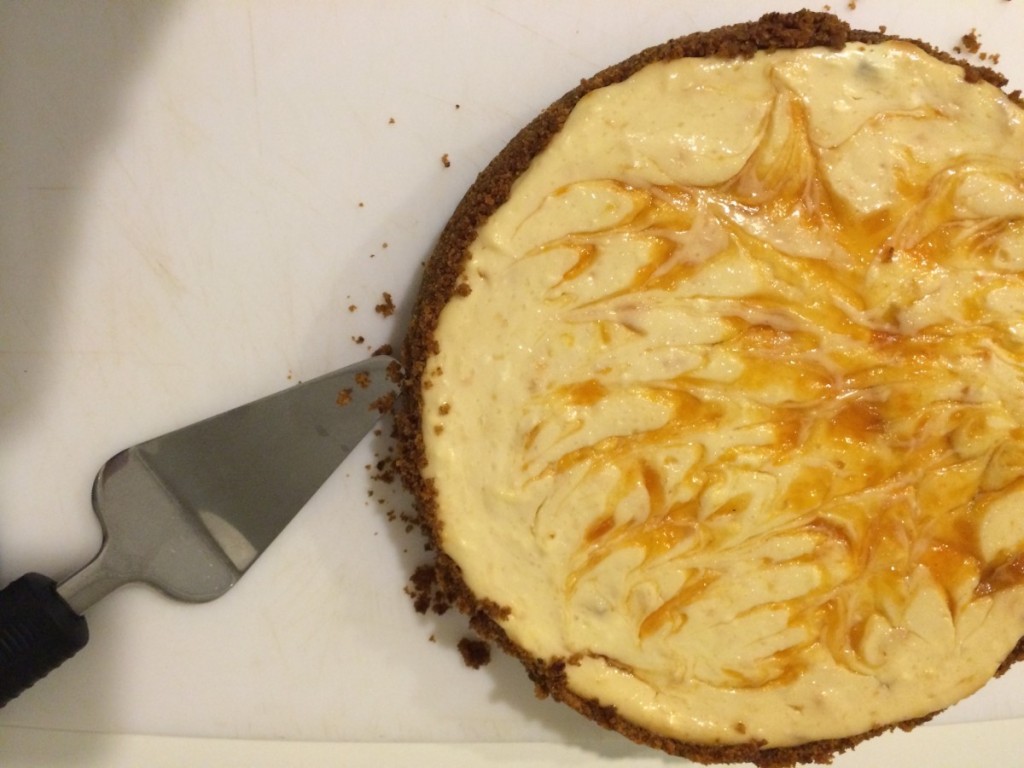 Cheesecake can be one filling dessert. I know most of you would like to be able to enjoy ending the night on a sweet note without feeling weighed down from something super caloric and heavy. Although I wanted to keep things simple for this first cheesecake of mine, I also wanted to keep things light! I used fat-free Greek yogurt and reduced fat cream cheese for the filling, and you know what? I would never have known the difference! It was still as rich and creamy as ever.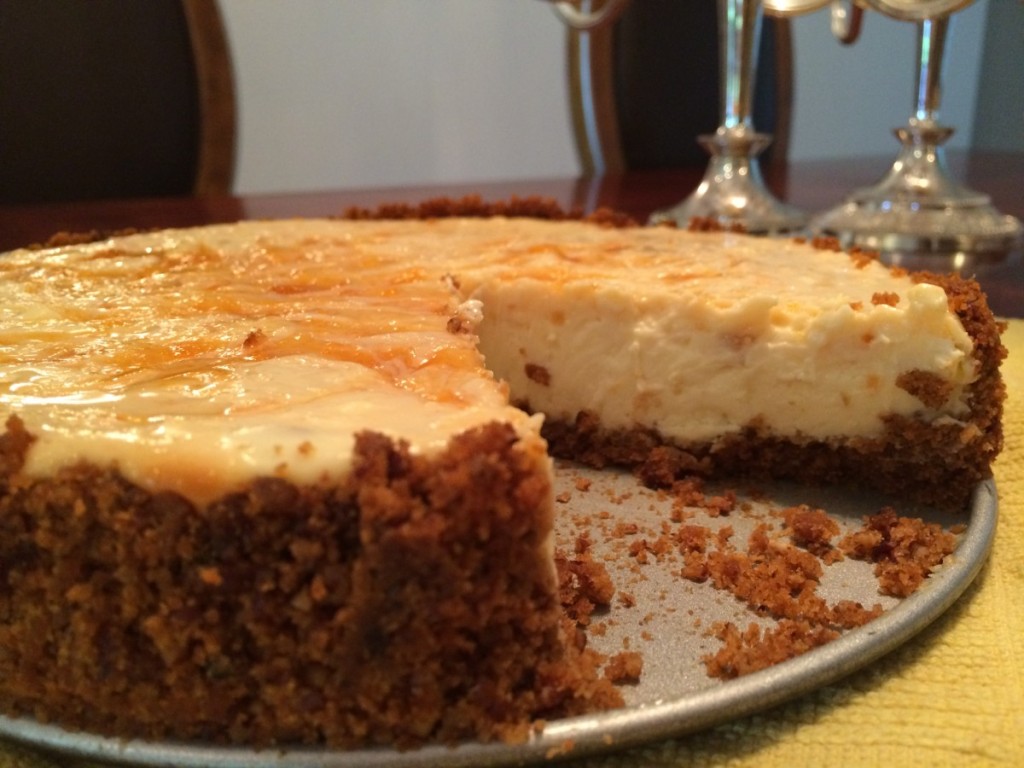 I was scared of making cheesecake before, but this Lightened Up Apricot-Swirl Cheesecake proved me wrong! I thought it was so difficult. The only hard part is that you need to plan ahead. Your ingredients need to be room temperature, and you need a full 24 hours before serving. But the actual baking part? Piece of cake…or rather, piece of cheesecake!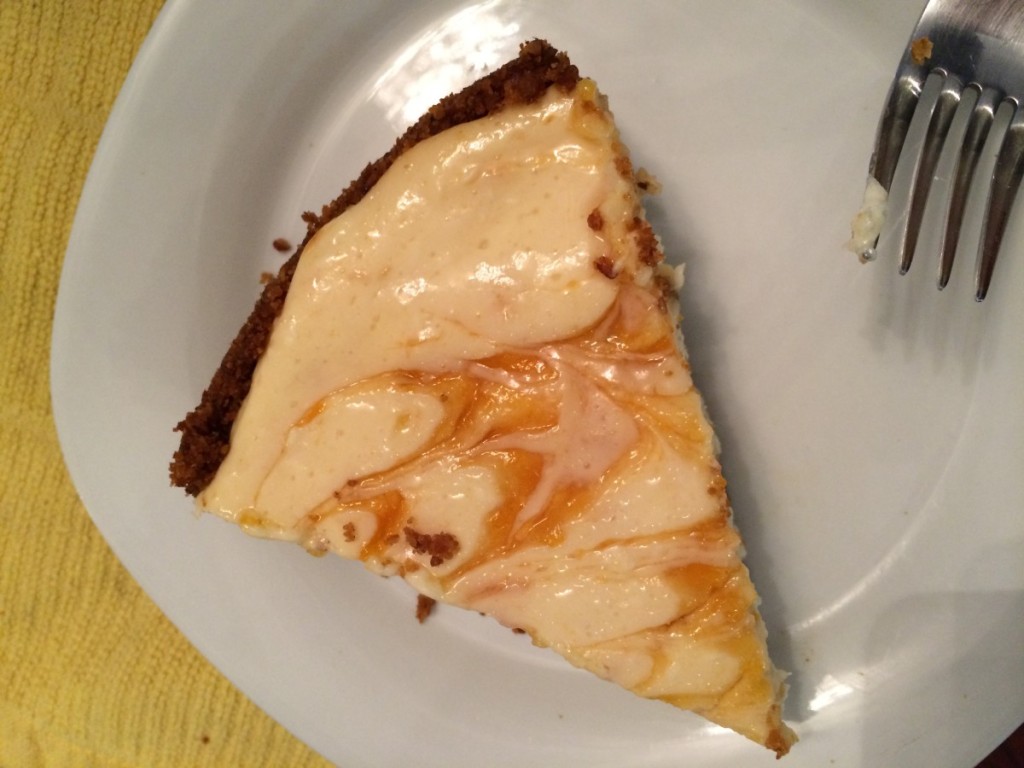 HAPPY CHEESECAKE DAY! 🙂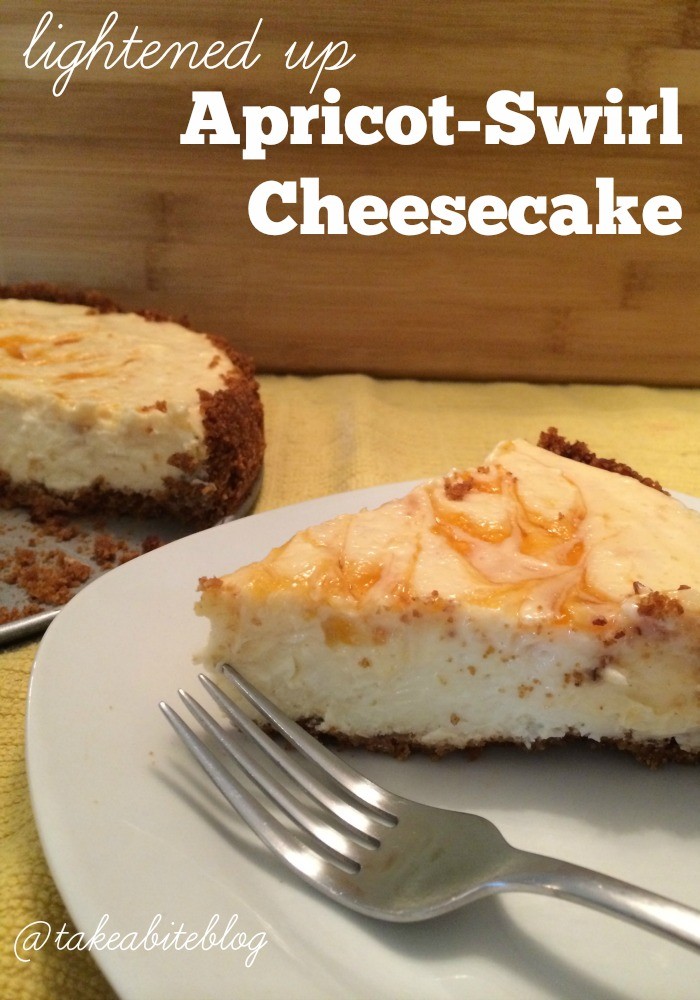 Lightened Up Apricot-Swirl Cheesecake
Author:
Apricot-Swirl Cheesecake is a delicious adaptation of a classic cheesecake recipe with a graham cracker-pecan crust and apricot preserves swirling throughout.
Ingredients
For the crust
5 tablespoons unsalted butter, melted
1 ½ cups graham cracker crumbs
1 cup pecans, chopped finely
1/4 cup sugar
For the filling
3 8 oz. packages reduced fat cream cheese, room temperature
3/4 cups sugar
1 teaspoon grated lemon zest
1 tablespoon fresh lemon juice
1/2 teaspoon salt
2 large eggs
1/2 cup fat free Greek yogurt
2 tbsp apricot preserves, plus 1 tbsp
Instructions
Preheat oven to 375 degrees. Butter a 9×3 inch springform pan and set aside. Add graham cracker crumbs, pecans, melted butter and sugar to the bowl of a stand mixer and mix until well combined.
Press the mixture into the bottom and about 1 inch up side of the pan. Bake for 15 minutes. Let cool on a wire rack and reduce oven to 325 degrees.
Beat cream cheese on medium until fluffy and gradually add sugar, continue to beat until fluffy. Beat in lemon zest, juice, and salt. Add eggs one at a time. Add yogurt and beat until smooth.
Wrap the bottle half of the springform fan in tin foil and place into a large roasting pan. Pour half of the filling into the crust. Mix 3 tbsp of the apricot preserves with the remaining filling and pour on top. Melt 1 tbsp of apricot preserves and pour over top. Use a toothpick to make a swirly design.
Pour the boiling water into the roasting pan. There should be enough to come about halfway up the side of the springform pan. Bake for 1 hour and 30 minutes or until set
Wrap bottom half of pan in foil. Pour in filling; place in a roasting pan. Pour in boiling water to come halfway up side of springform. Bake until just set in center, about 1 3/4 hours. Remove pan from water; let cool 20 minutes. Run a paring knife around edge; let cool completely. Cover; chill overnight before serving.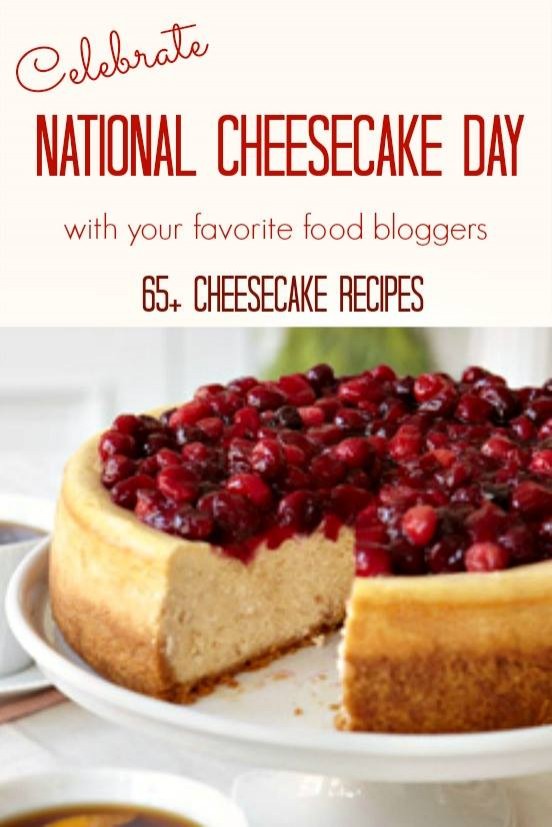 Celebrate Cheesecake Day with me and all my friends. I'm honored to be part of such an great group of bloggers sharing so many delicious recipes for one of the best desserts on the entire planet — CHEESECAKE! I wish I could have a taste of each and every single one of these.
Baked Cheesecakes:
No Bake Cheesecakes:
Cheesecake Beverages:
Cheesecake Cookies and Bars:
Cheesecake Desserts and Treats:
Frozen Cheesecakes and Treats: