Disclosure: I was invited to dine as a guest of the restaurant. No monetary compensation was received for this post. As always, all opinions are 100% my own.
There are so many varieties of Asian cuisine, each with its own unique flavor profile, special ingredients and inspiration, with one main thing in common — DELICIOUSNESS. What do you get when you fuse all of this amazing food together on one menu and add in colorful and jaw-dropping presentation? You get Coco Asian Bistro.
I've visited Coco Asian Bistro once before in 2014 and really enjoyed everything, so when I got the invite to come back, I jumped at the opportunity. I remember the dishes being so bright, bold and beautiful that I couldn't wait for more. Executive Chef and Owner, Mike Ponluang, has over 30 years in the industry, including a 15-year stint as owner of successful Coral Springs restaurant Thai Pepper. He has also served as a Thai food instructor at Chef Jean-Pierre's Cooking School and has studied at a sushi academy in Venice, California. His passion for food and cooking really shows in the preparation of each and every dish that comes out of the kitchen at Coco Asian Bistro. You can taste the love.
The menu is vast and includes a huge variety — everything from sushi and sashimi to classic Thai noodle dishes and even gluten-free and vegetarian sections. There's so much I wanted to try, especially from the selection of small plates. We started with the octopus ceviche (are you surprised?). Now, this is not your typical ceviche. Sliced octopus, ginger and shallots sit on a bed of a spicy Thai salad of — wait for it — iceberg lettuce. Strange, but oddly enough the cool, crisp lettuce helped to balance the strong flavor of ginger. I only wish there had been more pieces of that delicious octopus. Between three hungry girls, it was gone way too quickly.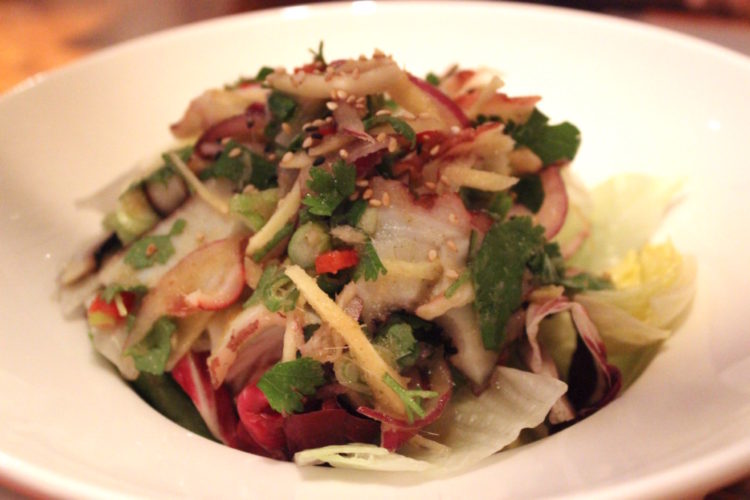 Although the decision on what to order was hard, there were no qualms about getting the wrapped wahoo. Seared wahoo, asparagus, avocado and tamago (Japanese grilled egg) are wrapped in rice paper and served with a spicy ponzu sauce. This was fabulous. You could taste every single component and I love how the thin rice paper doesn't get in the way of the flavors and textures of the ingredients. The heat from ponzu sauce gave it an extra kick that took it over the top. I'd order this again 100%.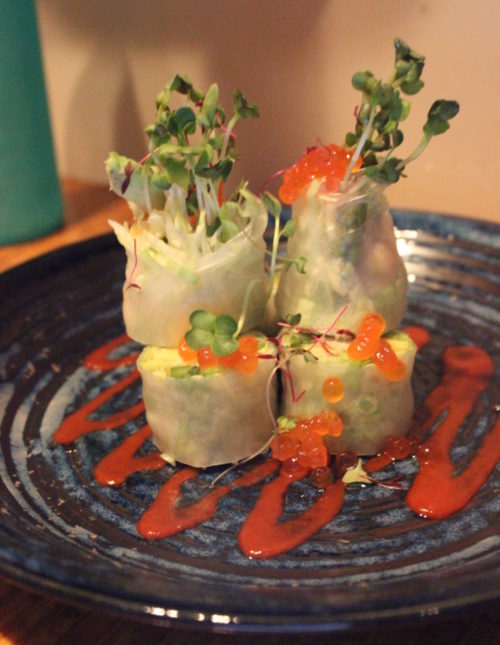 I could have ordered a zillion more things off the small plates menu, but there was one sushi roll in particular I was dying to try so I saved my appetite… And thank God I did! Because I need to limit my starch intake, sushi seems like an odd choice, right? Not when the roll uses cucumber instead of rice! The Sweet Dream is a delicate and stunning roll filled with tuna, hamachi, salmon, imitation crab, avocado, asparagus, masago and scallion, all wrapped nice and tight in thinly-sliced cucumber. It's bright, it's refreshing, it's incredibly tasty, and it's starch free! After seeing both the wahoo and this roll, I really noticed how beautiful the dishes are presented at Coco Asian Bistro. Everything is so intricately placed on the plate with such purpose and precision. The colors move and blend together and make you smile as soon as you see it.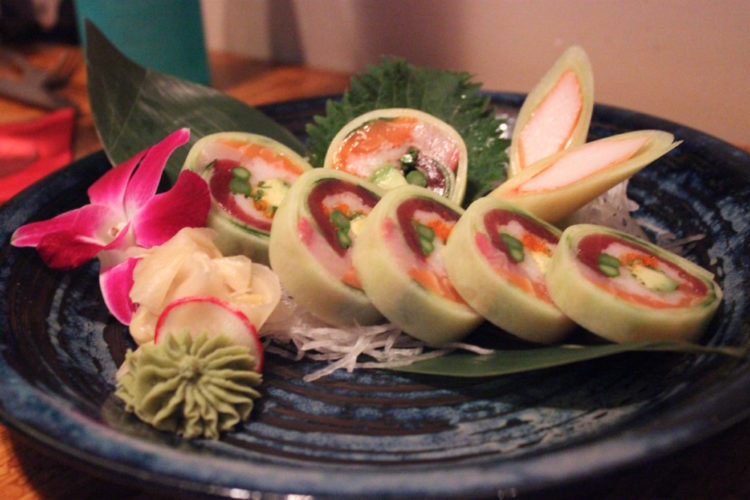 In keeping with my no-rice rule for dinner but still craving more of that sushi fish, I suggested we order sashimi — and order, we did! There was no messing around — Go Big or Go Home! We got the Sashimi Moriwase, which basically means a 'combination platter.' The photos don't do this justice. You had to be there to really take in how visually appealing it was. The Chef chose 15 of the freshest, most beautiful pieces of fish for us to try. Each one had its own distinct flavor, some saltier than others, some sweeter than others, but all equally as palatable.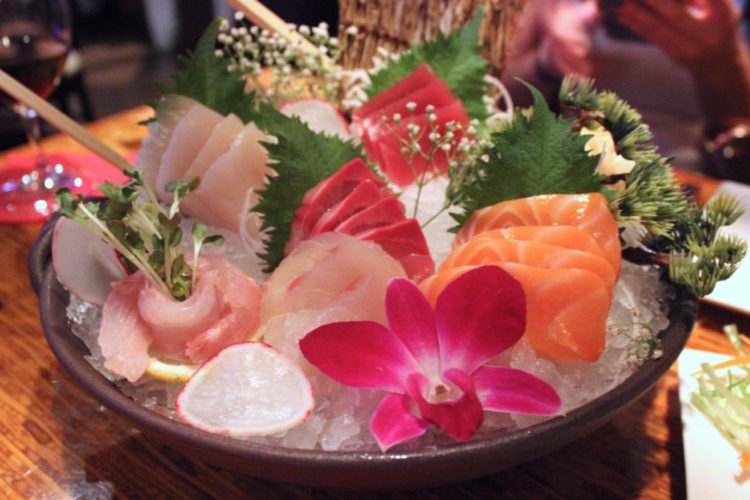 All of the food at Coco Asian Bistro's is impressive in taste and looks, so it's hard to say what stands out most. But there is one thing you've got to have when you visit, and that's the lobster pineapple fried rice. A combination of rice, shrimp, egg, tomato, garlic, cashews, onions, carrots, pineapple and raisins sit inside a hollowed-out pineapple and is topped with a 6oz. Maine lobster tail. The lobster meat was rich and succulent — no butter needed here! While I definitely enjoyed my share of the lobster, I only had a small spoonful of the rice, but thankfully that small taste was all I needed to experience just how flavorful it was. I liked the texture from the cashews and raisins and the sweetness from the pineapple, and found myself sifting through the rice for bites of just those three things.
This was a seafood-filled dinner, and we weren't finished yet. It was time to try one of the entrees — the pan-fried Chilean sea bass with red curry sauce, asparagus, portobello mushroom and roasted pineapple. Sea bass is so buttery soft and practically melts in your mouth, so that crisp outside was the perfect textural element to balance it out. This was an amazing dish from start to finish. The sauce is served on the side, which is actually very smart. This way, it doesn't drown the ingredients on the plate. You can have as much or as little of it as you wish — but you're probably going to want more because it's so good. Red curry sauce has a little bit of sweetness to it and it really helped to elevate the fish and vegetables.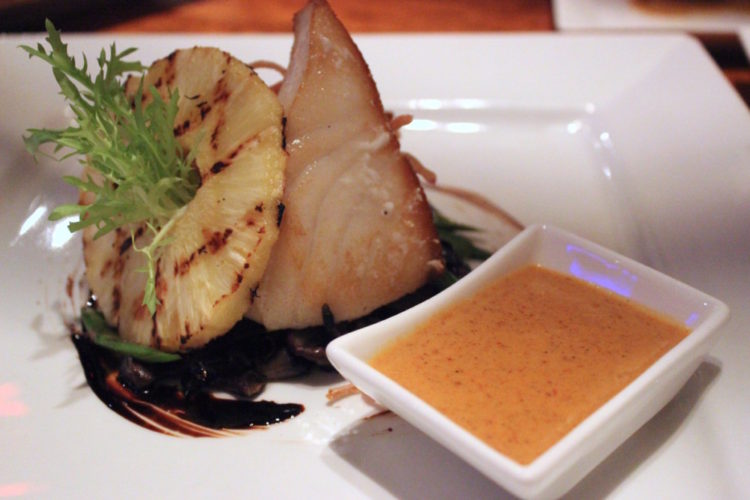 Aside from the incredibly versatile and delicious menu at Coco Asian Bistro that I know you'll love, you also love the atmosphere. There's a covered patio out front for those looking for an al fresco dining experience, a small yet beautiful bar with great happy hour specials (Monday through Friday 3-7pm, 1/2 off house wine and house cocktails and discounted appetizers), and the inside dining room has booths with curtains perfect for an intimate date night or if you just want to keep things private. It's dimly lit, the music plays low, and the service is very friendly and accommodating without being overbearing. Coco Asian Bistro has a lot to offer its guests. Every Tuesday from open to close is BOGO P.E.I mussels ($15), Ladies Night is every Thursday with $2 martinis and house wine, there is live entertainment Thursday, Friday and Saturday nights starting at 6:30pm, and brunch is served Saturday and Sunday from 11:30 am – 3pm.
Coco Asian Bistro is located at 1841 Cordova Road in Fort Lauderdale.