I hate those nights when you can't decide what to do for dinner, especially when you're working until 7pm and it's like…do I feel like cooking, or should I just pick something up on my way home? Now, you'd think that since I work at Publix, I wouldn't run into this dilemma often because whatever I want is right at my fingertips. I can buy something already prepared, or grab all of the ingredients to whip something up when I get home.

But come 7pm, here I was…standing in front of the fish department, scratching my head, trying to figure out what the hell I wanted! Did I want to buy fish and cook? Or did I just want to take the easy route and get sushi? Luckily, I was struck by an inspiration and decided to get some salmon for myself. My drive home was spent coming up with the perfect sauce to slather all over that yummy piece of salmon before baking it in the oven. I couldn't come up with anything definite though; it's hard to pair flavors together when you aren't quite sure what you've got on hand. I do, however, know that I loooove to pair salmon with Asian flavors, so I decided I'd go with some kind of Asian-style marinade.

I use my Gourmet Garden herbs in absolutely everything, so I threw a tablespoon each of lemongrass, chunky garlic, ginger and chili pepper in a bowl with some soy sauce and a teensy bit of honey and came up with one of the most delicious sauces ever! Seriously, I can't believe how quickly it came together, and with almost no real preparation or planning at all. I'd use this again and again, with fish or even chicken. Next time, when I've got time to plan ahead, I'll let whatever I'm using marinate for a few hours so it really soaks up all the flavor.


Now remember, I was only cooking for myself, so these measurements are good for one small piece of salmon. Make your adjustments according to however much salmon you're using.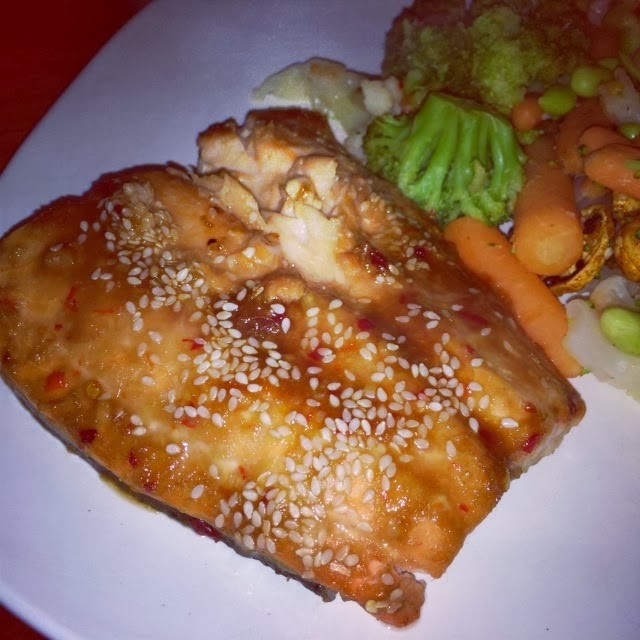 Asian-Marinated Salmon

1 small piece of salmon filet
1 tbsp Gourmet Garden Lemongrass
1 tbsp Gourmet Garden Chunky Garlic
1 tbsp Gourmet Garden Ginger
1 tbsp Gourmet Garden Chili Pepper
¼ cup reduced sodium soy sauce
1 tsp honey
Sesame seeds

Preheat the oven to 375 degrees.

Mix all ingredients in a small bowl. Place the salmon filet in a small glass baking dish. Pour the sauce over top, making sure to completely cover the entire piece. Sprinkle sesame seeds over top. Bake for 15-18 minutes or until done.

Disclaimer: I was not compensated nor asked to highlight the products by Gourmet Garden. I just really love all of the herbs and use them frequently in my recipes. As always, all opinions are my own.