Never miss a bite! Sign up here to receive new recipes and reviews straight to your inbox.
Disclosure: I was invited as a guest of the Atlantic Hotel and Spa for an overnight stay, spa service and dinner. No monetary compensation has been received for this post. As always, all opinions are 100% my own. 
Locals and visitors alike will revel in the scenic beachfront views, peaceful spa services, delicious dining options and comfortable room accommodations at the Atlantic Hotel & Spa, located in Fort Lauderdale Beach.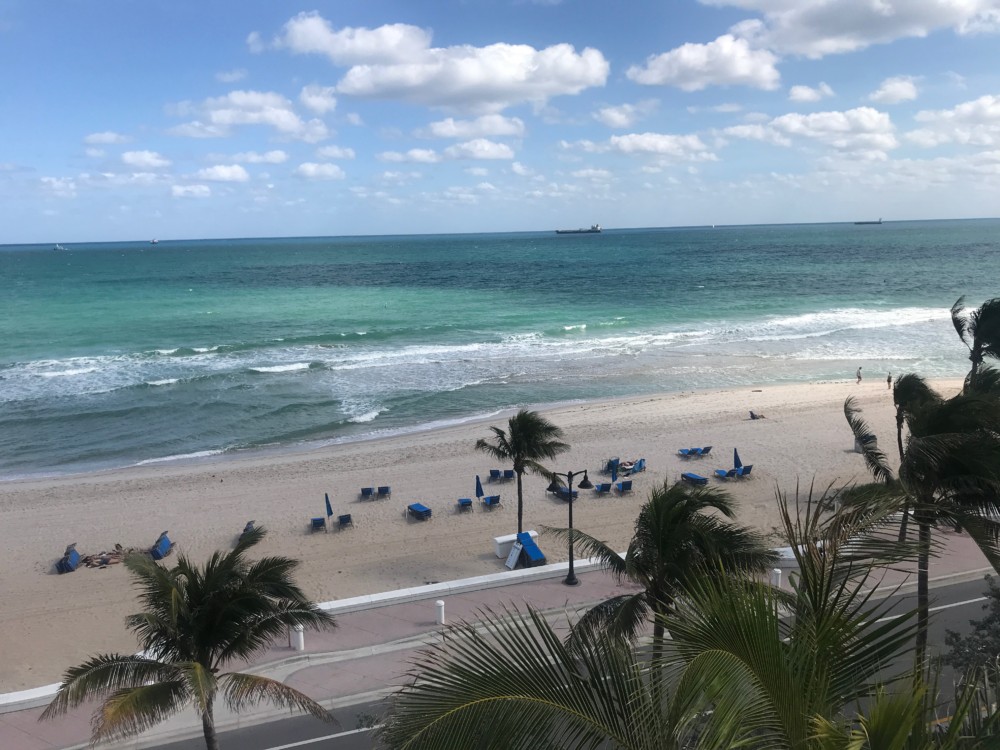 Massage. Ocean view. Champagne. Seafood. Those four words will never fail to ignite excitement in me. Clearly, the Atlantic Hotel & Spa knows me all too well, and gave me not one, but all four in one visit. After a recent change to the culinary concept inside the hotel, the signature restaurant, Coastal, now features an Italian-inspired Mediterranean menu, and serves breakfast, lunch, dinner and Sunday brunch, all with a perfect view of Fort Lauderdale beach. Hotel dining has come a long way in recent years — some of the best restaurants I've been to are located within hotels and resorts, and a lot of these are located along A1A in Fort Lauderdale. It's not surprising though… Good food + good views makes for an incredible dining experience.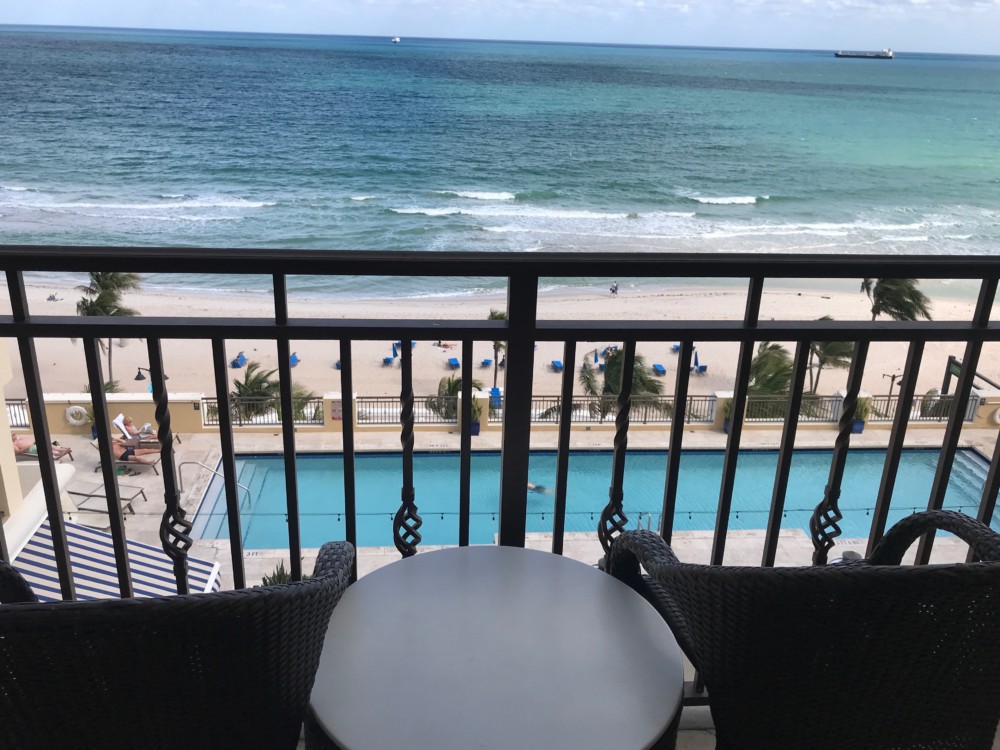 Aside from Coastal's fresh, Italian-Mediterranean offerings, there is also the Pool Bar, located on the 5th floor where the beautiful pool can be found. Guests can sip on cocktails and enjoy light bites while looking down at the pristine white sand and clear blue water from the balcony. Atlantic Hotel and Spa offers grab-n-go and in-room dining services options as well.
There is plenty to do while staying at this 124-room oasis that is the Atlantic Hotel and Spa, and when Jill and I are invited to staycation somewhere, we make sure to experience it all. Upon arrival, I went directly to the pool, kicked off my sandals, ordered a glass of champagne and let the South Florida sun warm me up as I got lost in my book. It was such a peaceful way to spend the afternoon. If it wasn't for the promise of a Swedish massage and an epic seafood dinner in the near future (and most likely more bubbly), I would have never left!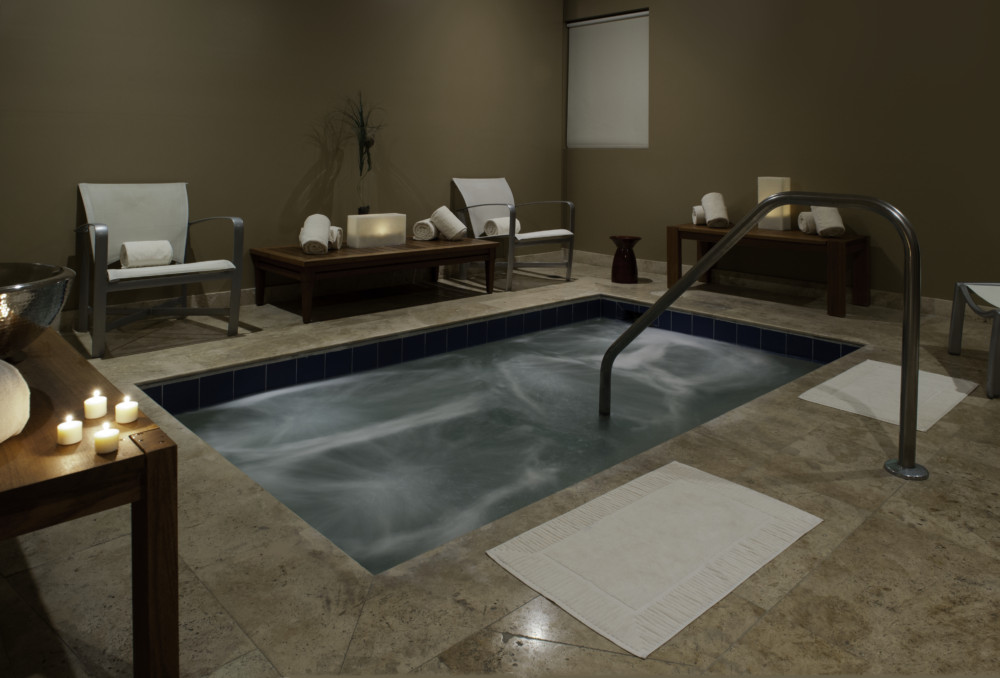 The spa at the Atlantic Hotel and Spa is a seaside sanctuary, as the website so artfully calls it. I couldn't have come up with a better description. As soon as you walk in, you're hit with an incredible aroma that instantly puts you at ease. There are seven private massage and treatment rooms — and even two couples rooms, perfect for those of you booking a romantic getaway. Guests can enjoy customized spa and salon treatments, including hair and nails, and there is are European-inspired rejuvenating thermal areas featuring a sauna, steam room, hydrotherapy tub and relaxation area. Special spa promotions are available throughout the year, and can be found on the website. A full list of services can be found here. The spa is open Monday through Thursday from 9am-6pm, and Friday through Sunday from 9am-7pm.
I've been spoiled with professional massages since I was a little girl (that's what happens when your mom's childhood best friend is a massage therapist), and I firmly believe it's something everyone should treat themselves to, especially if you work out or live a very active lifestyle. It's so good for our muscles, blood circulation, and overall well-being. Guests are given individual lockers to store their belongings while enjoying the spa services, and inside those lockers is the most comfortable robe ever.
The Swedish massage was perfect. Calming music and the sounds of water flowing in the background made for an incredibly serene experience. The massage therapist paid close attention to the areas I pinpointed as more tense and made it very easy for me to relax and quiet my mind for the entire hour, something that is normally very hard for me to do. The spa staff, my therapist included, was super friendly and went above and beyond to make sure my experience was enjoyable, including having a bottle of champagne chilled and waiting for us in the relaxation room post-massage, plus one more to bring with us back to the room. Cheers to that! Speaking of which, our Oceanfront Two Queen Studio was gorgeous, and to be honest, I'd be comfortable living in this room. We had a private balcony overlooking the ocean (where we woke up to see the most amazing view the next morning), a huge marble bathroom with two sinks and a vanity big enough for both Jill and I to comfortably do our hair and makeup at the same time (and if you know Jill, you know this is saying something…), a fully-equipped kitchenette with a mini fridge, dual stove top burners and a microwave (I mean, not that we were cooking but…SO nice!!), 42″ flat screen HDTV (on which we attempted to watch a movie after dinner, but fell asleep within 5 minutes) and two plush pillow-top queen-size beds with down comforters and pillows, and imported 300 thread count linens by Frette — hence the reason we fell asleep the moment we each hit the sheets. We were livin' the dream…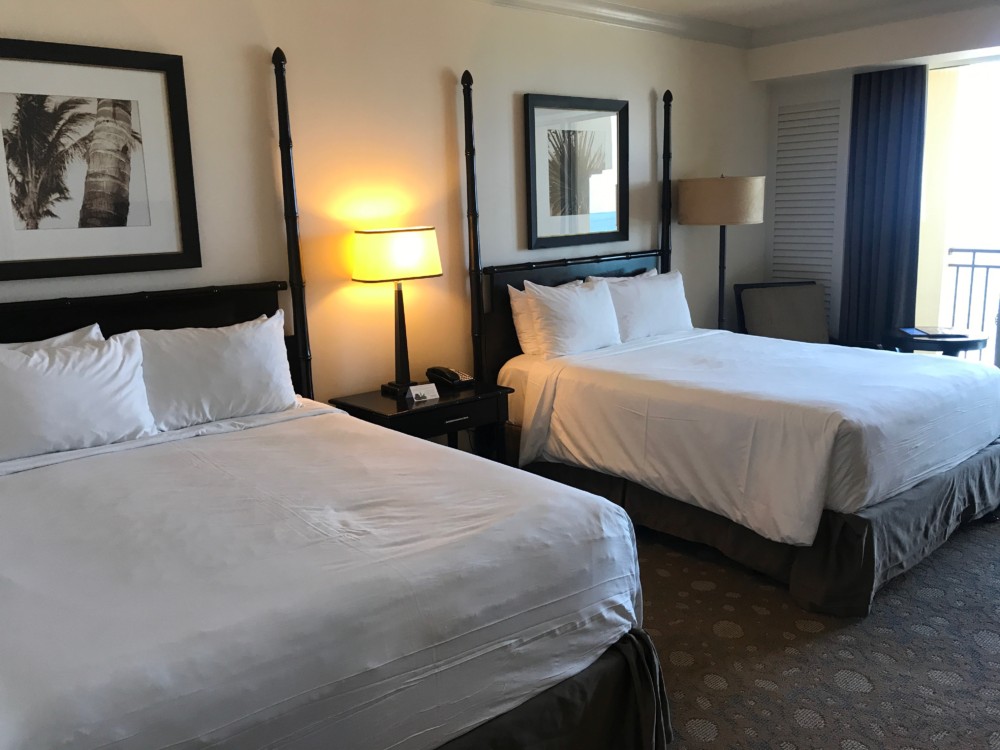 So far, we've covered three out of the four of my favorite words: massage, ocean view and champagne. Now it's time for the seafood! Executive Chef Rocco puts an Italian-Mediterranean spin on classic dishes for his menu, which features lots of seafood options. The restaurants' staff, just as we experienced at the spa, was personable and on top of their game. We ordered the seafood salad to start — a beautiful combination of calamari, shrimp, scallops, mussels and clams tossed in a toasted garlic vinaigrette. It may sound simple, but that is exactly why you need to taste it. Each of the seafood ingredients, so expertly cooked, were enhanced by the super flavorful vinaigrette. We highly recommend starting our your meal at Coastal with this salad.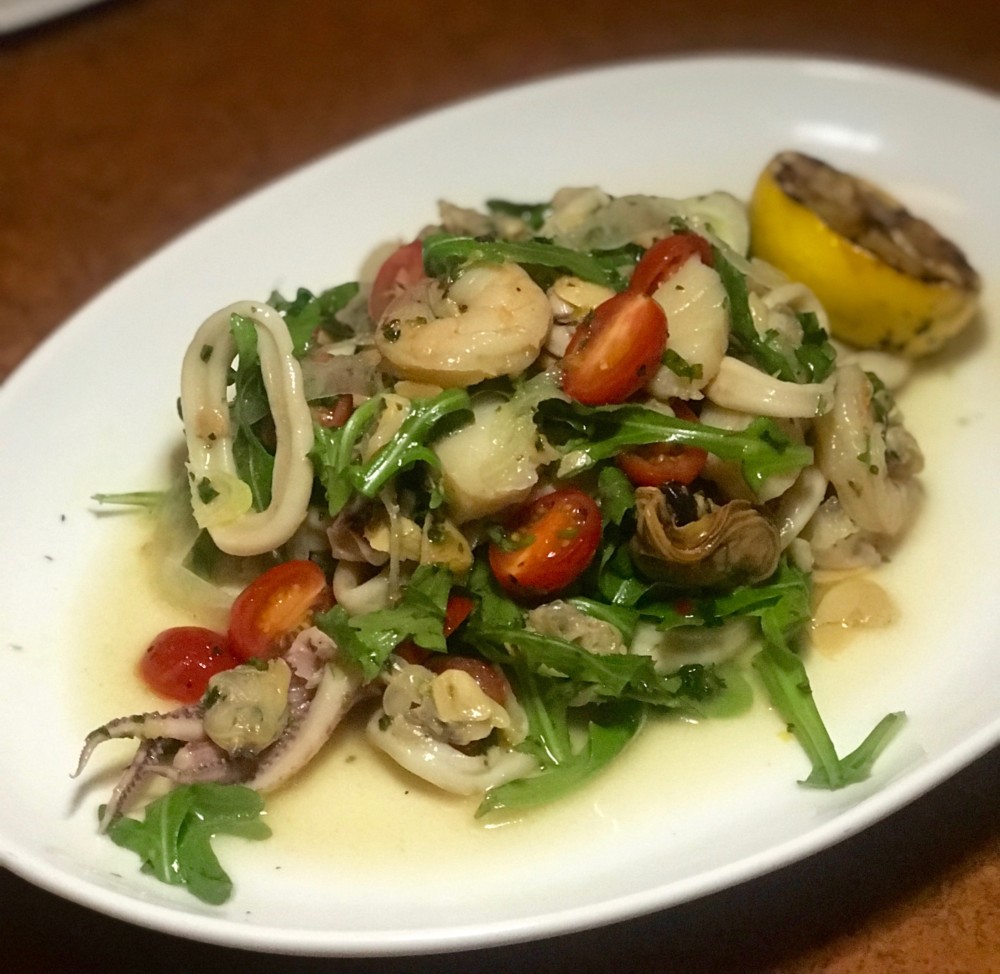 Surprise, surprise — there was octopus on the menu, so obviously we ordered it. The grilled octopus is paired with fingerling potatoes and green beans. Another simple preparation with a lot of flavor, and perfect grill marks.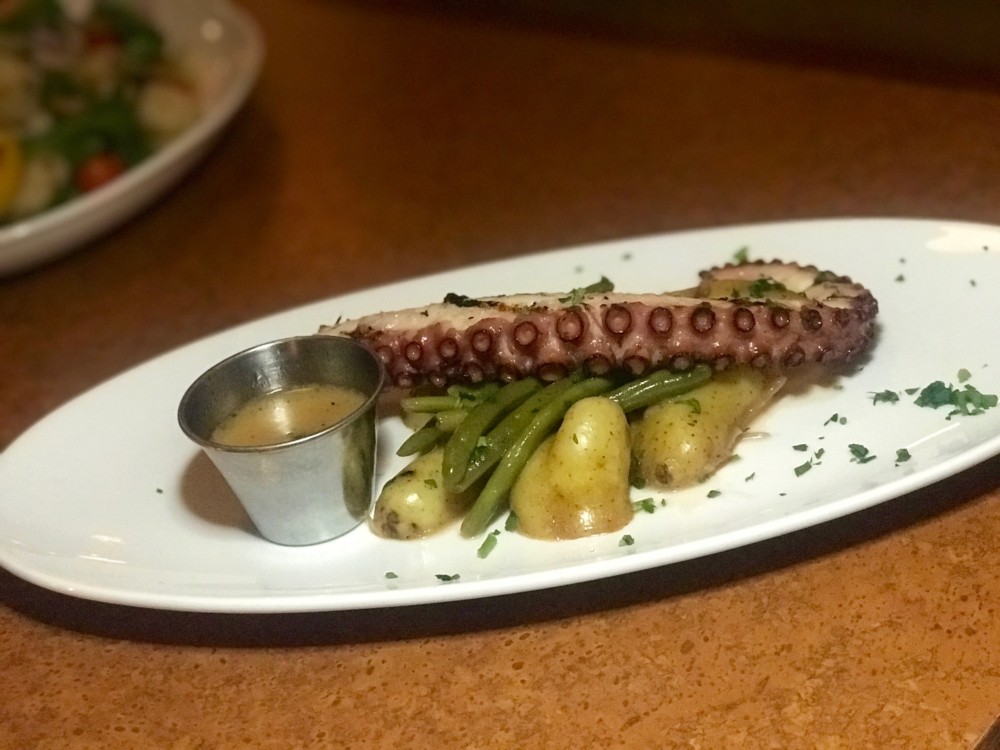 Although delicious, these first two dishes weren't super unique or different than other things we normally order. We knew we had to give our taste buds a little something new to feast on — and then we saw it, swordfish meatballs. The menu describes them as Piccata-style, with artichokes and capers, but they are so much more than that. Make no mistake, these babies are full of intense flavor — and not the kind of flavor you'd expect. Both of our eyes lit up immediately after taking a bite. There was something satisfyingly sweet about the flavor of the meatball but neither of us could place our finger on it. Chef Rocco confirmed our suspicions and let us know that he uses cinnamon and mint in the swordfish mixture. It might sound strange, but it totally and completely works. This is one of those dishes I really shouldn't have more than one bite of, but I couldn't resist taking two or three — and it was so worth it.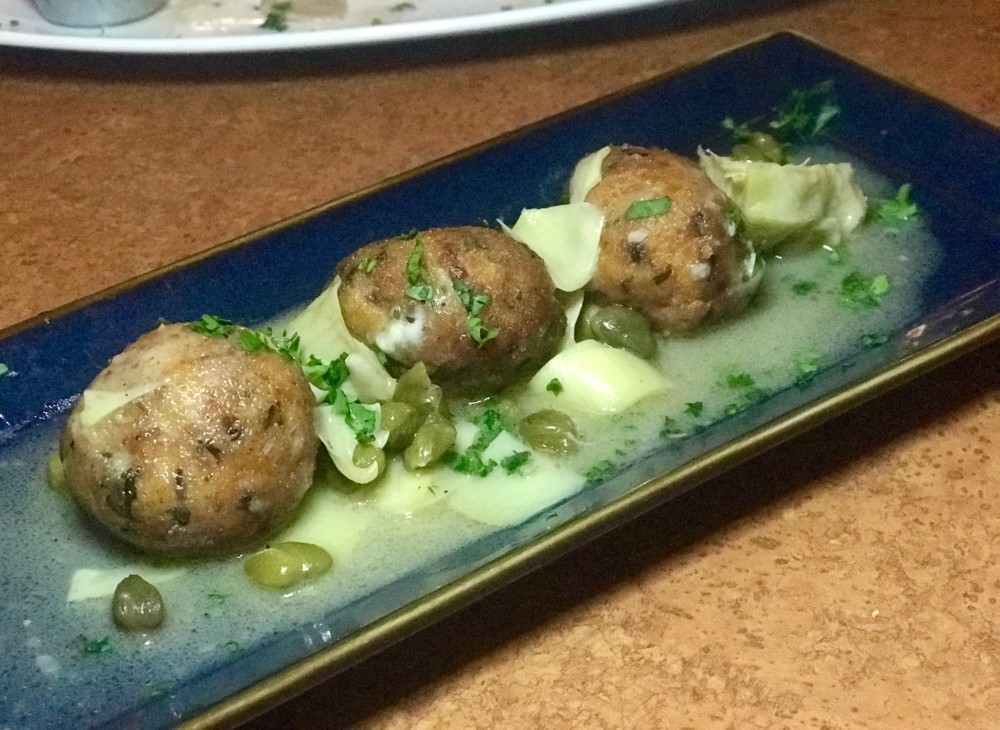 When it came time to order our entrées, we went for a Surf & Turf theme with snapper and steak. I ordered the sautéed Yellowtail snapper with broccoli rabe and red pepper caponata (more capers — yay!) The colorful presentation was on point, and the cook on the fish was just right. Jill ordered the gorgonzola-crusted filet mignon with roasted fingerling potatoes. Both of us were equally as impressed with our entrees, and after filling up with roasted Brussels sprouts as a side dish, we couldn't even fathom dessert.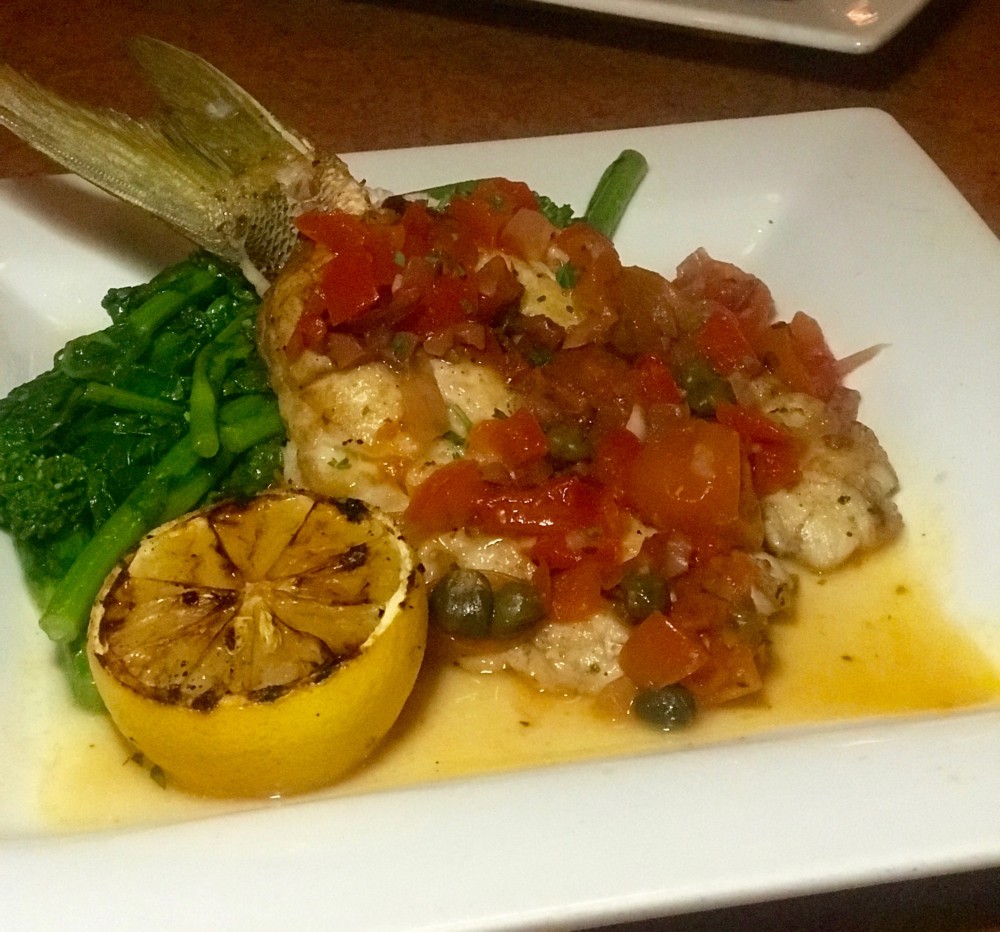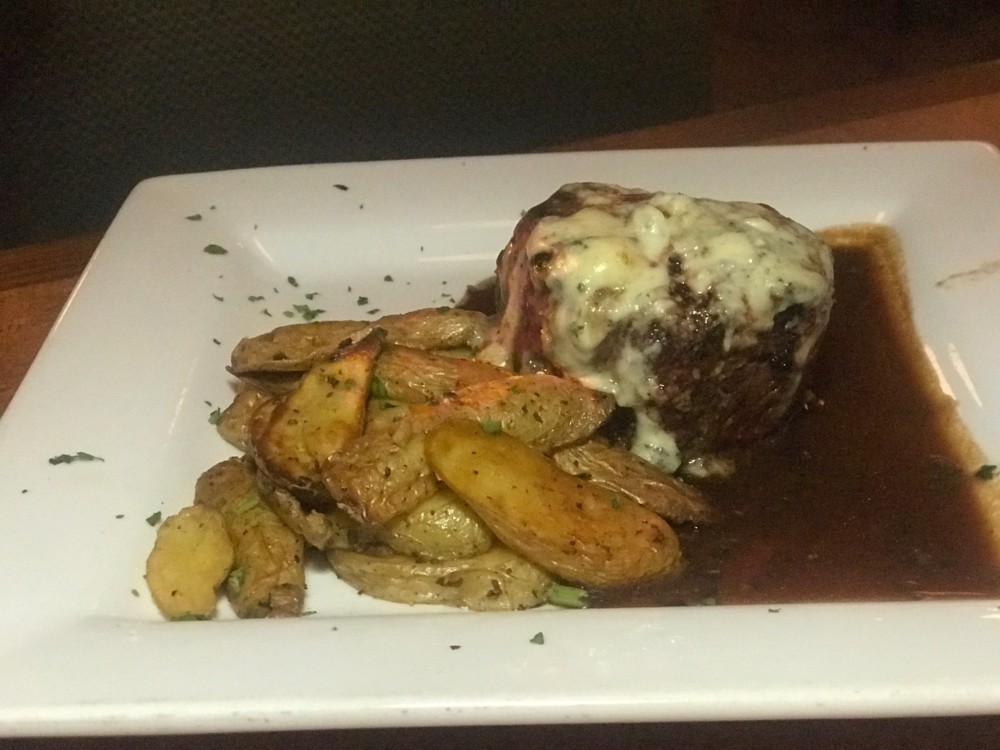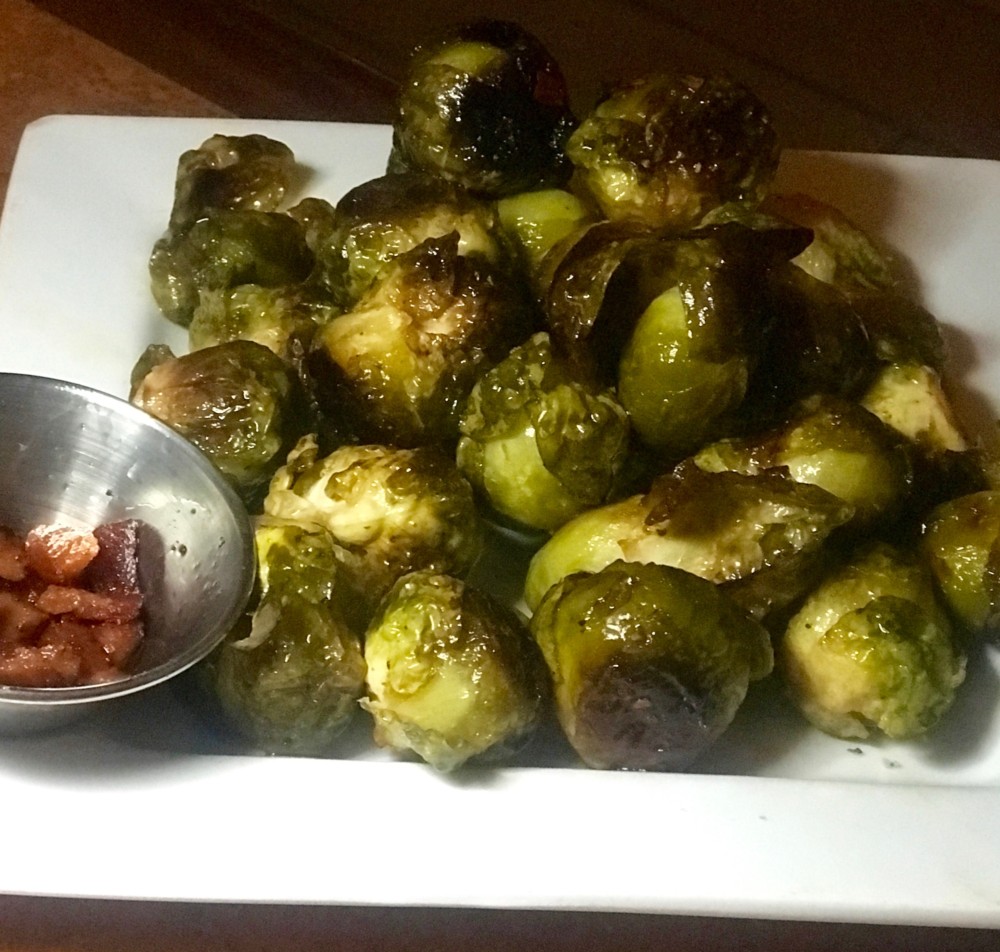 But those with an appetite for something sweet will have no problem finding something to satisfy the craving. Coastal's dessert options include a variety of traditional Italian favorites such as tiramisu, zeppoles, cannollis, affogato and homemade gelato, as well as chocolate mousse cake, carrot cake créme brûlée and key lime tart. There are even dessert drinks available — a vanilla latte with their house drip coffee, brandy liqueur, whipped cream and graham cracker crust, and the Coastal coffee made with Frangelico-spiked cappuccino and cocoa.
Coastal is open for breakfast daily from 7-11am; lunch Monday through Saturday from 11am-4pm; and dinner Monday through Thursday from 4-10pm, Friday and Saturday from 4-11pm and Sunday from 3-10pm. Brunch is available Sunday from 11am-3pm, and Happy Hour is daily from 4-7pm. The bar is open Sunday through Thursday from 11am-11pm and Friday and Saturday from 11am-midnight.
The Atlantic Hotel and Spa is located at 601 N Fort Lauderdale Beach Blvd. in Fort Lauderdale.