Never miss a bite! Sign up here to receive new recipes and reviews straight to your inbox.
Disclosure: I was invited to dine as a guest of Avalon Steak & Seafood. As always, all opinions are 100% my own.
New York City's veteran hospitality operators, Host Restaurants, have chosen Downtown Delray Beach for its next culinary hotspot: Avalon Steak & Seafood.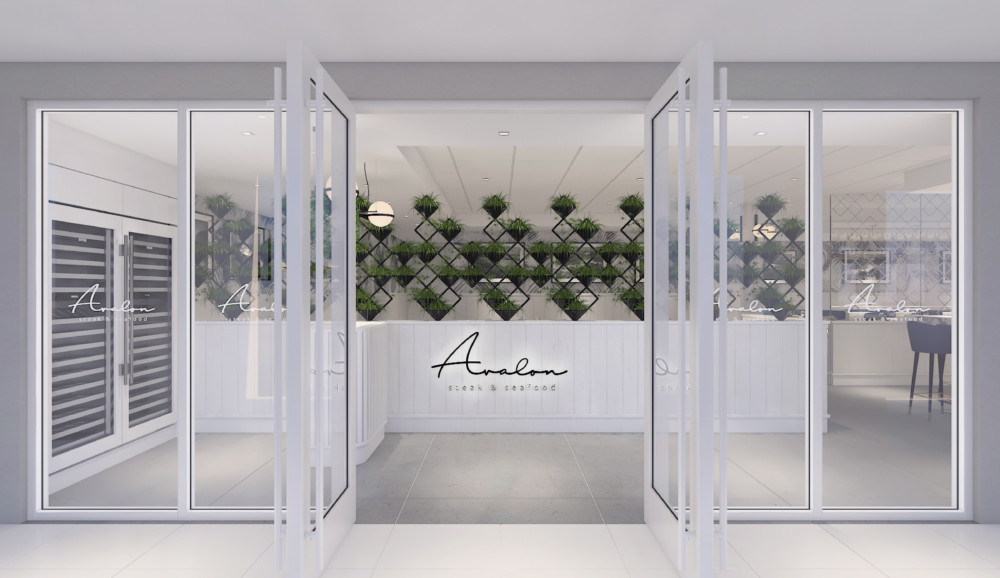 Today, Tuesday, February 23rd, marks the official opening of Avalon Steak & Seafood, which joins Host Restaurants' roster of award-winning dining concepts such as Scarpetta, Campagnola, American Cut, Bill's Townhouse, and many more. The restaurant has an open-air, coastal-chic vibe with lots of whites and neutrals, inspired by the elegance and style of places like Nantucket and Montauk. You might be familiar with the location — the huge corner restaurant right on Atlantic Avenue that has been home to quite a few different places over the years. I had never been to the restaurants that were there prior to Avalon, so I can't compare, but apparently the entire place was fully renovated except for one thing: the indoor/outdoor bar that is perfect for casual nights out for drinks and a bite. The outdoor seating area is also great for a more laid-back dining experience, and you'll have the added benefit of fun people-watching on the Ave too. Inside, the dining room is much more intimate — ideal for date night or social gatherings.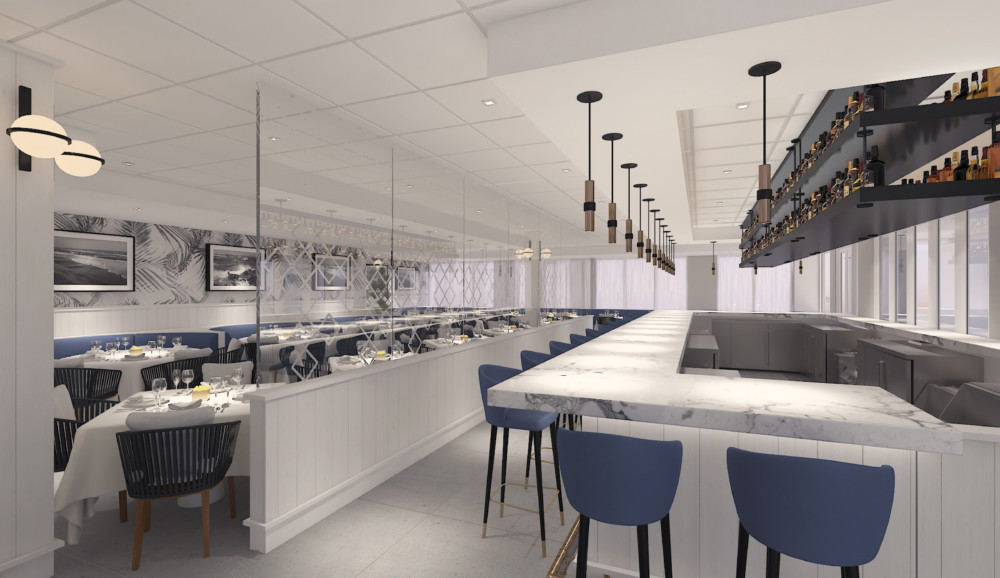 I loved the atmosphere as soon as I walked inside, and was equally impressed with the food. Although you will definitely find traditional steakhouse items on the menu, there are a few unique dishes listed that make Avalon stand out from other steakhouses. The kitchen is all about quality product, making sure to always use seasonally sourced organic meats, produce and fish. Host Restaurants President and Founder, Curt Huegel, assures diners that Avalon's ingredients "won't cut corners when it comes to quality, [will be] prepared to our guests' desired temperature, [while] keeping everyday affordability in mind."
There was so much on the menu that I wanted to try, it was hard to choose! I started off with the roasted cauliflower appetizer, which can definitely be shared — it was huge! Underneath the perfectly tender whole cauliflower was a velvety smooth sauce made of tahini, herb vinaigrette,  goat cheese and basil. It was a 10 out of 10! Even though I was eyeing quite a few other apps, I would get this again…and again and again.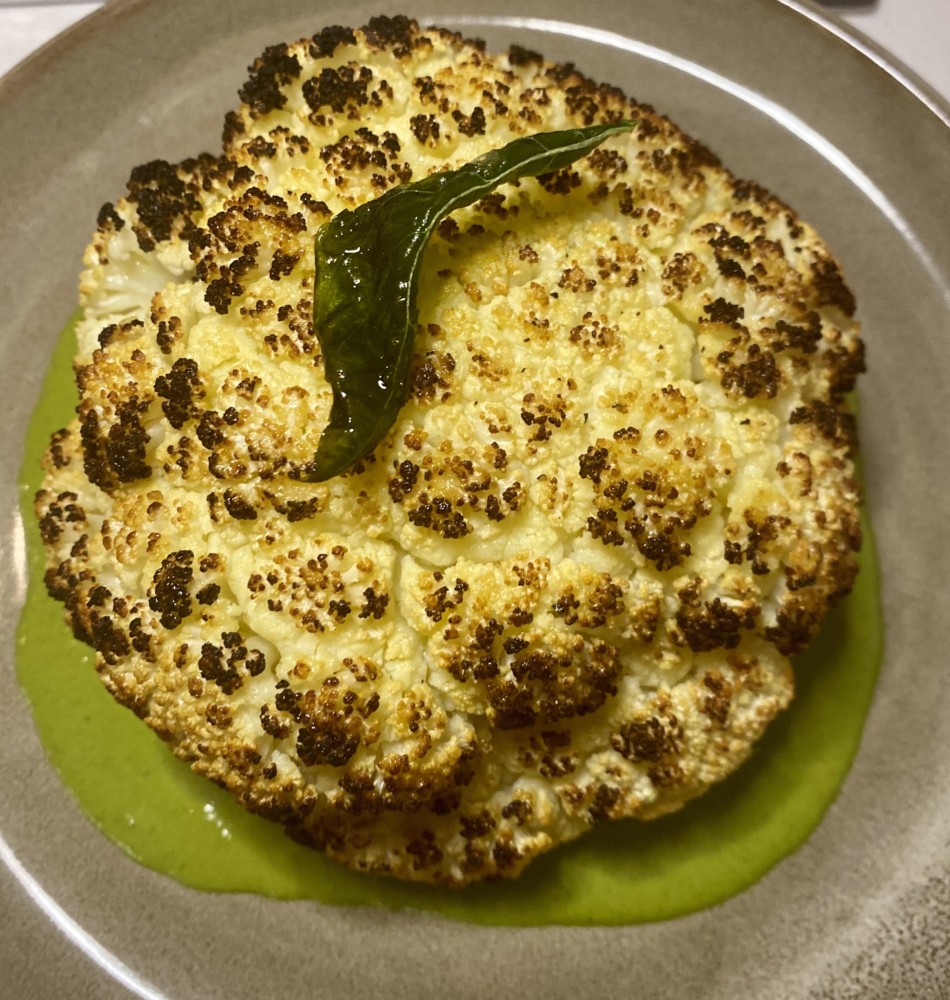 If you love lobster, you need to get your hands on the Angry Lobster appetizer — which again, was huge and could even stand in as an entrée! It consists of a 1.25 lb butter-poached lobster, swimming in a pool of fermented house sriracha and ginger, served with toast points. This dish is not Shaina-friendly, so I'm just going to live vicariously through all of you when you go to Avalon and order it — because I know you will.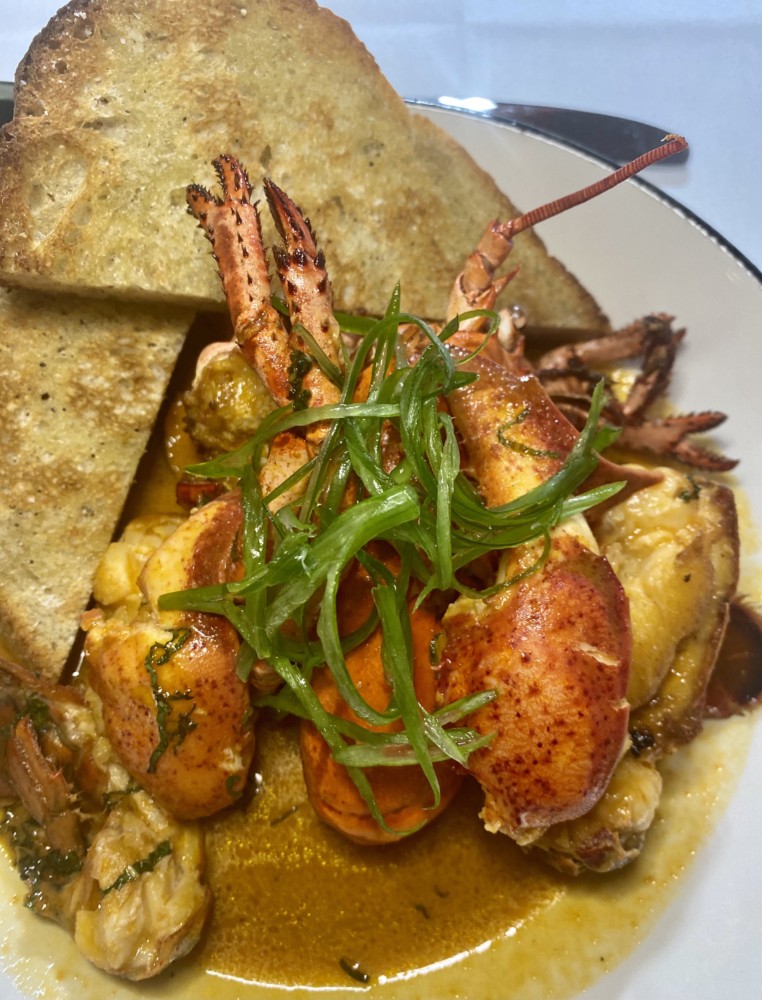 I was seriously torn when it came to the entrée. Part of me really wanted the Maine halibut with cauliflower, currants, capers and pine nuts, but then the other part of me was like… You're at a brand new steakhouse. Get a steak! And so I did. But I need to go back for the halibut another time!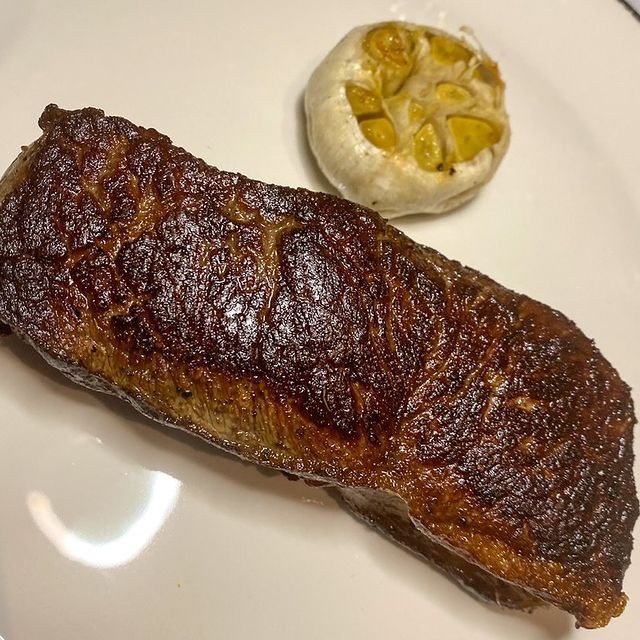 I ordered the NY strip, medium rare, and it was absolute perfection. I'm usually a filet mignon girl, but I felt like switching things up, and I think I chose well. If you want to go big, you totally can at Avalon — there's a 28-day dry-aged prime ribeye chop and a 30-day dry-aged prime bone-in strip available too. Sauce choices include au poivre, bordelaise, chimichurri, bearnaise, and traditional steak sauce.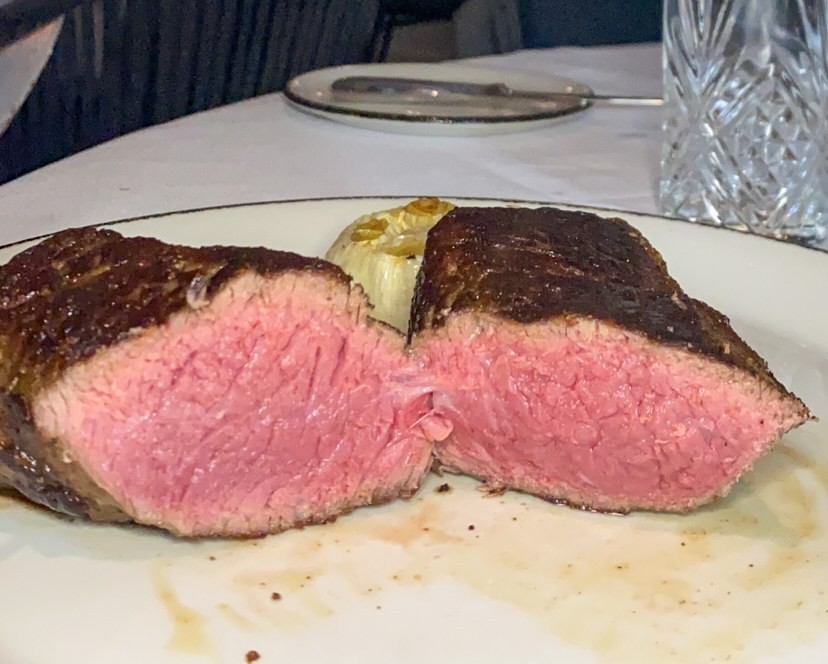 As always, steakhouse side dishes are a must — and these did not disappoint. I've heard from others who have dined at Avalon that the creamed spinach is a must (it has nutmeg in it!) but since we know that is not Shaina-friendly, I ordered the roasted honey-garlic carrots and fingerling potatoes instead. The potatoes were a well balanced mix of crispy and soft, and came with this incredibly tasty kimchi mayo that had just the right amount of heat. If you are all about that steak and potatoes life, Avalon definitely has you covered!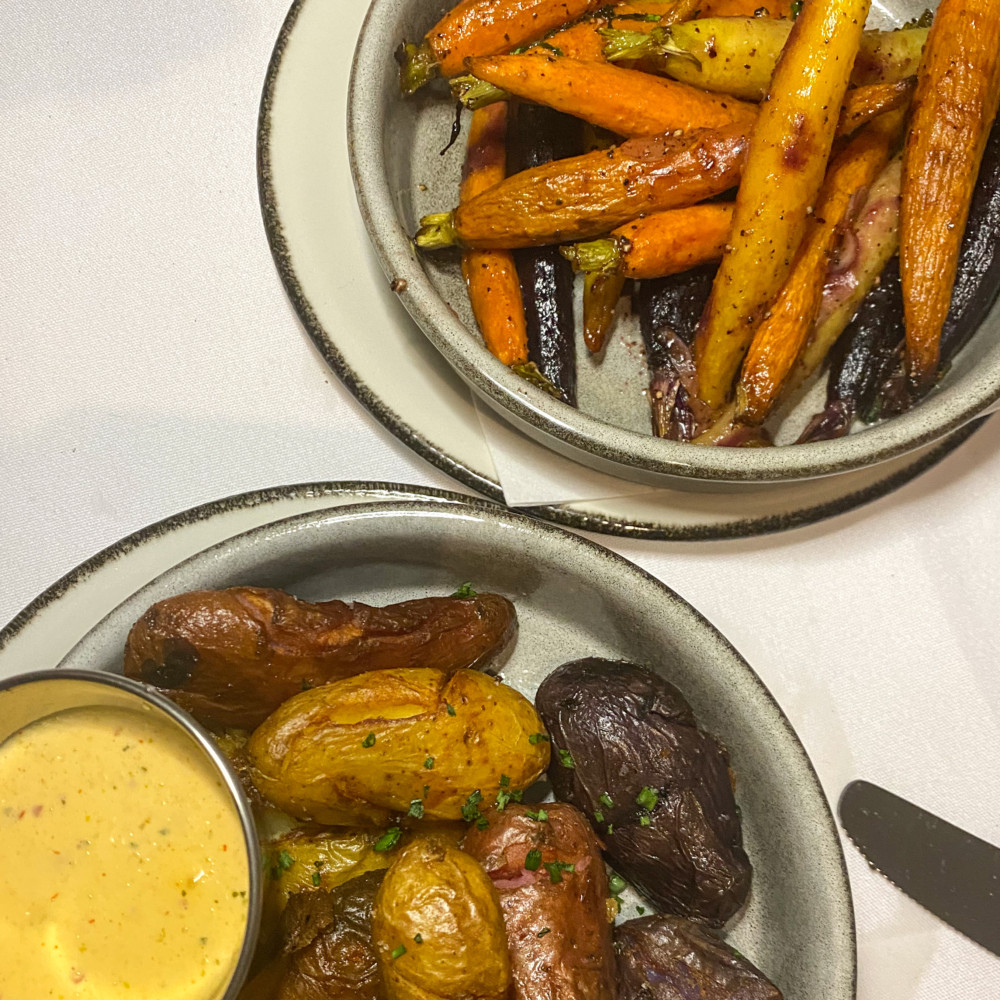 The carrots were drizzled with orange blossom honey and mint, and also a fantastic choice for a side. I could have eaten an entire platter of these myself, but I was nice… I shared. I could honestly make a meal out of side dishes if I'm being completely honest. I didn't have a chance to try the truffle fries, but um…you know that'll happen during my next visit.
I am super excited to have a new high-end steak and seafood restaurant in town, and can't wait to go back for more! Welcome to the neighborhood, Avalon Steak & Seafood!
Avalon is located at 110 East Atlantic Avenue in Delray. The restaurant is open for dinner Sunday through Thursday from 5-10pm, and Friday and Saturday from 5-11pm, with happy hour and brunch coming soon!