Never miss a bite! Sign up here to receive new recipes and reviews straight to your inbox.
Disclosure: I was invited to dine as a guest of Avocado Cantina. As always, all opinions are 100% my own.
From the Chef/Owner of Downtown West Palm Beach hotspot, Avocado Grill, comes Avocado Cantina, an authentically delicious and South Florida-inspired Mexican restaurant in the heart of Downtown Palm Beach Gardens. Chef Julien Gremaud and his culinary team use sustainable and high-quality ingredients to handcraft each of the mouthwatering menu items.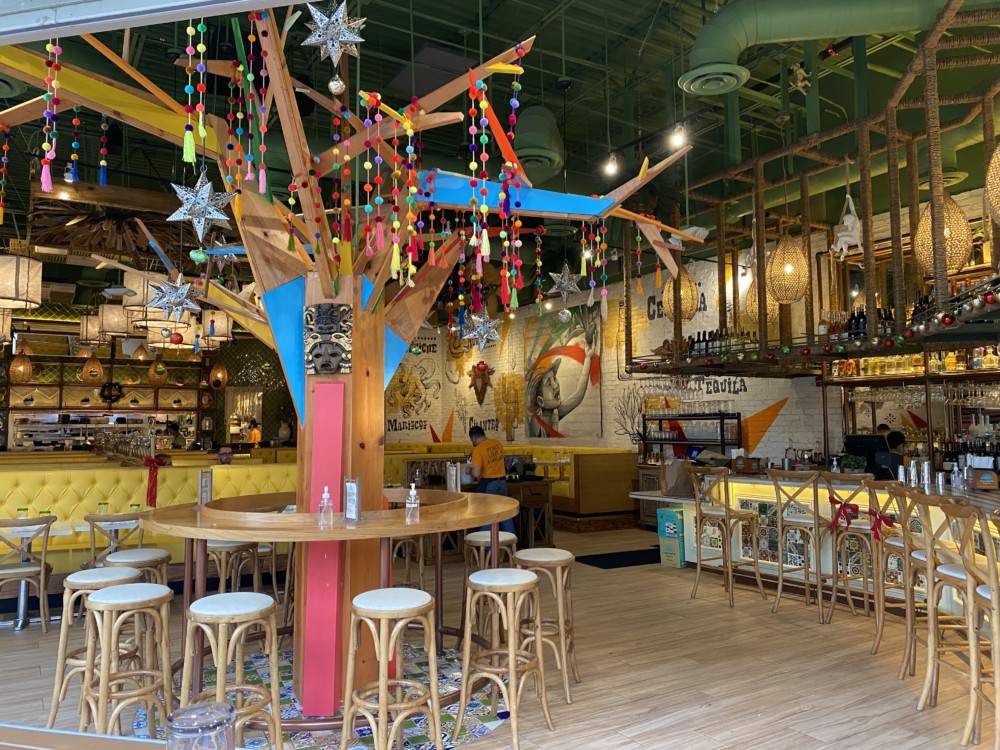 Not only is the food tasty, but the atmosphere is unlike anything you've ever seen. Hand-painted murals with bright, vibrant colors fill the walls from floor to ceiling, the decor is boho-chic with Mexican inspiration, and in addition to the already spacious indoor area with an open-air vibe, there is also plenty of outdoor patio seating, making socially distanced dining easier than ever.
Avocado Cantina has an awesome happy hour every single day from 3:30-6pm. Happy hour specials include half-priced tacos, $5 house margaritas, and $4 draft/bottled beers. There are eight kinds of tacos to choose from, and each can be served on corn or flour tortillas, or — my personal choice — lettuce wraps! I absolutely love when restaurants have lettuce as an option for tacos. It's ideal for those with gluten and/or corn allergies, and those who prefer low-carb meals.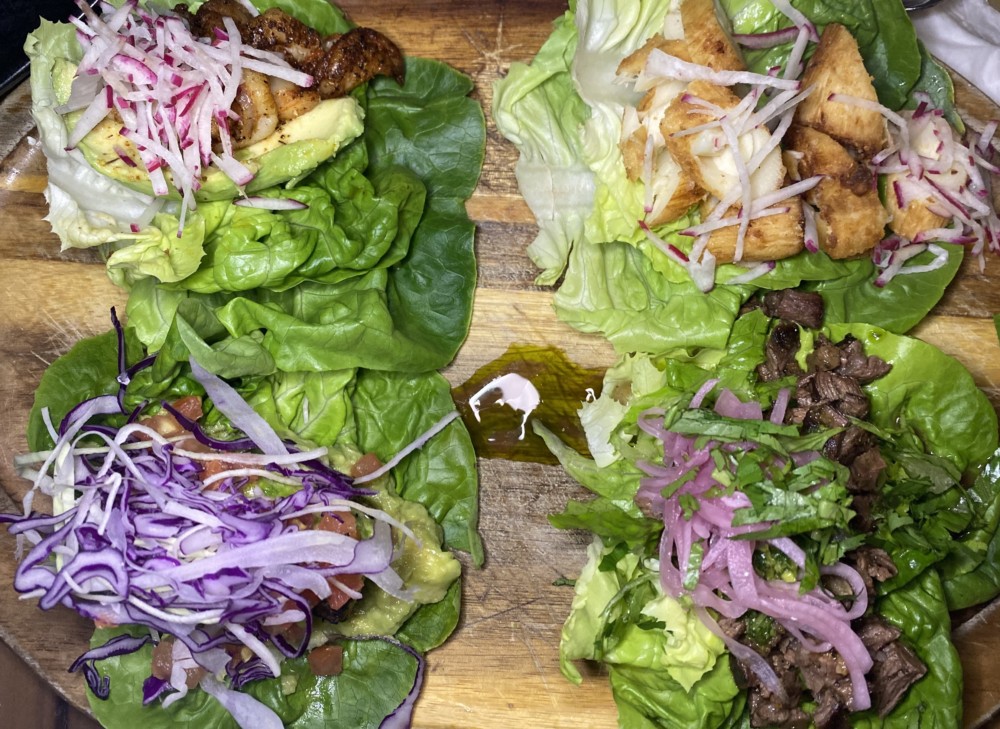 I tried four different tacos, all wrapped in lettuce, and all totally worth going back for. The shrimp was my favorite, blackened to perfection and topped with avocado and mango salsa. I also got the carne asada with chimichurri, the grilled fish with guacamole, aji amarillo aioli and cabbage slaw, and the vegan palmitas, which is seared hearts of palm with salsa and mole verde.
In addition to happy hour, Avocado Cantina just released a new lineup of weekly specials during dinner hours:
Monday: Kids eat free (one kid's meal plate per platos grande purchase).
Tuesday: Taco Tuesday specials include $4 tacos and $8 house margaritas.
Wednesday: Paella & Sangria Night features seafood and chicken paella and a glass of sangria for $27.
Thursday: Live guitar entertainment on the patio by Ceasar Pauca.
Friday: Chef-crafted fajita specials.
Brunch is also a happening time at the restaurant. Bottomless drinks are available with the purchase of an entrée for $19 and include house margaritas, Bloody Marys, Bloody Marias, mimosas, palomas, and Frosé-a-ritas.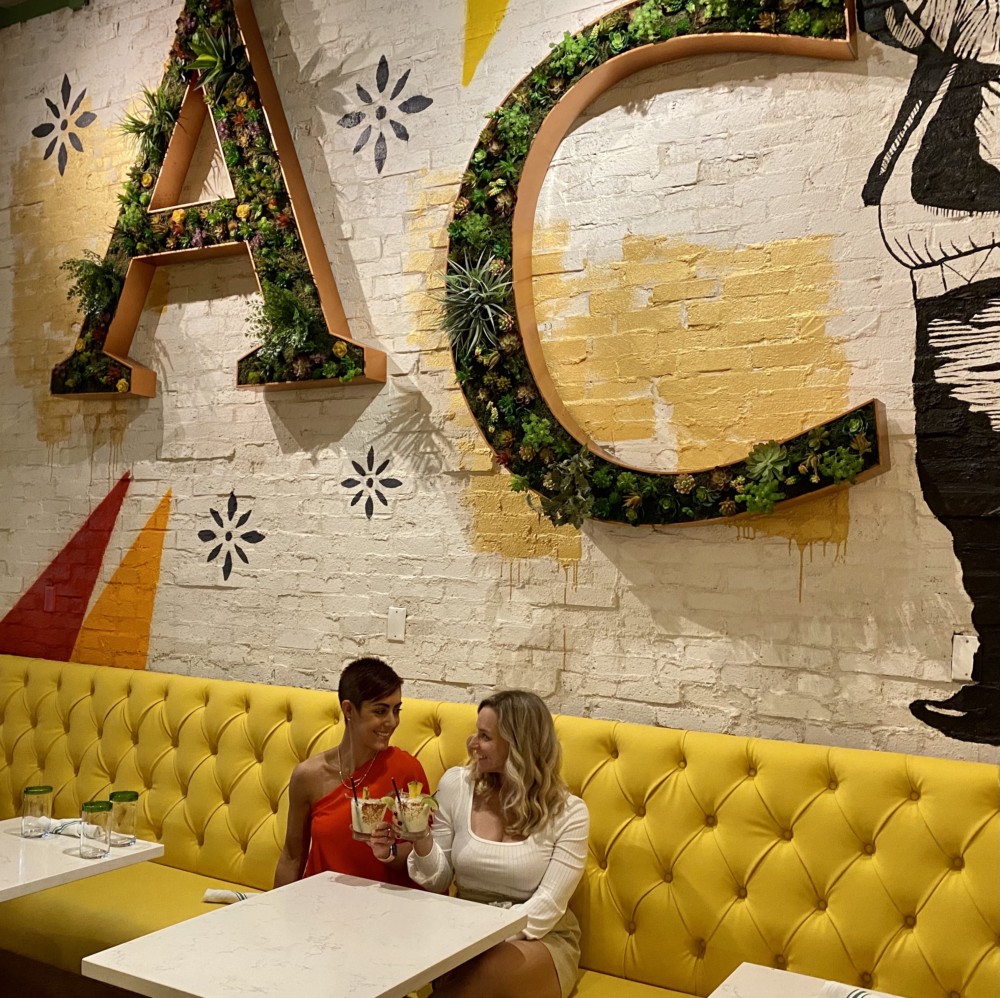 Avocado Cantina is happy to accommodate all food allergies and preferences. There are plenty of vegan options available, including falafel tacos and the hearts of palm tacos I mentioned earlier.
The team went above and beyond to create a ceviche that adhered to my restrictions. Thank goodness, because I got really excited when I saw that the ceviche is made with both shrimp and octopus, and was bummed when I found out there was pineapple in it. No worries though — a Shaina-friendly version was easy for them to make!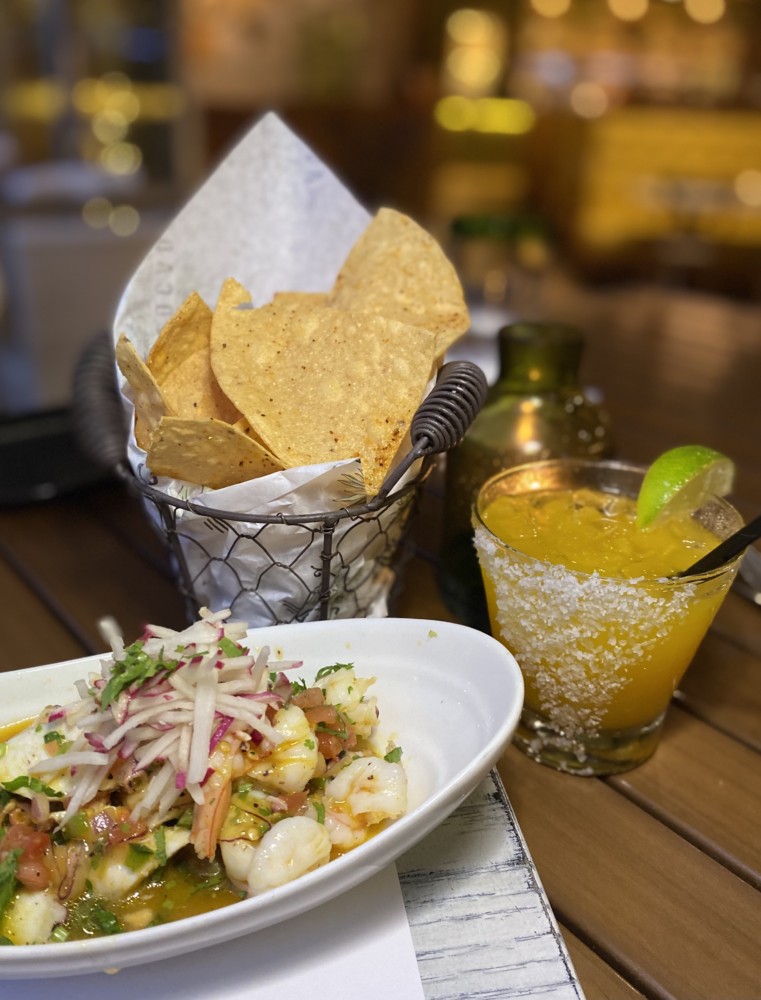 The refreshing combination of seafood with aji, lime juice, tomatoes, red onion and cilantro really hit the spot — especially when paired with one of Avocado Cantina's signature margaritas! Don't miss the Build Your Own Margarita menu. You can choose your tequila and your flavor, and then enhance it with Grand Marnier, Cointreau, jalapeño, or make it 'Skinny,' which means that the sugar component is left out. Flavors include classic, avocado, watermelon, strawberry, mango-ginger, and cocorita. There are a variety of other cocktails available too, as well as an extensive list of tequila and mezcal, wine and beer.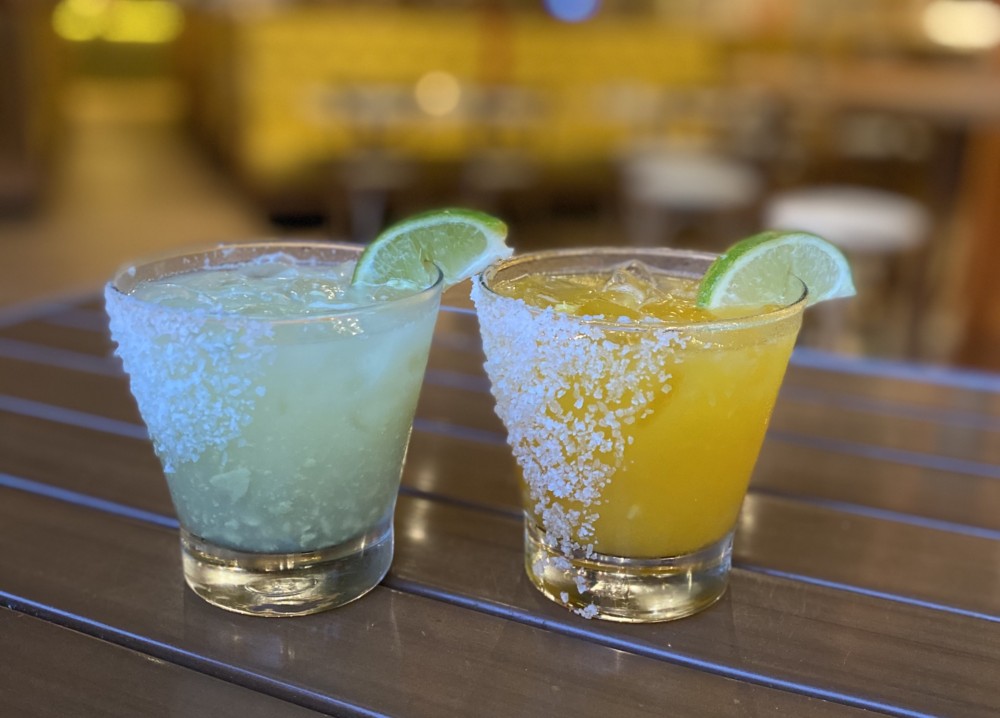 Avocado Cantina is located at 11701 Lake Victoria Gardens Drive in Palm Beach Gardens. The restaurant is open Monday through Thursday from 11:30am-10pm, Friday from 11:30am-11pm, Saturday from 11am-11pm, and Sunday from 11am-10pm.