Never miss a bite! Sign up here to receive new recipes and reviews straight to your inbox.
Baba Ghanoush is an eggplant dip you'll find in most Mediterranean-style restaurants. This popular eggplant dip is delicious served with pita bread or veggies, or even eaten on its own!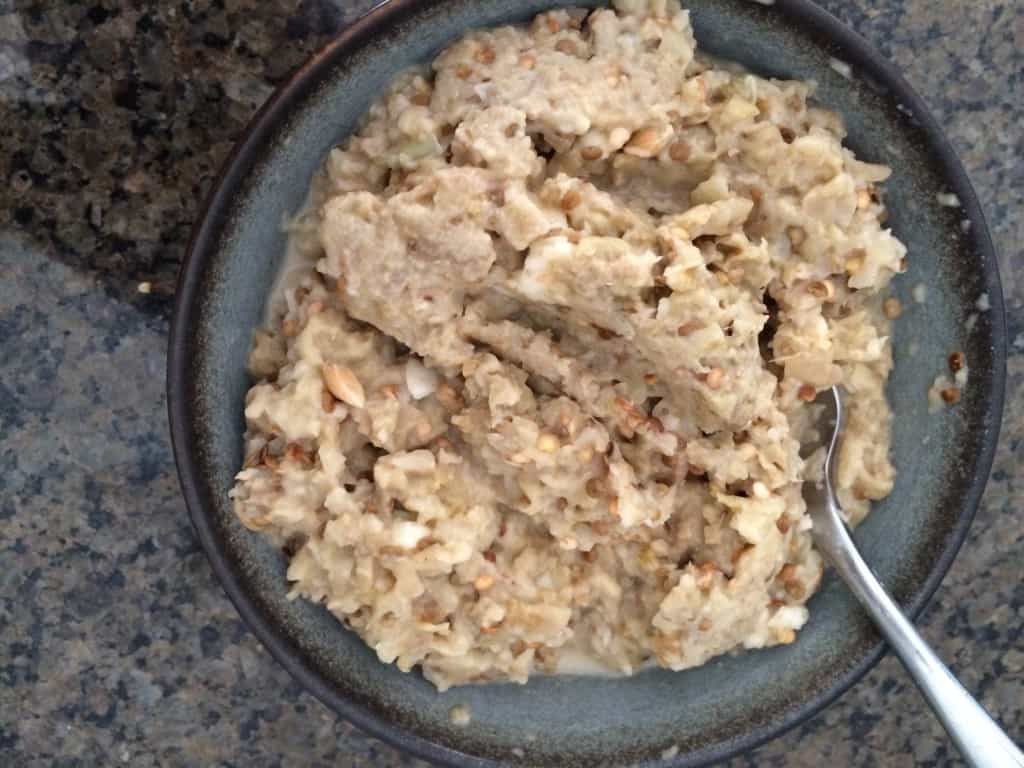 A few weeks ago, I got together with my family to celebrate Father's Day and my aunt's birthday for a nice little breakfast at my cousin Beth's. She made these adorable little egg cups and mini quiches — she gets pretty creative in the kitchen. Guess it runs in the family!
But her sister, Leah? Cooking isn't really her thing. She knows good food though! She was telling me how she attempted to make Baba Ghanoush from scratch and failed miserably. Her broiler wasn't working and she hadn't thought to use her toaster oven (which has a broiler setting) or even the grill, so there went her idea. Her craving though? Still there. I told her about the Burnt Eggplant with Garlic, Lemon, and Pomegranate I made out of the Jerusalem cookbook and she was practically drooling over the breakfast in front of her. But she still wanted that homemade Baba Ghanoush, so I promised I'd come over soon and make it for her.
The broiler still didn't work, so I used the toaster oven. I haven't used one of those in forever, but it worked perfectly! This is great to know for those of you who may not have an oven with a broiler setting, or it's not working, or you just don't have an oven at all (but I'm not sure how one lives without an oven…). Another appliance that ended up not working? The food processor. LOL. And we didn't know this until all of the ingredients had been broiled and prepped, and thrown in ready to puree into our Baba Ghanoush! I pressed the button. Nothing. Bubby looked at it, Leah looked at it. Nothing.
Uh….
Then I saw our lifesaver. Sitting in the corner was a Vitamix practically screaming at me, Hello? Are you an idiot, use me!
By the way, I am now obsessed with the thing and NEED to have my own. It whipped up our Baba Ghanoush in no time and made it the absolute perfect consistency. Not too smooth where you couldn't tell what you were eating, but not too clumpy where you got chunks of eggplant in each bite. The eggplant was well-blended with the garlic, lemon, and tahini and resulted in a bowlful of yumminess for us to enjoy with a spread of baby carrots, red and yellow bell peppers, and cucumbers. Bubby brought a quinoa salad and the three of us had a really tasty Mediterranean-inspired lunch. I liked mixing the Baba Ghanoush with the quinoa salad — the flavors just loved each other and made a great mix.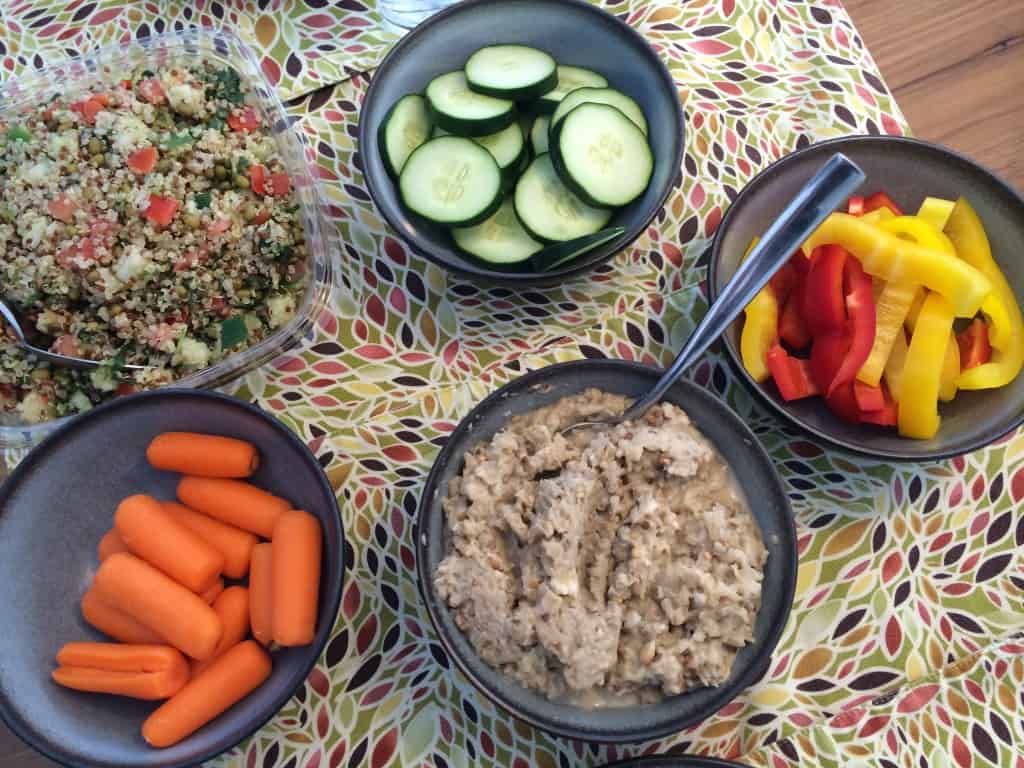 Baba Ghanoush makes a great side dish, appetizer, or even just a snack. It's super easy to make and only requires four ingredients! Eggplant, garlic, fresh lemon juice, and tahini. If you aren't familiar with tahini, it's got the consistency and texture of peanut butter but its made from sesame seeds. Its used in hummus too. You can easily make hummus or baba ghanoush without it, but I do like that sesame flavor it lends to each dish.
I'm so glad I was able to quell my cousin's Baba Ghanoush craving and introduce Bubby to a new dish she'd never tried before. Bubby and Leah gave it a thumbs up and I know you will too!
By the way, as you're reading this, I am en route to Orlando for the Food and Wine Conference at the Rosen Shingle Creek. A weekend full of blogging seminars, delicious dinners with our sponsors, and lots of socializing and networking with other bloggers and brands. I can't wait to see a lot of the bloggers I met at BlogHer Food and meet so many more!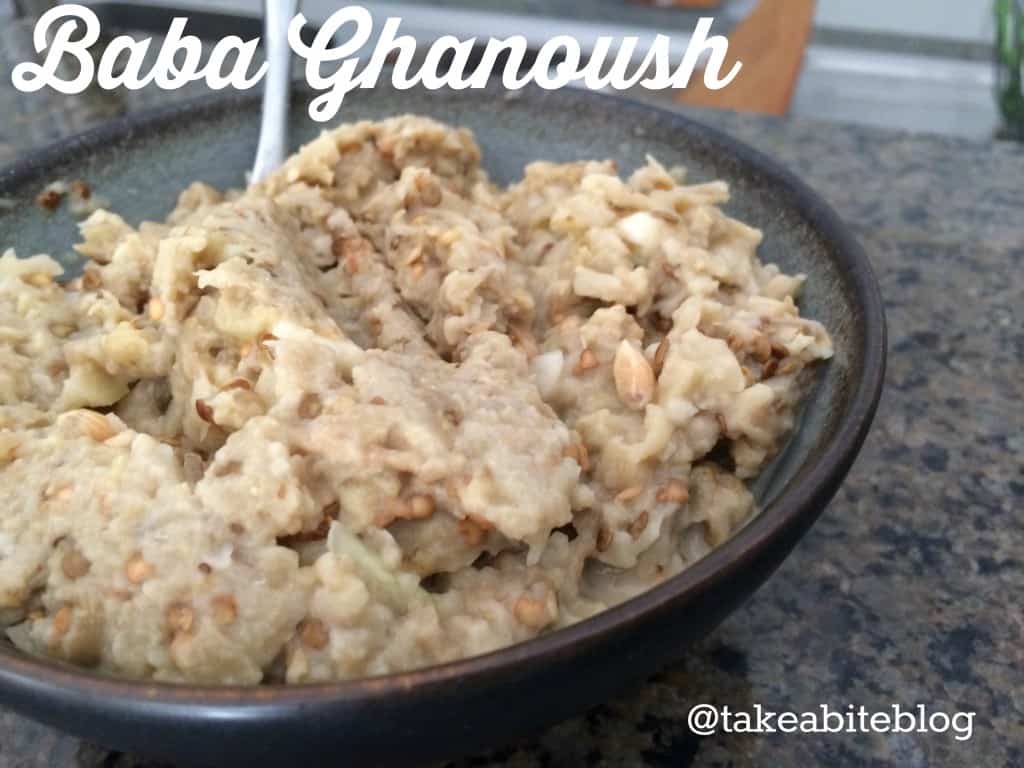 Disclaimer: This post contains Amazon Affiliate links to products I love to use. If you click through the link and purchase one of these items, I will receive a small percentage of the sale price. It's things like this that help me to continue bringing you treats like this one. Thank you in advance for helping out Take A Bite Out of Boca with your purchases through Amazon.