One of my good friends, Krissy, is having a baby girl! My friend Kristy and I have been excited about putting together her baby shower since the day we found out she was pregnant. Ideas about games, food, gifts, etc have been floating around our minds for months. So when the time came to finally sit down and plan, it took us all of about 10 minutes to know exactly what we needed to do. Kristy took care of all the decorations (and pretty much bought every gift a mommy-to-be needs!) and I worked on the party games. Of course we both contributed in the food department, as well. Kristy is a great baker, and always makes everything look beautiful, too. She made devils food cake cupcakes with strawberry frosting, topped with pink pearls and a cute little pink pacifier. Another guest made a chocolate cake, pictured below, decorated for the shower. I made a great pasta salad from Katie's Cucina and Hershey's cookies and cream cookie bars from Picky Palate.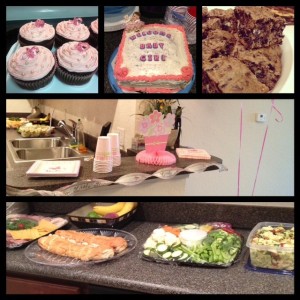 We had so much fun putting together the party for Krissy and it was great to spend time with her. She lives all the way up in Palm Beach Gardens, so we don't see her often, but that needs to change — especially when her precious baby girl enters the world! She is due in October and really looks great for as far along as she is. I am so excited for her!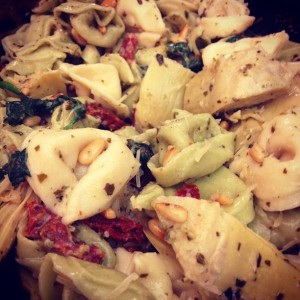 I have been waiting for an excuse to make this pasta salad Katie blogged about a while back. As soon as I saw the post, I remember tweeting her saying how delicious it looked and that I would have to try it soon. Well, that was a while ago and I never got around to it. Thankfully, I remembered about it when trying to decide what to make for the shower. Cheese tortellini tossed in pesto, with pine nuts, sun dried tomatoes, artichokes and lots of parmesan cheese make for one delicious pasta salad. Pasta salads are the perfect dish to bring to parties. It's easy to make and there are tons of varieties. You really can throw together anything to make a pasta salad, but sometimes it takes special consideration of ingredients when you really want it to be satisfyingly delicious. Katie definitely did that with this dish. Each and every ingredient has its own strong flavor, but they don't overpower each other at all; instead they all come together perfectly, bringing out each the flavors even more. Head over to Katie's Cucina for the recipe.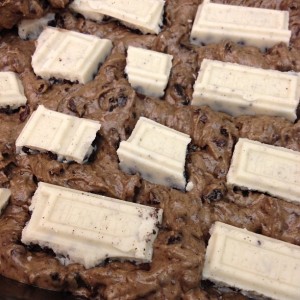 I had to bake something for the shower, too, so I looked in my pantry and saw there were still some Oreo's. I headed over to my favorite blog for recipes for baked goods, Picky Palate, and found her Double Cookies and Cream Kiss Cookie Bars. These are filled with Oreo cookies, chocolate chips and Hershey's Cookies and Cream kisses (I couldn't find the kisses, so I just used the regular chocolate bar). The result is one decadent, delicious cookie bar. If you're a fan of the cookies and cream flavor, you must make these. I didn't do much to change the recipe, except for lightening up a few of the ingredients, such as using Splenda instead of regular white sugar, and I used 4 oz. unsweetened applesauce and 4 oz. unsalted butter instead of the full stick.
The party guests loved the bars, the pasta salad and Kristy's cupcakes. There were lots of other snacks and goodies to indulge in, too. Krissy may have been the only pregnant one there but I think we all left the parties with little "food babies" in our bellies.