I'm off to New York City this week for Book Expo America. In case you thought that this blog was my full time job (I wish!), it's not. I actually work for a book publishing company, Publish On Demand Global, as their Communications Director. My work mainly consists of social media marketing and promotion, writing press releases, and creating content for our company blogs. Our company's main focus is to help authors and publishers enter international markets through foreign rights and global distribution. So this week, we are set up in the International Rights Center at Book Expo America at the Javits Center. It's been way too long since my last trip to NYC and I am thrilled to be back!

But I'm not leaving you guys high and dry! You get to meet some of my favorite new people — the wonderfully talented bloggers I spent time with last weekend at BlogHer Food. I'm excited to have them here as guest bloggers on Take A Bite Out of Boca!

Meet Katie from The Hill Country Cook. Katie and I got to know each other as we drove down to Miami together last weekend. I picked her up at the airport on a whim, having never met her before and responding to her on Facebook. That just goes to show the comradery there is between us food bloggers. We automatically feel like we already know each other before ever meeting in person…

———-

Hey y'all! I'm Katie, a small town Texas girl, AKA The Hill Country Cook. I live in Central Texas, near Austin, which is known as the Hill Country. This area is lush with rolling green hills, and right now – bluebonnets – they're everywhere! I met Shaina a few weeks ago in Miami, as we both attended BlogHer Food. The great thing about the food blogging community is our camaraderie. After seeing her Facebook post, I took Shaina up on her offer to pick anyone up from the airport on her way to Miami; we talked the whole way to the hotel (all about food of course)! I am so glad to have met this shining face, and appreciated all her Florida knowledge. I jumped at the chance to do a guest post for her blog, and I'll be making my way to visit Boca in the near future – I can promise you that.
What you don't know about me is that I'm incredibly organized, some may even say OCD. *Whaa?*
Given this, it may come as a surprise to you to know that I am TERRIBLE at planning recipes around their fitting holiday. Baklava is typically made around Christmas, I know.
But I get all excited, and rather than thinking about red, white, and blue popsicles and Jell-O molds, all I can think about is the baklava I've been dying to make for two years.
It's fairly easy to make, and with a teammate or two to help with assembly, it comes together fast!
Some tips to remember when working with phyllo layers. It dries out very quickly!
I defrosted mine in the fridge overnight. When it was time to assemble, I laid a few damp paper towels, or dish towel, over the top, only taken out layers as needed.
I hope y'all give this recipe a shot. Once you have everything set up and organized, it's quite easy. Just take a deep breath, and read the directions thoroughly before beginning. Find a friend to help, and promise them some flaky layer honey goodness in return.
Baklava
1 package phyllo dough (2 packages come in one box)
3 cups chopped nuts (I used pecans, any combo will work)
3 teaspoons vanilla bean paste (or vanilla extract)
1. Defrost phyllo dough in fridge overnight, or countertop for a few hours. Bring to room temperature before using.
2. Preheat oven to 350 degrees.
3. Melt 1/2 cup butter, saving the remaining for the glaze. Set aside.
4. Stir together the chopped nuts, cinnamon and nutmeg. Set aside.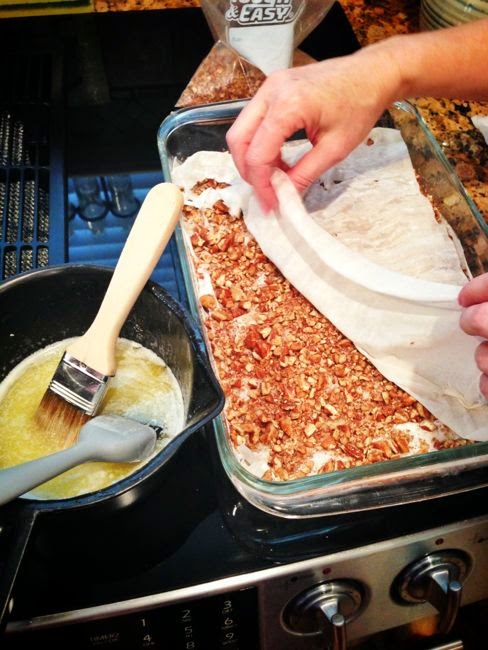 5. When ready to assemble, unroll the phyllo dough flat, and lay a damp towel over the top. Brush a 9/13 pan thoroughly with melted butter.
6. Begin layering. Lay down 2 sheets of phyllo at a time, buttering between each set. There's no need to butter between each layer. If you have rose water available, it's a nice touch to sprinkle a little on after you butter.
7. After 4 sets of 2 layers, sprinkle a layer of nut mixture. Then layer one phyllo and one layer of nuts, until you've used all the nuts.
8. Once you laid down all the nuts, continue with your sets of 2 phyllo sheets, buttering between every two. Once finished, remember to butter the top.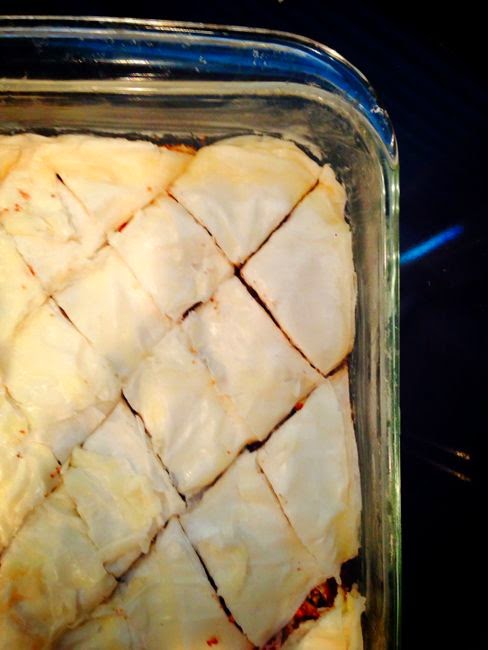 9. Carefully cut the pan into diagonal triangles. The first cut can be made from corner to opposite diagonal corner, then continue the pattern.
10. Bake for 45 minutes until golden. As soon as you pop it into the oven, begin the glaze. Bring the honey, water, sugar, vanilla and remaining 1/4 cup butter to a boil, and boil for 10 minutes.
11. As SOON as you take the baklava out of the oven, drizzle that warm goodness over every single inch of baklava, allowing to ooze and flow in all the cracks and flaky layers.
12. Now the hard part. Allow to cool for several hours, or overnight. This is crucial for the layers to set up and soak up all that honey goodness.
13. If you've made it this far, ENJOY!!!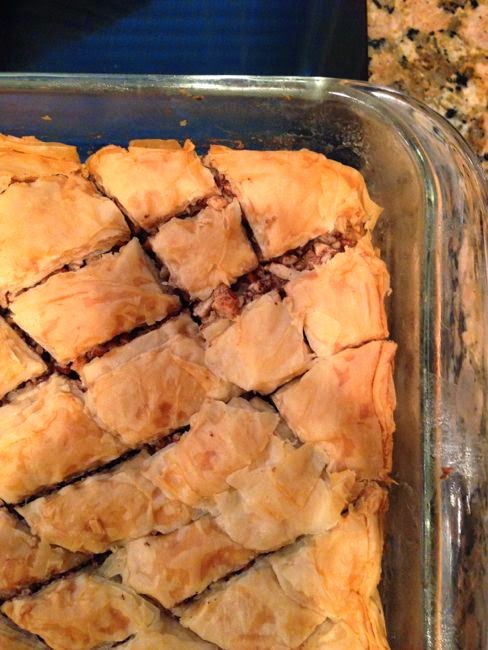 The last time I had baklava it was SO buttery that it was practically inedible. It was kind of gross and made me never want the dessert again. This, however, sounds and looks a million times better and just made me crave it again. Yay! Thank you for restoring my faith in Baklava, Katie!
You guys have to check out Katie's blog, The Hill Country Cook, and follow her on Facebook, Twitter and Pinterest too!