Never miss a bite! Sign up here to receive new recipes and reviews straight to your inbox.
Disclosure: This is not a sponsored post; however, it does contain affiliate links.
Balsamic Braised Red Cabbage is a fuss-free side dish that is naturally gluten-free and uses ingredients you probably already have in your kitchen. You're going to want to add this one to all of your holiday menus!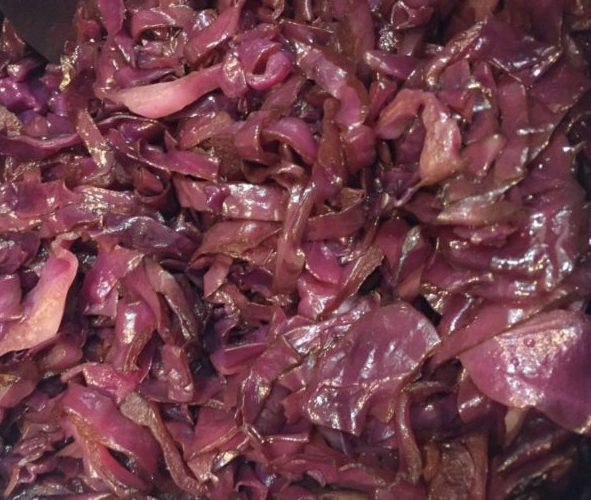 It's been a while since I participated in a Sunday Supper roundup, hasn't it? But I couldn't ignore today's theme. We're sharing Gluten-Free Holiday Recipes in honor of our dear friend, T.R. Crumbley, who passed away from cancer earlier this year. T.R. and his blog, Gluten Free Crumbley, was a huge part of our Sunday Supper family. I loved spending time with him at the Food and Wine Conferences in Orlando, where he was always smiling, laughing, and embracing everyone around him. Today, we celebrate T.R. with a great list of gluten-free dishes that would be perfect for all of your upcoming holiday parties.
Without further ado, let's get right to this Balsamic Braised Red Cabbage. I found this recipe through another blogger friend who posted it on Facebook. It's actually based on the recipe for the popular side dish at Houston's Restaurant; however, I took some liberties to make it my own. I've never actually had it at Houston's, but from what everyone says, it's soooo good. The original is topped with crumbled goat cheese, which I personally love, but when I made this for dinner at my Bubby's, I had to leave it out because there is nothing Bubby hates more than goat cheese. And we all know we cannot give Bubby something she doesn't like! I also think this dish would be awesome with thinly sliced apples or toasted nuts for a little textural crunch. This a base recipe, so do with it what you may — the options are endless!
The photos definitely do not do it justice, but I promise you — this Balsamic Braised Red Cabbage is delish. I am a huge fan of cabbage, especially when it's cooked down. It reminds me caramelized onions, with that rich depth of flavor. As I mentioned, I made this to bring over to my Bubby's for dinner. My Mom and Dad recently moved down to Boca, so we've been having family dinners together often. I'm happy to say that this dish was loved by all, even my Dad who had never tried cabbage like this before. My Dad's a hard sell — he loves his Philly cheesesteaks and hamburgers, but it always takes a little extra shove from me to get him to try something new. But in the end, he usually ends up liking whatever it is I have him try. Case in point: Balsamic Braised Red Cabbage.
Make sure to use a dutch oven for this recipe — a pot that can transfer from stovetop to oven with no problems. This can easily be made in huge batches to serve all at once for a large party, or you can serve a smaller serving and freeze the rest for later use. If you're going to freeze, portion it out into microwavable tupperware, and when you are ready to use, pop the tupperware into the microwave to soften the cabbage a bit. Then heat a pot on the stove and add a small amount of water. Add the cabbage, then cover and cook, stirring throughout, until it's done.
Whether you're making Balsamic Braised Red Cabbage for a small family dinner or for a large gathering, this is a super easy idea for the holidays — and we all know easy is best during this time of year!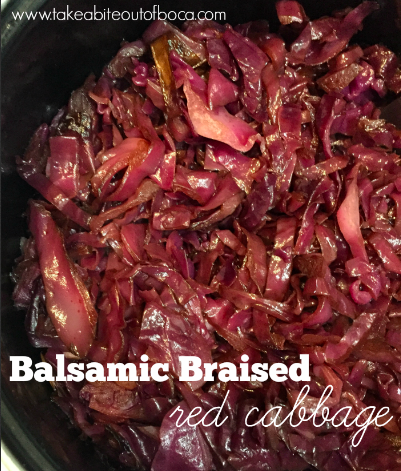 Balsamic Braised Red Cabbage
Author:
Balsamic Braised Red Cabbage is a fuss-free side dish that is naturally gluten-free and uses ingredients you probably already have in your kitchen.
Ingredients
1 large head red cabbage, shredded
1 cup balsamic vinegar
1⁄2 cup water
3 tbsp coconut oil
3 tbsp sugar
Instructions
Preheat the oven to 325 degrees.
Add balsamic vinegar, water, coconut oil and sugar to a dutch oven and heat on stove until the sugar has dissolved, about 5 minutes.
Add the chopped cabbage and stir together.
Cover with a lid and braise in the oven for 2 hours, stirring every half hour.
Serve immediately or freeze in batches for later use.
For more gluten free inspiration for the holiday season, check out the recipes below.
Gluten Free Sunday Supper Recipes
Sleigh Ride Starters
Seasons Greetings Sides
Making Things Merry Main Dish
Decking the Halls Desserts
Join the #SundaySupper conversation on twitter on Sunday! We tweet throughout the day and share recipes from all over the world. Our weekly chat starts at 7:00 pm ET. Follow the #SundaySupper hashtag and remember to include it in your tweets to join in the chat. To get more great Sunday Supper Recipes, visit our website or check out our Pinterest board. Would you like to join the Sunday Supper Movement? It's easy. You can sign up by clicking here: Sunday Supper Movement.