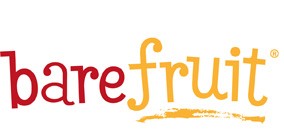 I love finding new products on my own, but I like it even more when new products find me! Recently, Bare Fruit Snacks contacted me about their low-calorie, high fiber, naturally sweet snacks. I hadn't heard of the brand, so I looked it up and it seemed right up my alley. Bare Fruit snacks are organic, baked-dried fruit chips and come in fuji apple, granny smith apple, cinnamon apple, cherries, mangos and pears. They boast some ridiculously good-for-you nutrition stats. Every product is baked — not fried, and 100% organic and kosher with no added sugar, preservatives or additives. They are all cholesterol-, gluten- and fat-free (except for the mangos, which have 1 gram of fat) and meet the daily recommended servings per day of fresh fruits and vegetables required by the USDA.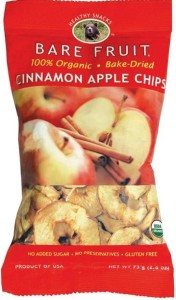 Bare Fruit was awesome enough to send me a bag of the cinnamon apple chips. I loved 'em! They're crisp and light, with a naturally sweet taste and aren't too chewy like dried fruit sometimes can be. I was very happy to be introduced to this new snack food, and want to share it with you too! Visit the Bare Fruit Snacks website and check out their various products. For a chance to win a whole case of Bare Fruit Snacks, leave a comment below telling me which one of their products you're most excited to try. For additional entries to win, see below.
The contest starts tomorrow, Monday August 6th, winner will be picked next Monday, August 13th. Don't miss your chance to win a case of these delicious snacks!