Never miss a bite! Sign up here to receive new recipes and reviews straight to your inbox.
Disclosure: I received complimentary Bella Shape® treatments from Carmen Care Advanced Laser Therapy. All descriptions and claims are according to Carmen Care's website. No monetary compensation has been received for this post. As always, all opinions are 100% my own. Images courtesy of Carmen Care's Facebook page.
Let us continue on this cellulite-reducing, skin-smoothing, butt-lifting experience, shall we?

If you didn't get a chance to read about my first visit to Carmen Care Advanced Laser Therapy and my Bella Shape treatment, click here to do so. After a successful first experience, I was eager to get back for my second session. This time was a little different, starting out with a specific device that targets localized fat deposits and breaks them up to allow for the fat and toxins in the body to essentially get the F out! Bring it on! The doctor moved the device up and down the front and backs of my legs, inner and outer thighs, butt and even my stomach and love handles. It truly did feel like this little machine was digging deep to squeeze and smoosh around all the fatty tissue — which if you try to picture it, sort of makes me think of when you try to pop air bubbles.
After about 20 minutes of this — during which I completely dozed off; that's how relaxing and comfortable this whole process is — it was time to get in some sculpting! According to Carmen Care, The laser toning process helps to increase the stimulation of fibroblasts, enhance the production of collagen and elastin, and increase tissue tightening and elasticity. I did notice after my first visit that my booty was a little bit sore the next day, as if I had done a killer lower body workout. But it makes sense — Bella Shape is essentially working intensely on your butt and leg, where the muscles are pretty large and in charge.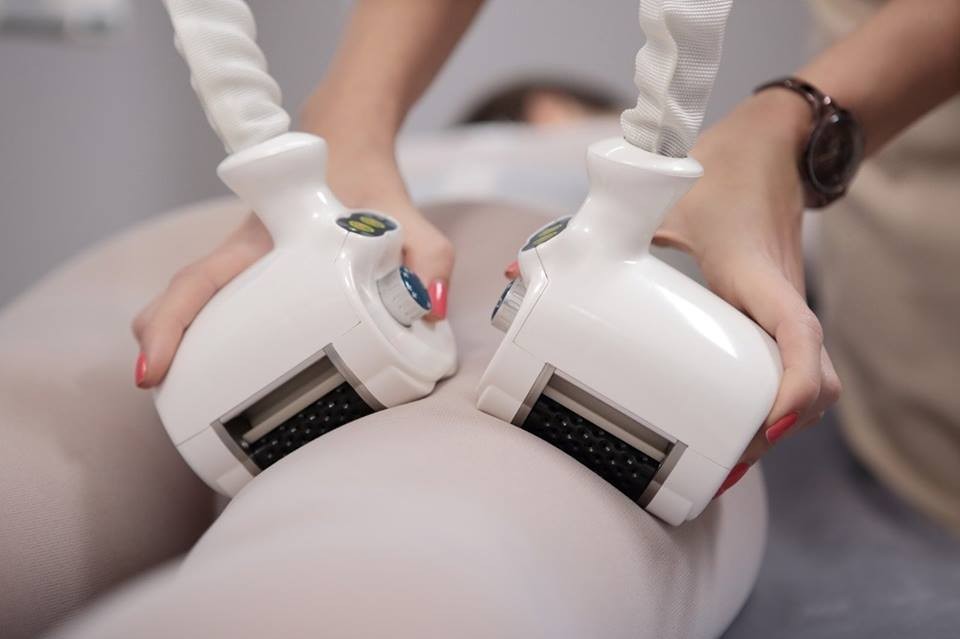 I have seen a definite difference in shape, especially in my thighs. But Bella Shape can be used for a myriad of reasons — skin tightening and wrinkle reduction of the eyes, jaw line, face and neck, for instance. Carmen Care also notes that patients with irregularities, or uneven areas after a previous liposuction, or other surgical procedures, such as abdominoplasties, are excellent candidates. Bella Shape also works to reduce burn and scar appearance, and smooths stretch marks after pregnancy on stomachs and thighs. While nothing on this list applies to me, I will say that the eczema on my thighs has gone down dramatically… Amen to that!
So far so good with Bella Shape. Two down, two more to go!
Don't forget to follow Carmen Care Advanced Laser Therapy on Facebook and Instagram for more details on their treatments and specials! To book a treatment, visit their website — and make sure to mention Take A Bite Out of Boca when booking your appointment to receive a single session for just $150 (regularly $175).