Never miss a bite! Sign up here to receive new recipes and reviews straight to your inbox.
Disclosure: I received complimentary Bella Shape® treatments from Carmen Care Advanced Laser Therapy. All descriptions and claims are according to Carmen Care's website. No monetary compensation has been received for this post. As always, all opinions are 100% my own.
We've talked about the whats and whys, squishing and squeezing away fatty tissue, and how it feels, and now it's time to give you my final thoughts on the Bella Shape treatments at Carmen Care Advanced Laser Therapy.

Although the Carmen Care staff recommends customers get anywhere from 5 to 10 treatments depending on each individual case, I was treated to four complimentary treatments to get a feel for what it's like. As I've mentioned many times, it's relaxing, crazy comfortable, and feels really good. For me, I didn't see much of a change in skin smoothness. However, on my first visit with founder Leslie Carmen, she told me I might not see a huge difference in that respect because there isn't much cellulite there to begin with. (That was fun to hear!) However, even in that initial session, we saw a big change in shape. After the fourth treatment, we took one final photo and compared it to the very first one we took before beginning the first treatment. We both agreed that there was a definite change in shape. It looked rounder, firmer, and sat a bit higher up. Thanks, Bella Shape, you've done my body (and booty) good. I mean, Bella Shape's main function is to improve shape, hence its name, so it definitely did its job.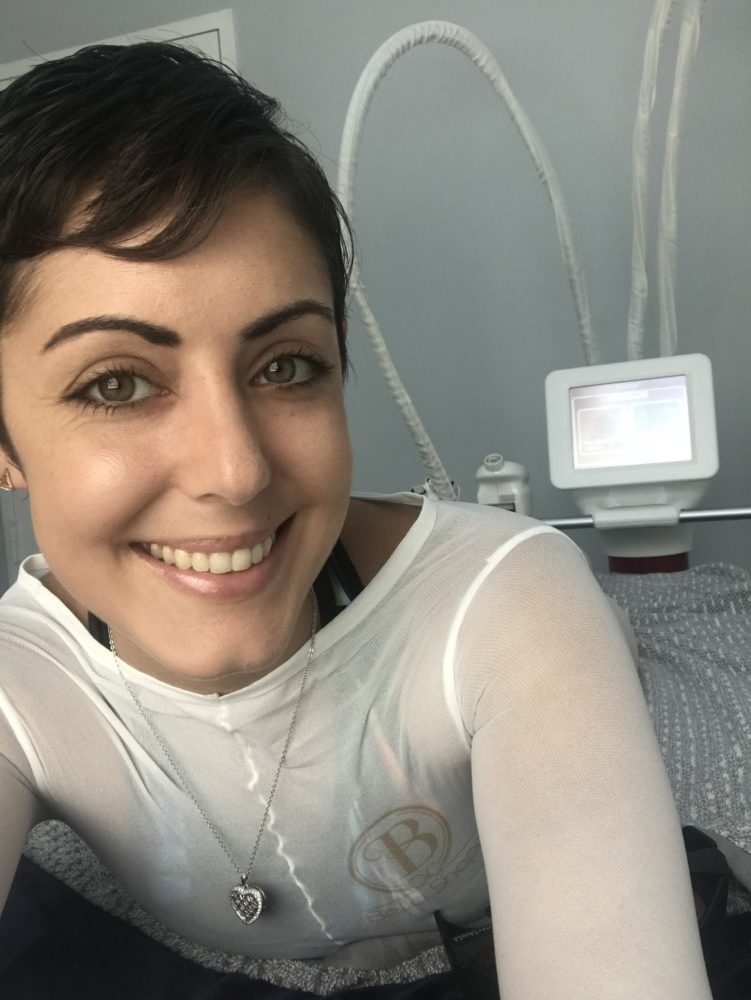 The first question I've been asked since starting this — and I'm sure it's exactly what's on your mind — is how long does it last? How long does your butt stay lifted? How long do you stay wrinkle-free? Etc., etc. Dr. Leslie recommends monthly maintenance, but those who live very active lifestyles (i.e., exercise on a regular basic, eat right) could get away with coming in once every two months for maintenance. The secret though, as with any kind of weight-loss or body slimming treatment, is maintaining a healthy lifestyle outside of the specialists' office. It's just like fitness experts say — weight loss is a combination of working out + diet. You can't throw all your eggs in one basket and expect to win. Lucky for me, I'm a 7-days-a-week-gym-rat, and eat pretty well.
Overall, I was very happy with my experience at Carmen Care Advanced Laser Therapy, and I would definitely go back. Every member of the staff I worked with was super friendly and knowledgable and made me very comfortable during each appointment. While I'm only familiar with the Bella Shape treatment at this time, Carmen Care's main area of expertise is Laser Therapy, a therapeutic non-invasive therapy used to reduce and eliminate acute and chronic pain, autoimmune disorders and other wellness conditions, according to their website. There are laser therapy treatments for arthritis of the knee, frozen shoulder, sciatica, tennis elbow, and trigeminal neuralgia. Carmen Care also offers Laser Energy Detox, what their website describes as a method used to detoxify the body of unwanted toxins, heavy metals, and allergens that are often found in our bodies as we age. This method of detox can be used to help those of us who want to improve our health, prevent illness, and slow down the aging process. It can also be used for those who are chronically ill and want to reverse disease in the body.
There are lots of different reasons someone may want to visit the team at Carmen Care Advanced Laser Therapy — but if you're like me and would love a good lifting of the booty, give them a call and schedule your first Bella Shape session. Mention Take A Bite Out of Boca and get a single session for $150 (regularly $175).
Carmen Care Advanced Therapy is located at 3301 NW 2nd Avenue, Suite 100 in Boca Raton. They are open Monday through Friday from 8:30m-5:30pm. Make sure to follow along with them on Facebook and Instagram for more information on all of their services and specials!