Never miss a bite! Sign up here to receive new recipes and reviews straight to your inbox.
Disclosure: I was invited to dine as a guest of Benihana. Monetary compensation in the form of a gift card was received for this post. As always, all opinions are 100% my own. 
Boca Raton is home to many well known restaurants and businesses, and the list just keeps on growing. Benihana, the nation's leading operator of Japanese-inspired Teppanyaki and Sushi Restaurants, has just opened its newest location in West Boca Raton on Glades and 441.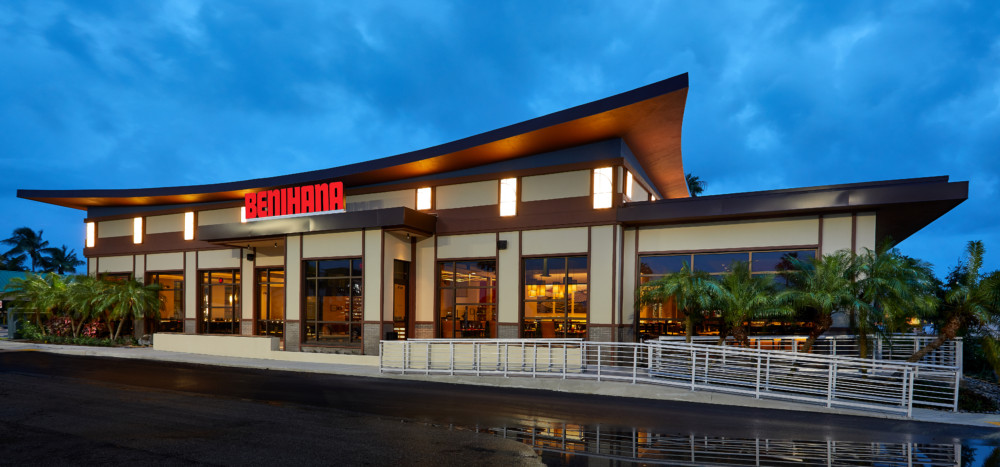 With 21 Teppanyaki dining tables and a full-service bar for 30, the 7,800-square-foot restaurant is fully equipped to handle large crowds, especially those looking to celebrate a special occasion. If your party doesn't take up all the seats at one of the tables, expect to share your Benihana experience with other diners. This can either be super fun and leave you with new friends, or super annoying and leave you with new reasons to stay away from communal dining. Lucky for me, my party of four was seated with a very nice couple and their daughter, who ironically had some of the same food restrictions as I do (no dairy or gluten) which made it easier for us when asking the chef to specially prepare things. Our chef, Giovanni, was only one month into his Benihana career and put on quite the show. If you've ever been to a hibachi restaurant, you know the drill — lighting the onion volcano on fire, flipping a shrimp tail and catching it in his hat, creating a heart out of the fried rice and making it "beat" with his spatula.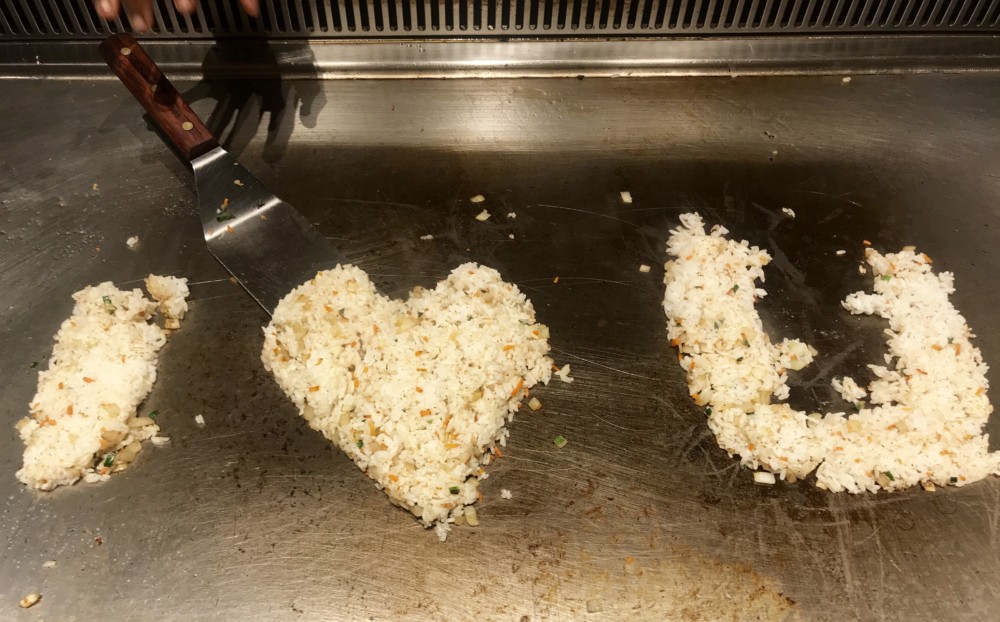 The chefs at Benihana may require cooking skills, but they also need to be able to put on a show and keep their audience entertained, and Chef Giovanni did just that. Not only was he entertaining, but he was accommodating as well. It was no problem at all for him to cook the fried rice without butter, leave out the egg, and switch to gluten-free soy sauce for me.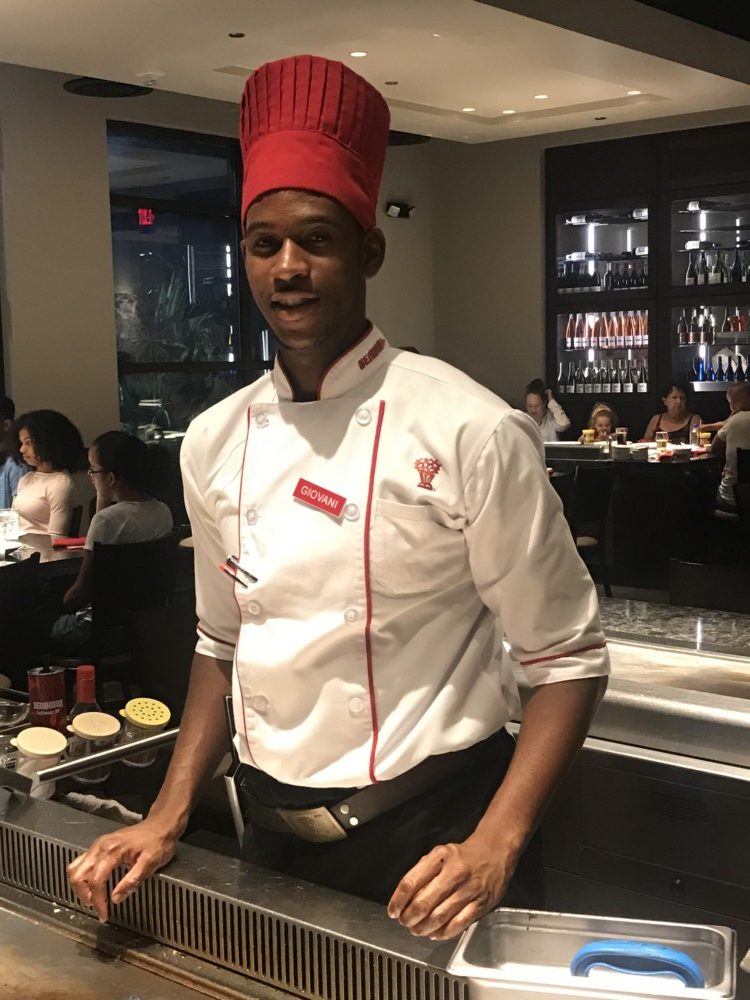 Let's chat more about Benihana's menu. First of all, it's huge and has an enormous variety of Asian-inspired appetizers, sushi and sashimi, and plenty of Teppanyaki-style entrees to choose from. I kicked things off by sharing the sashimi sampler with my boyfriend, which came with six gorgeous pieces of salmon, tuna and yellowtail (two of each). The slices of fish were extremely generous, and could have easily been cut in half if you wanted to share this appetizer with another couple.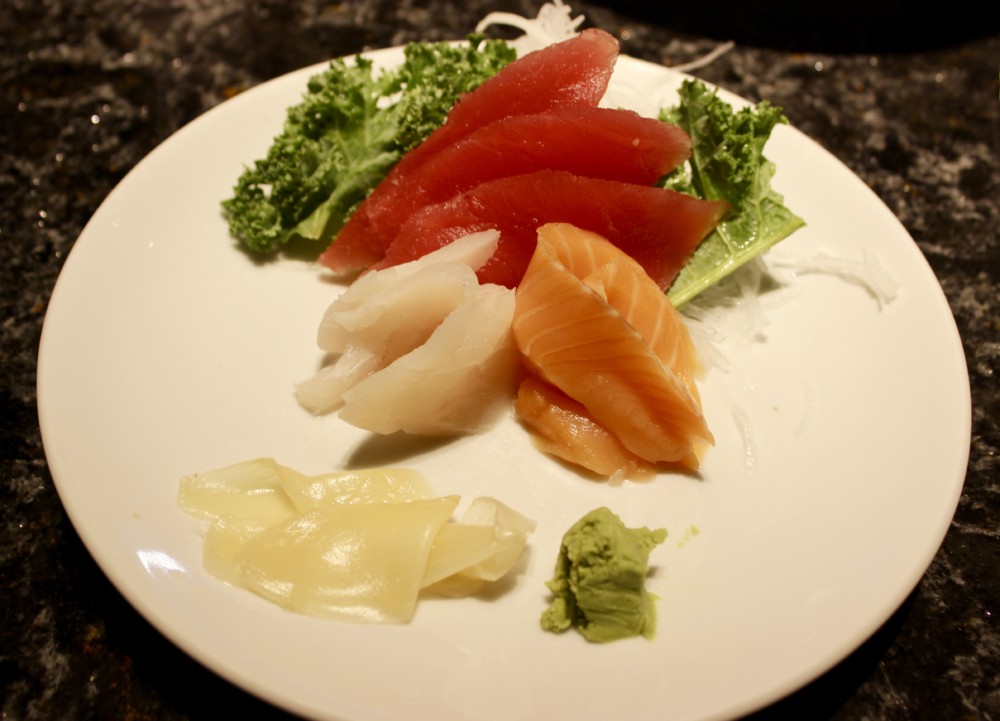 One thing that I can be sure my Bubby will always order if she sees it on a menu is soft shell crab — I guess the apple doesn't fall far from the tree because my mom saw it and immediately decided she needed to have it. I've never been a fan, but Mom, Dad and Roger all thought it was delicious. (P.S. Did you catch that? I was totally on a double date with my parents.) Benihana serves their soft shell crab with a ponzu sauce, and although it's billed an appetizer, it is more than enough to share with a crowd.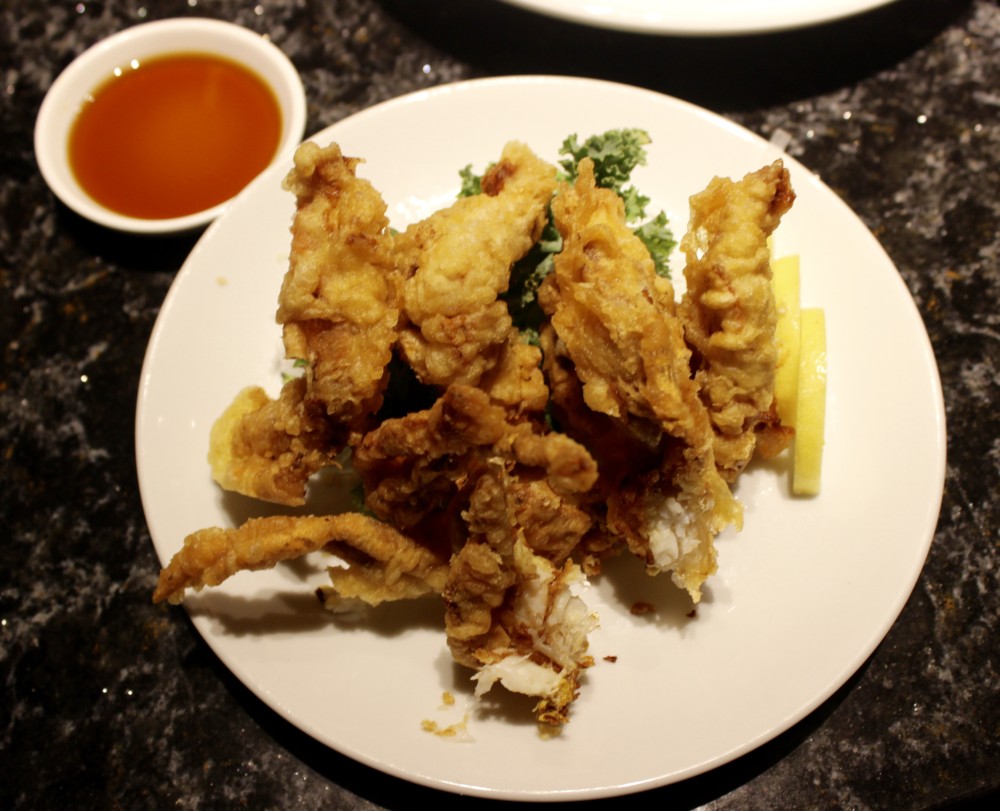 After the appetizers, it's time to get the party started. Each of the Teppanyaki entrees come with the signature Benihana onion soup and ginger-dressing-laced salad, hibachi shrimp appetizer, hibachi vegetables, house-made dipping sauces, steamed or fried rice, and Japanese hot green tea. It's a lot of food, spaced out over the course of the evening, coming at you at various times, which might mean you're eating before someone else at the teppan table and vice versa. As long as you're prepared for this, you'll be okay. Instead of the onion soup, I had miso which I loved — I especially loved the adorable Asian soup spoon to slurp it all up.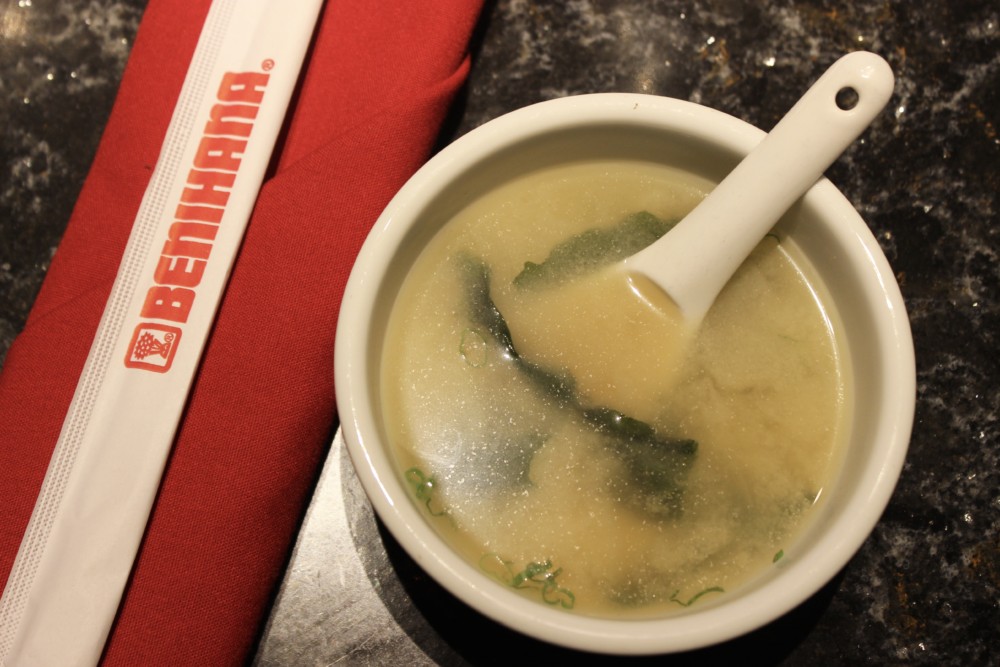 Roger and I both went full force and ordered the Ocean Treasure — grilled cold water lobster tail, sea scallops and colossal shrimp. It's a seafood lover's dream, and when you add in the grilled zucchini and onion and fried rice — the signature Benihana style comes with chicken, but I had mine with veggies — it makes a great, well-balanced meal. The fried rice will be finished pretty early on, so if you're starving, at least you'll have that to hold you over until your protein shows up. It's also incredibly delicious and hard to resist diving into the moment it's scooped into the bowl in front of you. Even without the use of any butter, it was still wildly flavorful.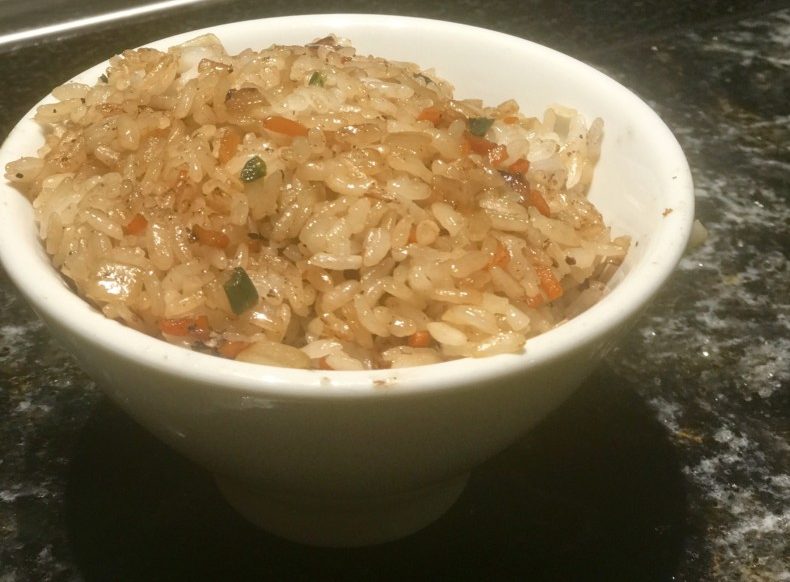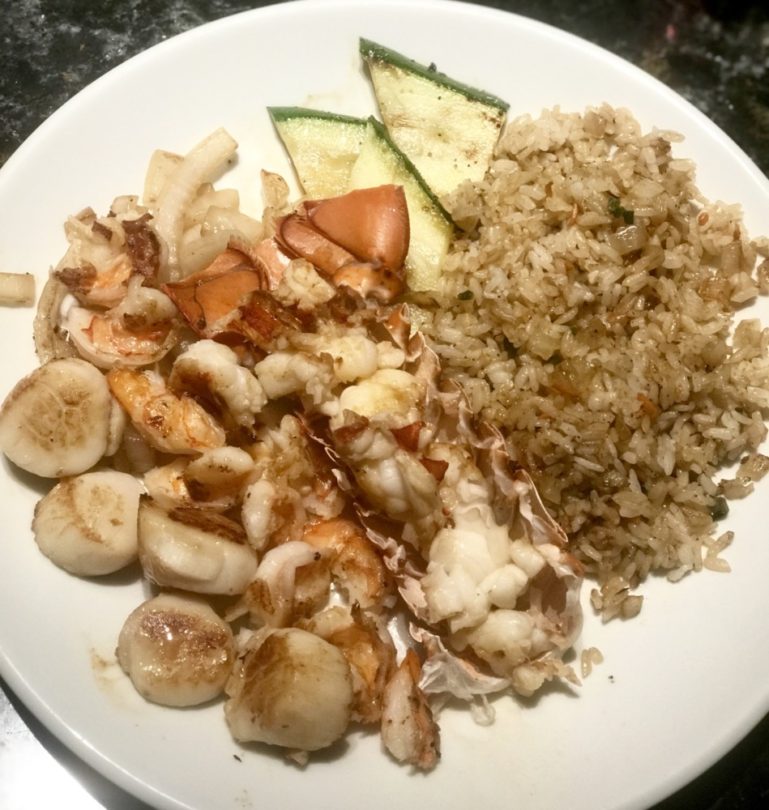 Dad wanted a little bit of everything and ordered one of the specialty entrees, the Benihana Trio, which comes with filet mignon, chicken breast and colossal shrimp grilled with lots of lemon and butter. Benihana uses USDA choice beef, and it's hand cut on the premises. It may have been the last and final thing Chef Giovanni made for our table (making Dad the last to get his complete meal), but it was cooked just the way he liked it and probably made excellent leftovers for lunch the next day.
Mom used her noodle — and got some noodles! She ordered the Seafood Diablo — minus the diablo. Not kidding. Mom doesn't like spicy food at all, but she loved everything in the dish — sea scallops, calamari, shrimp, veggies and Japanese udon noodles. Chef Giovanni, just like with me and my restrictions, was all too happy to oblige and instead prepared her dish with soy sauce and garlic butter.
If you aren't into the whole dining-with-strangers thing, there are private and semi-private dining rooms as well, each of which includes four Teppanyaki dining tables. Although the teppan tables may seem best suited for special occasions, Benihana has everyday dining options as well, including build-your-own bento box lunch specials, lots of sushi, and a full bar with a lounge menu. Wherever you decide to sit at Benihana, it's a solid choice, but do be aware that at the teppan tables, it's a little loud,and hard to hold a conversation outside of what you're watching the chef prepare and what you're eating, and it can easily turn into a 3-hour affair from the time you walk through the doors until the time you leave — so don't make post-dinner plans in case it goes a little longer than you thought. But the staff is fun and friendly, the atmosphere is bright and welcoming, and the food is top-notch. Even if you come hungry, you will definitely have leftovers. And let's be real, Asian food really makes the best leftover food. Am I right?
Benihana is located at 9188 Glades Road in Boca Raton. The restaurant is open Monday through Thursday from 11am-10pm, Friday from 11am-11pm, Saturday from 12-11pm and Sunday from 12-9:30pm. Benihana also offers online ordering, available at Benihana.com or by downloading the Benihana app. The app is available in the Apple® App Store® and Google Play.