Never miss a bite! Sign up here to receive new recipes and reviews straight to your inbox.
Disclosure: This is a sponsored post on behalf of Beyond Meat. Nutrition and product information has been provided by the sponsor. As always, all opinions are 100% my own.
Beyond Meat is planting The Future of Protein, using plant protein in their products — everything from "chicken" strips and tenders to "meat"balls and "beef" crumbles.

Although I'm a Pescatarian, I tend to make vegetarian dishes when I'm cooking at home. Quinoa is a great vegetarian option for protein, but after a while I start to crave something different. I was given the opportunity to try Beyond Meat products, and was quite surprised at how much they actually taste and look like the real deal. Yes, I did once eat beef and chicken — I remember what they really do taste like! Beyond Meat has challenged me to create a "meat"-based dish and surprise my friends with a blind taste test to see how they react when I revealed the actual protein part of the dish. I used the lightly seasoned Beyond Chicken Strips — which actually do have as much protein in them as real chicken (20 grams per serving). The difference? This protein is made from soy and pea. They are also gluten-free, vegan, non-GMO, and pretty diet-friendly too — 6 strips is only 120 calories!
I thought it would be fun to get my good friend and fellow food blogger, Anika from Miles and Mimosas, involved in this fun charade. I invited her over for a Build-Your-Own-Taco lunch. I set out bowls of Mexican blend shredded cheese, roasted tomatoes and jalapeños, sliced avocado, cilantro, corn tortillas and of course, Beyond Chicken Strips.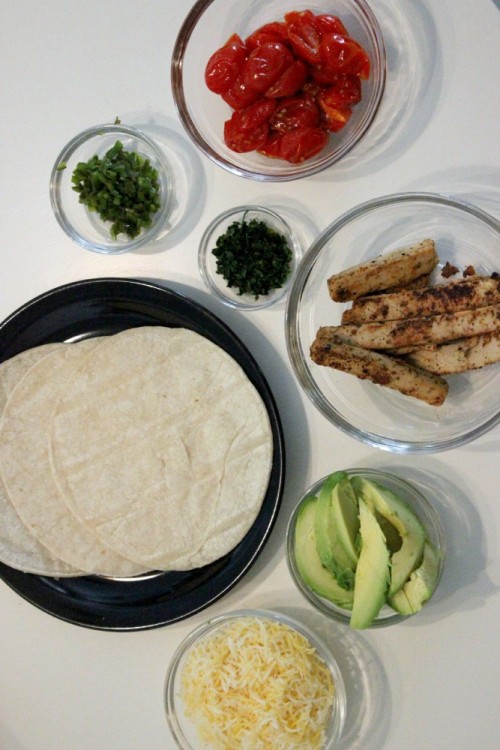 Since I don't eat meat I told her I made the chicken for her, and that I'd happily enjoy my vegetarian tacos with some black beans instead. We built our tacos, and got on with our grubbin' — and because we're food bloggers, she didn't even flinch when I whipped out my camera to take pictures and video of our lunch.
After she knew what we were really eating, I made myself a "chicken" taco. I seasoned the strips with a spice blend of brown sugar, garlic, cumin, chile pepper, lime and lemon. It was a perfect complement to the other ingredients in our tacos. I would most definitely use the Beyond Chicken Strips again.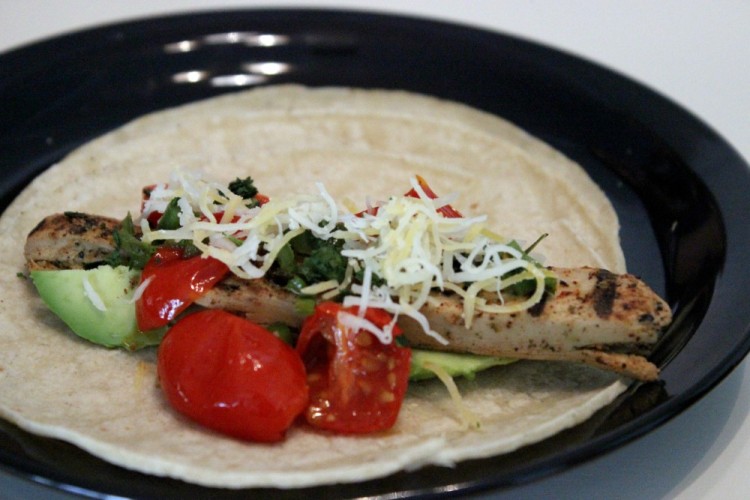 You can join in on the Future of Protein Challenge too! Use this coupon to purchase your own Beyond Meat product and secretly substitute it into a meal. (Click here for product info and suggested recipes). After everyone has enjoyed the meal, reveal to them that the meat they just ate was made from 100% plants! Post your photos and a recap of the dinner to Instagram or Twitter by 11:00PM PST on 10/31, tagging @BeyondMeat and #FutureOfProtein and you will automatically be entered in the sweepstakes.
5 of you could win Le Crueset cookware, 3 months of Chef'd meal delivery, a $500 Visa Gift Card, and a chance to watch our pro-athletes in action!
Beyond Meat allows vegetarians the chance to join in on all the yummy comfort foods like nachos, chili, chicken tenders, and lasagna without any kind of animal protein. I, for one, can't wait to try the meatballs with a heaping bowl of spaghetti squash! Plant protein is sweeping the nation — you can see it on huge restaurant chain menus now, and even in schools. Elite athletes all over the country have partnered with Beyond Meat to communicate the benefits of plant protein to the world. These athletes include WNBA superstar Maya Moore, pro-surfer Tia Blanco, and beach volleyball champ April Ross. These ladies rock! You can find Beyond Meat products in the frozen and refrigerated sections of major grocery stores such as Publix, Whole Foods, and Target.