I can't believe I've been out of high school for six years. When I look back at who I was then, compared to who I am now, I see quite a difference. Most of the people who were my "best friends" in high school aren't even in my life anymore and haven't been for a while. There are the exceptional few, but they existed way before high school. Like Jordan, she doesn't count as a "high school best friend," she's more like family — someone I've known since I was 7 years old. Then there are some people who I touch base with every so often, and things will feel just as they did back then, but it's hard to have the same type of friendship when you're living in different states and living completely different lives. You grow up, go to different schools, meet new friends, develop new interests, and pretty soon high school is a distant memory that exists in photo albums, yearbooks, and memory boxes. I got lucky recently. One of my absolute best friends from my high school days moved to Florida! We stayed close throughout college despite being in different places, but then we lost touch for a while. When she told me out of the blue that she would be living with her grandmother in Fort Lauderdale, I was SO excited to see her. After a few failed attempts at trying to meet up, we finally planned a weekend to catch up and spend our girl time together like the old days. My Anna Banana, P4L (beer pong partners 4 life) and part of the "fourevers" (me, Jordan, Anna and our other quadrant, Alex, were inseparable) was back in my life! Anna was always the chef/baker out of the four of us, so it's pretty appropriate for us to reunite now that I'm into that too.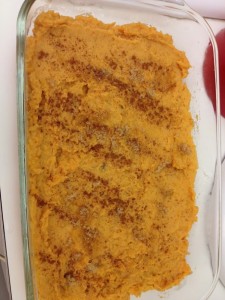 We went over to Publix to pick up food to cook for dinner and then did some prepping before heading out to the movies. Has anyone seen "The Perks of Being A Wallflower" yet? If not, you MUST. It was great. The book was one of my absolute favorites — I think I read it my freshman year of high school. I wish I knew where my copy of the book was so I could reread it, but I probably lent it out. It's lost in the abyss; who knows who has it. The casting was perfect, each character was exactly how I pictured them to be. Emma Watson is the cutest thing ever and the boy who played Charlie was so good it was scary. We both loved the book and thought the movie was done really, really well. The author, Stephen Chbosky, wrote the screenplay and directed the film, so that definitely played a huge part in why it was so much like the book, and why it was so good.
For dinner, Anna and I made flounder with lemon and garlic, with mashed sweet potato brulee and sauteed spinach with toasted pine nuts and shallots. The sweet potato brulee was adapted from a recipe we saw on Skinnytaste. We changed a couple of the ingredients, using Greek yogurt in place of both the milk and butter and we didn't use nutmeg. Instead we just used double the amount of cinnamon. That was an amazing side dish. This will be my go-to sweet potato recipe from now on. Broiling the dish for a couple minutes gave the brown sugar and cinnamon on top, just the right amount of crisp to enhance the sweet flavor. The flounder was super easy to make, too (instructions below).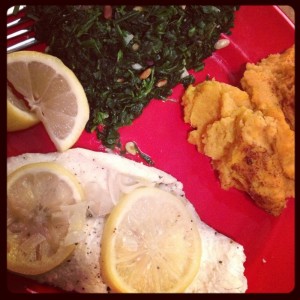 The reunion continued into the next day when we took total advantage of the gorgeous Florida weather and spent the afternoon on the beach. Coming from New Jersey, it's pretty freaking exciting to be sitting on the beach actually wearing a bikini in the beginning of November. We ate lunch at JB's on the Beach. JB's is such a fun place to go on the weekends; it's always packed on Sundays. I like the outside dining/bar area that is right on the beach. Neither of us wanted a huge lunch so we ordered from the appetizer list — as with most restaurants, the appetizer portions are lunch-size anyway. Anna got the sesame-seared tuna with seaweed salad and soy dipping sauce. The wasabi was so cute; it was piped into a little flower on the plate. I got the sonoma flatbread, with tomato jam, monterey jack and goat cheeses, asparagus, basil and olive oil. YUM! I love fancy flat breads, they always have the best toppings.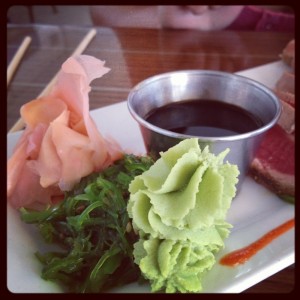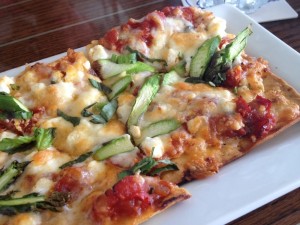 Hopefully Anna will be able to adapt to life down here in South Florida as well as I have. It really is a great place to live. There's so much to do and see — and the constant sun and warm weather help, too!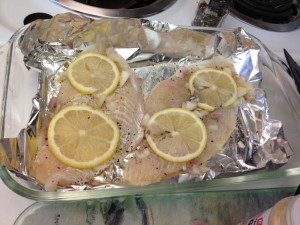 Here's how we made our baked lemon-garlic flounder:
Preheat the oven to 375 degrees. Season the flounder filets with a little salt, pepper, and garlic powder and place on a piece of tin foil. Place 2-3 slices of lemon on top and squeeze the lemon juice over the fish. Fold the tin foil over and pinch the edges together so the flounder is completely enclosed. Bake for 20-25 minutes or until done. You'll know your flounder is done when the inside is white and flakey.