I told you that I love long, drawn out birthday celebrations. So naturally I started the countdown to my 25th as soon as March 1st was upon us. It really hit us in the face. February always zooms by so fast. I like that it's a short month. March is not only my birthday month, but it's also my mom's and older sister's AND my parents' anniversary month! I have a ton of friends with March birthdays too, so it's a busy month with lots of celebrating. Gotta love all the Pisces in my life! We're a pretty awesome group.
I'm totally one of those obnoxious people who tells everyone it's their birthday…even if it is a bit early. Bubby and I went out to dinner at Tanzy the week before my birthday, and thanks to my friend and fellow food-enthusiast,
Ken
, I got special VIP birthday treatment. We had impeccable service and a nice visit from the manager who came out to say hi and wish me a Happy Birthday.
Tanzy was one of the restaurants I had the pleasure of judging at the Flavors of Boca event last month. I've been wanting to go there for dinner since it opened at the new iPic Theatre in Mizner Park, which, as a side note, is freaking awesome. You'll never be able to go to a regular movie theatre again after experiencing the iPic. Anyway, Tanzy has a pretty swanky look to it. There's a very lively bar scene and a really cool little lounge area when you first walk in. The whole idea behind the decor is to resemble an outside, woodsy area…kind of like an "enchanted forest."
Bub and I decided to each order an entree and go halfsies. I ordered the wild mushroom risotto and she got the branzino with pecorino and sunflower couscous-stuffed tomato. It came with garlic spinach, too. Both dishes were fantastic. I loved the creamy texture of the risotto and sharp taste of mushrooms with truffle oil — I've said it time and time again, risotto is one of my absolute favorite dishes. If I see it on a menu, I almost always order it. I have to say, this was one of the best I've had. The branzino was cooked beautifully. I can't believe how big the serving of fish was. it definitely was enough for two people to share. I liked the mix of flavors in the little couscous-stuffed Roma tomatoes.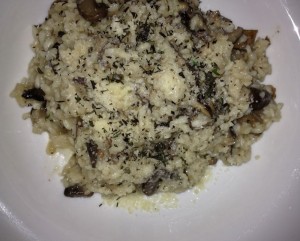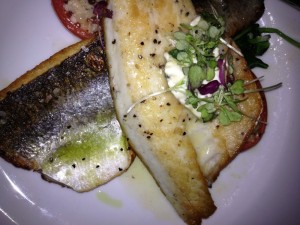 Okay. Are you ready for the dessert? I can't even describe to you how amazing the dessert was. I was full from dinner, but as soon as the waiter set the dessert menu down in front of me, the words RED VELVET BREAD PUDDING screamed out at me. How in the world could I say no to that?! I tried really hard to not devour the entire thing, but it was too good to resist. Bubby and I did share, but I think I had a little more than half. 😉 Oh well. Calories don't count during your birthday. Duh.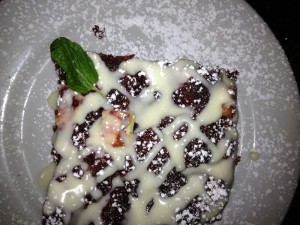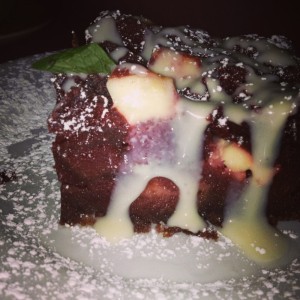 Disclaimer:
I was not compensated to review this restaurant. All opinions are my own!