I recently came across an article on SoFla Foodie highlighting the top 10 must-try restaurants. In order, they are Buccan (Palm Beach), Cut 432 (Delray), Jimmy's Bistro (Delray), Little Moir's (Jupiter), Michael's Genuine Food & Drink (Miami), Pubbelly (Miami), The Rebel House (Boca Raton), ROK:BRGR (Ft. Lauderdale), Sweetwater (Boyton Beach) and Sushi Simon (Boyton Beach). At the time, I had 4 out of the 10. But I looked at #1 and had a sneaking suspicion that I'd be adding it to my list pretty soon…
A couple of weeks ago, my boyfriend told me he had my birthday dinner all planned. We'd be going to a top-rated restaurant in Palm Beach that was recommended to him as one of the best restaurants in the area. I told him I wanted him to keep it a surprise. Under no circumstances did I want to know ahead of time where we were going. And then I saw the article, which listed a Palm Beach restaurant as number one. Automatically, I looked at the menu and read some reviews — I didn't want to believe that I had figured it out, but I knew this was most likely where we'd be going. I really wanted to be surprised, so I still would not let McKenzie tell me yes or no.
Then came the night of my big birthday dinner. We ventured out to a wine bar in West Palm Beach first, The Blind Monk. Great spot. The wine list is huge and they offer $15 flights with four 2 oz. pours of specially picked wines by the bartender based on your preferences. I now have a new favorite white wine: Pinot Blanc. I've never even heard of this varietal, but it was perfect. Very light and crispy with a hint of sweetness — not as sweet as a Riesling or Moscato, but sweeter than a Sauvignon or Pinot Grigio. The definition of a happy medium. After wining, it was time for some dining… Off to Palm Beach we went with me still completely in the dark about where we were headed. When we arrived and McKenzie was looking for a parking space, I noticed Buccan and pointed it out to him, only to find out that yep — I was 100% right. Buccan was exactly where we were going.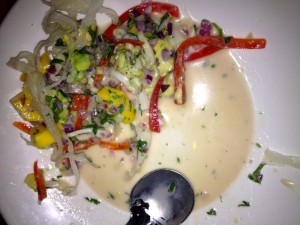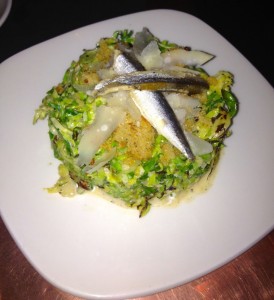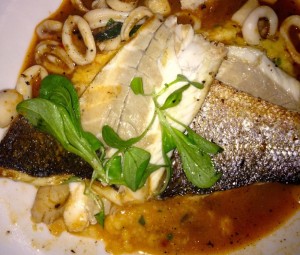 Everything we had was amazing, from the conch ceviche appetizer to the chocolate and dulce de leche brownie dessert. I'm a sucker for ceviche; I pretty much get it everywhere I go. This was different though, made with conch instead of the usual medley of seafood. There was mango, avocado, coconut, habanero and crispy yucca too. Aside from the mango and avocado, these were new ingredients for a ceviche, for me at least. The picture doesn't do it justice; it looks like such a mess, but I promise you it tasted anything but. Next we got the warm Brussel sprouts Caesar — another totally unique twist on a classic dish. This was probably our favorite of everything we had. The gross sardines were immediately discarded and we dove right into the shaved Brussel sprouts leaves, crispy parmesan croutons and creamy caesar dressing. It was a totally different take on the salad and I recommend it to anyone dining at Buccan. Our next dish was the ricotta gnocchi with hedgehog mushrooms, Florida corn and black truffle. Another winner in our book. The creamy ricotta filling, the sweet corn and the bite from the mushrooms (get it? because hedgehog mushrooms have "teeth" …haha…) all paired really well with the sauce. Our entree was the frutti di mare, which means "fruits from the sea." It was a delicious dish of branzino, bay scallops and calamari served over a creamy polenta. Again, I apologize for how poor these photos are. The food was amazing, but not ideal for photographing. Everything just looks messy. I tried. As always, you can't end a birthday dinner without dessert — and of course a candle and Happy Birthday! We indulged in a rich chocolate brownie covered in dulce de leche and topped with banana ice cream. Need I say more?
Best birthday dinner ever? I would say so.
Disclaimer:
I was not compensated to review this restaurant. All opinions are my own!