Get ready for some seriously good cookies. Thank you so much to all you Biscoff-crazed food bloggers because without you guys, I never would have known about it. From cupcakes to milkshakes, you all have made just about every dessert imaginable with this stuff and everything always sounds amazing. So far, I've used it in homemade granola bars (a la Sally's Baking Addiction) and shortbread cookies… It's definitely time to share another recipe with this sweet cookie spread.
I'm pretty indecisive when it comes to picking anything that has to do with food. I always take forever to choose what I want at restaurants, which is why I usually check the menus before going out to eat. I'm no different when it comes to picking a recipe to make when I'm in the mood to bake. I sit on Pinterest for at least an hour, going through my boards, looking for something to scream out at me. Then I see if I have all the ingredients I need. If I don't, I'll improvise and maybe make a few swaps — unless I'm feeling really motivated, then I'll actually go out to Publix and get whatever I'm missing. I finally came to two recipes I pinned from my fellow bloggers: Table for Two's Biscoff white chocolate chip cookies and Two Peas and Their Pod's Biscoff oatmeal cookies. I had oatmeal. I had white chocolate chips. I had Biscoff. So I combined the recipes and made a few healthy revisions to make it my own. Voila! My Biscoff oatmeal-white-chocolate-chip cookies were born.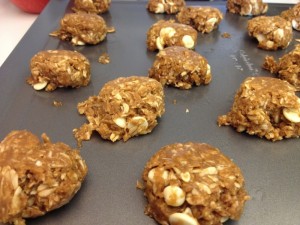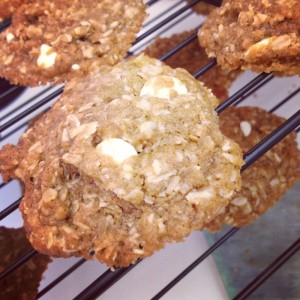 As a side note, I brought these to work and also included a few of them in my "V-Day tin of goodies" for my Valentine. My co-workers raved and couldn't get over how much depth and flavor came from this mystery "Biscoff" they've never heard of before. My Valentine also approved; he got a little taste of these, as well as my chocolate rice krispie treats, cinnamon-sugar roasted nuts and strawberry cake mix cookies. Yeah, he's a pretty lucky guy.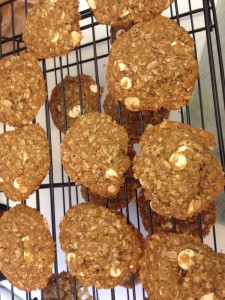 Biscoff Oatmeal-White-Chocolate-Chip Cookies
1 1/2 cups old fashioned oats
1/2 cup white whole wheat flour
1 tsp ground cinnamon
1/2 cup Biscoff of Speculoos Cookie Butter
3 tbsp egg whites (equivalent to 1 large egg)
Preheat the oven to 350 degrees. In a medium bowl, whisk together the oats, flour, baking soda, cinnamon and salt.
In a large bowl of your stand mixer, add the coconut oil, Biscoff and sugars and beat until smooth. Add the egg whites and vanilla and continue beating until smooth.
Add the dry ingredients and mix until just blended. Stir in the white chocolate chips. Chill the dough for about 30 minutes.
After your dough has cooled, use a cookie scoop to scoop out cookies onto a greased or non-stick baking sheet. Bake for 8-10 minutes or until the edges are golden brown. Let cool for
about 10 minutes before transferring to a cooling rack.