Never miss a bite! Sign up here to receive new recipes and reviews straight to your inbox.
Celebrate National Oatmeal Day with these Blackberry Oatmeal Cookie Crumble Bars, the perfect combination of a chewy oatmeal cookie and tart blackberry filling.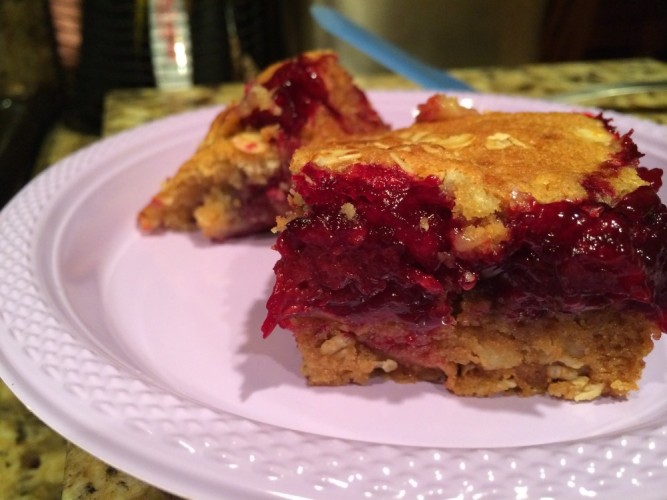 Today is National Oatmeal Day and I'm celebrating with Driscoll's! Berries and oats are a perfect pair. Most bowls of oatmeal usually come with lots of pretty little berries scattered throughout. Strawberries, raspberries, blueberries, blackberries — whatever your berry of choice, Driscoll's never fails to bring you fresh, in-season berries.
We all know berries and oats taste good, but do you know about all the incredible health benefits each of these foods have? Let me break it down for you…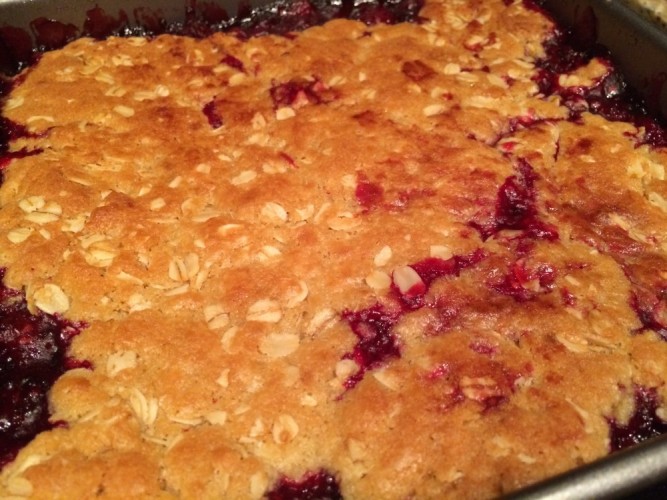 Oatmeal is high in fiber, which makes you feel fuller, offers many cardiovascular benefits, and induces the brain to increase production of serotonin, which keeps anxiety and stress away. And it's rich in protein.
Berries are low in calories, high in fiber and contain vitamins and minerals your body needs to function normally. Blueberries are considered one of the best stress-busting foods due to the high amount of antioxidant and vitamin C content. One serving of strawberries may help improve heart health, lower the risk of developing some cancers and lower blood pressure.
That makes me feel 87432684 million times better about these Blackberry Oatmeal Cookie Crumble Bars that I made to celebrate. It may be dessert, but it's definitely a healthy one! This crumble is is full of berries and oats, and all the nutrients that come along with them. It has all of the things you love about a chewy oatmeal cookie, livened up by a tart, tangy blackberry filling.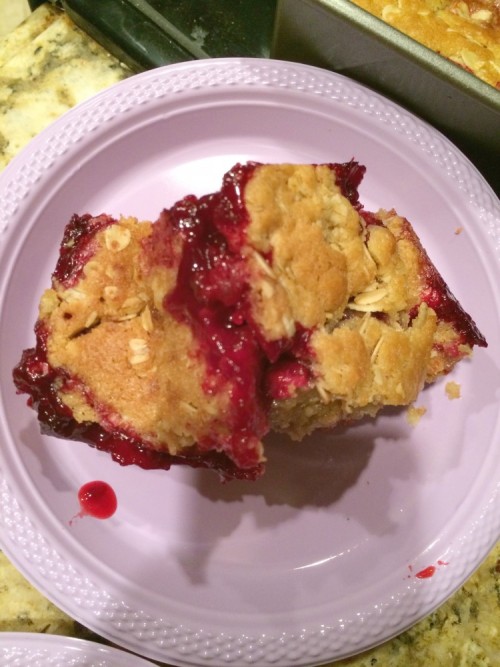 There's a whole lotta texture going on in these Blackberry Oatmeal Cookie Crumble Bars — a little crunch from the oats and that jam-like feeling from the cooked blackberries sandwiched between two layers of oatmeal cookie yumminess.
I sure am glad Driscoll's invited me to create a #BerryNOats recipe to celebrate National Oatmeal Day. I wouldn't have discovered these Blackberry Oatmeal Cookie Crumble Bars otherwise. Crisp on the top, chewy on the bottom, and filled with ooey-gooey blackberry filling! I may have found my new favorite dessert.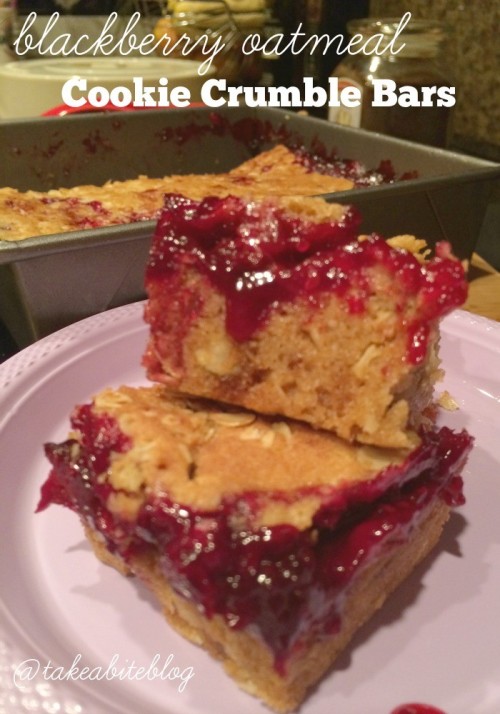 Blackberry Oatmeal Cookie Crumble Bars #BerryNOats
Author:
Celebrate National Oatmeal Day with these Blackberry Oatmeal Cookie Crumble Bars, the perfect combination of a chewy oatmeal cookie and tart blackberry filling.
Ingredients
For the blackberry filling
1 package Driscoll's Blackberries
1/4 cup granulated sugar
1 1/2 tbsp corn starch
juice from 1 lime
For the oatmeal cookie base and topping
2 3/4 cup ap flour
1 tsp baking soda
1/2 tsp salt
2 large eggs
1 cup brown sugar
1 cup granulated sugar
1 cup coconut oil
1 tsp vanilla extract
1 1/2 cup oats
Instructions
Preheat the oven to 350 degrees. Spray an 8-inch square baking pan and set aside.
Combine blackberries, sugar, corn starch and lime juice in a medium sauce pan over high heat. Stir until mixture begins to bubble.
Reduce to a simmer and let cook, stirring frequently, until it thickens.
Remove from heat and allow to cool completely.
Whisk together flour, baking soda and salt in a bowl and set aside.
In the bowl of a stand mixer, beat together sugars, egg, coconut oil and vanilla until light and fluffy.
Gradually add in the dry ingredients.
Add the oatmeal and mix until well combined.
Scoop half of the batter onto the prepared baking pan.
Pour the cooled blackberry filling over top and use a rubber spatula to spread evenly over the oatmeal cookie batter.
Spread the remaining batter over the filling as best as you can. It's okay if the filling may seep through around the edges.
Bake for 30 minutes or until the blackberry filling starts to bubble.
Change oven setting to broil and allow to cook for another 1-2 minutes or until the top is browned to your liking.
Disclaimer: This is a sponsored post by Driscoll's. The nutritional information above was provided by Driscolls, and I was provided with a gift card and coupons in order to purchase ingredients for this recipe. As always, all opinions are 100% my own.