Never miss a bite! Sign up here to receive new recipes and reviews straight to your inbox.
Disclosure: This is a sponsored post by Whole Foods Market. I was provided with a gift card to use as well as one to give away to one reader. As always, all opinions are 100% my own.
With plenty of seasoning and lots of yummy flavors piled on top, these Blackened Lionfish Tacos deserve a permanent spot on your summer dining menu.
Fish tacos. A classic dish here in Florida, seen on plenty of restaurant menus with so may different preparations. While it's common to see Mahi Mahi as the fish used in this yummy hand held, today, I'm jumping ship from the ordinary and diving deep into the Florida waters where Lionfish are taking over.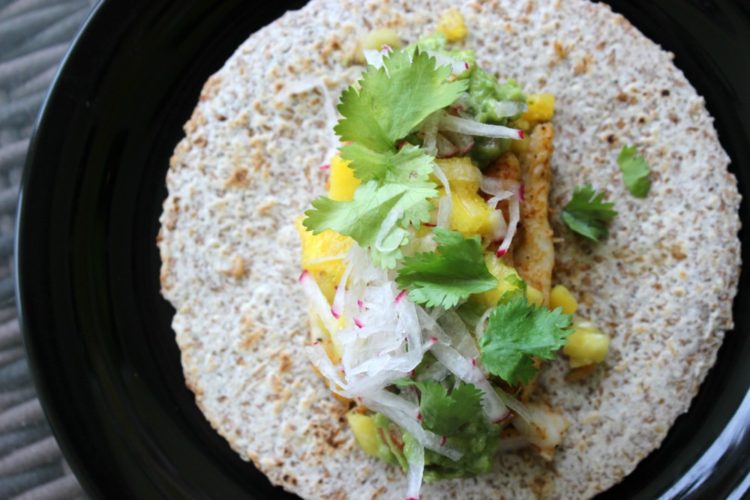 I've partnered with Whole Foods Market, the first national retailer to sell this invasive fish species. Lionfish is a delicate white fish, known for its rich flavor — but also known for how quickly they have overtaken Florida's coasts. According to the Florida Fish and Wildlife Conservation Commission, "Lionfish are an invasive species that have a potential negative impact on native species and habitat. The Florida Fish and Wildlife Conservation Commission (FWC) encourages people to remove lionfish from Florida waters to help limit negative impacts to native marine life and ecosystems. Lionfish can be speared, caught in hand-held nets or caught on hook and lineand there is no recreational or commercial bag limit."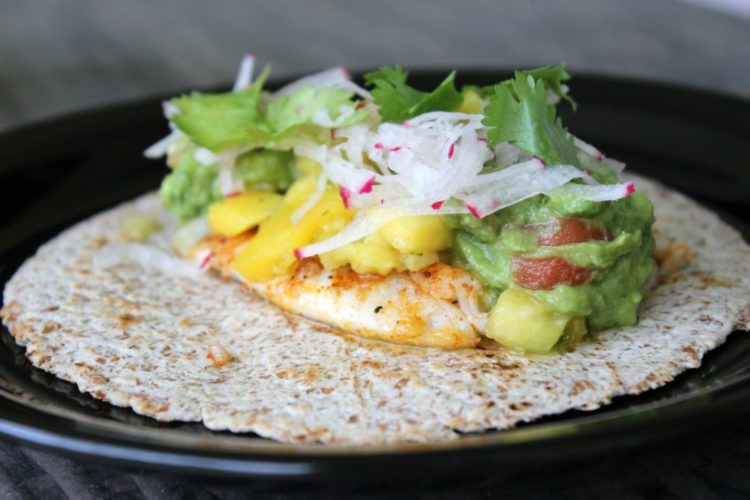 In an effort to help rid our waters of Lionfish, I popped on into Whole Foods Market and chatted with the Seafood Specialist. I even got to snap a couple pictures of this striped, spiky fish before he filleted it for me to bring home to get cookin'! When I mentioned what I'd be making — Blacked Lionfish Tacos — the specialist thought it was a great idea. I also grabbed Whole Foods Market prepared pineapple mango salsa and guacamole from the produce section, baby radishes to shred for a little texture, and corn tortillas and set out to make my tacos.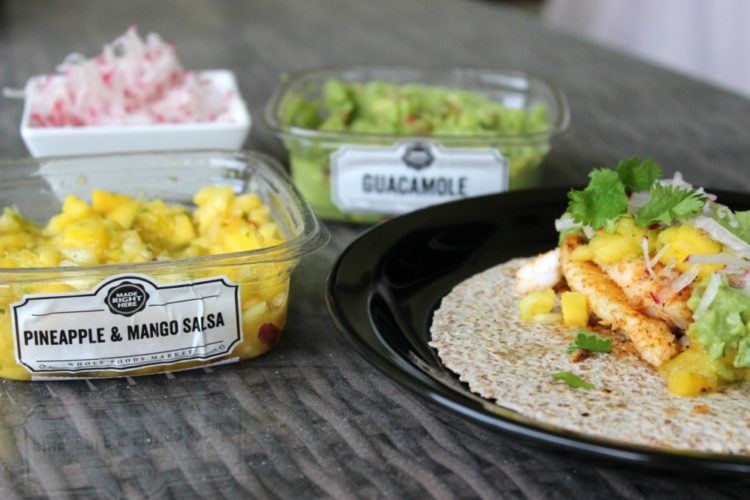 You can help get rid of Lionfish too! I have a $50 Whole Foods Market gift card to give away to one lucky reader. Grab all the ingredients needed to make these Blackened Lionfish Tacos, or come up with something creative of your own! To enter the giveaway, leave a comment below telling me what you would purchase with your gift card to make your Lionfish dish. This giveaway is open to U.S. residents only and will end at midnight on Friday, July 14th. The winner will be notified via e-mail and has 24 hours to respond in order to claim their prize. This giveaway has ended.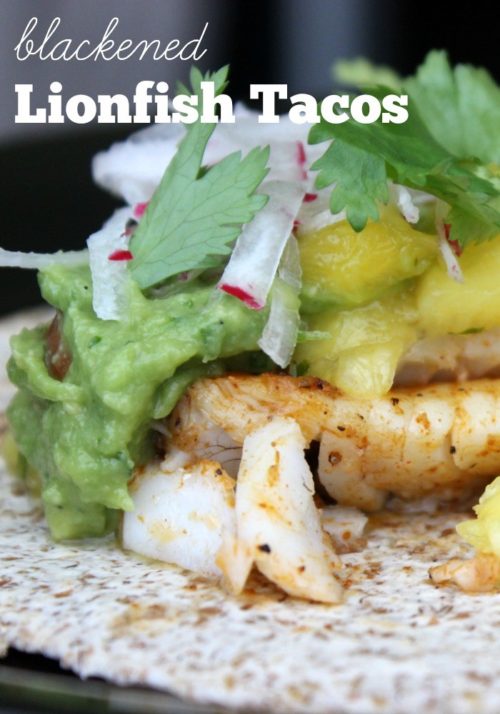 Blackened Lionfish Tacos
Author:
With plenty of seasoning and lots of yummy flavors piled on top, these Blackened Lionfish Tacos deserve a permanent spot on your summer dining menu.
Ingredients
Lionfish filet
olive oil
Your favorite seafood rub or mix of seasonings (I used a seafood seasoning blend)
Corn Tortillas
Pineapple mango salsa (store bought or homemade)
Guacamole (store bought or homemade)
Baby radish, julienned
Fresh cilantro
Instructions
Rub your spice mix over both sides of the fish filets, making sure to cover as much of the surface as possible.
Heat a cast iron skillet over high heat and add oil once hot.
Once the pan is hot, add the fish and cook about 4 minutes per side, until flakey and cooked through. (Side note: be careful not to flip the fish too soon or it may stick to the pan).
Cut the cooked fish into slices, or small pieces.
Heat a nonstick skillet on low and add your corn tortilla for 1-2 minutes or until the tortilla is warm and has begun to brown.
To assemble the tacos, add the cooked fish to the warmed tortilla.
Top with salsa, guacamole, and radish. Garnish with cilantro.
Serve immediately.
Notes
Please note that this is primarily a guide to making Blackened Fish Tacos. I omitted the measurements per ingredient, as each will depend on how many tacos you plan to make.