Never miss a bite! Sign up here to receive new recipes and reviews straight to your inbox.
Recently, Tijuana Flats rolled out three brand new limited-time only menu items and invited a select group of bloggers to take a sneak peak!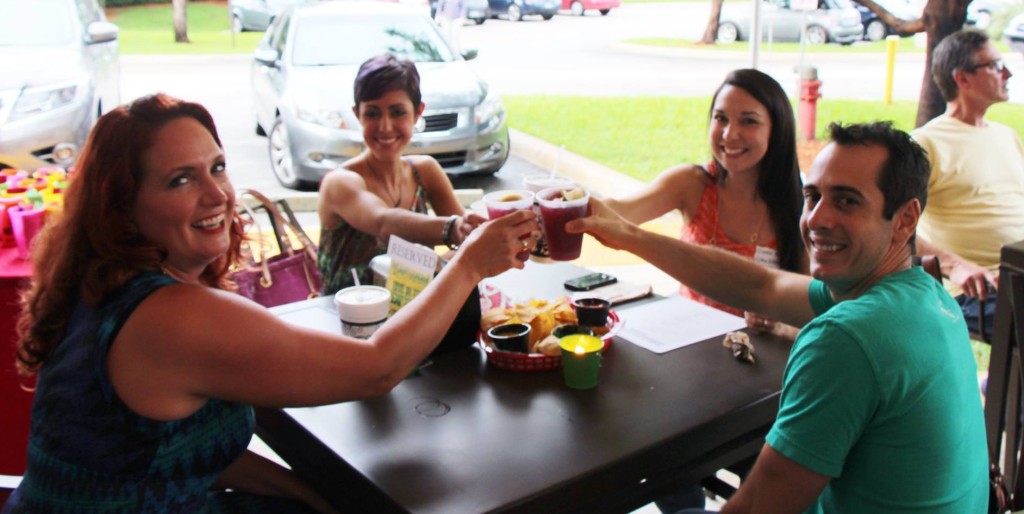 I was invited, along with a bunch of other South Florida bloggers including my friends Denise from Boca Food Finds, Dianna from The Kitchen Prep, Holli from The South Florida Sage, and Tracy & Wayne from 2 Forks and A Cork, to visit the Coconut Creek location and try out these new Hemp-Tortillas. Yes, you read right. Hemp, as in hemp seeds. Rich in protein and omega 3s, they are the base for the tortillas used in the three new dishes we got to taste. As part of their Give Into "Hemptation" campaign, employees were asked to dream up their own perfect burrito and submit it to the company. Every employee was allowed two entries. I love that idea as a way to come up with new items — Boca restaurants, take note!
And the winners were…
The Tree Hugger: a vegetarian burrito with roasted poblanos, mushrooms, onions, cilantro, scallions, cream cheese, tortilla chips, cheese and queso. Cheese and queso = super creamy, extra gooey, totally amazing. The tortilla was stuffed to its max with tons of these veggies. And those poblanos, ohhh my goodness, I love the smokey flavor.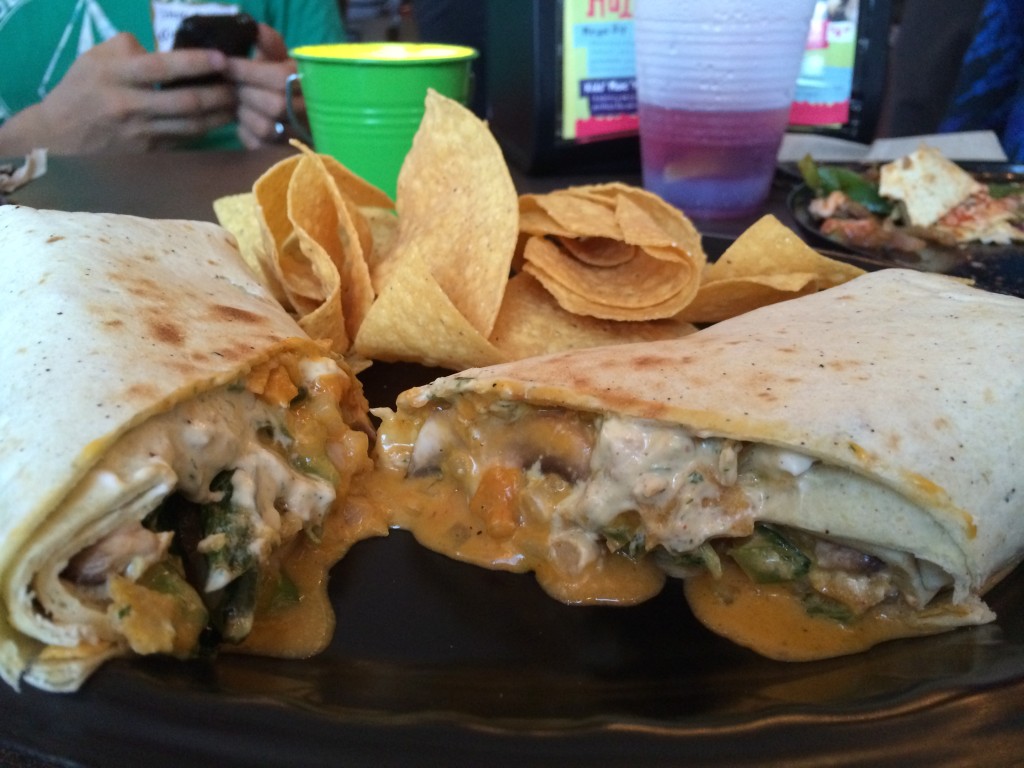 The Pie Roller: a pizza burrito with pepperoni with red sauce, mozzarella cheese, fajita peppers, onions, mushrooms. The buritto was topped with even more red sauce, cheese and pepperoni. The staff was incredibly accommodating and brought my piece out without any pepperoni. I liked the idea behind this one — pizza is good in any form, let's be honest here. It was pretty freaking tasty too.
Sweet Hemptation: a buritto filled with crispy chicken and churros, cinnamon sugar, maple syrup, queso, cheese, bacon, and onions. Unfortunately, I wasn't able to try this one. This is their take on the classic chicken and waffles dish, and there's really no way to truly represent that with a vegetarian dish. So I opted out — no worries though, the reactions from everyone else at the table were enough to assure me it was worth every single calorie. Yeah, hemp seed tortillas may be a healthier choice when it comes to those carby wraps, but the filling? Eh, not as healthy. Sure we had veggies…but all that cheese!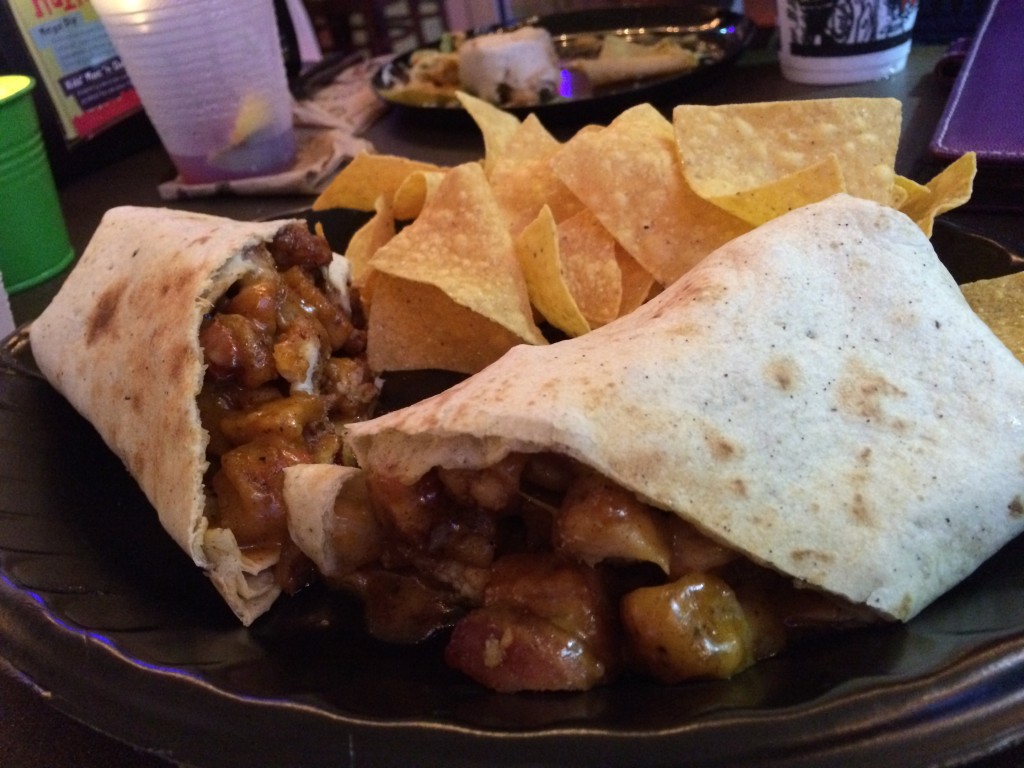 Our tasting didn't only include these yummy new dishes — we had appetizers and dessert too!
Baskets of tortilla chips and the Tijuana Trio of dips were set up on every table when we arrived. Guacamole, salsa, and cheese queso lined the chip-filled basket. There wasn't a second of hesitation before we all dug right in. I'm powerless before chips and guacamole. We were served their Atom Bomb appetizer, the Tijuana Flats version of a jalapeño popper — fresh jalapeños and cilantro cream cheese sauce lightly fried in a tortilla and served with their Smack Sweet Sauce. The sauce reminded me of that Thai Kitchen Sweet Chili Sauce, delicious! We also were given a choice of beer or wine, or their "Dos-A-Rita," a margarita-style drink using Dos Equis beer. I had one of those, pretty good!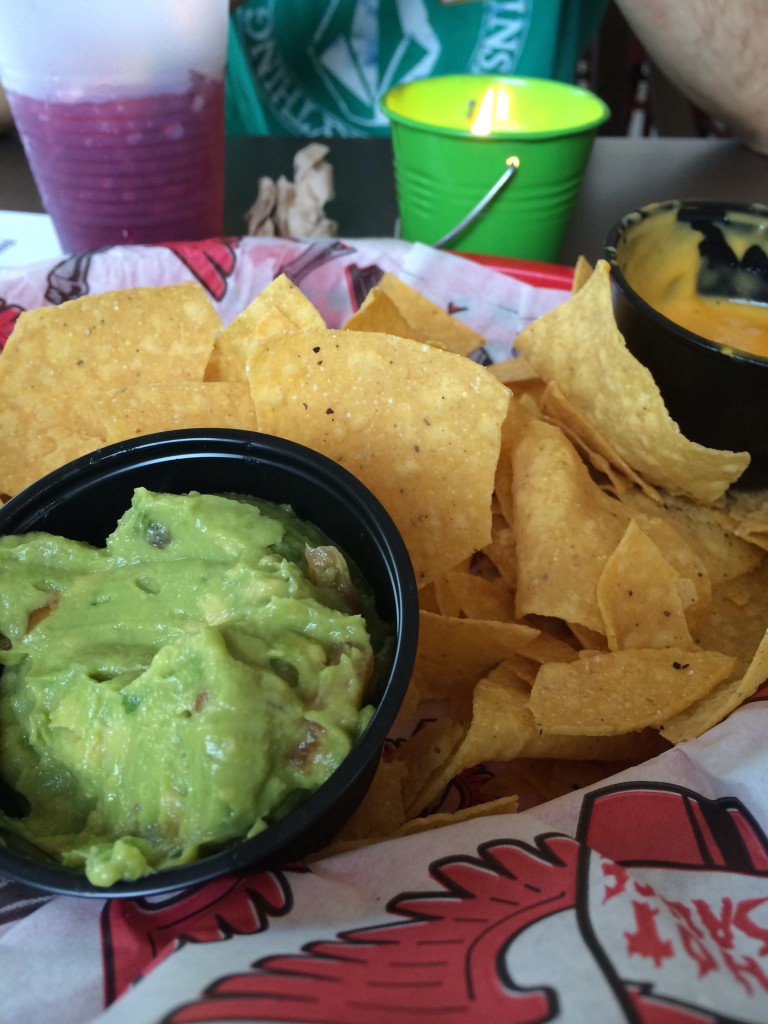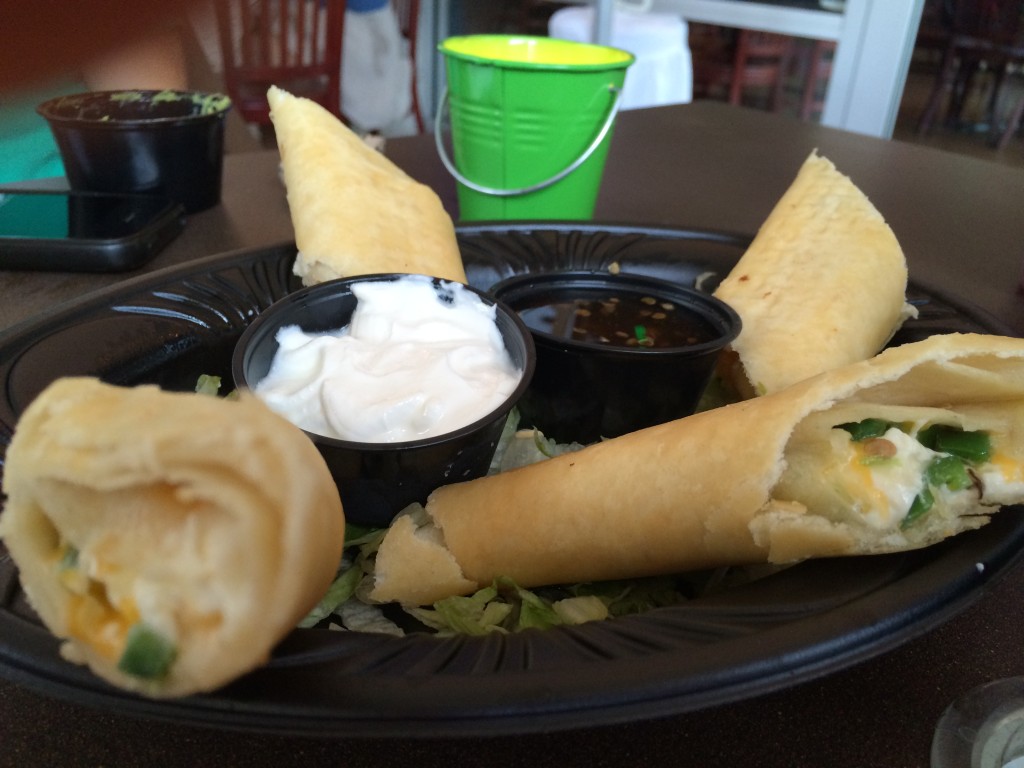 Dessert was Banana Empanadas, empanadas stuffed with banana, cinnamon-sugar, topped with powdered sugar and served with caramel sauce. A little sweet bite was the perfect way to end the night. I didn't mean to rhyme there. I promise.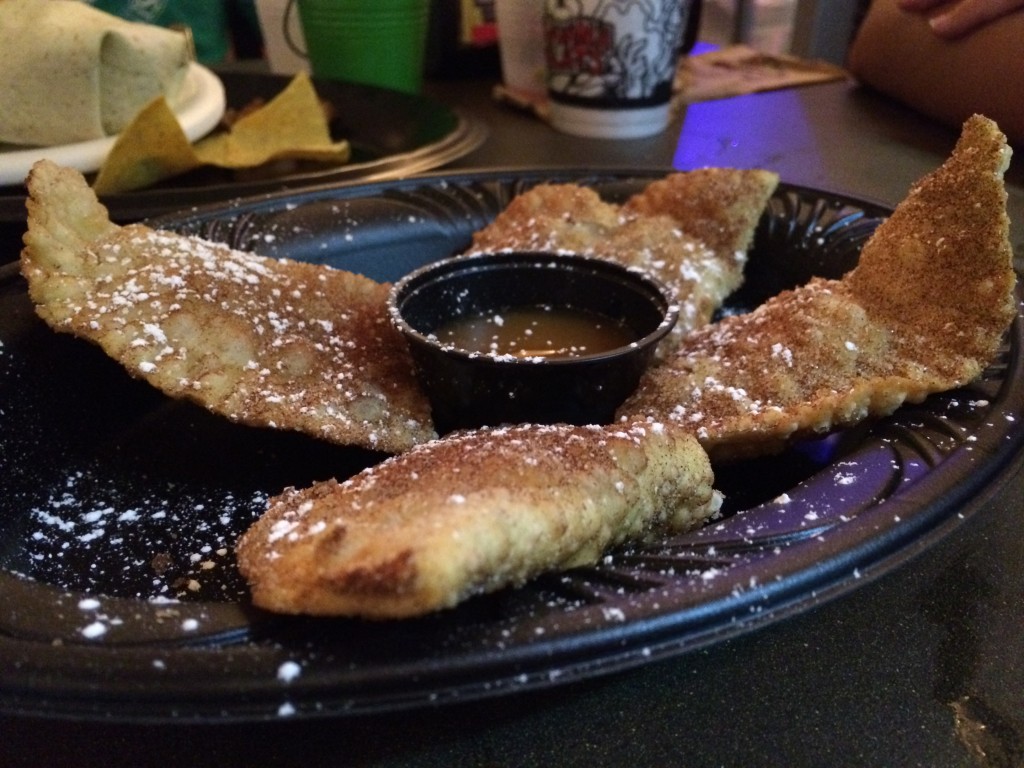 This was my first time visiting Tijuana Flats. Although it wouldn't be my number one choice for Mexican restaurants, it was still pretty good. I think it's a good option when you want something quick and yummy. I like the creativity in their menu items and applaud them on their chunky guacamole — a must for me! I had a great time mixing and mingling with other South Florida bloggers. Though there were a few non-food focused bloggers there, I'm pretty sure the majority were food-based, so this was the perfect place for us to do what we do best — EAT!
Follow Tijuana Flats on Facebook, Twitter, and Instagram and Give Into Hemptation! #TFlatsHemp
Disclaimer: I was part of a select group of bloggers invited to sample new menu items at Tijuana Flats. Food and drinks were complimentary. As always, all opinions are my own.