Never miss a bite! Sign up here to receive new recipes and reviews straight to your inbox.
Disclosure: I was invited to dine as a guest of the casino and restaurants. No monetary compensation has been received for this post. As always, all opinions are 100% my own. 
2,000 Las Vegas style slots. 70 table games. Six dining options. Two lounges. 1,200-seat entertainment venue. That's Seminole Casino Coconut Creek in a nutshell. 'Only at Coco' can you experience this energized, elevated casino life here in South Florida.
Growing up near Atlantic City sort of softened the appeal of any casino for me. Those who aren't familiar with the bright florescent lights, clock-less and window-less atmosphere, cling-clanging of the casino floor are always fascinated by it. Me? I could care less about blackjack, poker and slot machines. What I care about is the entertainment — the concerts, shows, and occasional live bands playing in the lobbies — and of course, the food. That's what I like about Seminole Casino Coconut Creek. The food and entertainment are just as important, if not more important, than the gambling. If I'm going to lose money, I want something to show for it! I'd much rather fork up some cash for an expensive dinner at NYY Steak or a mind-blowing performance inside the 10,000-square-foot Pavilion.
A group of local bloggers and I were recently invited for a progressive dinner experience at the Seminole Casino Coconut Creek, where we'd be eating and drinking our way through the casino at the top dining spots. From the moment we exited our cars at the valet, we were given the VIP treatment. Welcome cocktails were immediately served — and not just any cocktail. The Maximum Signature Cocktail is made with Nolet's® Private Reserve, Grey Goose® VX, Grand Marnier® 100 spray, Lillet Blanc® and a 23k gold leaf as garnish. While the drink was way too strong for me to start out the night with, I was pretty impressed to be served a cocktail with a freaking GOLD leaf floating around on top. If only I had thought to fish it out of the glass and form it into a little ring around my finger…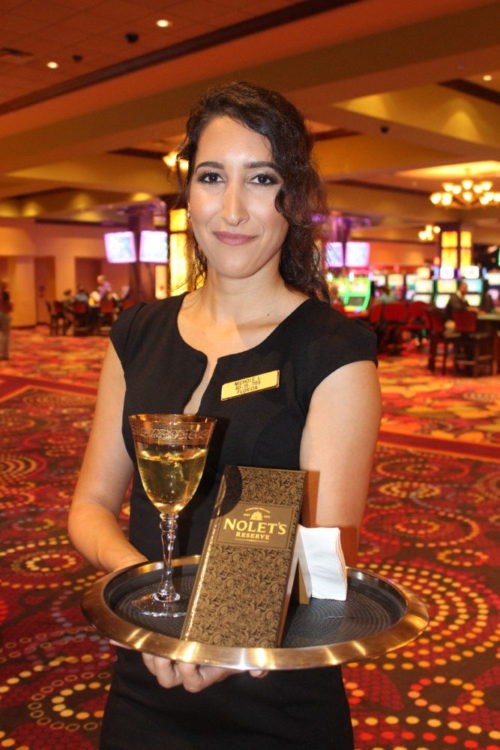 Our event hosts, Luxury PR Group and Heather of Local Mom Scoop, led the way to our first stop — Fresh Harvest. I visited this restaurant a few months back and had a great experience. This is not your ordinary casino buffet. It featured farm fresh and locally sourced food at a variety of stations including a salad bar, charcuterie boards, antipasto, sushi, raw bar, carving board, pasta, pizza, and an enormous selection of desserts. Their motto? Sophisticated palates welcome. We got a taste of that sophistication as we were served two appetizers from the chef. He called the first the Ahi Poke Poke, basically tuna tartar with avocado and gyoza skin that sat atop a crispy wonton chip. It was a beautiful, delicious bite and I wished there were more! The second appetizer was a braised pork wing served alongside a Peruvian purple potato and celery root puree. I was so intrigued by the puree, I simply asked for a plate of just that — and thank God I did! It was silky smooth and bursting with flavor. These two items are not normal run-of-the-mill buffet offerings, which just goes to show how unique and creative the food at Fresh Kitchen is.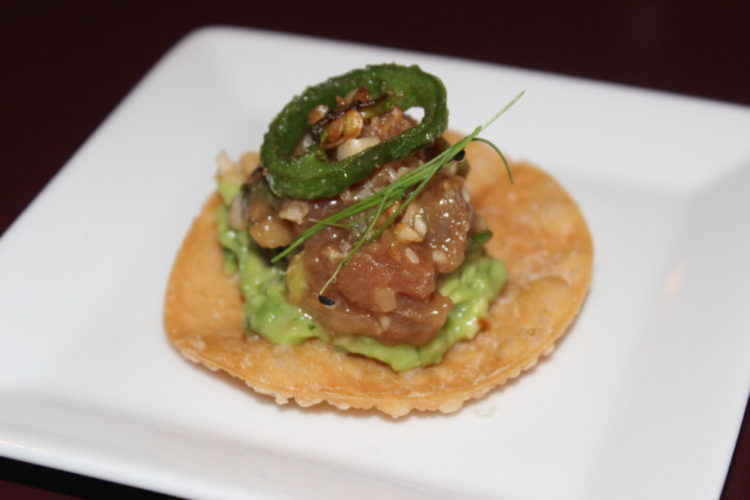 Our next stop was at the Seminole Casino Coconut Creek's Italian restaurant, Sorrisi. The restaurant is decorated beautifully and really gives you that fine dining feeling. Sorrisi offers guests a Chef's Table experience in a semi-private group dining room that seats up to 14. You'll be able to watch as the head chef prepares your meal, and savor a family-style Italian feast with paired wines recommended by a Master Sommelier. There is also a private room that seats up to 20, which is where our group would be dining. A musician was playing and a traditional platter of olive oil, bread and cheese awaited us. Course #1 at Fresh Harvest was good, but things were only going to get better as we progressed through the night. Now it was time for Course #2. True decadence appeared in front of us in the form of lobster ravioli swimming in a cognac cream sauce with sun dried tomato and a huge chunk of Maine lobster floating alongside. It's a good thing we were served a small portion because the richness of that sauce could fill up even the hungriest of eaters after a few bites. This is a special occasion dish, for sure, and one that is not to be missed.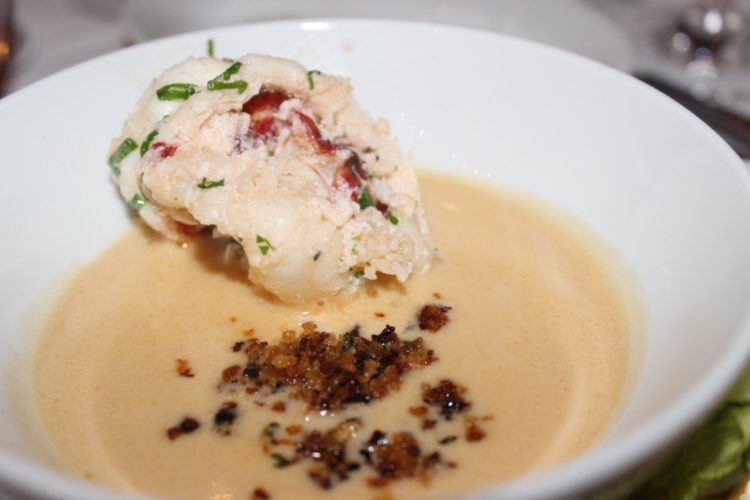 On the other side of the plate was something on the lighter side. Because as we know, it's all about balance. The grilled romaine salad with grilled artichokes and reggiano cheese was delicious. This salad is an ideal starter to a great Italian meal. Of course we were served an Italian wine to go with our Italian course — a crisp glass of Greco di Tufo, Mastroberardino® from the Campania region of Italy.
The next course was the one we'd all been waiting for — it was time to experience NYY Steak. When it comes to steakhouses, this is apparently #1. According to Seminole Casino Coconut Creek, it's the region's most sought-after steakhouse. Lead butcher, Walter Apfelbaum, came out to tell us about the restaurant's USDA Prime steaks, dry-aged in their in-house butcher shop for a minimum of 21 days. Not only are they known for their meat, but they have plenty of seafood options available, which made me a very happy blogger. NYY Steak is a winner of the Wine Spectator Award of Excellence and prides itself on its extensive list created to enhance guests' fine dining experience. As soon as we sat down, things got fancy — champagne and caviar! This was the real deal caviar experience, complete with egg, red onion, crème fraiche and chives. It was paired with Laurent-Perrier® Brut.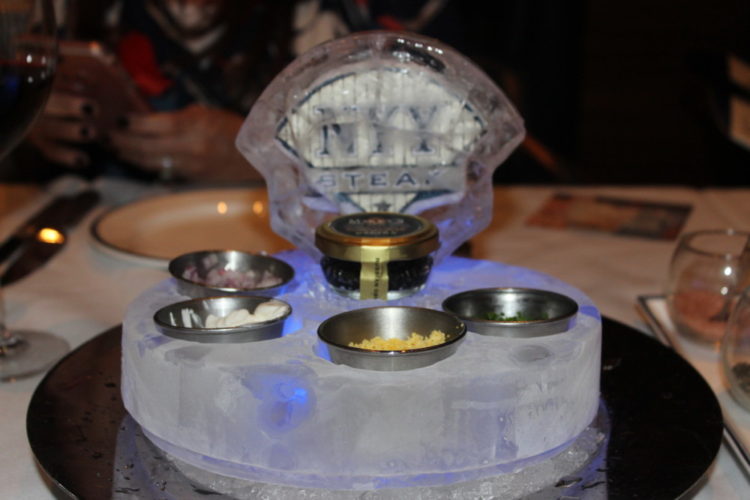 Soon enough, the smell of bacon filled the air — and we were given a presentation unlike anything I've ever seen. Thick cut, house cured and smoked bacon was hanging from a string, dangling above a small skillet of cornbread that was drenched in maple syrup. I obviously passed on the bacon, but that cornbread? I had to try it! It tasted more like a pancake that someone accidentally poured an entire bottle of maple syrup on — not that this is a bad thing. That sugary sweetness oozed throughout every pore and crevice of the bread, moistening every last inch and really richening it up.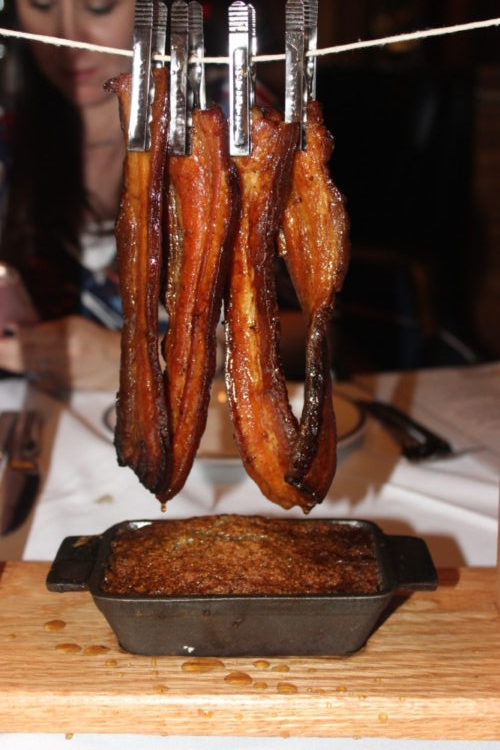 The staff must have felt bad about everyone stuffing their faces with bacon in front of me, so they sent me out their jumbo lump blue crab cake with a green apple and fennel slaw and Meyer lemon aioli. I wasn't surprised to see a beautifully presented crab cake come out of their kitchen, one without much filler, if any, and a ton of fresh flavor — especially from the citrus aioli. I caught others at the table sneaking a peek to see what I had. It's a running joke now among our bloggers to hashtag #WhatDidShainaGet at our media dinners.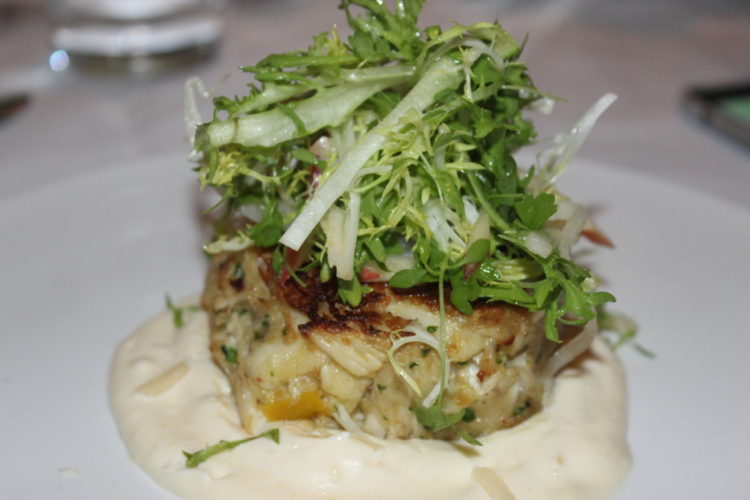 It's now entree time! While the others enjoyed a prime-aged New York strip with a classic steakhouse side of creamed spinach, I feasted on the most perfectly cooked, buttery smooth piece of sea bass with braised baby bok choy, red miso and a soy-ginger glaze. This was definitely a #WhatDidShainaGet moment, as every pair of eyes shot right over to my plate as soon as the server put it down. But that fish was ALL MINE — I wasn't giving up a bite! Sorry, guys. #WhatShainaGetsShainaKeeps.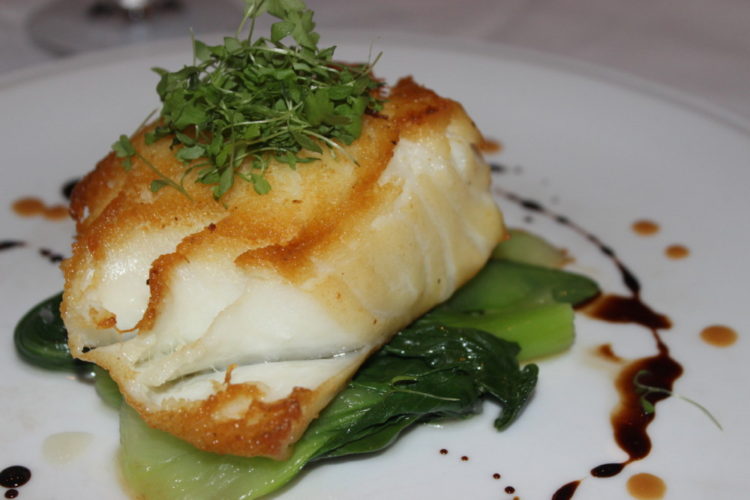 Despite a few buttons popping and belts unlooping, we all made room for a bite of what came out next — TRUFFLE MAC AND CHEESE! Ooey, gooey, cheesy macaroni topped with fresh truffle shavings. The table was silent while we all indulged. I've always known steakhouses to really excel at their side dishes, making them all just as decadent and over the top as the meat on their menus. This proved me correct.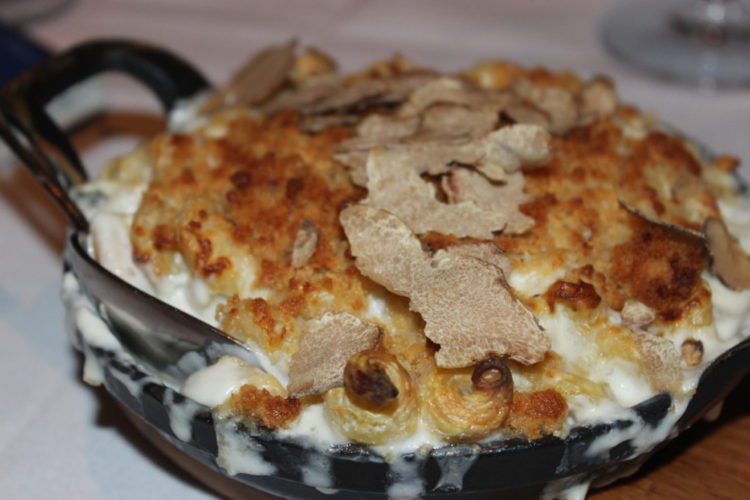 But NYY Steak didn't stop there — they went all out for us. Dessert was their signature 151 volcano, a massive pile of vanilla bean ice cream topped with Heath Bar crunch and lit on fire with a little bit of 151 rum, making for quite the finale.
Or so we thought.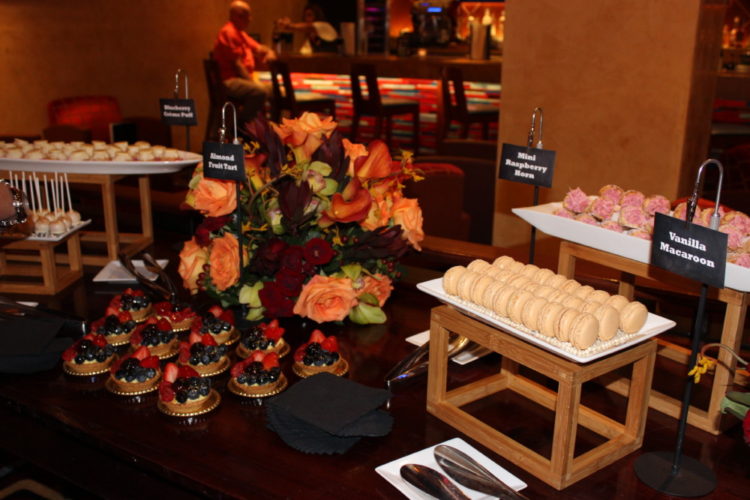 Finale? Not so much. We were then taken upstairs to level2, the non-smoking casino lounge, where we were met with a display of desserts including champagne cake pops (!!!), fruit tarts, blueberry cream puffs and vanilla macarons. As if dinner and dessert wasn't enough of a lavish experience, each of us was gifted with a swag bag filled with goodies like a monogrammed wine cork, a Seminole Casino Coconut Creek t-shirt and towel and a pair of SOAK Slide Sandals.
Thank you so much to Luxury PR Group and Local Mom Scoop for putting together such a fabulous event — and a HUGE thank you to the staff at Seminole Casino Coconut Creek for treating us to something extra special. We may get to eat out at great restaurants often, but this was truly something else.
Seminole Casino Coconut Creek is located at 5550 NW 40th Street in Coconut Creek.