Another day of Blogger Brunch Week and I'm bringing you a healthy muffin packed with blueberries and lots of deep vanilla flavor! Vanilla extract and vanilla pudding mix are both used in this recipe for flavor, and if you feel
inclined to add more
blueberries than my recipe calls for, feel free!
I like these muffins because you can play around with the ingredients. It uses a healthy-base recipe of white whole wheat flour, no calorie sweetener, applesauce, baking soda and egg whites — you pick what you want the flavor focus to be on! I chose vanilla and blueberries because, well, I like those flavors AND it was what I already had in the kitchen. I didn't have to make a Publix run for this recipe! So you be the chef here… Choose your favorite fruit — strawberries, bananas, raspberries, peaches, etc. Then pick a flavor to highlight. There are so many different flavored pudding mixes and extracts that the possibilities are endless. One bit of advice: Make sure to use fresh fruit instead of frozen so there is no excess water from thawing. That could make for a very mushy muffin.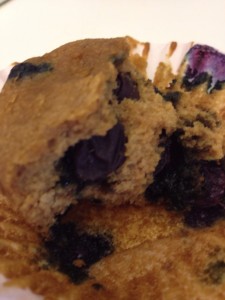 Just in case you missed yesterday's post and the rafflecopter for a chance to win lots of great prizes, scroll down to enter again. And make sure to check out all of today's brunch recipes below!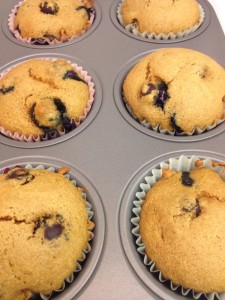 Blueberry Vanilla Muffins
1 cup white whole wheat flour
1 tsp baking soda
1/2 packet vanilla pudding mix
1 cup Splenda, Stevia or any zero-calorie sweetener
2 tbsp brown sugar
1 tbsp vanilla
1/2 cup applesauce
1 egg white
1 cup blueberries
Preheat the oven to 350 degrees.
In a small bowl, combine the flour, baking powder and vanilla pudding mix. In the bowl of a stand mixer, combine the sugar, vanilla, applesauce and egg white. Slowly add the dry ingredients and mix until well combined. Fold in the blueberries with a spatula. Pour into a lined muffin tin and bake for about 15-18 minutes.
Brunch Beverage Recipes
Irish Cream Coffee by Sweet Remedy
{Grown-Up} Lemonade by {i love} my disorganized live
Brunch Egg Recipes
An Easy Italian Egg Recipe by Cook the Story
Asparagus Tomato Frittata by Big Bear's Wife
Sausage and Egg Muffins by Small Wallet Big Appetite
Mennonite Gold Hash & Eggs by The Vintage Cook
Brie and Herb Omelette by Noshing With The Nolands
Hangover Breakfast Burrito by Cooking In Stilettos
Brunch Recipes for Breads, Grains, Cereals and Pancake-Type Yums
Almond Croissants by Love and Confections
Granola Pancakes by Jane's Adventures in Dinner
Blueberry Scones with Lemon Glaze by Katie's Cucina
Strawberry Scones by Real Housemoms
Brunch Dessert Recipes
Marcona Almond and Duck Fat Brittle by Vanilla Lemonade
Kiwi and Rose Cream Trifle by Culinary Adventures with Camilla
Banana "Ice Cream" by Amanda's Apron
Grilled Strawberry, Brie, Chocolate and Walnut Sandwich by Confessions of an Overworked Mom
Chocolate Coated Mini Donuts by Kokocooks

Posted with Blogsy