Disclosure: I received complimentary tickets to attend the Boca Bacchanal Grand Tasting. As always, all opinions are 100% my own. 
Boca Bacchanal Announces This Year's Vintner Dinners and Grand Tasting Events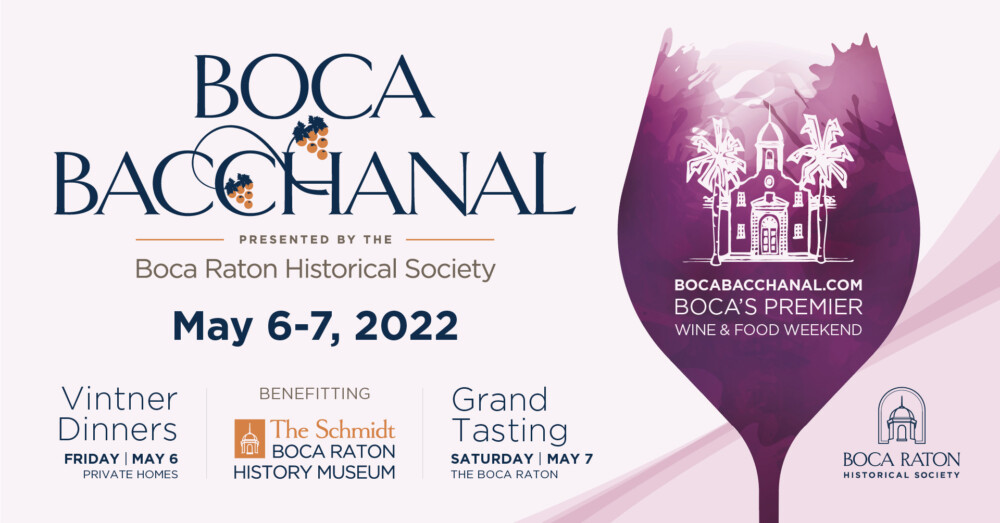 Boca Raton's most well known food and wine weekend is back for its 19th year!
The event will take place May 6th-7th, and celebrates world class chefs and vintners as well as our local food scene, all while supporting the efforts of the Boca Raton Historical Society, whose mission is to collect, preserve, and present information and artifacts relevant to the past and evolving history of Boca Raton, and to maintain a visible role in education and advocacy of historic preservation in the community.
Boca Bacchanal is a two-night event that attracts over 2,000 food-and-wine-loving guests. The weekend begins with the Vintner Dinners on Friday, May 6th, and continues with the ever-so-popular Grand Tasting on Saturday, May 7th.
This is the event that pretty much inspired me to create Take A Bite Out of Boca, so it truly holds a special place in my heart. The very first year I lived here, I volunteered as part of the event set-up committee, which granted me the opportunity to not only be part of the event preparation, but also join in on all of the food and wine fun after set-up was complete.
That's when it hit me: the food scene here was something I definitely wanted to be a part of. Now, ten years later, here I am! I've attended almost every year since that first volunteer experience, and I am super excited to be going again!
Boca Bacchanal Vintner Dinners
These exclusive, one-of-a-kind wine pairing dinners are held in premier locations in Boca Raton, including private homes and historic locations, and feature internationally acclaimed vintners complemented by five-course dinners prepared by renowned chefs. The hosts, chefs and vintners for each of the five dinner events are the following:
Vintner Dinner #1
Hosted by Joyce & Thom DeVita and Joni & Al Goldberg
Vintner: Christophe Bristiel from Château La Nerthe, located in the heart of the Provence region in Southeast France
Chef Jeff Tunks, Executive Chef, Corvina Seafood Grill, Boca Raton, FL
Chef Chris Clime, Executive Chef PassionFish, Reston, VA
Vintner Dinner #2
Hosted by Marie & Rick Wackenhut
Vintner: Chris Baker from DAOU Vineyards located in Paso Robles, CA
Chefs Brian & Shanna O'Hea, Maine Lobster Pot Pie, Kennebunk, ME
Vintner Dinner #3
Hosted: LeAnn & Russell Berman and Holly & David Meehan
Vintner: Tim Duncan from Silver Oak & Twomey Cellars located in Napa Valley, CA
Chef Eric Baker, Chef/Owner, Rebel House, Boca Raton, FL
Vintner Dinner #4
Hosted by Arina & Francis Feeney
Vintner: Katie Madigan from St. Francis Winery & Vineyards located in Santa Rosa, CA.
Chef Roger Brock, Executive Chef, Boca West Country Club, Boca Raton, FL
Vintner Dinner #5
Hosted by Maria & Todd Roberti
Vintner: Tony Apostolakos from Masi Agricola located in Verona, in Italy's northern region of Veneto.
Chef Salvatore Spina, Chef/Owner, Casareccio, Pompano Beach, FL
Vintner Dinner tickets are $350/person. Tickets can be purchased here.
Boca Bacchanal Grand Tasting
The Vintner Dinners are certainly special, but it's the Grand Tasting that has my heart. This event will take place at The Boca Raton (formerly the Boca Resort), and will feature a huge variety of wine and champagne tasting selections, including those from the five wineries at the vintner dinners, as well as generous samplings of signature dishes from our area's best local chefs. There will be a silent auction with wine, dining, travel and lifestyle packages.
The Grand Tasting is exactly as its name suggests: incredibly grand. Wine is flowing all night, everyone is dressed up, and there is great entertainment. My advice? Wear something loose and flowy — there is a lot of food to be had! The participating restaurants have not been announced just yet, but I can assure you, it will be filled with your favorites in the area! Stay up to date by checking in on the website at https://www.bocabacchanal.com/ and following on Facebook.
Grand Tasting tickets are $200/person and can be purchased here.
Check Out My Previous Boca Bacchanal Blogs
Some of these go so far back that I am honestly horrified by the photographs used, but they definitely give you an idea of how the event is, and how it has evolved over the years that I have been going. It is really an amazing experience, and I hope to see many Take A Bite Out of Boca followers there!