Let me apologize for being MIA for the past week. My Jersey peoples came to visit! (Jersey people meaning my parents and sister). They arrived last Monday and it's been a whirlwind, as always, since the moment they stepped off the plane. Before I delve into my week full of craziness with them, I want to tell you guys about the awesome event I went to the day before they got here: Boca Bacchanal Grand Tasting. Once again, I helped the planning committee prep for the event, contacting restaurants and passing out their information packets. The morning of the tasting, McKenzie and I both got up bright and early to help with setup. In return, we were able to enjoy ourselves all afternoon, indulging in way too much food and wine (something we seem to do pretty often). This year's setup seemed a lot more organized than last year. Those maps made all the difference, I'll tell ya. Last year we were scrambling around forever trying to figure out where each restaurant and winery was to set up; this year was much better. The Junior League of Boca Raton always does a great job with this event; it is always a hit and people really love it. The Mizner Park Amphitheater was packed with people tasting food from about 30 South Florida restaurants, a huge variety of wines, as well as a variety of beers from the newest addition to the event: the beer garden.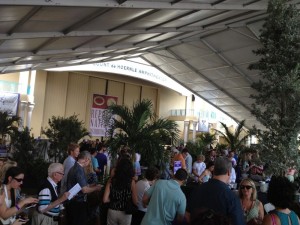 I wish I could give you a full run down of all the food each restaurant prepared, but uh…this was also a wine tasting. Of course I remember my favorites of the day. Howard's Market showcased a bunch of their specialities: white beach turkey chili, roasted Brussels sprouts with purple cabbage, quinoa with spinach and carrots and a creamy, citrusy coleslaw that I actually liked — that's saying something because I very rarely will eat coleslaw. My other fav belonged to a restaurant I've never heard of, Pinon Grill. They served a delicious corn and red pepper salsa with one of the best crab cakes I've tasted in South Florida. It was among the few places we went back to for seconds. My favorite dessert of the day was obviously from All Star Cupcakes, who had the best display — towers overflowing with their famous mini cupcakes ranging in flavors from chocolate chip cookie dough to carrot cake and just about everything in between: Golden Oreo, Chocolate Oreo, M&M, sea salt caramel, key lime, strawberry…I could continue, but I don't want to make your mouth water any more than I'm sure it already is. The Melting Pot was there, too, with lots of goodies to dip in dark chocolate fondue — chocolate fudge brownies, red velvet cake and big, juicy strawberries. Nothing goes better with dessert than a nice cup of cappuccino. Nespresso was there to feed that coffee fix.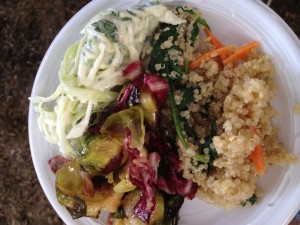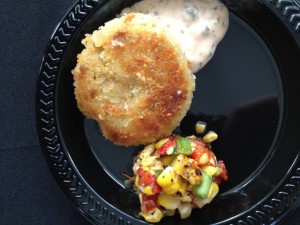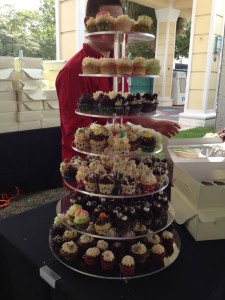 Last year there were way too many ceviches; there was really only one true ceviche, which came from Publix Aprons. Chef Rey (my soon-to-be new boss, more on that later!!) served a shrimp ceviche and spruced it up a bit by adding a paprika-spiced popcorn garnish to the dish.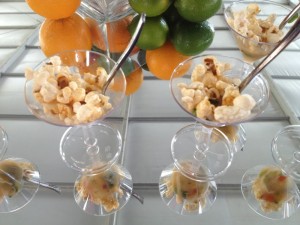 There was a decent amount of pasta dishes, each one with their own twist to make them a little bit different than the next. My favorite was from Max's Grille, their signature "Max's Raditore Chicken Pasta" with broccoli, sun-dried tomatoes, pine nuts and goat cheese tossed in a balsamic pan-sauce. This was another one I went back to for seconds. You can't go wrong when you have goat cheese. Maggiano's did a nice job with their choice of pasta dish, too — the "Famous Rigatoni 'D'" with chicken, mushrooms, caramelized onions in a marsala cream sauce. Rosso Italia served a rich and creamy classic macaroni and cheese alongside a slide of steak and sausage-stuffed peppers. Steak was actually seen on a lot of plates throughout the day. Obviously I didn't try any of the meat, but that's okay — my boyfriend had enough for the two of us. You could find red meat at the tables of NYY Steak, Texas de Brazil and Rebel House.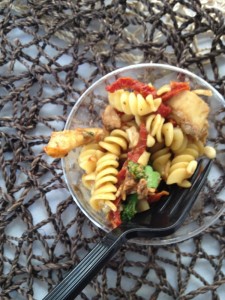 The most prominent cuisine was definitely seafood with ocean-inspired dishes from Bogart's, City Fish, City Oyster, Legal Sea Foods and Trulucks (stone crab, so good!).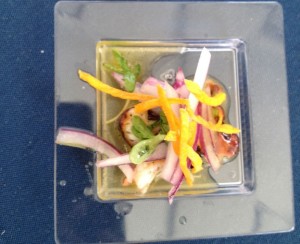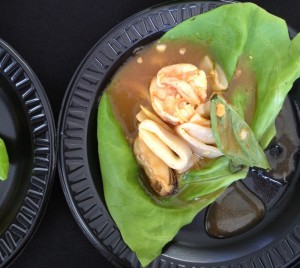 As we strolled along and tried all of the food, there were so many different wines and beers to try along the way. I was upset to see that Florida-based Lakeridge Winery was nowhere to be found. I discovered Lakeridge at last year's tasting and it's become one of my absolute favorites. I love their Sweet White and Sweet Red and was hoping they'd be there to fill my glass, over and over again. No worries, there was still enough wine — both familiar and new — for me to try.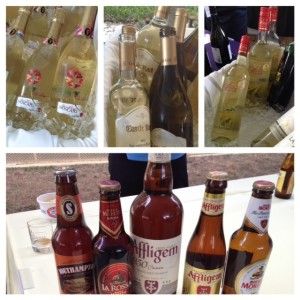 I really enjoyed myself, yet again, at the tasting. Last year was fun, especially because it was all brand new to me — I felt like a kid who had just discovered her first candy store. This year I knew what to expect, which made for quite the eager anticipation leading up to the day of the event. Here's to another job well done by our Junior League of Boca Raton and all the amazing participating restaurants, wineries, craft beers, and vendors who made the event possible! This is where I raise my cute little "Boca Bacchanal" wine glass I received at the tasting and clink it against my laptop screen to all you readers out there. 😉