This month has really been all about food, wine & fun — not that I'm 
complaining! Last weekend was Boca Bacchanal, a food and wine event hosted by 
the Boca Raton Historical Society. It began Friday night with Vintner Dinners 
for some very lucky people. Celebrated chefs and award-winning vintners prepared 
lavish dinners in specially selected private residences in Boca. Saturday night was "Bacchus Bash" at Boca Raton Resort and Club.(Bacchus is the Roman god of wine and revelry, in case you were wondering where the name came from). The event included food and drink from the same chefs and vintners who participated in Friday's feasts, as well as a dinner prepared by Boca Resort's executive chef. There were also silent and live auctions.
Now for the main event, which I was involved with as a member of the planning 
committee. I've been looking forward to this for quite some time: The Grand Tasting. 
This outdoor event was held at the amphitheater in Mizner Park. The weather was 
gorgeous and a perfect day to spend the afternoon strolling from table 
to table, trying various types of food and wine. As a committee 
member, I was there early in the morning helping to set up tables and showing 
the restaurants and wineries where they should set up. After this was 
completed and all of the participants had arrived, I was free to spend the 
rest of the day eating and drinking my little heart out. And let me tell you, 
that's exactly what I did. 
Each restaurant prepared small portions of one of their specialties, while 
various wineries brought their best wines. 
My first bite of the day came from 
Wave 2700 —barley with pistachios and dried cranberries. This would make the 
perfect side dish for any chicken or fish dinner. Throughout the day, I 
noshed on various small dishes such as shrimp on top of guacamole with corn, 
truffled pasta with roasted Brussel sprouts, calamari salad, orzo with 
vegetables, lobster, four cheese ravioli, seafood & mango ceviche, and strawberries dipped in dark 
chocolate.  I wish I could remember which dish came from which restaurant, but there were so many that it was hard to keep track (and of course, all that wine wasn't a big help in that area either!). The participating restaurants were Andrew's, Bogart's Bar & Grill, Brooks, The Capital Grille, Chops Lobster Bar, City Fish Market, City Oyster, Ernie's Italian Chophouse, Howard's, Max's, Maggiano's, Nespresso, Oceans 234, Palm Sugar, Phillipe Chow, Publix Apron's Cooking School, Racks, Rocco's Tacos, Sea Level, Texas de Brazil, Truluck's, Uncle Julio's, Vino's of Boca and Wave 2700.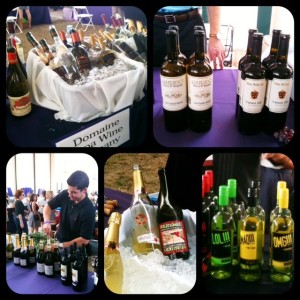 My first stop was a winery 
I was familiar with: Cupcake Vinyards. I love Cupcake's Riesling, but I 
noticed they had a new bottle. A blush wine, Angel Food. It was good, but I 
wouldn't say it was my favorite new wine of the day. Of course I couldn't 
leave the table without tasting their Riesling and Prosecco, as 
well. I also am a fan of their Red Velvet, but it has a bolder flavor that my 
tastebuds weren't up for just yet. 
I tried lots of different wines, mostly Riesling and Moscato, since I am a 
sweet white wine type of girl. I did, however, find a red that I enjoyed, 
which was produced by a winery in Orlando. Lakeridge Winery's Southern Red and Southern White were two of my favorite discoveries of the day. I also enjoyed the 
Biagio Moscato D'Asti and the Brovida Cordara Moscato from the Domaine Napa 
Wine Company. It was good experience to try wines from all over the 
world and notice the differences. I went out of my comfort zone a few times 
and tried drier wines than I normally drink, but that's what a tasting is 
all about, isn't it?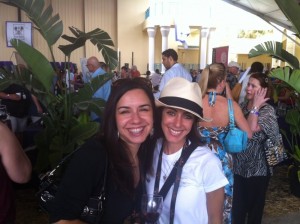 My friend, Kristine was there with her husband who is pretty knowledgable 
when it comes to food and wine. He steered me toward the Domaine Napa Wine Company & Lakeridge, so thanks to him for those suggestions! Here's a picture of the two of us. See what I'm wearing? Everyone was given a wine glass and a strap to wear around their neck to hold the glass so your hands are free to enjoy your food — what a great idea! It was fun to 
spend the afternoon with my friends, and we planned on doing dinner together 
soon. I said I'd bring dessert, as long as they provide me with a date!
Overall, I think the Grand Tasting event was a success. I'm happy I was able 
to be a part of it, and now that I know what actually takes place on the 
day of the tasting, I plan on getting more involved with the committee next 
year. Maybe one day I'll even chair it…