Never miss a bite! Sign up here to receive new recipes and reviews straight to your inbox.
Disclosure: The content in this post has been provided by the sponsor. I received complementary passes to Bacchanalia.  There has been no monetary compensation for this post. 

Get ready for the 14th Annual Boca Bacchanal Wine & Food Festival, benefitting the Boca Raton Historical Society & Museum. The Bacchanalia food and wine tasting event will take place Friday, April 8th, 2016 at 7pm at the Mizner Park Amphitheater. The Vintner Dinners will be on Saturday, April 9th, 2016 at 7pm at various Boca Raton residences.
There's still plenty of time to get your tickets. Admission to Bacchanalia is $125 per person, and the Vintner Dinners are $325 per person. To purchase, call (561) 395-6766 ext. 101 or visit Boca Bacchanal online.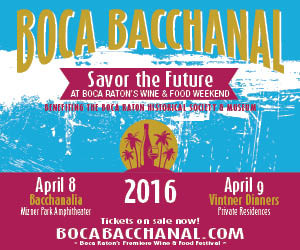 Bacchanalia is now known as the must-attend community event for everything wine, food and fun. Held this year at the Mizner Park Amphitheater, attendees will enjoy fine wine tastings from unique vintners across the world, delectable cuisine from over 30 different restaurants and a craft beer garden. Live entertainment from DJ and electric violinist Timothy Lovelock, fashion demonstrations from Saks Fifth Avenue, and car tours will also take place all throughout the evening of Bacchanalia.
So what's new this year at Bacchanlia? Plenty! There will be an exclusive VIP pre-party held one hour before the Bacchanalia event where guests are able to get a "first taste" of the six presenting vintners. Tickets to this event can be purchased for $50 at www.bocabacchanal.com. Guests will have the opportunity to meet the vintner and taste select wines. This is a very exclusive event with limited tickets — so if you're interested, better get on those tickets FAST!
There will also be new technology, making auction bidding easier than ever before. The Boca Raton Historical Society & Museum will be utilizing a high-tech auction app called BIDPAL, making it easy for every attendee to bid on their favorite auction lot straight from their mobile phones — no live auction needed! Preview the lots in the week before Bacchanalia and log in during the Bacchanalia main event to bid from anywhere in the event at the click of a button. To sign up to use BidPal at Bacchanalia, please visit www.BocaBacchanal.com under Tickets.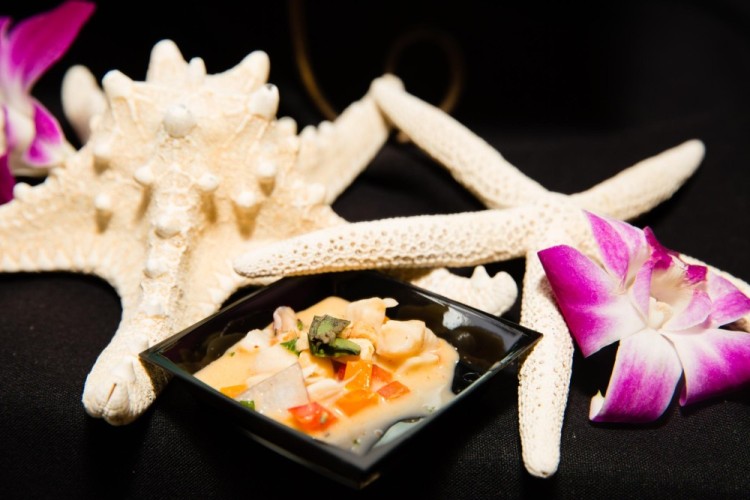 The ever-popular Vintner Dinners take place at various unique locations in Boca Raton. These intimate dining experiences each feature a vintner and chef pairing their wine and cuisine to create a sumptuous 5-course meal. Guests attending the Vintner Dinners will also be given the opportunity to hear from their chef and vintner to learn more about the pairings of the evening. Check out the list of incredible vintners and chefs who will be featured at these dinners.
Vintners
Janet Pouchot: Craggy Range – New Zealand

T.J. Evans: Domaine Carneros – Napa Valley, CA

Justin King: King Estate Winery – Eugene, OR

William Barnes: Vins de Bordeaux – Bordeaux, France

Bruce Cohn: B.R. Cohn Winery – Sonoma Valley, CA

Chris Benziger: Benziger Family Winery – Sonoma Valley, CA
Chefs
Chris Clime & Jeff Tunks: PassionFish and Passion Food Hospitality – Washington, DC and Reston, VA

Greg Baker: The Refinery and Fodder & Shine – Tampa, FL

Michael Scott: Rosewood Beef and Jackman Wagyu Beef – Dallas, 

Paula DaSilva: Paula DaSilva Culinary – Fort Lauderdale, FL

Raffaele Dall'Erta: Hamptons Restaurant – Sumter, SC

Robert Carter: Barony Tavern – Charleston, SC
But WAIT — before you leave, I have an awesome opportunity for you to enter for a chance to win TWO TICKETS to Bacchanalia! Just fill out the Rafflecopter widget below. The contest will run until March 28th, so hurry up and get in your entries!
a Rafflecopter giveaway

A big shout out and thank you to all of the partners and sponsors responsible for this year's event: Republic National Distributing Company, the Boca Raton Resort & Club and Boca Raton Magazine. Additional sponsors include Saks Fifth Avenue Boca Raton, Crown Wine & Spirits, Cendyn Spaces, South Florida BMW Centers, The Schmidt Family Foundation, Investments Limited, Atlas Party Rentals, Publix Super Markets Charities, Taittinger Champagne, Promise Healthcare, Monster Security Team, Culture Builds Florida, LivingFLA.com, Cultural Council of Palm Beach County, Palm Beach County Tourist Development Council, City of Boca Raton, Downtown Boca.