Another Flavors event has come and gone and left me and my tummy good and stuffed. Held at the beautiful Sonoma House in Boca Raton, this year's theme was "Farm to Fork." There were certainly a number of healthy options to go around, but the desserts kind of blew them out of the water. Yep, I'm totally starting off by telling you all about the desserts. Brace yourself; you're about to have some serious sweet tooth cravings.
With the exception of a display of guilt-free Chick Pea Cookie Dough Bites, Chocolate Coconut Oil Ganache, and Almond Butter Cookies from Fit Foodz Cafe, a health-conscious restaurant that also caters and prepares subscription-based portion-controlled meals, the rest of the dessert options were pretty decadent, and too good to pass up. City Fish Market started the temptation by tabling up right in the middle of all the savory items. Unlike the rest of the desserts that were nestled away inside the venue, they stuck out with mini Key Lime pies and salted caramel and chocolate pudding cups. That caught my eye right away and as soon as I finished up with my "dinner," I headed straight for that salted caramel dessert. What a perfect combination of flavor! (Side note: CFM also served Tuna Tartar, which is also pretty tasty, as is everything on their menu.)
There was one other table that also offered dessert alongside their savory — a catering company called Frost and Daughters. This was sweet and salty at its finest…chocolate bark filled with pistachios and what was either a tangerine or mandarin orange slice. The best part: it was served on a stick with a cute little bow. Presentation is key! Of course, I was so busy obsessing over it that I forgot to snap a pic… They really had great presentation all around; their Pickled Gulf Shrimp with Corn Relish was served in cute mini mason jars!
Shall I continue enticing you with sweet treats? Of course. There were mini bites of fudge from A Flair for Fudge and an assortment of mini cupcakes from Jodi's Cupcakes including triple chocolate, simply vanilla, bananas foster and their version of Red Velvet, the Southern Belle. I tried the bananas foster…the frosting was the best part: so thick and sugary sweet. Ruth Chris's Steakhouse threw us all for a loop when they served strawberry cheesecake instead of something with…steak. It was very good though; not as rich and creamy as your typical cheesecake, which was good since there were many more desserts to be had.

Rachel's Room completely won me over with her adorable creations. Keeping with the theme of "Farm to Fork," she had an array of farm-animal-shaped cookies and cow-spotted marshmallow pops and "Mooreo's" (white chocolate covered Oreo's with dark chocolate spots). There were cookies shaped like silverware, wine glasses, grapes, and cheese, Oreo cupcakes, Red Velvet cupcakes, Maple Bacon cupcakes, and peanut butter cookie dough cheesecake, which I immediately grabbed upon arriving at the table. I could not stop gushing to Rachel about how much I loved her table, and really hope to see her again at an event soon. She specializes in homemade customized desserts for all occasions, delivered straight to your door. Rachel, you can deliver to my door anytime!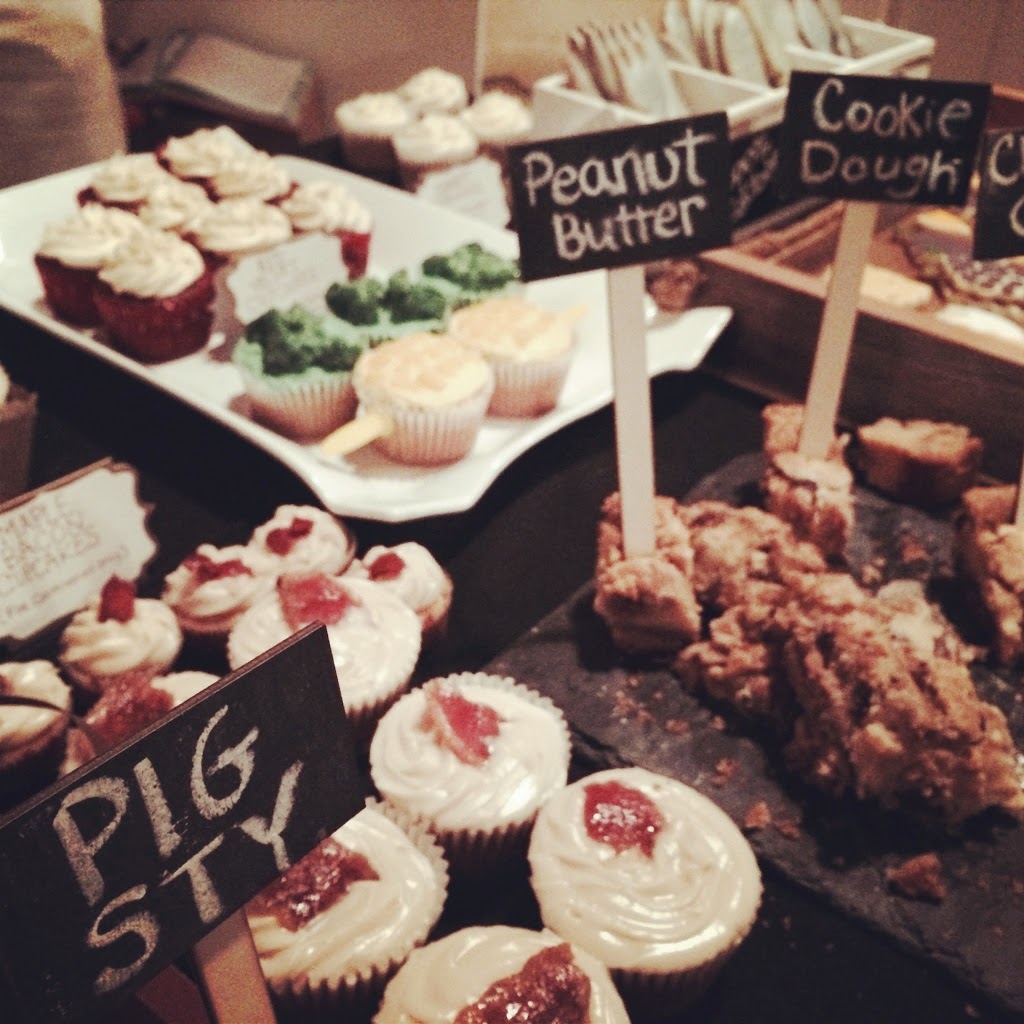 Okay, okay, so I didn't just fill up on desserts the whole night. Before I turned into the cookie monster (actually, I don't think I had any cookies…), I tried just about every savory dish outside. I was hanging with the ladies of Boca Mag — Assistant art director, Nancy, the events coordinator, Sarah, and the web editor, Stefanie (Editor in Chief, Kevin, eventually made it out to the event too). We visited each table, one by one, savoring all of the delicious offerings each restaurant had to share. We started at New York Yankees Steakhouse from the Seminole Casino; they were serving NY strip steak with a bacon-corn relish. Of course, I passed on this one; but apparently it was a favorite of many throughout the night.



Next up was Juice and Java who served up some healthy appetizers: guacamole on whole grain toast, deconstructed apple cabbage salad, and lox cucumber bites. You know me with guacamole… It had better be good. This hit the mark for me, especially because it was light and refreshing.



Pinon Grill served their Jumbo Lump Crabcakes served with a Southwestern Remolade Sauce which they seem to serve at all the events they attend. But that is definitely not a bad thing, because it is really freaking good. We had spanikopita from Taverna Opa (new location just opened in Delray Beach), seared ahi tuna over seaweed salad from Blue Martini, scungilli salad with arugula and endive from Casa D'Angelo's, and sweet potato mash with scallops and edamame and corn succotash from Oceans 234. Though I am a fan of 13 American Table, I didn't try their smoked pork belly with corn puree and arugula and cherry tomato salad. The chef laughed when I declined and offered me a single cherry tomato, which I politely declined and just told him that I really enjoyed his restaurant.


We hit all the tables on one side of the lawn and headed toward the other, but we were stopped by 2Nite Vodka and offered mini shots of Peppermint Patty cocktail (with their Alpine Mint vodka) and a Caffe Espresso cocktail. Both were delicious and definitely warmed us up as the wind picked up and temperatures became a little chilly.
On the other side, we had more tasting to do! There was a gorgeous organic salad of Florida orange marinated purple top turns with Brusselkale, toasted pistachios and Point Reyes toma (cheese) with a grapefruit-pistachio vinaigrette from Farmer's Table and rock shrimp and scallop ceviche lettuce wraps with coconut, grapefruit, green papaya and tempura Florida avocado from Max's Harvest. Both of these refreshingly delicious dishes were my favorites of the night. Max's Grille served slow roasted pork shoulder with Florida corn spoon bread and pickled vegetables; I, of course, opted out of the pork shoulder but feasted on the corn spoon bread; oh my goodness was that good! Over at Dada there was bacon-flavored popcorn (that I did not have) and a heaping pile of local tomato bruschetta portioned onto crostini. It was nice to see my former co-workers from Publix Aprons, serving up cream of mushroom soup with bourbon-bacon grilled cheese (another dish I didn't try, ha). Last, but certainly not least, was Caffe Luna Rosa's spice-seared diver scallops: a great bite to end "dinner" with.



There were lots of other great companies we visited throughout the night, including my friends from My Organic Juice, The Olive Taste, Due South Brewery, The Rustic Cellar, and Bedners Farm, who generously gave out fresh vegetables straight from their farm. I got golden squash and sicilian eggplant! I also found my new favorite cider from a Swedish company, Rekorderlig Cider. They have Pear, Wildberry and Strawberry and Lime, all of which we tried sips of and loved every one.
There was a "corn" trend going on with a lot of the restaurants, but each was surprisingly different in taste, texture and presentation. No two corn dishes were alike!
I thoroughly enjoyed my evening at Flavors. Many thanks go out to all the restaurants and vendors who were involved and especially the Junior League of Boca Raton who puts on this great culinary event each year.