Never miss a bite! Sign up here to receive new recipes and reviews straight to your inbox.
Disclosure: This is a sponsored post by Boca Magazine. As always, all opinions are 100% my own. Image has been provided by the sponsor.
Boca Magazine's Mixology Celebrates its Fifth Year at the New Delray Beach Market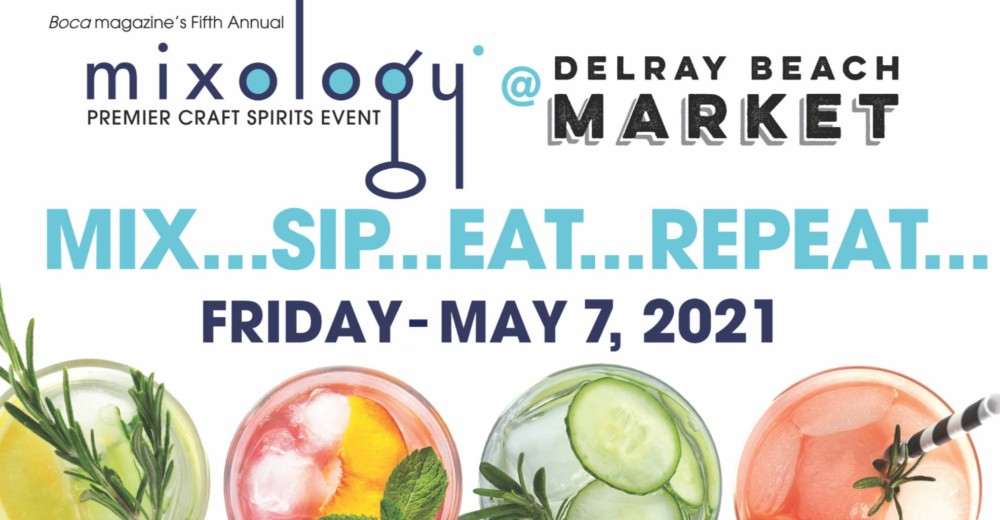 Boca Magazine's signature cocktail event, Mixology, will celebrate its fifth year. The event will take place on Friday, May 7th at the Delray Beach Market, which officially opens to the public on Saturday, April 24th. Mixology tickets are $65 per person (21 and over only) and include all food and drink. A portion of ticket proceeds will benefit local nonprofit, Old School Square. Strict COVID protocol will be in place and all attendees must adhere to the health and safety guidelines provided.
After COVID caused the cancellation of pretty much every major event last year, I am so excited to see everything back up and running again, especially Mixology. Mixology is Boca Magazine's premier craft spirits event, featuring over 30 of the nation's top craft spirit brands, thanks to the magazine's partnership with Republic National Distributing Company.
This event has been held at some of the area's best venues, such as the Boca Raton Museum of Art and the Mizner Park Amphitheater. This year's will be held just one week after the grand opening of one of Downtown Delray's most anticipated attractions: the Delray Beach Market, the largest food hall in all of Florida (150,000 square feet!) offering a mix of food and beverage, shopping and entertainment, and overall sense of community.
Delray Beach Market Offers Event Attendees Plenty of Food Options
Not only will Mixology guests have an opportunity to sip on handcrafted cocktails and enjoy live entertainment throughout the night, but they will also get to experience bites from the Delray Beach Market's variety of food purveyors, each of which offer a different type of food.
Current participating restaurants include:
Big T's: Delicatessen
Bona Bona: Italian gelato meets American-style ice cream
Cellar & Pantry: Wine, cheese and charcuterie bar with a retail space
Central Bar: the Delray Beach Market's cocktail bar
County Line Southern Fried Chicken: Southern-style comfort food
Dad's Favorite Burgers & Pies: Old-school burger joint
Delray Craft & Alpine 210 Sausage: Local brews and fresh made sausages
Ferdos Grill: Traditional Mediterranean and Middle Eastern dishes
Guaca Go: Not your typical guacamole bowls
IncrediBowl: Variety of build-your-own bowl options
Lovelee Bakeshop: Modern bakery offering a wide variety of goods
Roots: Chef driven, plant based, and fast casual
Salvo's Pizzeria: Traditional New York-style and authentic Sicilian-style slices and pies
Sorella's: Build-your-own pasta-style dishes, and fresh handmade pasta available for sale
Surry Co. Smoke House: Traditional smokehouse
Tanuki: Asian and Hawaiian-inspired savory and dessert offerings
Tekka Bar: Made-to-order handrolls and a selection of sake
The Modern Rose: Café serving locally roasted coffee, organic teas, empanadas and lots of vegan, gluten-free options
Tiffin Box: Fast-casual build-your-own style Indian food
Tip to Tail: Sustainably sourced retail fish market with raw bar and prepared seafood dishes
Vote for Pedro New York: Mexican Cantina
Mixology wouldn't be possible without the Delray Beach Market and all of its amazing vendors, Boca Magazine, Delray Magazine, Republic National Distributing Company, and additional sponsors such as Dash Medical Spa, Sa Vi H20, Baciami, Just Tile & Marble, 6 O'Clock Gin, Bloomers Frosé + More, Bribón Tequila Blanco, Prescribed Spirits, South Beach Syrup and more.
Get Tickets Now for Mixology: A Craft Spirit's Event
Mixology will be held on Friday, May 7th, from 6-9pm at the Delray Beach Market, located at 33 SE 3rd Ave. in Delray Beach. To purchase tickets, visit MixologyBoca.com. All attendees must be 21 or older. Proof of age will be required at the door.