Never miss a bite! Sign up here to receive new recipes and reviews straight to your inbox.
We East Boca-dwellers rarely trek out west — there's something about the sprawled-out land that gives us the heeby jeebies and keeps us all on this side of 95. Town Center is where I like to say my cut off is — that is, until I was invited to the Grand Opening and Ribbon Cutting Ceremony for one of Boca's newest restaurants, La Ferme. This modern bistro style restaurant is owned by the Shapiro family, who also own Flex Mussels in Manhattan — a restaurant known for, obviously, some pretty epic mussels. After spending an evening sampling some of their incredible appetizers, tasty cocktails and enjoying the company of the restaurant owner, Laura, and the Boca Chamber members welcoming this new restaurant to town, I could not wait to get back there for an entire meal. Good thing Laura invited me back again a couple weeks later!
Denise came with me to the opening, so of course, she accompanied me for dinner as well. (Read her review here!) I had already checked out the menu online and could not wait to eat. I really could have ordered just about everything on the menu! Laura welcomed us with open arms and introduced us to the entire staff. We had met the mixologist, James, at the Grand Opening and were eager to try another one of his crafty drinks. And so that's what we did. Pretty soon we were sipping on an Angel's Penicillin — tequila, lemon, ginger and a mescal floater — and loving every bit of it. You know me, I hear ginger and I'm in!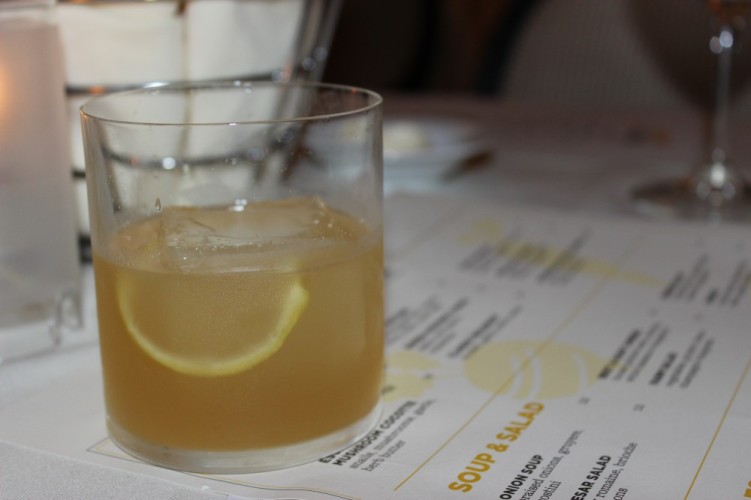 We were waited on by Aletha and Paul, both of whom were super friendly and great with recommendations and answering our questions throughout the night. Aletha started us off with a little amuse bouche — a French term that means "mouth pleaser." It's a small hor d'oerve hand selected by the chef and is not normally something that can be ordered off the menu (however, at La Ferme, you have the option of doing so.) Instead, it's like the chef's little gift to you before you start your meal. We were served a small teacup filled with lobster consomme, a salmon scallop mousse dumpling, shiitake mushrooms cilantro and truffle oil. As I lifted the teacup to my mouth, I was met with an overwhelming aroma of truffle — overwhelming in a very, very good way. This was a beautiful way to start off the evening… Little did I know I was about to embark on one insanely flavorful journey.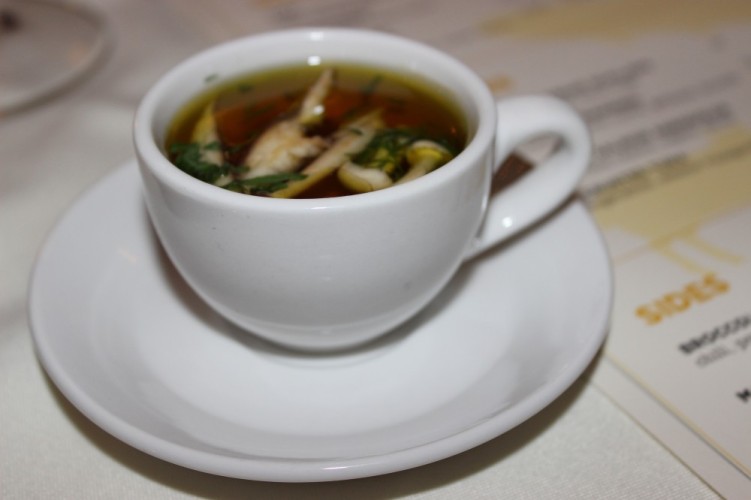 The one dish I knew we'd be ordering first was the Grilled Octopus with gigande beans and a charred tomato vinaigrette. Gigande beans are popping up everywhere lately — from the escarole and beans dish at Nick's New Haven to the bean appetizer I had recently at another restaurant, these large and in charge white beans are quickly becoming my new best friend. I just about squealed with happiness after taking a bite into the perfectly plump, tender octopus. I could not stop gushing about how amazing it was. Denise and I agreed that this was by far our favorite octopus dish that we have ever tried — and we have tried a lot of octopus.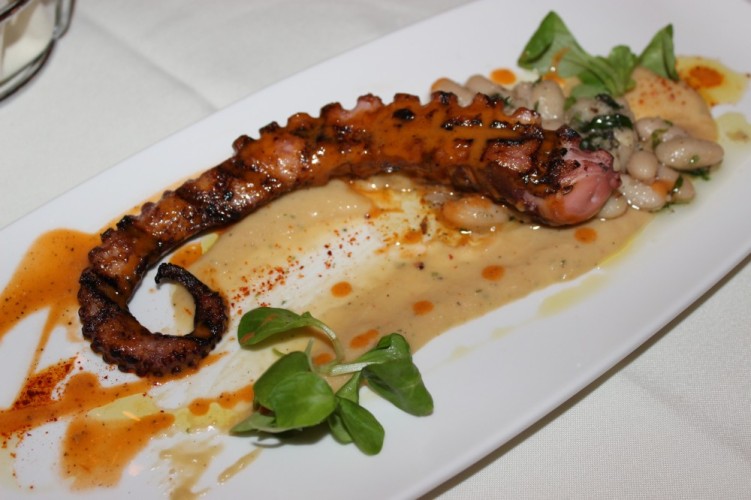 La Ferme offers a daily selection of oysters on the half shell. Oysters are a new thing for me this year, and truthfully I had no idea there were so many different varieties! I've always heard Blue Point this and Blue Point that, but we had a chance to try two different kinds from Washington State — the Shikoku and the Kumonoto. Both were tasty, especially with the cocktail and mâché sauces served alongside them. But Denise and I agreed that the smaller Kumonoto oysters, which weren't as briny as the Shikoku, were our favorite.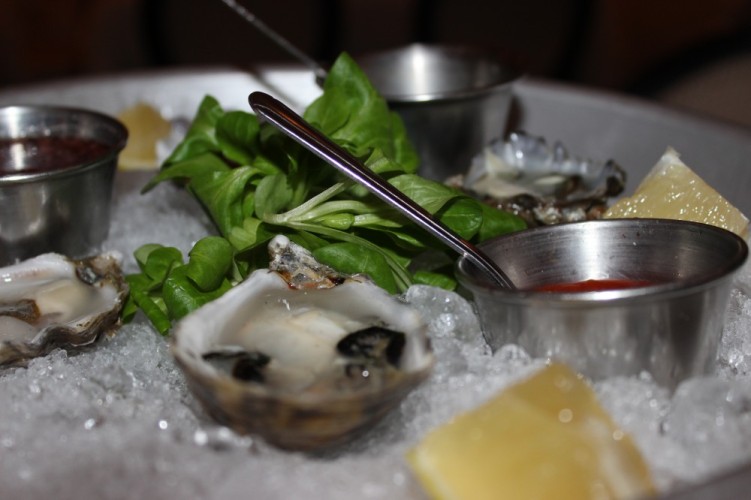 The next appetizer we ordered was something totally and completely new to me — gravlax, which is kind of like lox in a way, something I do NOT like. However, this was not your ordinary gravlax dish. It was beet-cured gralvlax served with a mustard aioli, capers and cilantro oil drizzled over top and little pumpernickel tea sandwiches with salted butter. I absolutely, positively LOVED this. For someone who hates smoked salmon, lox, whatever you want to call it, I was seriously smitten with the flavors and textures on this plate. The color was beautiful too — a deep jewel toned pinkish-purple. So far, my tastebuds were having one hell of a party.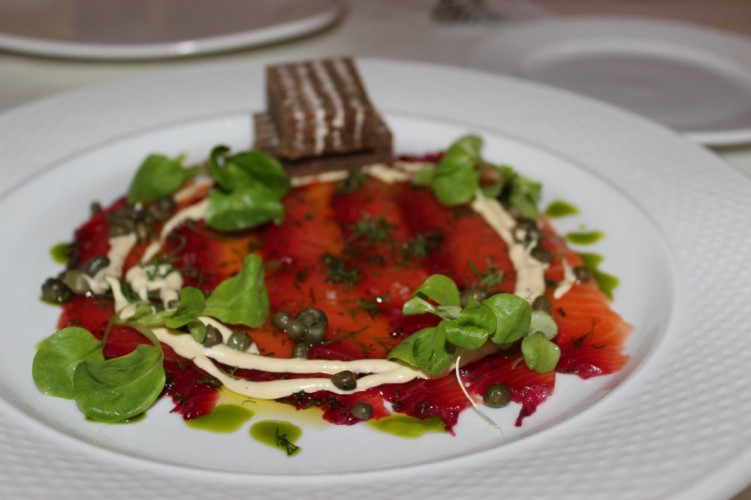 We stuck to an all seafood diet that night and ordered the pepper encrusted ahi tuna with sautéed spinach and garlic olive oil, a pearl onion ju and crispy parsnips. All of the components of this dish married together so well on the plate. There was a little bit of heat, a little bit of sweet, lots of crispy crunch and just the right amount of garlicky goodness. I always forget about those cute little pearl onions — I need to start cooking with them more! They give off just the right amount of sweetness to balance all of the other flavors going on here. And those fried parsnips on top? Genius.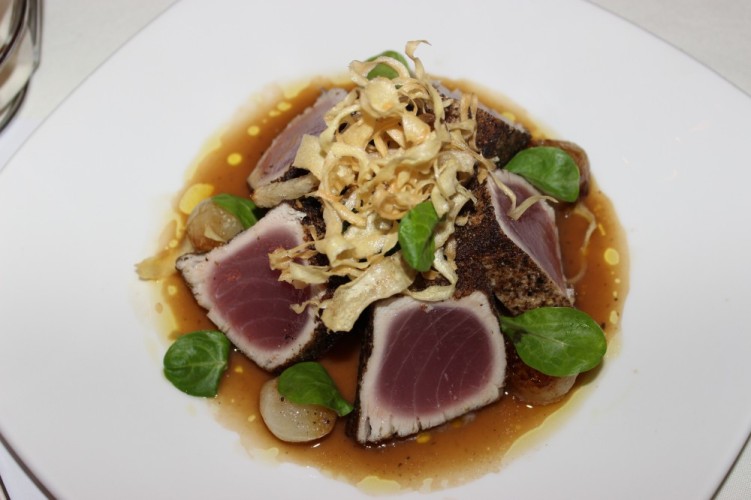 We could not leave La Ferme without having a plate of mussels, now could we? Even Denise, who doesn't like mussels, was tempted to try. I ordered the Thai style mussels with coconut milk, curry, lime and cilantro. Guess what? These babies made a mussel-lover out of Denise! That's how good they were! These were not your average-sized mussels — they were big and meaty and so full of flavor. The Thai-inspired broth was good enough to want to slurp right out of each empty shell (or the whole bowl) and I made sure to soak up every last piece of bread on the table with as much as I could.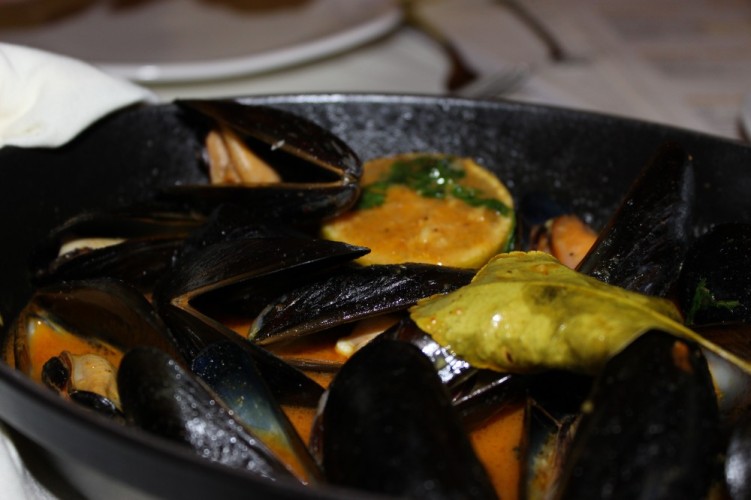 In true French bistro fashion, our mussels came with a side of "frites" (skinny, crispy french fries). Aletha surprised us with their Truffle Parmesan Frites instead of the plain ones normally served with the dish. I'm not usually one for skinny fries, but when they are smothered in parmesan cheese and truffle, you can bet I basically face planted right into the basket.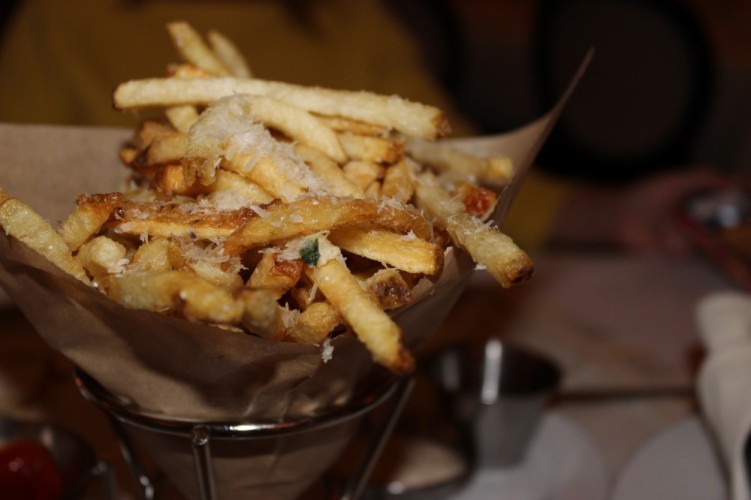 I don't think this night full of food could have gotten any better, until we were introduced to the dessert menu. We ordered the lavender creme brûlée served with fresh berries and the chocolate mousse cake with chocolate ganache oozing on top and down the sides. To say we were satisfied is a total understatement.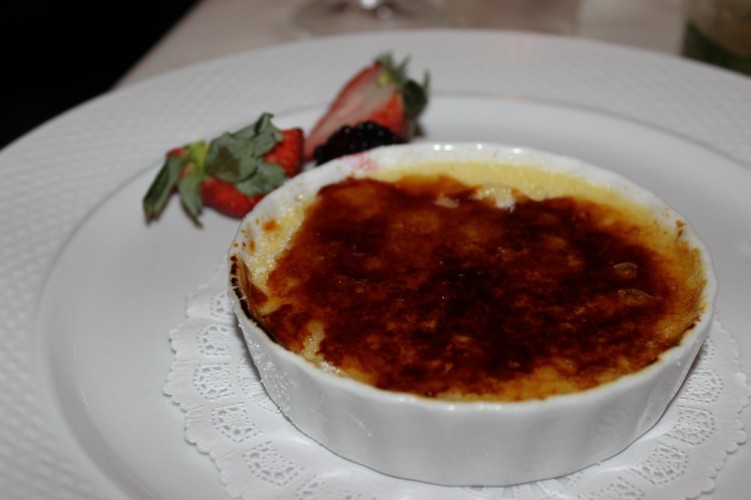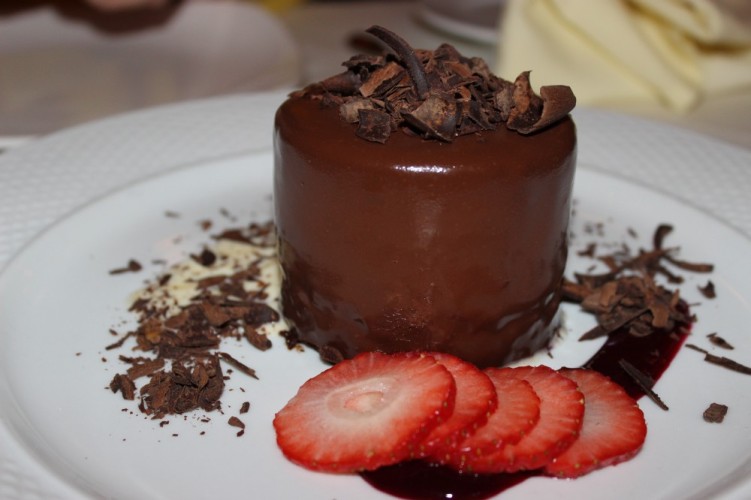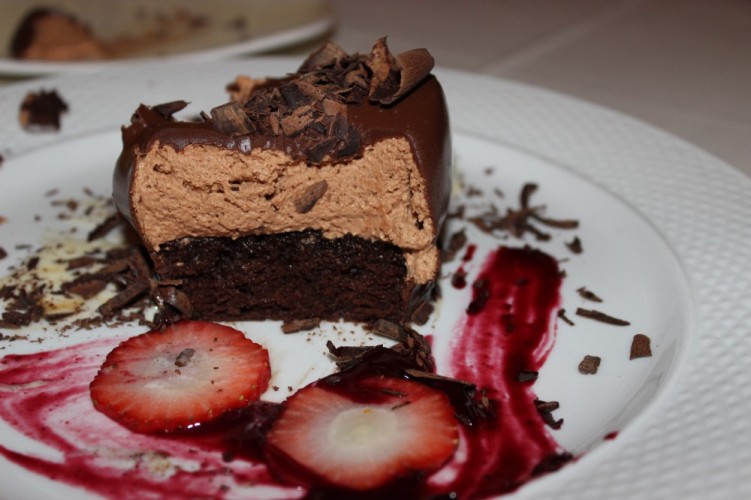 Everything about La Ferme was breathtaking — the staff, the decor, and of course the food! The restaurant is separated into a quiet dining room and a bar/lounge, so whether you're looking for a fine dining experience or a casual night at the bar, La Ferme has you covered.
La Ferme is located at 9101 Lakeridge Boulevard in Boca Raton.
Disclaimer: We were invited to dine as guests of the restaurant. No other compensation was received for writing this review. As always, all opinions are 100% my own.