Never miss a bite! Sign up here to receive new recipes and reviews straight to your inbox.
NOTE: This restaurant has since closed.
I know you guys are used to me reviewing pretty upscale restaurants — the best of the best from Miami to Palm Beach — those are the kinds of restaurants I like to visit and recommend. But today I'm introducing you all to a different kind of restaurant concept — gourmet food court dining. Is there even such a thing? Apparently so. The Shrimp House is a collaboration between the Oxford Group of Boca Raton, the largest Brazilian consulting company in the nation, and Vivenda do Camarão, a long-established Brazilian-based restaurant chain. There are currently 6 locations in Florida — all inside mall food courts. The very first restaurant was started in Brazil in 1984, and their first US location opened in the Coral Square Mall in Coral Springs in 2013.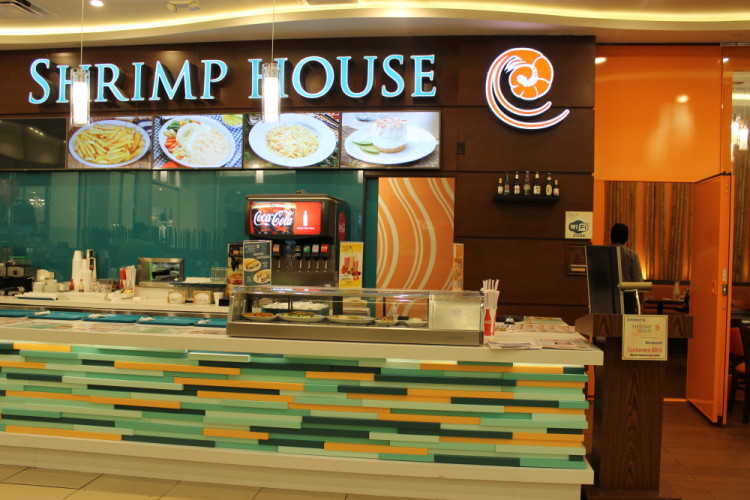 The Shrimp House specializes in shrimp, seafood and pasta dishes at very reasonable prices. The Boca Raton and Coral Springs locations have a sit-down dining room where guests are waited on by waitresses and waiters, served on china plates with silverware and real glasses, and can enjoy a beer or a glass of wine. I recently had the opportunity to sample some of the dishes at the Boca Raton location and was pretty impressed. I never would have thought I'd be sitting down at a table, glass of wine in hand, enjoying plate after plate of delicious food while inside the Town Center Mall…
First up was the Lobster Bisque, a smooth and creamy soup with flavors of sherry and lobster that I am very accustomed to. However, I prefer my bisque steaming hot and full of big chunks of seafood, neither of which describes this particular soup. Don't get me wrong — it had some really good flavor, but was lacking in texture, and it seemed to have cooled a bit before being served.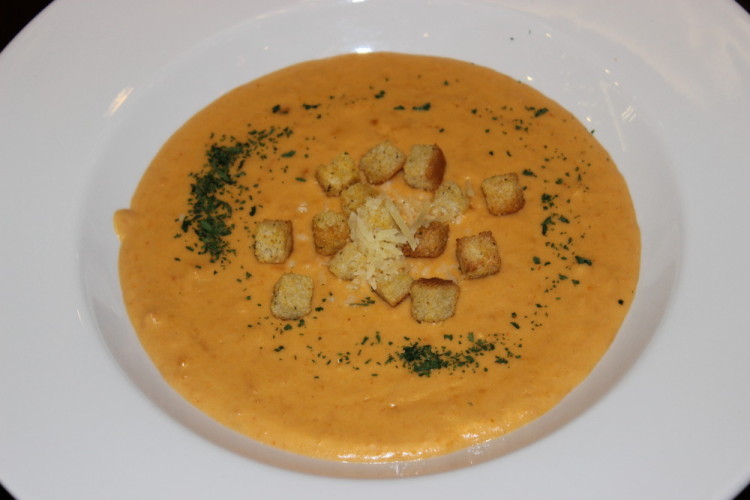 We were served the Shrimp Moqueca next. This is the only traditional Brazilian dish on the menu. It's a stew of Brazilian-style shrimp with tomato sauce, parsley, dende oil and coconut milk. The flavors were outstanding — the heat was there but it wasn't overpowering. I like that you can get a little taste of "home" from this recipe. It pays homage to where The Shrimp House started and shows how far it has come.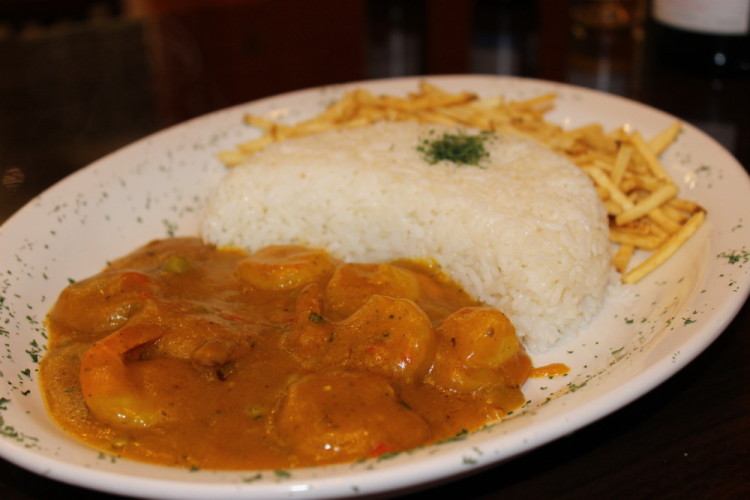 A classic Shrimp Scampi was served next. This dish shows how The Shrimp House may be Brazilian-based, but they are not necessarily trying to be a Brazilian restaurant in America — they want to offer the kind of food they believe their clientele will want. Shrimp Scampi is definitely a favorite for Americans and this was made just the way it should be — lemon, garlic, parsley, butter and of course, perfectly cooked shrimp over pasta.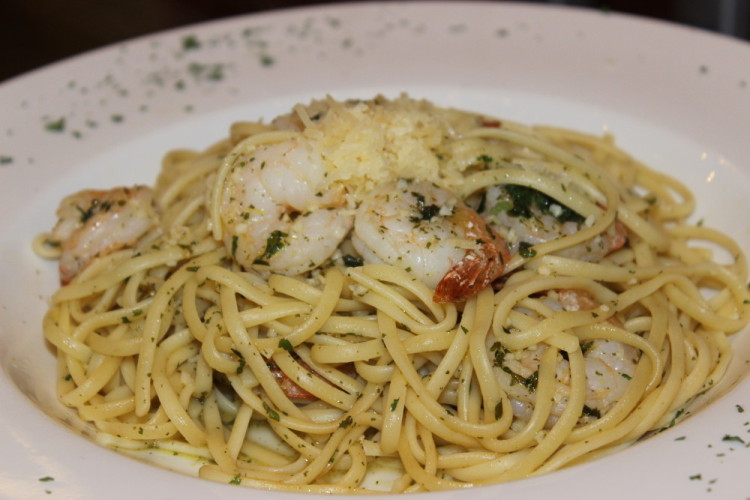 The Shrimp House plays a lot with flavors and ingredients to really give their food something extra. The Milanese Shrimp Risotto was my favorite dish of the night. It's made with saffron, turmeric and white wine, and was super creamy and flavorful. I absolutely loved this. The shrimp was done just right, and you know I sort of have a love affair with well-made risotto, so obviously I was smitten with this dish.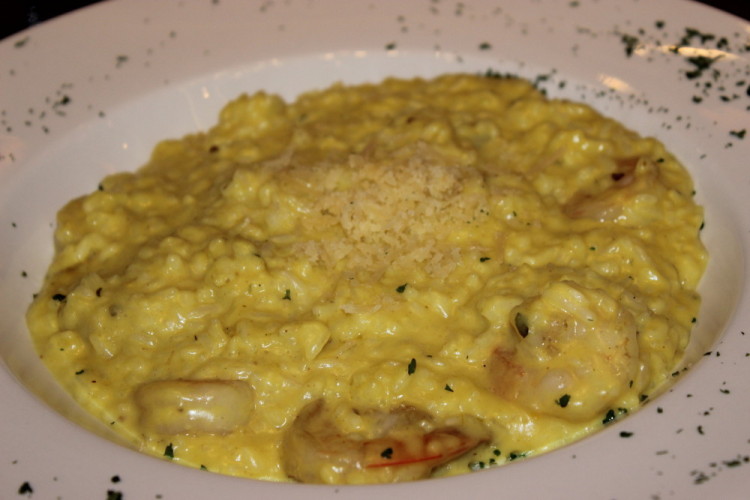 Saffron and turmeric also showed up in the next dish, Shrimp Paella. However, I would have called this Seafood Paella since it also had squid and octopus in it. Again, the flavors here were top-notch. I'm a big fan of paella, and as far as seafood paellas go, this was a pretty good one.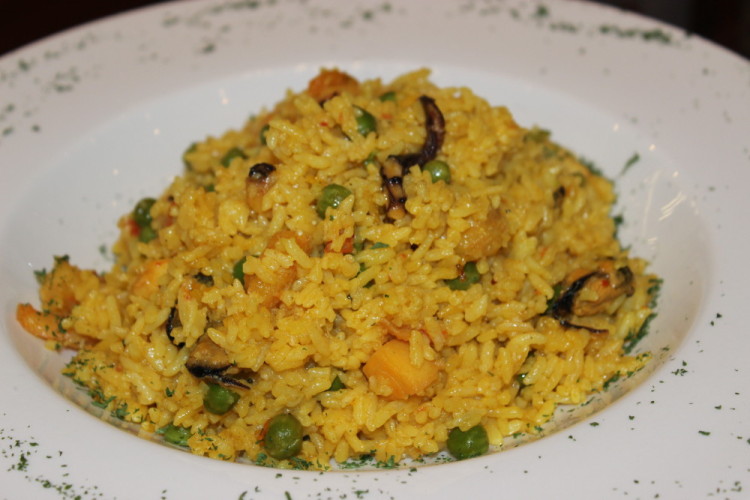 The Thai Pasta was next — something very out of the box with flavors of curry, ginger, coconut milk and apricot jam. Shrimp and mushrooms are mixed in with this super flavorful pasta. It was hard to believe that a dish like this came out of a food court restaurant!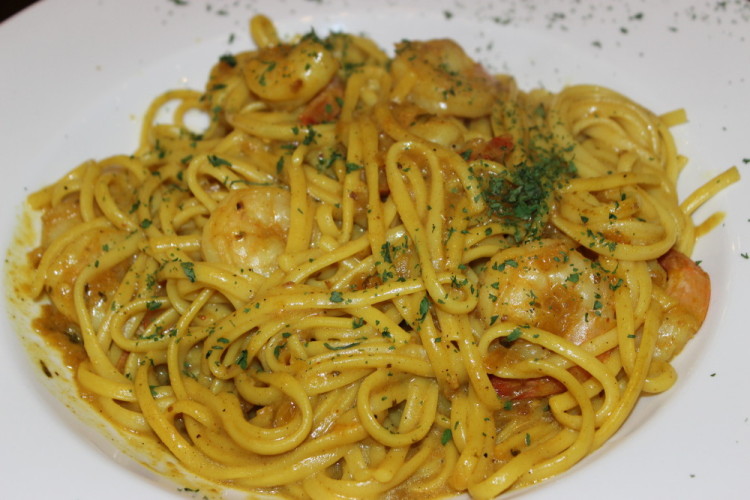 Lastly, we tried the Shrimp Parmesan Sandwich, one of the two sandwiches offered at The Shrimp House (the other being a fish filet). I've had plenty of chicken parm in my lifetime (remember I did used to eat chicken!) and eggplant parm, too, but shrimp parm? Never. Although it was very tasty, it was difficult to tell it was shrimp. You could have easily told me it was eggplant or even chicken and I would have believed you. The outside breading, mozzarella and marinara had so much flavor that it kind of overpowered the shrimp, which is supposed to be the star of the dish.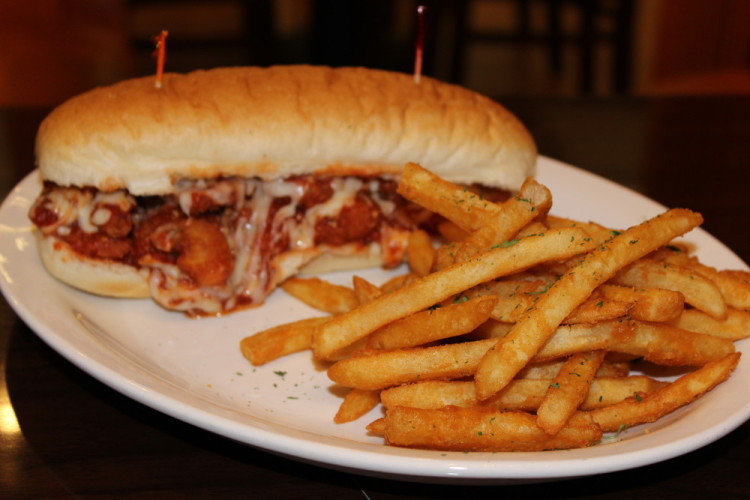 We were given a taste of some of their signature cocktails throughout the night as well. The Shrimp House has a beer and wine license, which allows them to use Sake in their cocktails. Instead of serving a Caipirinha, the traditional Brazilian drink, they call it the Sakerinha and make it with sake and lime. They also make a Passionfruit Sakerinha with fresh passion fruit juice from Brazil, lime, sake and cinnamon. Both drinks were out of this world delicious. That Sakerinha might just be my new favorite drink! We were able to try the freshly squeezed passion fruit juice on its own, and wow — it was so bright and refreshing. I'm not usually a fan of juice, but this was incredible.
They couldn't let us leave without serving dessert! I had the Dulce de Leche Cheesecake, a super sweet and creamy dessert full of that delicious caramel flavor. The crust was rich and buttery, and the filling was perfect. You really can't go wrong with a good cheesecake! They also offer a Chocolate Decadent Brownie topped with vanilla ice cream, Key Lime Pie with whipped cream and toasted coconut, and good old-fashioned Apple Pie.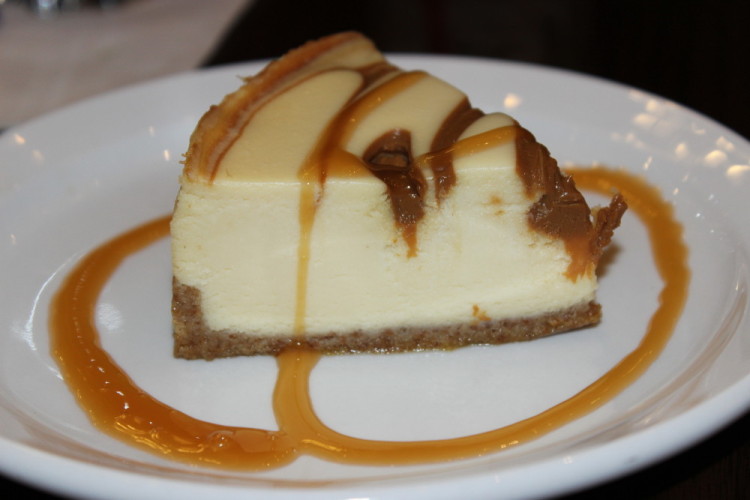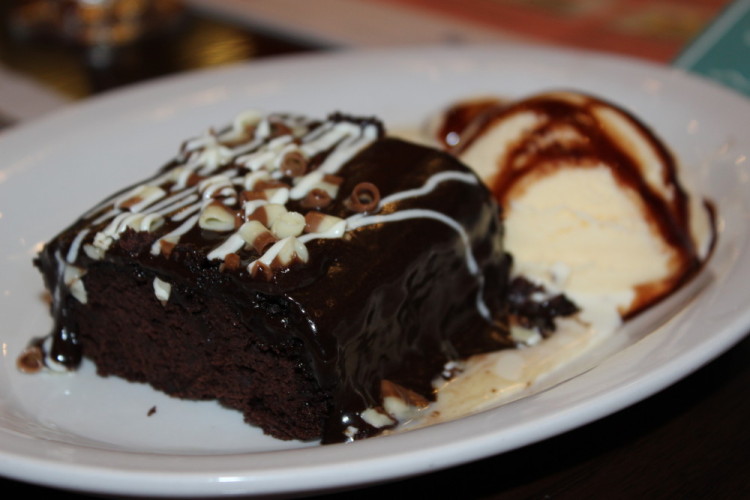 Open your mind to a new kind of dining — at your local mall's food court! Visit the Shrimp House at it's 6 Florida locations in Boca Raton , Coral Springs, two locations in Miami, Melbourne and Sunrise — and coming soon to The Florida Mall in Orlando.
The Shrimp House is located inside the food court at Town Center Mall at 6000 Glades Road.
Disclaimer: I was invited to sample the menu items as a guest of the restaurant. No monetary compensation was received for this review. As always, all opinions are 100% my own.