Never miss a bite! Sign up here to receive new recipes and reviews straight to your inbox.
Disclosure: I was invited to dine as a guest of the restaurant. No monetary compensation has been received for this post. As always, all opinions are 100% my own.
Nuzzled in the back of Royal Palm Place is a cozy little wine bar that's bringing a taste of Napa Valley to Downtown Boca. Pat's Wine Bar & Grill opened this past summer and has since made itself at home serving guests hand selected wines from all over the world and tapas-style small plates and entrees to pair with a glass of vino — and craft beer is available as well. Owner Patrick Hennessey, a wine connoisseur with years of experience working at his family's restaurants in Connecticut, wanted to open a place for locals to gather and enjoy good conversation and good food and wine.
A good glass of wine and tasty appetizers? This sounds like my kind of place! Luckily, I was invited to a tasting at Pat's Wine Bar & Grill and am here to report that it lived up to my expectations! Pat is as friendly and inviting as the restaurant itself — he warmly welcomed our group and even went over the evening's menu with me to ensure I was happy with the substitutions  he'd bring out for me (I'm such a pesky Pescatarian!).
The night started out with a crisp glass of Benziger Sauvignon Blanc. I'm not usually one for a California Sauv Blanc, but this one wasn't bad, and it paired pretty nicely with course #1 — tacos! The grilled chicken tacos come with sweet onion, cilantro, and house made sriracha! Pat had gotten in some fresh Yellowtail Snapper that morning and graciously offered to make me fish tacos instead. Yellowtail is one of my favorite kinds of fish and it was cooked just right. The sriracha is a beautiful, delicious balance of sweet and spicy, and tasted perfect with the fish! If you're a taco lover, you'll want to give these a try. Even better, they are only $2 during Happy Hour, Tuesday through Sunday from 5-7pm!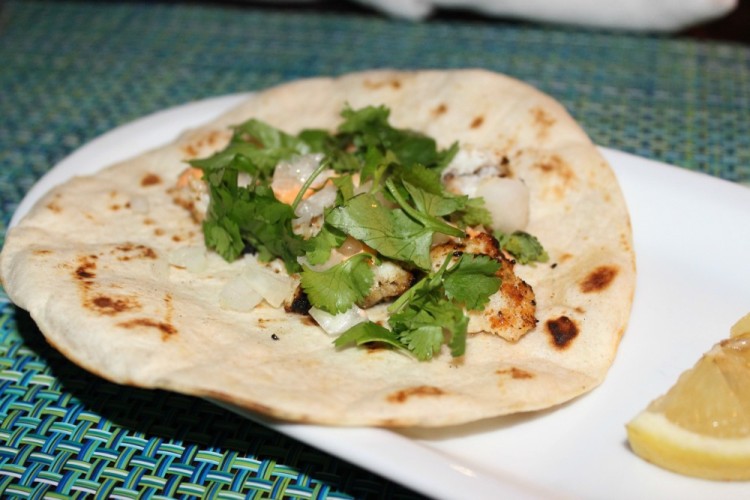 The next dish had all of our mouths watering… TRUFFLE Burrata! The burrata was accompanied by the most gorgeous vine ripened tomatoes I've seen in South Florida in quite some time. Each bite burst with flavor. The basil and aged balsamic only elevated them even more. I could have eaten an entire bowl of just those tomatoes and been happy. But… burrata. Better yet, truffle burrata. Can you even imagine how excited I was to dig in?! The essence of truffle could be found in every nook and cranny of this creamy cheese. Every single bite was better than the last.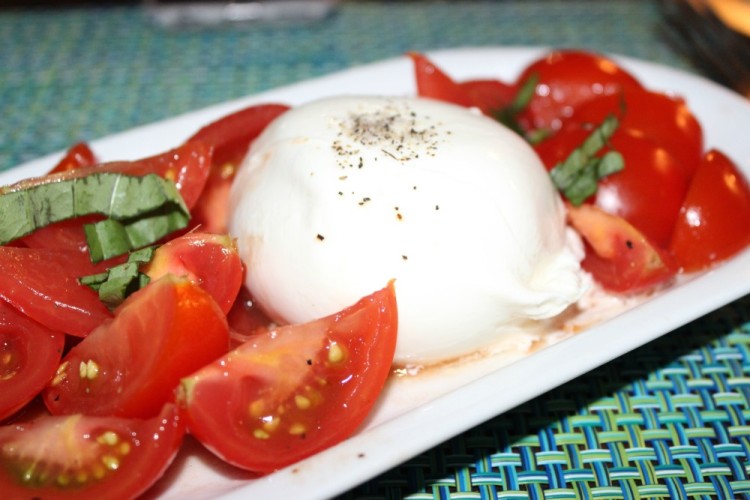 We were moving onto the pasta and meat courses, and you know what that means — time to break out the red wine! We filled our glasses with a yummy Pinot Noir and waited for the next dish. While the rest of the diners enjoyed a Carbonara, I was served a dish I probably haven't had since I was a kid — Shrimp Scampi. The pasta was perfectly cooked, with just enough of a bite to hold itself up to the light white wine sauce, capers, and plump, juicy shrimp. From what I gathered about the Carbonara, it was just as well-received as my Scampi. Looks like Pat and his chef know what they are doing…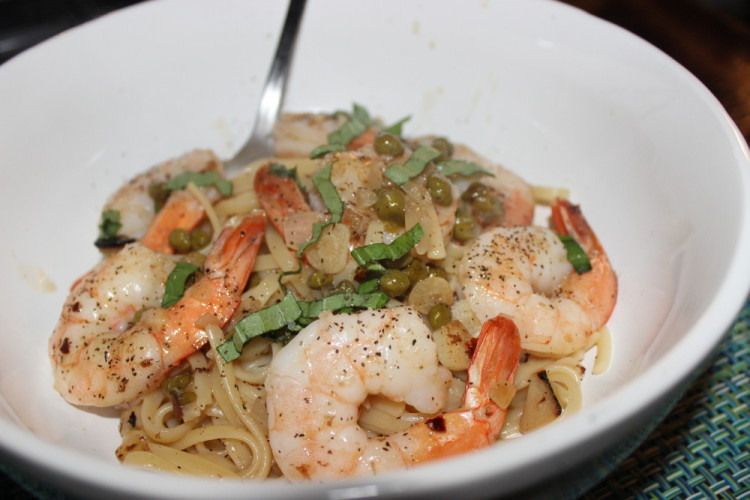 That yummy Yellowtail I tried earlier in the night made another appearance, this time pan-seared and alongside a scallop potato au gratin. The fish, again, cooked wonderfully — crispy skin on the outside and soft and flaky on the inside. The potatoes were a nice touch too — they weren't too creamy or heavy and had great flavor.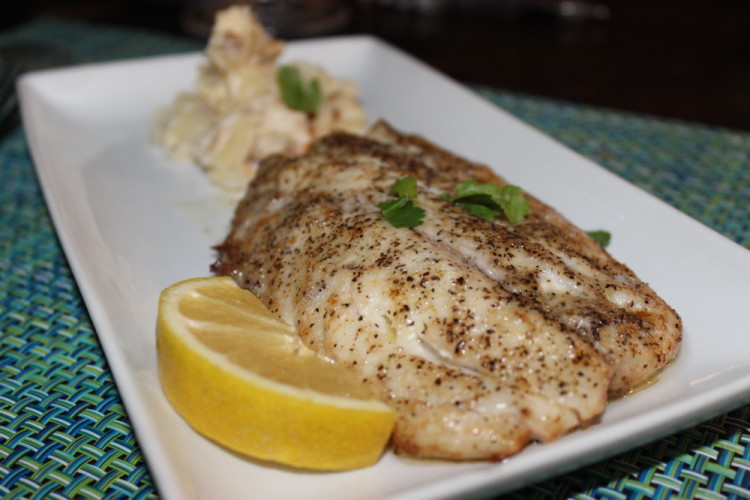 As always, no one can leave until we've had a little something sweet. As soon as I heard the word cheesecake, my ears perked up and my too-full-for-any-dessert mindset flew completely out the window. This was one of the most thick, creamy, and dense cheesecakes I have ever tasted. Though this could seem heavy to some, I found a small slice enough to satisfy my sweet tooth without going over the edge. The caramel sauce oozing over top and down the sides added just the right amount of decadence. But the best part was the crust. It had the texture of a soft and chewy cookie — my favorite!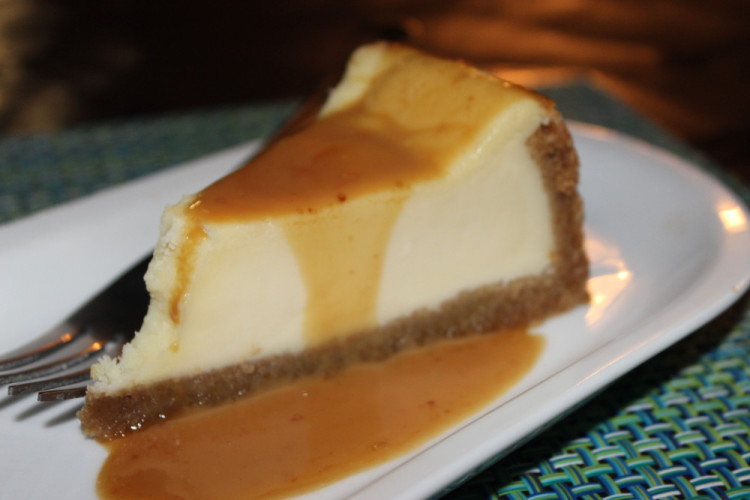 Although I don't see this being the next best place to go for a sit-down dinner with family, there is a great selection of wines and appetizers perfect for grabbing a drink with girlfriends or even if you just need to wind down on your own after a long day. Pat's Wine Bar & Grill may be just what Downtown Boca needed — you can't go wrong with a good wine and tapas bar!
Pat's Wine Bar & Grill is located at 409 SE Mizner Blvd (Royal Palm Place) in Boca Raton. It's open Tuesday through Sunday from 5pm-2am. Happy Hour is from 5-7pm and includes $5 wines, $2 tacos, $4 Full Sail bottles, and 25% off all bottles of wine.