Never miss a bite! Sign up here to receive new recipes and reviews straight to your inbox
Disclosure: I was invited to dine as a guest of the restaurant. No monetary compensation has been received for this post. As always, all opinions are 100% my own.
Piñon Grill opened in 2010 and continues to please diners with its New American cuisine, chic and modern decor, and personable and hospitable staff.
There are very few things that will get me to drive over to Town Center Mall in Boca Raton — a really good sale is one, for instance, and another is really good food. Mall food has come a very long way from it's original stereotype. Food courts are filled with more elevated fast-casual dining options instead of run of the mill Chik-Fil-A and Arby's like I remember as a kid, and the full restaurants attached to the mall have much more interesting concepts than Friendly's and Ruby Tuesday.
Boca's Town Center has a multitude of options not only inside at the food court, but in the outliers of the building as well. Piñon Grill is one of them — and with it's incredibly unique design, it's hard to miss it. That's one of the first things you'll notice as you walk in. The interior is filled with piñon tree sculptures, life-sized wood-carved Native American dancers, and beautiful glass artwork. I researched the piñon tree and found that it symbolizes strength, resilience, adaptability and survival — something that speaks pretty truly to me as I'm learning to deal with my new food restrictions.
The menu at Piñon Grill isn't huge, but it definitely has some stand-out items that Jill and I just couldn't wait to get our hands on — or, rather, our mouths. Let's start with the crispy crab fritters — one of their signature items. I've had these once before during my very first visit about three or four years ago, and decided they really should be called crab haystacks or crab nests. Just look at them…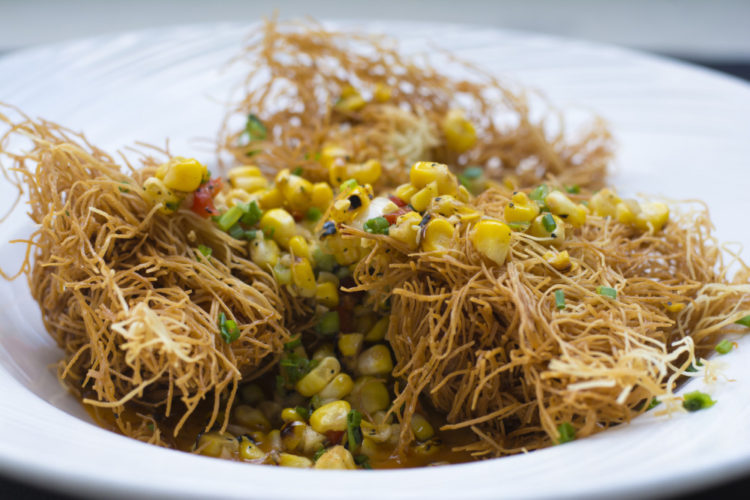 Despite whether their name on the menu truly describes them or not, they're fantastic. This time around, I couldn't have it because of the lobster-ginger sauce and corn salsa, but I basically forced Jill to order it anyway so she could relish in all its glory. And that she did. Basically it's a crab and shrimp "fritter" covered in all these crispy fried stringy things (I'm getting real technical with the terms here…) with risotto, lobster-ginger sauce and corn salsa.
The kung pao calamari was next — smothered in an Asian-style sauce with peanuts, scallions and cilantro. The sauce here is everything. Not too sweet and not too spicy, and the crunchy peanuts added a nice textural element. The crispy exterior wasn't too overpowering, and the calamari was perfectly tender. But the presentation was a little lackluster. There was too much empty space on the place. It was just missing something — maybe a slaw of some sort, or perhaps just a different shape/sized dish.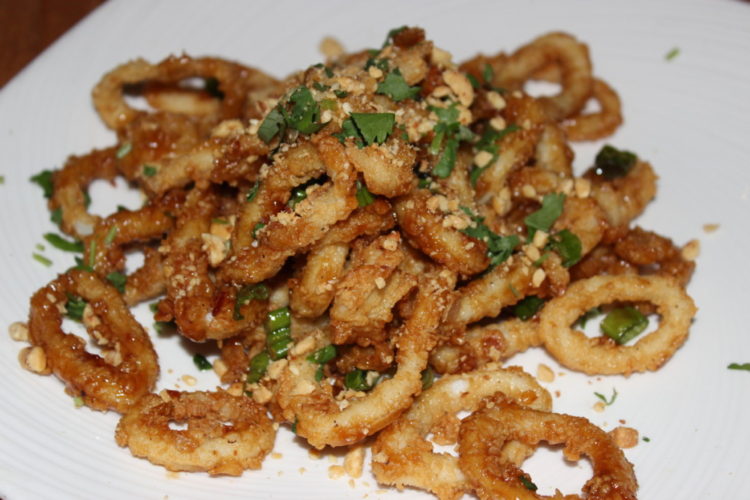 I was excited to see a totally vegetarian appetizer option — something I bet could make into a nice entree when paired with a salad. The eggplant meatball is panko-crusted and served with house-made marinara (that has NO sugar in it!), fresh basil and parmesan cheese. Seems simple, but that meatball was so delicious and full of flavor. It's a pretty decent size too, big enough for two to share comfortably. Eggplant is so meaty, and when cooked correctly with the right seasonings, easily could be mistaken for meat — as was the case here. Just looking at the dish, you'd think I was about to dig into a full-fledged ball of meat.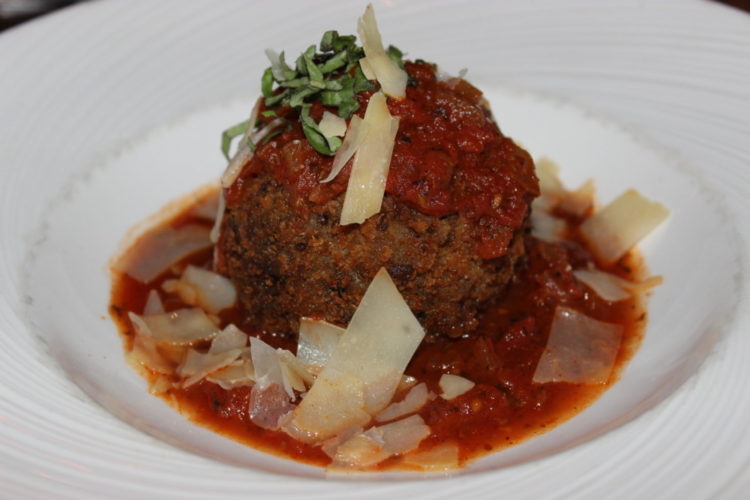 For our entrees, Jill and I went in two totally different directions. She went for creamy, Cajun decadence — penne pasta tossed with shrimp, chicken and andouille sausage in a Cajun-style sauce, topped with fresh parmesan. It looked heavier than it actually was — I had a bite of sauce-smothered shrimp and was surprised at how light it was, yet still punched you in the face with heat and flavor.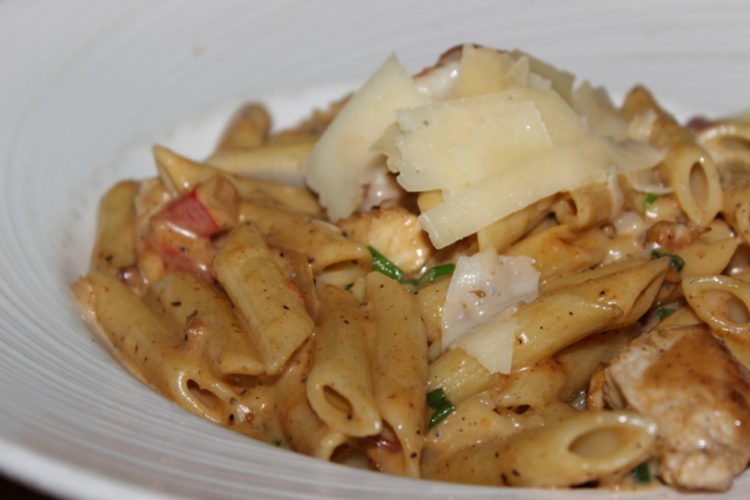 I took the seafood and vegetable route, which may seem boring to some but when the dish is pecan-crusted Rainbow trout in a currant-citrus chardonnay sauce and the most delicious garlic-parmesan green beans you'll ever have in your life, boring is the last word I'd use to describe it. Seriously though — it was amazing. The trout was a super thin filet, covered entirely in crushed pecans and a velvety-smooth, buttery sauce that really showed off all of its flavor components. I could taste the currants, the citrus and the chardonnay, and they really complemented each other well. Those green beans though… I couldn't get enough. Green beans aren't exactly my top choice when it comes to vegetables. I'd never make them at home, nor do I ever get excited about them on a menu. But these? They were long gone even before I finished the fish. Garlicky, buttery, salty and the perfect amount of bite — I want to recreate these at home, and that's saying something.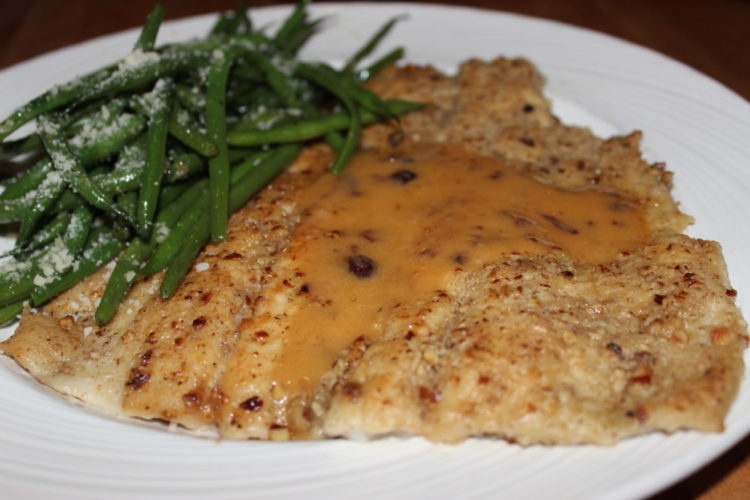 Piñon Grill is located at 6000 Glades Rd., Suite 1390 at the Town Center Mall in Boca Raton.