Never miss a bite! Sign up here to receive new recipes and reviews straight to your inbox.
Disclosure: I was invited to dine as a guest of the casino and restaurants. No monetary compensation has been received for this post. As always, all opinions are 100% my own. 
When you think of popular gastropub Tap 42, the first thing that comes to mind is probably their burgers and beer, right? Wrong. Not for me, at least. When I think of Tap 42, I think of crispy calamari and grilled salmon, roasted Brussels sprouts and one of the best veggie burgers I've ever had. Tap 42 is extremely pescatarian-friendly, and they've asked me to help spread the word!
Tap 42 has locations in Boca Raton, Fort Lauderdale, Coral Gables, and will soon expand into Midtown Miami too. While it's definitely one of the hottest spots for brunch, dinner is well worth checking out. The beer list is impressive, and has an additional rotating list that changes daily. The cocktails are creative, with some even including craft beers into the mix.
Being that it's November and I want pumpkin-flavored everything, I had to try one of the rotating drafts from local brewery, Due South Brewing — Isle of Magourdo. The best part was the brown sugar-cinnamon rim. This is how every fall-inspired beer should be served. For someone like myself who doesn't love beer, this was a really light and tasty brew to sip on. It definitely had all the flavors I love during this time of year, and brought me back to times when I still lived in the north and actually had a real fall season.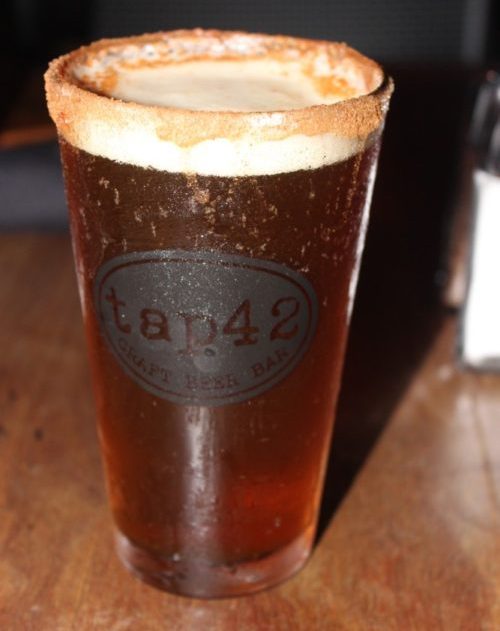 Enough about the beer — you came here for the food, right? I've never been disappointed during any of my visits to Tap 42, and this most recent one was the best yet. Like I mentioned before, I've had their veggie burger, which is made with falafel and comes with a roasted red pepper tzaztiki sauce that is out of this world. This time around, Jill and I got to eat just about every non-meat item on the menu. We started with one of Tap 42's signature appetizers, the crispy Asian calamari. Out came this tower of calamari, which sat on a bed of Asian slaw dressed in a sesame ginger aioli and a sweet and sour dipping sauce on the side. The presentation was on point, but the flavor the rocked even more! As good as the calamari is, the slaw is even better. It's on the menu as a side dish too, and I highly recommend getting it — even if you do also get the calamari. It's good enough to eat twice!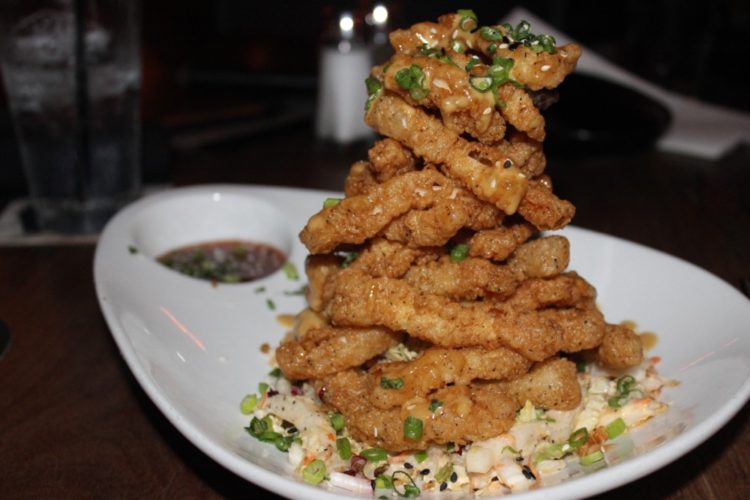 Tap 42's spicy tuna tartar is another winning appetizer with beautiful presentation. It's made with hand-cut Ahi tuna, avocado, cucumber and cilantro, drizzled with honey Sriracha mayo and surrounded by malanga chips. Malanga, for those who don't know, is a tuber, closely related to taro root. The thin, crispy chips have a very mild flavor, making them an ideal vehicle for the tartar, as it does have quite the kick to it. Even if it was a little on the spicier side, I still loved every bite. The flavors were well-balanced and didn't overpower one another. The honey in the sauce mellowed things out a bit and kept it from being overly spicy.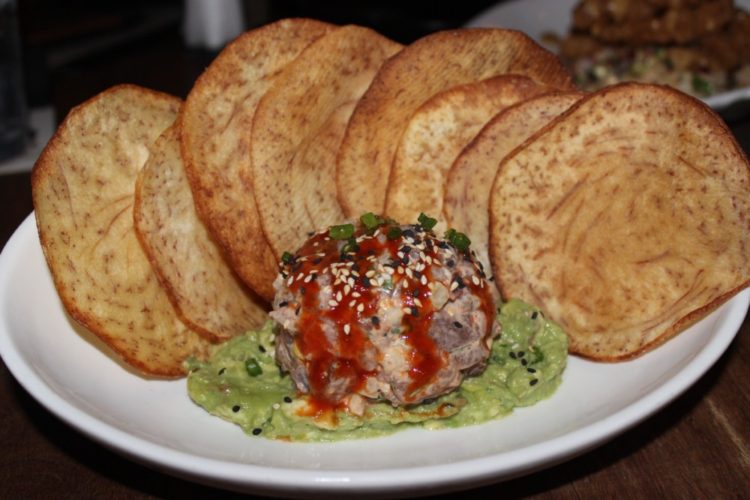 Those looking for a healthier option when dining at Tap 42 will not be disappointed. The golden quinoa superfood salad is a standout menu item, made with mixed greens, Brussels sprouts, Mandarin oranges, green apple, feta, dried cranberries, almonds and citrus vinaigrette. You can add protein if you'd like — for us pescatarians, grilled salmon and blackened mahi-mahi are options. We decided to top our salad with the blackened mahi-mahi. It was cooked perfectly, had just the right amount of seasoning, and really complemented the other flavors in the salad.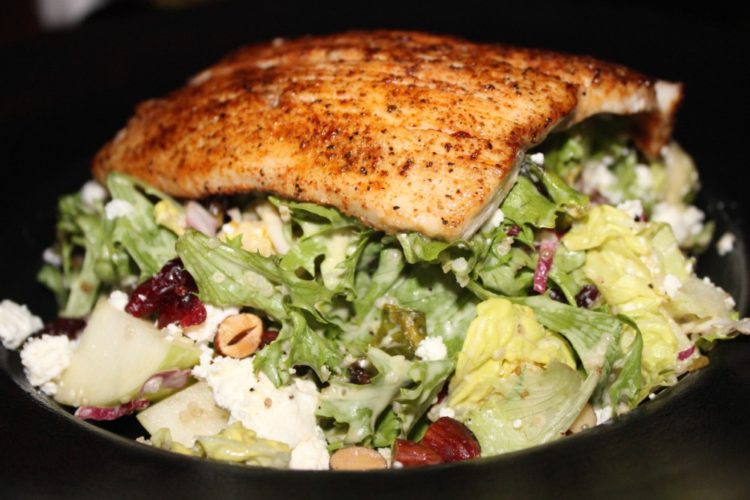 Another healthy option is the grilled salmon zen bowl, which is probably my favorite thing on the menu. Pan-fried brown rice is mixed with a generous amount of green veggies that have been stir-fried with truffle miso glaze and topped with a gorgeous piece of grilled salmon, sprinkled with toasted sesame seeds. It's a noteworthy dish and one that even the meatiest of meat-eaters can still enjoy.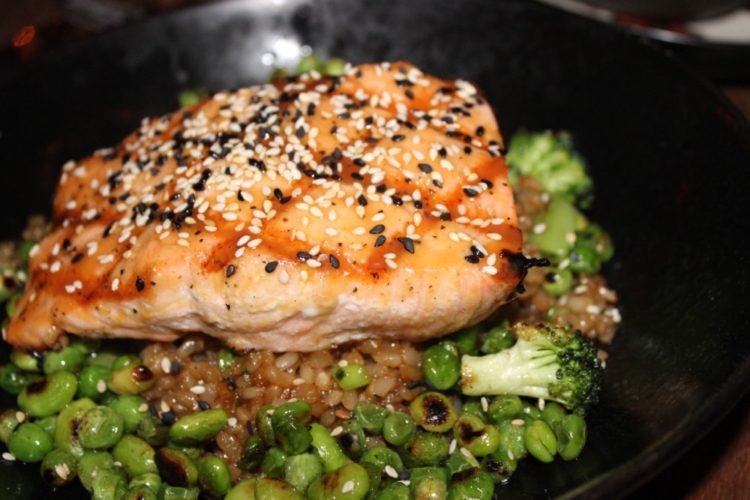 As for the sides, the roasted Brussels sprouts with maple, mustard and thyme are a must. The mustard adds a sweet tanginess to the sprouts that puts them over the top. We also had the parmesan and herb french fries, because well, when fries are on the menu, Jill and I just can't say no. Tap 42's are good, especially with that dusting of parmesan on top. You can get them with cajun spice too.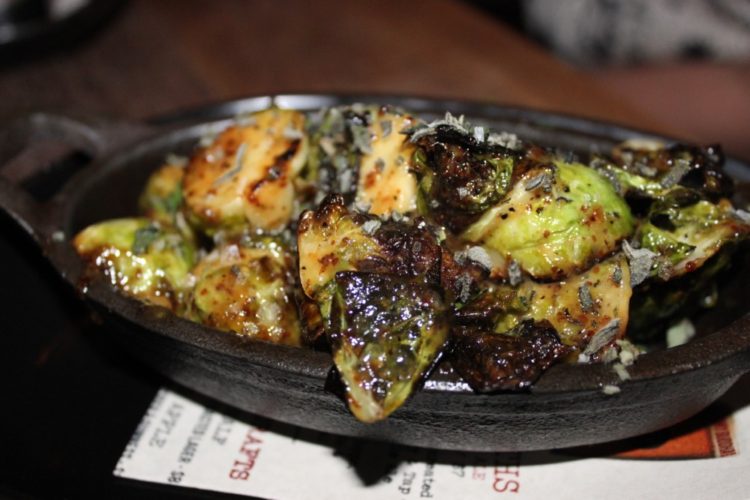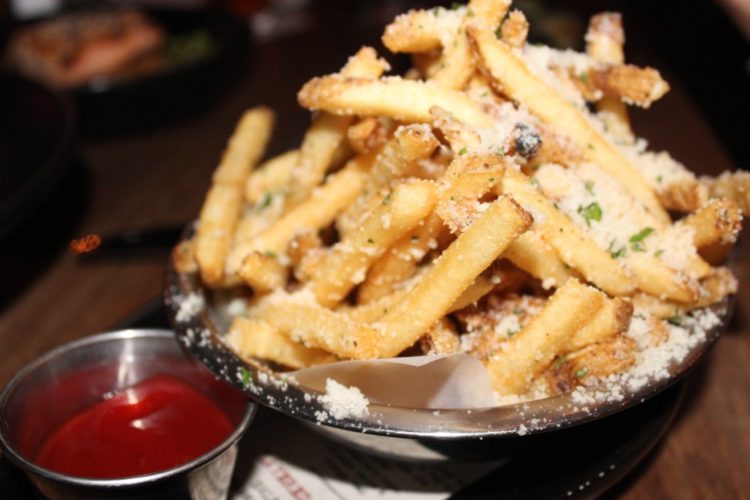 We thought dinner was amazing. Until we got to dessert. No matter what, you must never ever, ever leave Tap 42 without digging into their chocolate chunk bread pudding. It is the most incredible bread pudding you will ever try in your life. Flavors of salted caramel, dark chocolate and cinnamon swirl together in your mouth with each and every bite. It's crisp on the bottom and super soft and tender in the center, topped with vanilla bean ice cream that oozes down the sides and into each crevice. I've never had bread pudding this good before, and quite honestly, I don't think I ever will.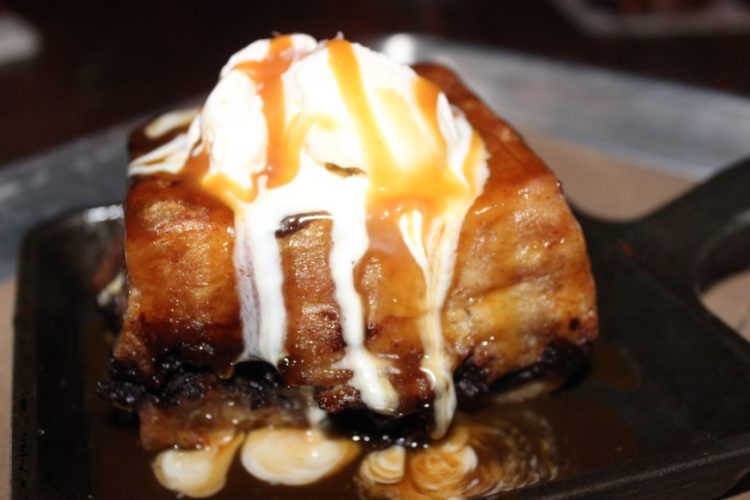 If I didn't just make your mouth water uncontrollably and your tummy start rumbling, we can't be friends.
Tap 42 is located in Boca Center at 5050 Town Center Circle in Boca Raton.